Photo of the victim, 3-year-old, Aliayah Lunsford [2]
Lena Lunsford-Conaway is a convicted felon originally from Bendale, West Virginia. In June 2018, she was sentenced to life in prison without parole plus 40 years for the murder of her 3-year-old daughter, Aliayah Lunsford. [2] [6] [3]
Early Life
Lena Lunsford-Conaway was repeatedly assaulted as a child according to her former attorney, Barbara Schamberger, who was a close friend of Lunsford-Conaway's mother, JoAnn Evans. Schamberger testified that she learned from JoAnn Evans that Lunsford-Conaway had been repeatedly assaulted by her father since the age of 7. Evans said this was in retaliation to her divorcing him. Prior to the divorce, the relationship between Lunsford-Conaway's parents had been abusive. [5]
Personal Life
Lena Lunsford-Conway was a mother of three daughters residing in Bendale, West Virginia. After Lunsford-Conway murdered her youngest daughter, she put the two oldest children up for adoption before moving to Pinellas County, Florida. [5] [8]
Criminal History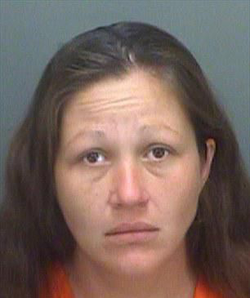 Photo of Lena Lunsford-Conaway [2]
On Monday, July 2, 2018, Lena Lunsford-Conaway was sentenced to life in prison without parole plus 40 years for the murder of her 3-year-old daughter, Aliayah Lunsford. [2] [6] [3]
Circuit Judge Jacob Reger sentenced Lena Lunsford-Conaway in Lewis County Circuit Court to life in prison for murder of a child by refusal or failure to provide necessities. [2]
A jury of 10 women and two men found Lunsford-Conaway guilty of that crime plus death of a child by child abuse, child abuse resulting in injury and concealment of a deceased human body on April 23, 2018. [2]
Reger gave a sentence totaling 40 years for the other charges, and he ordered Lunsford-Conaway serve the sentences consecutively. [2]
The same jury that convicted Lunsford-Conaway found on April 24, 2018 decided that she shouldn't receive mercy in her life sentence, meaning she never will be eligible to seek parole. Reger relayed the jury's decision in his sentencing order Monday, July 2, 2018. [2]
Lunsford-Conway's two oldest daughters testified that she struck Aliayah in the head with a broken bed slat the evening of September 23, 2011. Instead of tending to the child, Aliayah left her in timeout in a corner, and eventually left it up to her two sisters to put her to bed, the state contends. [2]
By the next morning, Aliayah was unresponsive, and after a few attempts to revive her, Lunsford-Conaway put the child in a laundry basket, covered her with clothes and taken her to the remote Vadis, West Virginia area to be disposed of in a rocky, flood-prone ravine, investigators allege. The sisters were forced to accompany their mother to near what investigators believe was the disposal point, according to the state. [2]
To cover up the murder, Lunsford-Conaway reported Aliayah missing, however her body was never found. She also made her two older daughters promise not to tell anyone about the murder before putting them up for adoption. After the two girls were adopted, Lunsford-Conaway moved to Pinellas County, Florida. [2] [8]