Dvokrilac (Povratak otpisanih)
5.11K VIEWS
Everipedia is now
IQ.wiki
- Join the
IQ Brainlist
and our
Discord
for early access to editing on the new platform and to participate in the beta testing.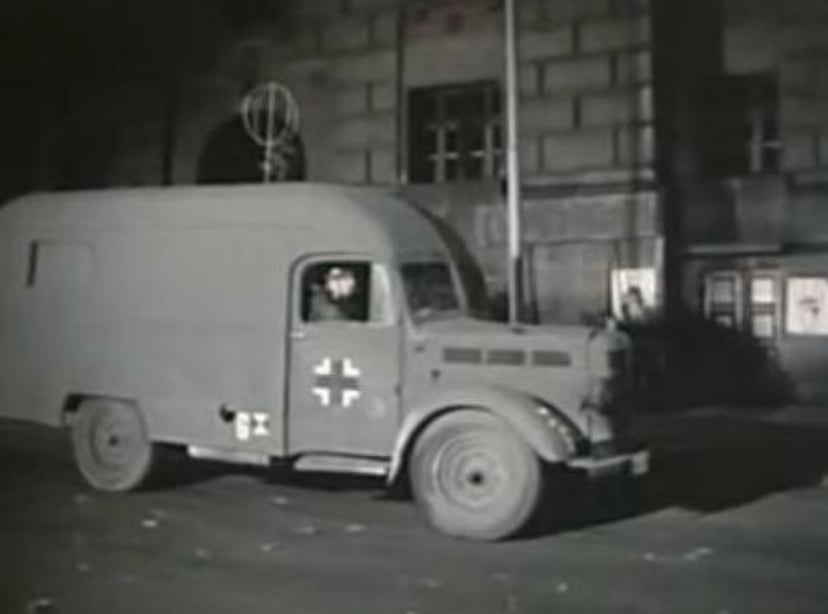 Dvokrilac (Povratak otpisanih)
Dvokrilac (Povratak otpisanih)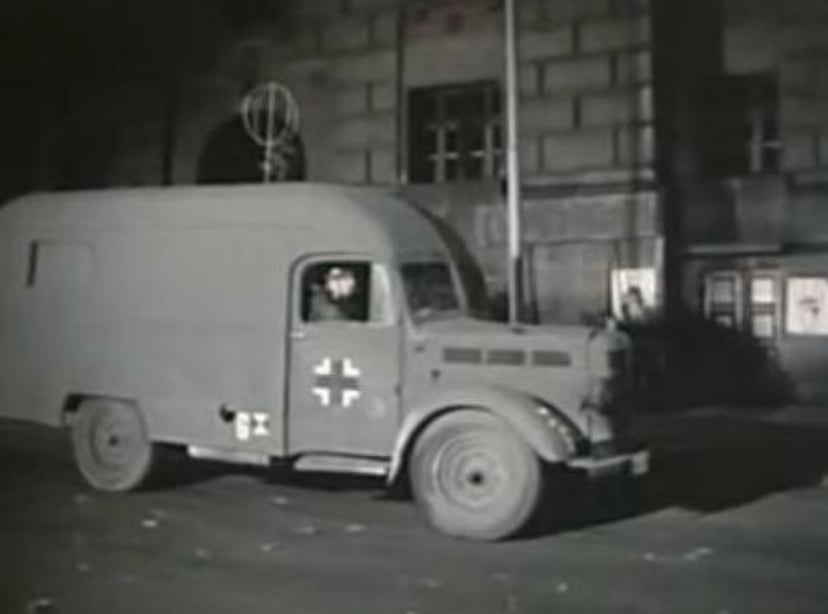 Dvokrilac ("The Biplane" in English) is the third episode of the drama television series Povratak otpisanih, originally aired on Yugoslav Radiotelevision network (JRT) on January 15th 1978. The plot deals with Special Police scheme to eliminate young resistance sympathisers by setting up agent provocateur who acts as alleged contact with Partisans, while Gestapo tries to locate Prle and Tihi's radio station with special direction finding vehicle.
In the cold opening Mali and Žule, two young power plant workers, discuss their plans to leave occupied Belgrade in order to join Partisans. Mali enthusistically tells that he had found a contact named Dvokrilac, a man who had provided same service to hundreds of youths. Žule is somewhat skeptical and Mali points to him - a power plant clerk, who is, unbeknownst to them, followed by Gojko, one of Special Police agents.
Prle and Tihi visit Uncle Mile, a fisherman and veteran member of Communist Party, who was tasked with discovering river mines laid by Germans in order to stop advancing Red Army. He gives them the sketched map with mine locations and later offers them proja, much to the annoyance of Prle who compalins that never ate anything else than proja and that he would do anything to eat something else. Uncle Mile, on the other hand, complains about his son Žule who desperately wants to join Partisans despite his own youth and inexperience. When they hear about someone named Dvokrilac, Prle and Tihi become suspicious and decide to investigate the matter.
Gestapo Colonel Müller calls Krieger and tells him about special direction finder vehicle, which had been brought from Athens after being used there to track radio stations used by Greek resistance. In the meantime, Žule and Mali meet Dvokrilac who warns them about the dangers that await them. Mali returns to his grandmother and tells her about his upcoming departure, just before Limar and other agent get to his house and arrest him. Žule, unaware of that, visits his uncle who tells him that Dvokrilac should be treated as double agent and provocateur; both agree to inform Prle and Tihi; Mile takes boat while Žule goes through the wood. It turns out that Žule has been followed by Special Police whole time; agent Isa tells Germans to send river patrol boat and they intercept Mile and kill him. When Žule is intercepted he pulls a gun and dies in a firefight.
Krsta Mišić, chief of Special Police, is unappy with the results, because both men are dead and there is nobody to point him towards Prle and Tihi.
Mali didn't break under totrure and was later handed over to Gestapo who had him shot.
Marija, who works in police, devises a plan to discover Dvokrilac's identity and directs Mrki to telephone Mišić pretending to be Dvokrilac.
When Mišić phones Dvokrilac back to complain he is discovered.
Prle, Mrki and Tihi follow him from office and kidnap him, using German truck which had been provided by Prle's old associate Žile, car mechanic who works for Germans.
Dvokrilac is brought to the ruined factory and interrogated; trying to save his life, he tells about upcoming arrest of youths he was supposed to meet at the bakery and also about Germans bringing direction finder.
After that Dvokrilac uses opportunity to escape, but he slips and falls to his death.
Wasting no time, Prle goes to bakery where he warns the baker and five youths to escape.
Soon a car with police agents arrives, but Tihi, Prle and Mrki ambush them, killing Limar and three agents in the process.
Back at Special Police agent Mikula is visibly shaken when he reports the news to his boss in presence of Krieger, who is strangely calm, convinced that direction finder would do what Special Police could have not.
After some debate Joca, Prle and Tihi decide not to go radio silent but instead to ambush truck with direction finder device.
Joca begins his regular transmission while German technicians under Captain Schmidt begin to locate his radio station.
Before they can pinpoint it, they are suddenly ambushed and killed.
Prle gives defiant message to Krieger over Schimdt's radio and, to his great delight, takes German cans, convinced that they contain food.
In Marija's apartment he organises impromptu celebration, describing a candle-lit supper as "a ritual an not a simple meal".
Joca brings him to reality when he opens the cans and it turns out that the they contain machine oil.
Pavle Vuisić as Joca

Dragan Nikolić as Prle

Vojislav Brajović as Tihi (as Voja Brajović)

Zlata Petković as Marija Simeunović

Aleksandar Berček as Mrki

Ivan Jagodić as Ratko "Dvokrilac"

Stevo Žigon as Major Krieger

Rudolf Ulrich as Colonel Müller

Borivoje Stojanović as Captain Schmidt

Velimir Životić as Uncle Mile

Predrag Ejdus as Mali

Bogdan Diklić as Žule

Dragomir Bojanić as Mikula

Ljubomir Ubavkić as Žile the Master

Stole Aranđelović as Isa

Milorad Đorgović as Baker

Tomanija Đuričko as Mali's Grandmother

Milan Panić as German Soldier

Dušan Vujinović as Limar

Predrag Milinković as Gojko

Ljubomir Ćipranić as Agent

Tanasije Uzunović as Gűnther Fuchs

Cane Firaunović as Captain König

Božidar Pajkić as Passerby

Slavica Đorđević as Müller's Secretary

Andrija Maričić as Young Man
Communist-led resistance organisation, to whom fictional Prle, Joca and Tihi belong in the series, didn't have radio-station in occupied Belgrade, relying to couriers instead.
Anticommunist royalist undergorund organisation connected to Draža Mihailović and his Chetnik movement, led by Major Žarko Todorović, however, did. Gestapo did use direction finder vehicles in order to track and locate its radio station, just as depicted in the episode. In 1943 they were ultimately successful, leading to capture of Todorović and his network. In 2010 series of articles in Serbian media claimed that the plot of Dvokrilac was inspired by those events, and that it represented "re-writing and falsfifying of history typical of Communist Yugoslavia". [2]