Donya Fiorentino
30.6K VIEWS
Everipedia is now
IQ.wiki
- Join the
IQ Brainlist
and our
Discord
for early access to editing on the new platform and to participate in the beta testing.
Donya Fiorentino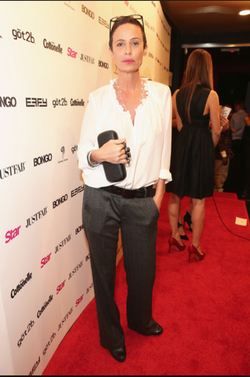 Donya Fiorentino at a red carpet gala.
Donya Fiorentino, (November 10, 1967), is an American Photographer and a former model who has worked with several famous artists including Björk, Lennox Lewis, and David Lynch. She was a known Model for her work with Revlon.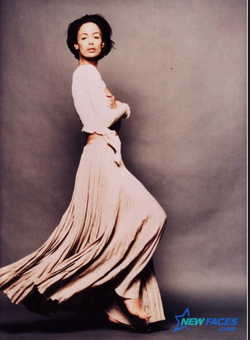 Photo taken of Donya Fiorentino from a modeling shoot.
Fiorentino was born and raised in the island of Key Largo in Florida. She lived in Tavernier's Hammer Point for most of her upbringing with a family who allowed her to be herself. She grew up with a brother and sister.
Growing up she considered herself a true Conch.
Her mom worked restaurants as a way to help build her husband's business.
She and her siblings were trusted children in the community.
At the age of 5 years old she got a rowboat and as her skill would get better, she had a 9.9 Mercury outboard engine by the age of 9-11.
One of the activities she would practice with the boat was to catch lobsters.
At the age of 7, she also started water-skiing.
During a day when a Budwiser commercial was being filmed at a resort in Islamorada, one of the casting directors saw Fiorentina water-skiing down a ramp at 50 mph. She was only 12 years old at the time.
From that day onwards, Fiorentina and her mother began to attend auditions and other commercial shoots.
She was also involved in beauty contests throughout places in Miami.
Once her modeling career started to take off, she dropped out of Coral Reef High School by the time she was 16 years old.
She was involved in the high-fashion modeling world for nearly a decade.
She participated in many commercials, music videos.
She modeled for all the high-fashion magazines and had a Revlon contract. She did commercials for corporations such as Jaguar and Apple Inc. She was also in music videos for artists like Van Halen and Matchbox 20.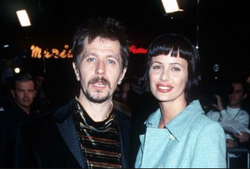 Donya Fiorentino with Gary Oldman back when they were married.
An interest in photography was sparked when her father, an insurance adjuster, would take her along to inspect car crashes at the age of 6 and ask her to take photos.
As she continued to become a sought-after model who worked with some of the most prominent modeling photographers in the world she picked up many skills that she applies in her photography practice.
She learned a lot photography from her then husband, David Fincher.
In the early 90s, she had a marriage with David Fincher whom she had a daughter named Phelix. The couple separated in 1995.
She also had a high-profile marriage to Gary Oldman whom she had two children: Gulliver, 18, and Charlie, 17. They were married from 1997 to 2001.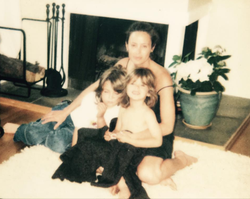 Photo of Donya Fiorentino with her kids.
Fiorentino has stated that her four years with Gary Oldman were a nightmare. [1] In late January, domestic abuse allegations emerged after Fiorentino offered her testimony of the alleged assault she received by Oldman in front her children who began crying at the time. The two would divorce after the incident in 2001. [1]
She also alleges that Oldman would spend thousands of dollars on expensive alcohol along with drugs and Prostitutes. [1]
Fiorentino currently lives back with her family in a marina in the Florida Keys where she has developed a photography business.
She has also been involved in the community helping causes such as the Arthritis Foundation.
She has also built websites too.