Everipedia is now
IQ.wiki
- Join the
IQ Brainlist
and our
Discord
for early access to editing on the new platform and to participate in the beta testing.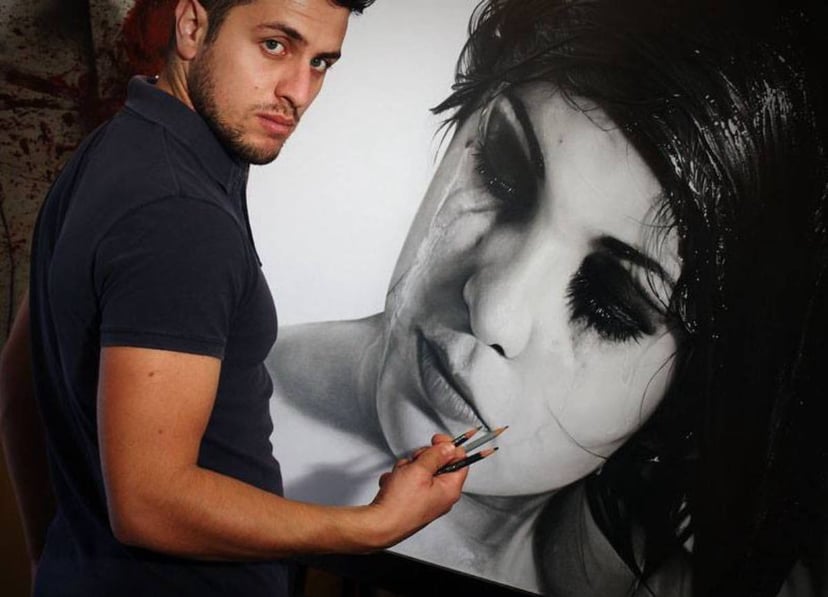 Diego Fazio
Diego Fazio (born in 1989) is a young Italian artist who has stood out for his hyper-realistic drawings. He is also known as "DiegoKoi".
He was born in Lamezia Terme, Italy, the country where he works. His learning about drawing has been acquired in a self-taught way. He discovered that he was destined to draw when he made a portrait of his sister. The technique with which he is characterized is pencil on paper. His technique is characterized by extreme precision and attention to detail. Initially he created Asian-style "koi carp" tattoo designs, from which he got the idea for the artist nickname from him.
«I only draw portraits, because the human being is the subject I prefer.

And it's what I'm most passionate about.

I love drawing, especially, the look of the person, because the eyes are the soul.

In the eyes I can draw my emotions in such a way that they fit perfectly with the model's"[4].
«I choose my models among the people I know, close to me, in order to be able to capture their emotions»[4].
After tattoos he was drawn to hyperrealism, a concept in philosophy and art that describes the hypothetical inability of consciousness to distinguish reality from fantasy.
His fascination was so great that he made him change the thick lines of tattoos for the technical demands of hyper-realism.
"The first emotions that his works produce in the viewer are a mixture of amazement, disbelief and admiration.

His works are impressive for their realism and richness of details.

Diego's ability to perceive the most subtle shades of chiaroscuro, allows him to create contrasts that touch the soul of the observer"[4].
We can see his drawings on Facebook, Twitter, Tumblr, Pinterest, DeviantArt, Blogs, news portals, etc[5].
He has exhibited his works in various exhibitions and has won the recognition of "Audience Award for Best Artist" and "Best collection of paintings" at the NonFermarti artistic event in the province of Cosenza in 2011.
In March 2012 DiegoKoi was nominated for the "Venice Venice International Art Prize 2012" with his work "Sentenza".
In the same year, he was nominated and was a finalist for one of the most prestigious awards in Italy, the "Cairo Prize" in Milan, with his work "Raptus[6].
He currently lives and works in Feroleto Antico, in the province of Catanzaro.