Dhurala (2020)
7.74K VIEWS
Everipedia is now
IQ.wiki
- Join the
IQ Brainlist
and our
Discord
for early access to editing on the new platform and to participate in the beta testing.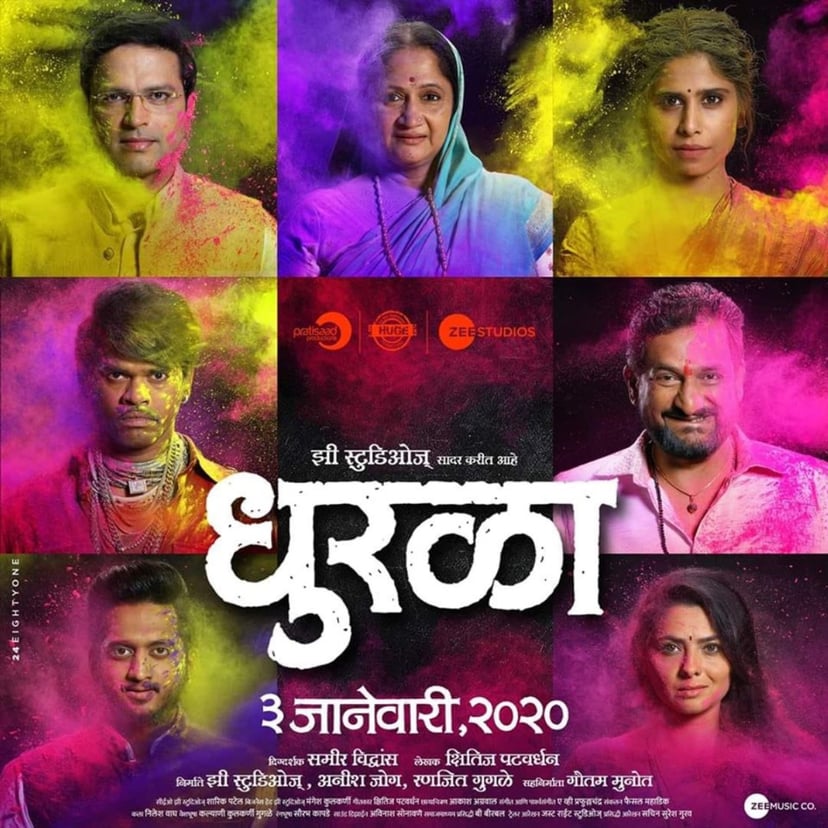 Dhurala (2020)
Dhurala (2020) is Dhurala is an , Marathi language movie. It is written by Kshitij Patwardhan ,directed by Sameer Vidwans, and produced by Anish Joag ,Ranjit Gugle and Mangesh Kulkarni under the banner of , Pratisaad Productions and Huge Productions.[1] The dialogues were written by Kshitij Patwardhan. The film stars Ankush Chaudhari,Sai Tamhankar, Siddarth Jadhav, Sonalee Kulkarni,Amey Wagh in lead roles while Yogi Alka Kubal ,Uday Sabnis,Prasad Oak play supporting roles.[2] The Film is about Politicial drama in the Family of Ambegao village Sarpanch(Anna Uble) after his death.The Political game begins in the family between his three sons Navnath (Ankush Chaudhari), Hanmanta (Siddharth Jadhav) and Nilesh (Amey Wagh) and two daughter laws Harshada (Sai Tamhankar) and Monika (Sonalee Kulkarni).[3]
There was a rumor that Dhurala is inspired real life politicians in state of Maharastra.It
was said that character roles in this film were based on Politicians Supriya Sule,Aditya Thakre,Dhanjay Munde and PranititaI Shinde.[4]
The village sarpanch, Anna Ubhe, has died.
He has left behind his widow, Jyoti (Alka Kubal-Athalye), three sons and two daughters-in-law.
Navnath (Ankush Chaudhari) is the eldest son, and his wife is Harshada (Sai Tamhankar) who is pregnant with their first child.
Hanmanta (Siddharth Jadhav) is the second son, and his wife is Monika (Sonalee Kulkarni).
The youngest son is Nilesh (Amey Wagh), and he is a bachelor.
While Navnath wants to become the new sarpanch, the ladies of the village and the local MLA, Pruthviraj Shinde (Uday Sabnis), want Anna's widow to contest the sarpanch elections.
This doesn't go down well with Navnath.
Once Jyoti stands for elections, opposition leader Harish Gadhave (Prasad Oak) asks his wife to contest instead of him.
But when Harish's wife refuses to get dragged into the political arena, Harish gets Nilesh on his side by instigating him against brother Navnath.
On his part, Nilesh seeks the support of Hanmanta's wife, Monika.
So now, Monika is fielded by Harish with the support of Nilesh.
Seeing two women in the fray, Navnath also drops the plan of contesting the election himself and instead fields wife Harshada.
Hanmanta is so loyal to Navnath that he supports Harshada's candidature rather than his own wife's.
So, it is Jyoti as one candidate, Harshada as another candidate, and Monika as the third candidate.
The rivalry is all in the family.
What happens thereafter?
Who wins the elections?
Does the family, torn apart by elections, unite again?[5]
Director... Sameer Vidwans
Writing and Dailogues... Kshitij Patwardhan
Cinematography... Akash Agrawal
Film Editing... Faisal Mahadik
Production Design... Nilesh Wagh
Ankush Chaudhari ... Navnath Ubhe (Dada)
Sai Tamhankar ... Harshada Navnath Ubhe (Burgunda)
Siddarth Jadhav ... Hanumantha Ubhe (Cement Sheth)
Sonalee Kulkarni ... Monica Hanumantha Ubhe
Amey Wagh ... Nilesh (Bhaujya)
Prasad Oak ... Harish Gadhwe
Alka Kubal ... Jyothi Tai Ubhe (Akka)
Uday Sabnis... Prithviraj Shinde (Bhaiyyasaheb)
Priyadarshan Jadhav ... PR person of Gadhwe
Prajakta Hanamghar ... Lata Harish Ghadwe
Siddharth Mahashabde ... PR team member
Dnyanada Ramtirthkar ...
Divya Babar
Nupur Dudwadkar ... PR Team Member
Sulekha Talvalkar ...
Sunaina Babar