Chris Heria (born December 21, 1991) is the Founder and CEO of ThenX fitness program which involves a workout routine with weights and calisthenics. He also founded The Miami Trainer, the Calisthenics Academy and the Calisthenics Evolution Institute. He is also an athlete sponsored by BarStazz. [4] [3] [2]
Early Life & Education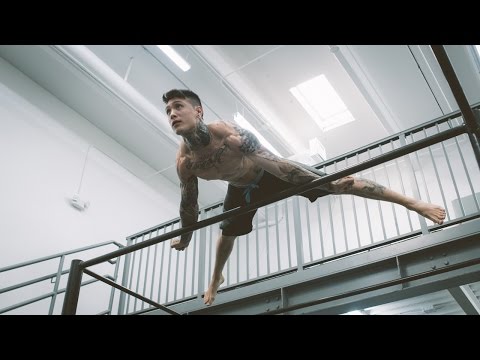 Chris Heria in one of his training tutorials
Heria was born in Miami, Florida. He completed his school education in 2008 from St. Brendan High School​. [1]
Career
Chris Heria has build a reputation as a Street Workout Champion, Pro Bar Athlete and Certified Personal Trainer. He represented the United States in the Street Workout World Championship. He is also representative of Basstarzz, a famous workout team.
Chris during a longjump
He has internationally competed as a bar athlete and has taught at various workshops and seminars. He offers online training at his YouTube channel OFFICIALTHENX. He also has many establishments in Miami, including The Miami Trainer, Calisthenics Academy and his personal gym. [5]
As of December 2018, his YouTube channel has more than 506,000 subscribers.[19]​
Controversy (YouTube Drama)
8 Min Workout To Burn BELLY FAT | 2018 (uploaded October 21, 2018); this video was deemed controversial by the YouTube fitness community
On October 21, 2018, Chris Heria uploaded a video entitled, "8 Min Workout To Burn BELLY FAT | 2018." In it, he mentioned that he was going to show his viewers how to an abdominal, high-intensity workout routine that focused on building one's abs and burning belly fat simultaneously.[📁]​ 
After several people posted response videos criticizing it (particularly Every Damn Day Fitness), Chris Heria responded with the critics and trolls addressing their points. Within a minute of the video, he implies that another fitness YouTuber, Austin Dunham, that he copied what he says and/or does by watching Heria's videos.[📁]​
Diet
"What I Eat for the Week | 2018" (uploaded November 1, 2018)
Chris Heria's diet is relative to what he trains for the day. In a video, Heria breaks his training into three different scenarios:[📁]​
Heavy lifting with low reps, which translates to a 'heavy carb day;'
Fat burning, which translates to 'light to no carbs;'
Regular workouts, which translates to 'half carbs'
His diet consists of proteins and carbohydrates. The proteins in his shopping list include:
Ground turkey
Chicken breast
Shrimp
Salmon
Turkey bacon
Free-range eggs
His carbs include a variety of vegetables:
Broccoli
Asparagus
Onions
Quinoa
Spinach 
*He also eats black beans and garbanzo beans (chickpeas).
When he is done eating his main meals, he will usually have a snack. The snacks include:
Greek yogurt (which he eats because of its source of casein​ and eats at night to release protein slowly)
Sugar-free Jell-O (which he eats due to its low caloric content)
Bananas (which he eats for his source of potassium​, which help regulate muscle contractions)
Grapes (which he eats in moderation)
Raspberries (which he puts into his Greek yogurt)
Personal Life
Chris has a son named Zen who was born in 2011.[1]​