Bradley J. Sugars (born May 28, 1971 in Brisbane, Australia) is an international business speaker, author and entrepreneur. Sugar is the Managing Director and CEO of ACTION International Pty Ltd. (Australia), as well as the Chairman of the ACTION Group of Companies around the globe. [2]
Early Life & Education
Sugars obtained a Bachelor of Business - Accounting from Queensland University of Technology in 1993. [6]
Career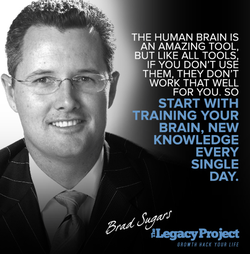 One of his quotes
Sugars has written 14 business books (the Instant Success Series) published under the McGraw Hill brand. McGraw Hill later bought the international publishing rights in 2006 and it was at the time the largest multi business book deal with a single author. [4]
Awards
Top 50 Entrepreneurs in the US in 2007 [4]
Top 5 CEO's in North America at the American Business Awards in 2009. [4]
ActionCOACH is in the top 100 franchises in the World, is the #1 Business Coaching Franchise globally and has been for 6 years running. Franchise of the year in New Zealand, Ireland, Britain, Indonesia and others. [4]
Video of his house
Personal Life
Sugars is a father, and enjoys golfing. Sugars is an avid reader of non-fiction business books and reads an average of one book per week. [4]