The Association of Spaceflight Professionals ( ASP ), as the world's first commercial astronaut ​ corps, was established with the intention of training highly-qualified candidates as scientist-astronauts and making them available for hire as commercial crew. Research institutions, spaceflight companies and principal investigators are able to draw upon the cumulative experience and expertise of professional astronauts to carry out scientific experiments on suborbital and orbital space missions, rather than rely solely on their own personnel. [14] ​ [18] ​
Background
Timed with the rapid growth and expansion of the commercial spaceflight industry and the formation of NewSpace companies like SpaceX ​, Blue Origin ​, Virgin Galactic ​, and XCOR Aerospace, and comprised of several current and former NASA astronauts and astronaut trainers, the corps partnered with leading government, corporate and academic providers to offer specialized astronaut training, from survival and egress to aerobatics and high-G centrifuge, to prepare its candidates for suborbital and orbital spaceflight missions.
Astronaut Selection
As commercial astronauts ​, flight members are vetted through a highly-selective evaluation process modeled from the NASA Astronaut Corps ​, incorporating guidance and direction from a selection panel of veteran NASA astronauts, astronaut trainers, and experienced spaceflight professionals. Several members have interviewed as finalists in national astronaut candidate selection campaigns; one has completed an orbital mission conducting scientific experiments aboard the International Space Station ​. South Korean Astronaut Soyeon Yi ​, the first Korean to fly in space, is an active member of the corps and serves on its board of directors. [1] ​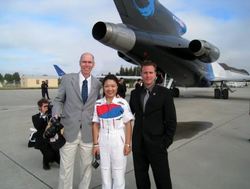 NASA Astronaut Daniel T. Barry ​, KARI Astronaut Soyeon Yi ​ and NASA-trained Commercial Astronaut Christopher Altman ​ disembark G-Force One following a parabolic flight at NASA Ames Research Center. Altman and Yi are now both active commercial scientist-astronauts with the Association of Spaceflight Professionals .

The corps numbers nineteen flight members, or commercial astronauts, with membership numbering more than 200 PhD-level scientists, researchers and engineers from nineteen countries around the world drawn from backgrounds in the military, defense, science, medicine, aerospace and engineering communities with an extensive track record of research and development, payload testing and integration, mission planning and operations support for the space industry, including several experiments currently flying on the International Space Station. Members contribute to spaceflight operations and scientific research at national space agencies, defense, research, science and technology organizations, and have given inspirational talks around the globe.
Spaceflight Training
Flight members have lived, worked and trained together with NASA and international astronauts, as well as serving as astronaut instructors themselves—training both NASA astronauts and Astronaut Candidates in specialist areas such as Space Exploration Vehicles (SEV), Extravehicular
Documentary on the inaugural training class
ctivity (EVA) and critical space mission operational tasks.
Association of Spaceflight Professionals commercial astronauts conduct parabolic microgravity testing of the Vital Space wireless biometric device under the NASA Flight Opportunities Program in May 2012. Image Credit: NASA ​
The SpaceX unveil event of Crew Dragon ​, the next generation spacecraft designed to carry astronauts to Earth orbit and beyond. The spacecraft will be capable of carrying up to seven crewmembers, landing propulsively almost anywhere on Earth, and refueling and flying again for rapid reusability. As a modern, 21st century manned spacecraft, Crew Dragon will revolutionize access to space
In 2011, an inaugural class of four candidates: Altman, Reimuller, Seedhouse and Shiro completed suborbital research scientist training, underwater emergency egress and sea survival training, and spatial orientation-disorientation testing and acclimation, with performance standards designed in strict adherence to meet or exceed FAA Commercial Astronaut certification and licensing guidelines as defined by the Office of Commercial Space Transportation under 14 CFR 460, Human Spaceflight Requirements, 14 CFR 460.5, Crew qualifications and training, and the Commercial Space Launch Amendments Act, Public Law 108-492, 118, Stat. 3978. [2] ​
Partnership with NASA Astronaut Corps
In December 2011, the organization partnered with the NASA Astronaut Corps and Duane Ross, Manager for NASA Astronaut Candidate Training and Astronaut Candidate Selection, for the astronaut selection and astronaut candidate training process.
Manned Spaceflight Missions
The organization's first manned spaceflight missions were funded by the NASA Flight Opportunities Program in the second quarter of 2012. The NASA Commercial Crew Program ​, with official industry partners Boeing ​ and SpaceX ​, is ramping up to launch its first manned test flights in the second half of 2018. Once testing is complete, both NASA and commercial astronauts will use the spacecraft to access the International Space Station ​ and commercial space stations currently under development from @Axiom Space, Bigelow Aerospace and others.
Media Coverage
The organization has been featured in Nature , Discover, Time Magazine, Popular Science, New Scientist, Aviation Week and Space Technology, Space.com, Discovery News, the Sydney Morning Herald, KurzweilAI, PCMag, Digital Trends, in books on next-generation technologies and the emerging spaceflight industry, in radio interviews on the future of spaceflight including The Space Show and NPR Morning Edition, and received extensive international press coverage following the announcement of its first funded flight contract. The corps publishes its own newsletter featuring in-depth interviews with NASA astronauts and prominent spaceflight industry insiders. [1] ​
Related Links