Everipedia is now
IQ.wiki
- Join the
IQ Brainlist
and our
Discord
for early access to editing on the new platform and to participate in the beta testing.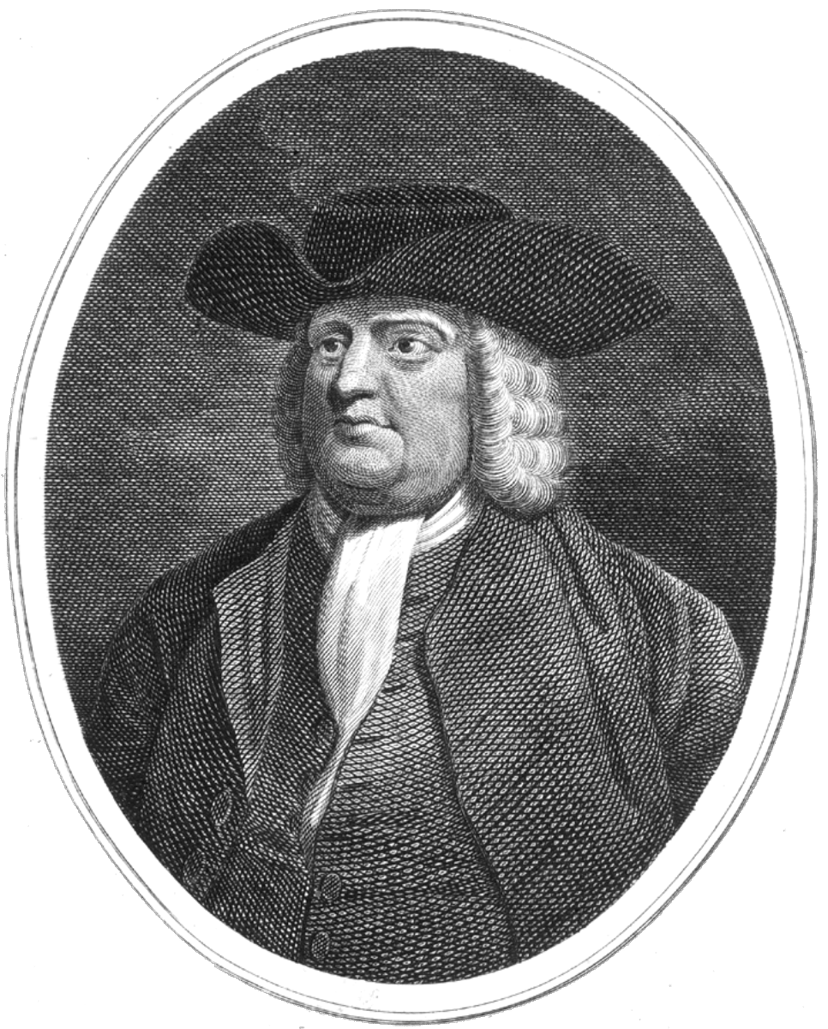 William Penn
William Penn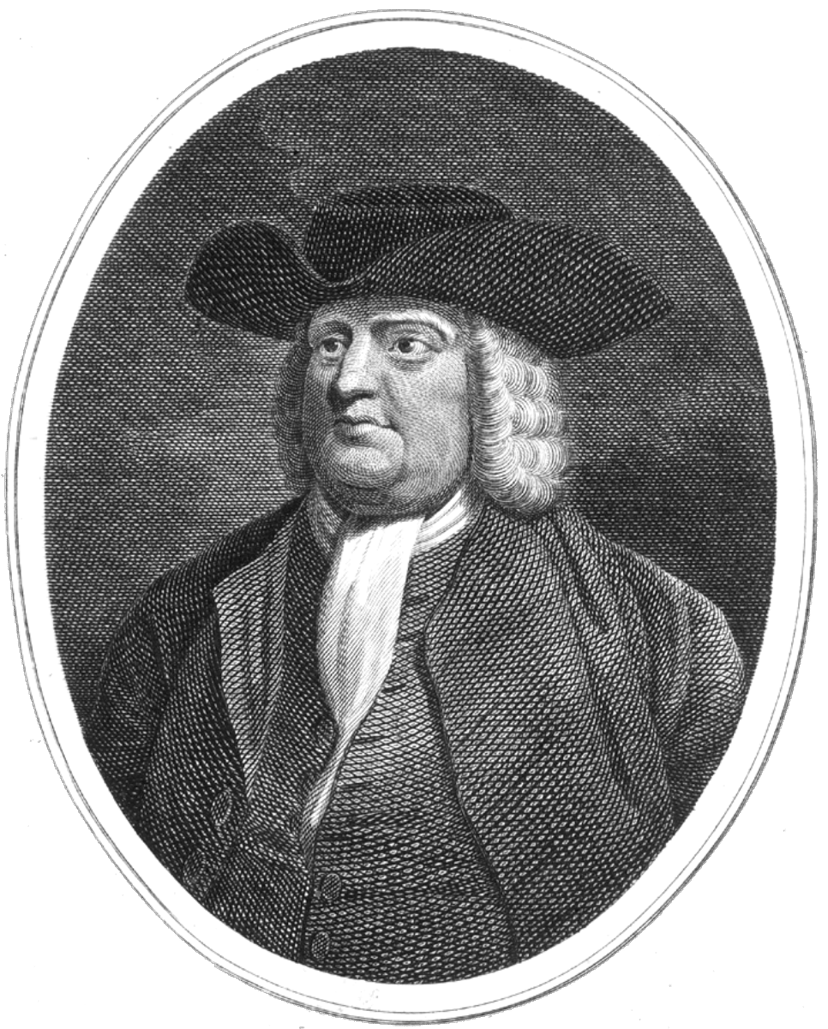 Born

(

1644-10-14

)

14 October 1644




Died

30 July 1718

(1718-07-30)

(aged 73)




Alma mater

Chigwell School




Christ Church, Oxford

Occupation

Nobleman, writer, colonial proprietor of Pennsylvania

Spouse(s)

Gulielma Maria Springett




Hannah Margaret Callowhill

Children

8, including William Jr., John, Thomas, and Richard

Parent(s)

Admiral Sir William Penn




Margaret Jasper

Signature
Born

(

1644-10-14

)

14 October 1644




Died

30 July 1718

(1718-07-30)

(aged 73)




Alma mater

Chigwell School




Christ Church, Oxford

Occupation

Nobleman, writer, colonial proprietor of Pennsylvania

Spouse(s)

Gulielma Maria Springett




Hannah Margaret Callowhill

Children

8, including William Jr., John, Thomas, and Richard

Parent(s)

Admiral Sir William Penn




Margaret Jasper

Signature
Penn in Ireland (1669–1670)
In 1669,[48] Penn traveled to Ireland to deal with many of his father's estates. While there, he attended many meetings and stayed with leading Quaker families. He became a great friend of William Morris, a leading Quaker figure in Cork, and often stayed with Morris at Castle Salem near Rosscarbery.
Penn in Germany (1671–1677)
Between 1671 and 1677 William Penn made trips to Germany on behalf of the Quaker faith, resulting in a German Settlement in Pennsylvania that was symbolic in two ways: it was a specifically German-speaking congregation, and it comprised religious dissenters. Pennsylvania has remained the heartland for various branches of Anabaptists: Old Order Mennonites, Ephrata Cloister www.ephratacloister.org [166] , Brethren, and Amish. Pennsylvania also became home for many Lutheran refugees from Catholic provinces (e.g., Salzburg), as well as for German Catholics who had also been discriminated against in their home country.
In Philadelphia, Francis Daniel Pastorius negotiated the purchase of 15,000 acres (61 km²) from his friend William Penn, the proprietor of the colony, and laid out the settlement of Germantown. The German Society of Pennsylvania was established in 1764 and is still functioning today from its headquarters in Philadelphia.
Persecutions and imprisonments
The coat of arms of William Penn: Argent, on a fess sable three plates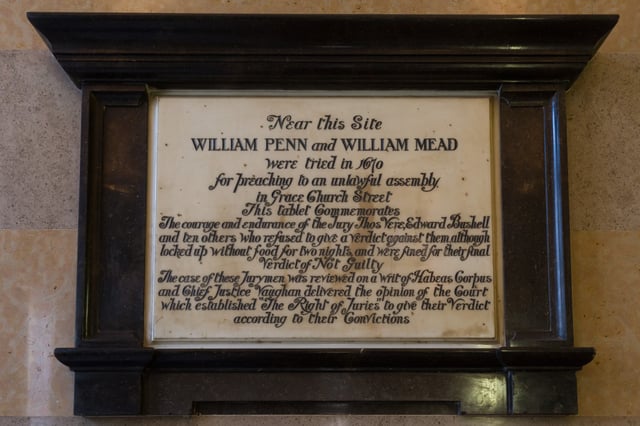 Plaque at the Old Bailey
Penn's first of many pamphlets, Truth Exalted: To Princes, Priests, and People (1668), was a criticism of all religious groups, except Quakers, which he perceived as the only true Christian group living at that time in England. He branded the Catholic Church as "the Whore of Babylon", defied the Church of England, and called the Puritans "hypocrites and revelers in God". He also lambasted all "false prophets, tithemongers, and opposers of perfection".[49] Pepys thought it a "ridiculous nonsensical book" that he was "ashamed to read".[50]
In 1668 Penn was imprisoned in the Tower of London after writing a follow-up tract entitled The Sandy Foundation Shaken. The Bishop of London ordered that Penn be held indefinitely until he publicly recanted his written statements. The official charge was publication without a license but the real crime was blasphemy, assigned in a warrant by King Charles II.[51] Placed in solitary confinement in an unheated cell and threatened with a life sentence, Penn was being accused of denying the Trinity, though this was a misinterpretation Penn himself refuted in the essay Innocency with her open face, presented by way of Apology for the book entitled The Sandy Foundation Shaken, where he himself proceeded to prove the Godhead of Christ.[52] Penn said the rumor had been "maliciously insinuated" by detractors who wanted to create a bad reputation to Quakers.[53] Later, he stated that what he really denied were the Catholic interpretations of this theological topic, and the use of unbiblical concepts to explain it.[54][55][56] Penn expressly confessed he believed in the Holy Three as well as in the divinity of Christ.[57] In 1668 in a letter to the anti-Quaker minister Jonathan Clapham, Penn wrote: "Thou must not, reader, from my querying thus, conclude we do deny (as he hath falsely charged us) those glorious Three, which bear record in heaven, the Father, Word, and Spirit; neither the infinity, eternity and divinity of Jesus Christ; for that we know he is the mighty God."[58][59]
Given writing materials in the hope that he would put on paper his retraction, Penn wrote another inflammatory treatise, No Cross, No Crown: A Discourse Shewing The Nature and Discipline of the Holy Cross of Christ and that the Denial of Self, and Daily Hearing of Christ's Cross, is the Alone Way to Rest and Kingdom of God. In it, Penn exhorted believers to adhere to the spirit of Primitive Christianity. This work was remarkable for its historical analysis and citation of 68 authors whose quotations and commentary he had committed to memory and was able to summon without any reference material at hand.[60] Penn petitioned for an audience with the King, which was denied but which led to negotiations on his behalf by one of the royal chaplains. Penn bravely declared, "My prison shall be my grave before I will budge a jot: for I owe my conscience to no mortal man."[51] He was released after eight months of imprisonment.[61]
Penn demonstrated no remorse for his aggressive stance and vowed to keep fighting against the wrongs of the Church and the King. For its part, the Crown continued to confiscate Quaker property and jailed thousands of Quakers. From then on, Penn's religious views effectively exiled him from English society; he was sent down (expelled) from Christ Church College of Oxford University for being a Quaker, and was arrested several times. Among the most famous of these was the trial following his 1670 arrest with William Mead. Penn was accused of preaching before a gathering in the street, which Penn had deliberately provoked to test the validity of the 1664 Conventicle Act, just renewed in 1670, which denied the right of assembly to "more than five persons in addition to members of the family, for any religious purpose not according to the rules of the Church of England".[62] Penn pleaded for his right to see a copy of the charges laid against him and the laws he had supposedly broken, but the judge, Thomas Howel, refused, although this was a right guaranteed by law. Furthermore, the judge directed the jury to come to a verdict without hearing the defense.[63][64]
Despite heavy pressure from Howel to convict Penn, the jury returned a verdict of "not guilty". When invited by the judge to reconsider their verdict and to select a new foreman, they refused and were sent to a cell over several nights to mull over their decision. The Lord Mayor then told the jury, "You shall go together and bring in another verdict, or you shall starve", and not only had Penn sent to jail in Newgate Prison (on a charge of contempt of court for refusing to remove his hat), but the full jury followed him, and they were additionally fined the equivalent of a year's wages each.[65][66] The members of the jury, fighting their case from prison in what became known as Bushel's Case, managed to win the right for all English juries to be free from the control of judges.[67] This case was one of the more important trials that shaped the concept of jury nullification[68] and was a victory for the use of the writ of habeas corpus as a means of freeing those unlawfully detained.
With his father dying, Penn wanted to see him one more time and patch up their differences. But he urged his father not to pay his fine and free him, "I entreat thee not to purchase my liberty." But the Admiral refused to let the opportunity pass and he paid the fine, releasing his son.
The old man had gained respect for his son's integrity and courage and told him, "Let nothing in this world tempt you to wrong your conscience."[69] The Admiral also knew that after his death young Penn would become more vulnerable in his pursuit of justice. In an act which not only secured his son's protection but also set the conditions for the founding of Pennsylvania, the Admiral wrote to the Duke of York, the heir to the throne.
The Duke and the King, in return for the Admiral's lifetime of service to the Crown, promised to protect young Penn and make him a royal counselor.[70]
Penn was not disinherited and he came into a large fortune but found himself in jail again for six months as he continued to agitate. After gaining his freedom, he finally married Gulielma Springett in April 1672, after a four-year engagement filled with frequent separations. Penn stayed close to home but continued writing his tracts, espousing religious tolerance and railing against discriminatory laws.[71] A minor split developed in the Quaker community between those who favored Penn's analytical formulations and those who preferred Fox's simple precepts.[72] But the persecution of Quakers had accelerated and the differences were overridden; Penn again resumed missionary work in Holland and Germany.[73]
In 1684 Penn returned to England to see his family and to try to resolve a territorial dispute with Lord Baltimore.[101] Penn did not always pay attention to details and had not taken the fairly simple step of determining where the 40th degree of latitude (the southern boundary of his land under the charter) actually was. After he sent letters to several landowners in Maryland advising the recipients that they were probably in Pennsylvania and not to pay any more taxes to Lord Baltimore, trouble arose between the two proprietors.[102] This led to an eighty-year legal dispute between the two families.
Political conditions at home had stiffened since Penn left. To his dismay, he found Bridewell and Newgate prisons filled with Quakers. Internal political conflicts even threatened to undo the Pennsylvania charter. Penn withheld his political writings from publication as "The times are too rough for print."[103]
In 1685 King Charles died, and the Duke of York was crowned James II. The new king resolved the border dispute in Penn's favor. But King James, a Catholic with a largely Protestant parliament, proved a poor ruler, stubborn and inflexible.[104] Penn supported James' Declaration of Indulgence, which granted toleration to Quakers, and went on a "preaching tour through England to promote the King's Indulgence".[105] His proposal at the London Yearly Meeting of the Society of Friends in June 1688 to establish an "advisory committee that might offer counsel to individual Quakers deciding whether to take up public office" under James II was rebuffed by George Fox, who argued that it was "not safe to conclude such things in a Yearly Meeting".[106] Penn offered some assistance to James II's campaign to regulate the parliamentary constituencies by sending a letter to a friend in Huntingdon asking him to identify men who could be trusted to support the king's campaign for liberty of conscience.[107]
Penn faced serious problems in the colonies due to his sloppy business practices. Apparently, he could not be bothered with administrative details, and his business manager, fellow Quaker Philip Ford, embezzled substantial sums from Penn's estates. Ford capitalized on Penn's habit of signing papers without reading them. One such paper turned out to be a deed transferring ownership of Pennsylvania to Ford who then demanded a rent beyond Penn's ability to pay.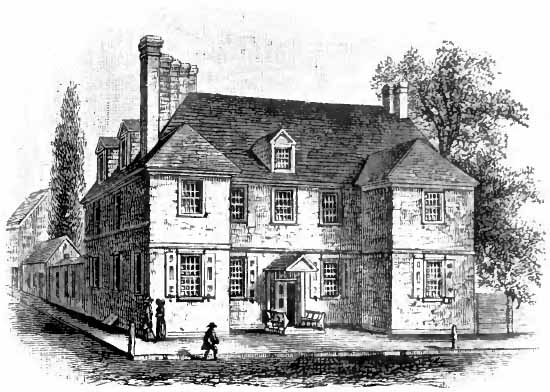 The Slate Roof House was one of two residences used by Penn during his second stay in the Americas. The house fell into disrepair and was demolished in 1867.
After agreeing to let Ford keep all his Irish rents in exchange for keeping quiet about Ford's legal title to Pennsylvania, Penn felt his situation sufficiently improved to return to Pennsylvania with the intention of staying.[108] Accompanied by his wife Hannah, daughter Letitia and secretary James Logan, Penn sailed from the Isle of Wight on the Canterbury, reaching Philadelphia in December 1699.[109]
Penn received a hearty welcome upon his arrival and found his province much changed in the intervening 18 years. Pennsylvania was growing rapidly and now had nearly 18,100 inhabitants and Philadelphia over 3,000.[110] His tree plantings were providing the green urban spaces he had envisioned. Shops were full of imported merchandise, satisfying the wealthier citizens and proving America to be a viable market for English goods. Most importantly, religious diversity was succeeding.[111] Despite the protests of fundamentalists and farmers, Penn's insistence that Quaker grammar schools be open to all citizens was producing a relatively educated workforce. High literacy and open intellectual discourse led to Philadelphia becoming a leader in science and medicine.[112] Quakers were especially modern in their treatment of mental illness, decriminalizing insanity and turning away from punishment and confinement.[113]
Ironically, the tolerant Penn transformed himself almost into a Puritan, in an attempt to control the fractiousness that had developed in his absence, tightening up some laws.[114] Another change was found in Penn's writings, which had mostly lost their boldness and vision. In those years, he did put forward a plan to make a federation of all English colonies in America. There have been claims that he also fought slavery, but that seems unlikely, as he owned and even traded slaves himself and his writings do not support that idea. However, he did promote good treatment for slaves, including marriage among slaves (though rejected by the Council). Other Pennsylvania Quakers were more outspoken and proactive, being among the earliest fighters against slavery in America, led by Daniel Pastorius, founder of Germantown, Pennsylvania. Many Quakers pledged to release their slaves upon their death, including Penn, and some sold their slaves to non-Quakers.[115]
The Penns lived comfortably at Pennsbury Manor and had all intentions of living out their lives there. They also had a residence in Philadelphia. Their only American child, John, had been born and was thriving. Penn was commuting to Philadelphia on a six-man barge, which he admitted he prized above "all dead things".
James Logan, his secretary, kept him acquainted with all the news. Penn had plenty of time to spend with his family and still attend to affairs of state, though delegations and official visitors were frequent. His wife, however, did not enjoy life as a governor's wife and hostess and preferred the simple life she led in England. When new threats by France again put Penn's charter in jeopardy, Penn decided to return to England with his family, in 1701.[116]
Penn first married Gulielma Maria Posthuma Springett (1644–1696), daughter of William S. Springett (the Posthuma in her name indicates that her father had died prior to her birth) and Lady Mary Proude Penington. They had three sons and five daughters:[125]
Gulielma Maria (1671/72-before 1685)

Maria Margaret (born and died 1673/74)

Springett (1674/75-1696)

Letitia (1678–1746), who married William Awbrey (Aubrey)

William, Jr. (1679/80-1720)

Unnamed child (born and died 1682)

Gulielma Maria (1685–1689)
Two years after Gulielma's death he married Hannah Margaret Callowhill (1671–1726), daughter of Thomas Callowhill and Anna (Hannah) Hollister. William Penn married Hannah when she was 25 and he was 52. They had eight children in twelve years. The first two children died in infancy. The other children were:
Unnamed daughter (born and died 1697)

John Penn (1699/00–1746), never married.

Thomas Penn (1700/01–1775), married Lady Juliana Fermor, fourth daughter of Thomas, first Earl of Pomfret.

Hannah Penn (1703–1706)

Margaret Penn (1704/05–1750), married Thomas Freame (1701/02-1746) nephew of John Freame, founder of Barclays Bank

Richard Penn, Sr. (1705–1771)

Dennis Penn (1705/06–1721/22)

Hannah Penn (1708–1709)

Louis Penn (1707–1724)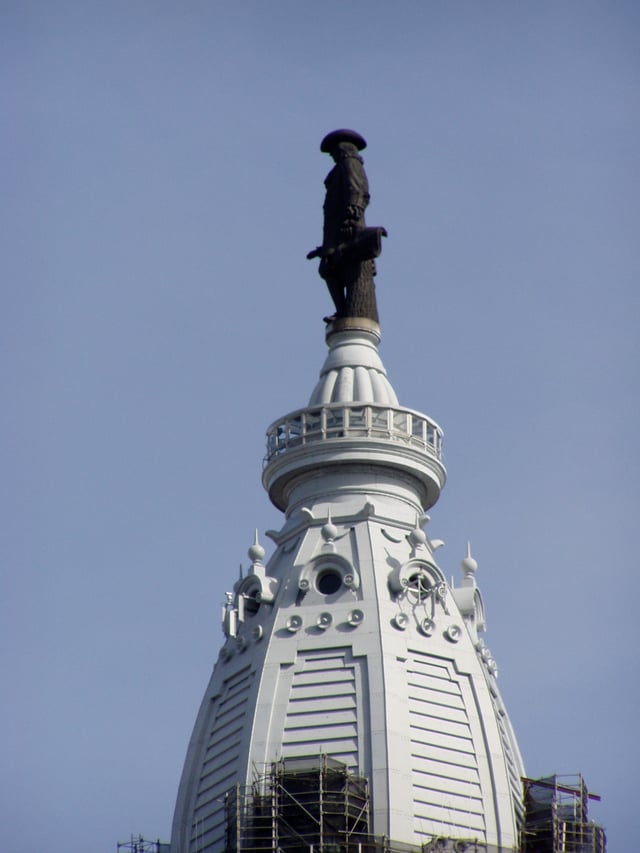 Bronze statue of William Penn atop Philadelphia City Hall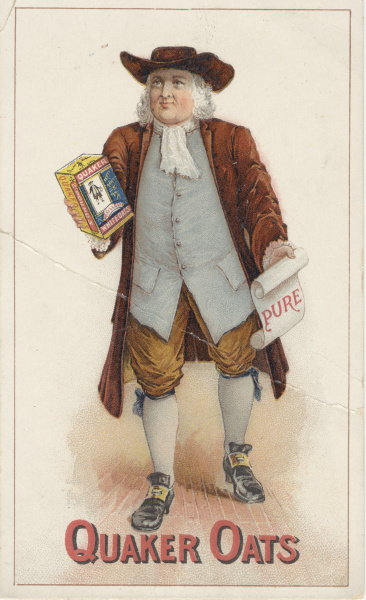 The Quaker Oats standing "Quaker Man" logo, identified at one time as William Penn
On 28 November 1984 Ronald Reagan, by Presidential Proclamation 5284 (authorised by an Act of Congress), declared William Penn and his second wife, Hannah Callowhill Penn, each to be an Honorary Citizen of the United States.[128]
A bronze statue of William Penn by Alexander Milne Calder exists on top of Philadelphia's City Hall. When installed in 1894, the statue represented the highest point in the city, as City Hall was then the tallest building in Philadelphia. Urban designer Edmund Bacon was known to have said that no gentleman would build taller than the "brim of Billy Penn's hat". This agreement existed for almost 100 years until the city decided to allow skyscrapers taller to be built. In March 1987, the completion of One Liberty Place was the first building to do that. This resulted in a "curse" which lasted from that year on until 2008 when a small statue of William Penn was put on top of the newly built Comcast Center. The Philadelphia Phillies went on to win the 2008 World Series that year.
A lesser-known statue of Penn is located at Penn Treaty Park, on the site where Penn entered into his treaty with the Lenape. In 1893, Hajoca Corporation, the nation's largest privately held wholesale distributor of plumbing, heating, and industrial supplies, adopted the statue as its trademark symbol.[129]
In 1946 the logo was changed into a head-and-shoulders portrait of the smiling Quaker Man. The Quaker Oats Company's website currently claims their logo is not a depiction of William Penn.[132]
Bil Keane created the comic Silly Philly for the Philadelphia Bulletin,a small,kid version of Penn,that ran from 1947 to 1961.
Penn was depicted in the 1941 film Penn of Pennsylvania by Clifford Evans.
The William Penn House – a Quaker hostel and seminar center – was named in honor of William Penn when it opened in 1966 to house Quakers visiting Washington, D.C. to partake in the many protests, events and social movements of the era.[134]
Chigwell School, the school he attended, has named one of their four houses after him and now owns several letters and documents which boasts his handwriting.
The former William Penn Primary School, and the successor Penn Wood Primary and Nursery School, in Manor Park, Slough, near to Stoke Park, is named after William Penn.[135]
The Friends' School, Hobart has named one of their seven six-year classes after him.
The William Penn Society of Whittier College has existed since 1934 as a society on the college campus of Whittier College and continues to this day.
George Fox University, a Christian liberal arts university with Quaker heritage, began an Honors Program named after Penn in 2014.[136]
Penn–Calvert boundary dispute

Nicholas More