Everipedia is now
IQ.wiki
- Join the
IQ Brainlist
and our
Discord
for early access to editing on the new platform and to participate in the beta testing.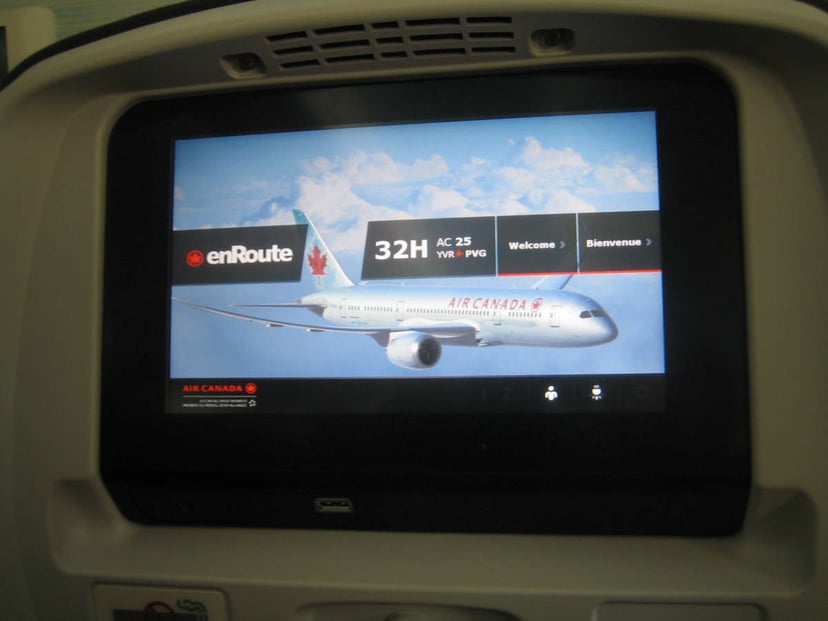 Video on demand
Video on demand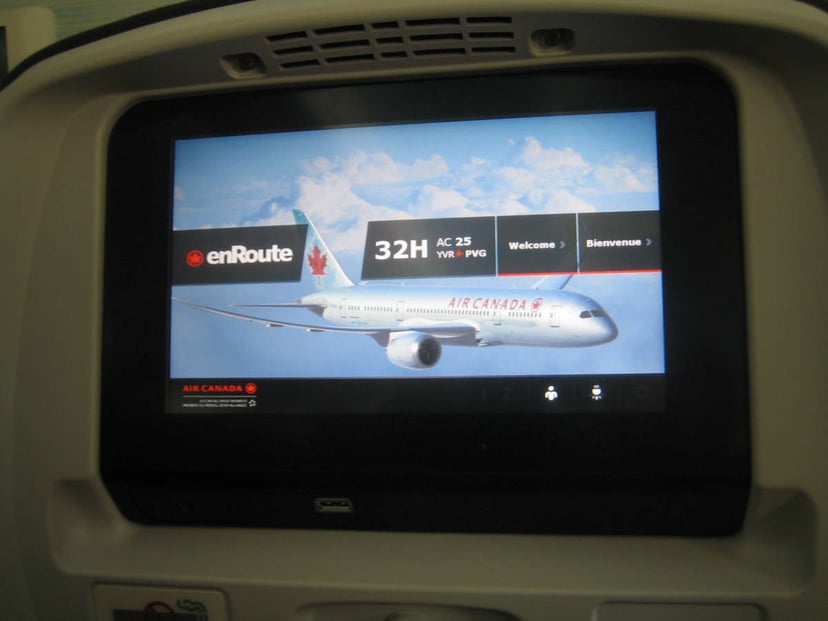 Video on-demand (VOD) is a form of video media distribution that allows users to consume TV and movie content whenever they choose, instead of having to watch shows at a scheduled broadcast time. During the 20th century, the major form of media distribution was broadcast in the form of over-the-air programming. The development of the Internet and IPTV technology in the late 20th century resulted in a significant switch in content consumption habits with VOD coming to televisions and personal computers.[1] Unlike broadcast TV, video on demand previously required each user to have an internet connection with considerable bandwidth to access the content effectively. However since the Digital Cinema Initiative[2] was launched in 2002 by Disney, Paramount, Sony Pictures Entertainment, Universal and Warner Bros. Studios, the JPEG2000 codec was developed alongside the Fraunhofer Institute[3] for the distribution of movies via Digital Cinema Packages. Subsequently, this technology has filtered down from feature film production into broadcast television which has necessitated substantially less bandwidth for VOD applications.
Television VOD systems can stream content through either a set-top box, a computer or other device, allowing viewing in real-time, or download it to a device such as a computer, digital video recorder (also called a personal video recorder) or a portable media player for viewing later. The majority of cable and telephone company-based television providers offer:
VOD streaming, whereby a user selects a video program and it begins to play immediately on the television set, or

downloading to a digital video recorder (DVR) rented or purchased from the provider, or downloading onto a PC or to a portable device for viewing in the future.
Internet television is an increasingly popular form of video on demand. VOD can also be accessed via desktop client applications such as the Apple iCloud online content store or through Smart TV apps such as Amazon Prime Video.
Some airlines offer VOD as in-flight entertainment to passengers through individually controlled video screens embedded in setbacks or armrests, or offered via portable media players. Some VOD services, such as Netflix, use a subscription model that requires users to pay a monthly fee to access a bundled set of content, which is mainly movies and TV shows. Other services, such as YouTube, use an advertising-funded model, where access to most content is provided at no charge; some premium content requires a subscription.
Downloading and streaming VOD systems provide the user with all of the features of portable media players and DVD players. Some VOD systems that store and stream programs from hard disk drives use a memory buffer to allow the user to fast forward and rewind digital videos. It is possible to put video servers on local area networks, in which case they can provide very rapid response to users. Cable companies have rolled out their own versions of VOD services through apps, allowing for TV access anywhere where there is a device that is internet compatible. In addition to cable services launching apps that offer on-demand video, they have combined it with live streaming services as well. The recent launches of apps from cable companies are attempts to compete with Subscription Video on Demand (SVOD) services, since they lack having live news, sports, etc.[4] Streaming video servers can also serve a wider community via a WAN, in which case responsiveness may be reduced. Download VOD services are practical to homes equipped with cable modems or DSL connections. Servers for traditional cable and telco VOD services are usually placed at the cable head-end serving a particular market as well as cable hubs in larger markets. In the telco world, they are placed in either the central office or a newly created location called a Video Head-End Office (VHO).
Role of peer-to-peer file sharing
Peer-to-peer (P2P) file-sharing software allows for the distribution of content without the linear costs associated with centralized streaming media. These innovations proved that it was technically possible to offer the consumer potentially every film ever made, and the popularity and ease of use of such services may have motivated the rise of centralized video-on-demand services. Some services such as Spotify[32] use peer-to-peer distribution to better scale their platforms. Netflix is considering switching to a P2P model[33] to cope with net neutrality problems from downstream providers.
Transactional video on demand (TVOD) is a distribution method by which customers pay for each piece of video-on-demand content.[34] For example, a customer would pay a fee for each movie or TV show that they watch. TVOD has two sub-categories: electronic sell-through (EST), by which customers can permanently access a piece of content once purchased via the Internet; and download to rent (DTR), by which customers can access the content for a limited time upon renting.[34][35] Examples of TVOD services include Apple iTunes online store and Google Play service.
A growing number of TV stations offer "catch-up TV" as a way for viewers to watch TV shows though their VOD service hours, days, weeks, months, years or even decades after the original television broadcast. This enables viewers to watch a program when they have free time, even if this is not when the program was originally aired. Some studies show that catch up TV is starting to represent a large amount of the views and hours watched and that users tend to watch catch up TV programs for longer when compared to live TV (e.g., regular scheduled broadcast TV).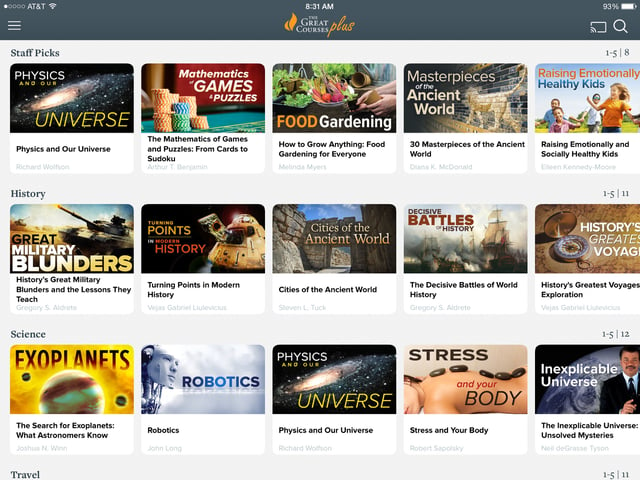 A screenshot of "The Great Courses Plus", a subscription video on-demand service offered by The Teaching Company that offers instructional videos.
Subscription VOD (SVOD) services use a subscription business model, where subscribers are charged a daily, weekly, monthly, or yearly fee to access unlimited programs. These services include Now TV, Netflix, Amazon Prime Video, TVPlayer and Hulu Plus. SVOD services have drawn a lot of attention for their role in films. As of June 2017, Netflix is expected to add nearly 40 original movies to its platform.[36] Hulu has invested its time in creating documentaries for its platform, while Amazon has acquired films from notable producers such as Spike Lee.[36] Because the SVOD services' large following, Netflix made an appearance at the 2017 Cannes Film Festival. Many took offense to this, stating that movies not presented in theaters should be omitted from qualifying from winning the Palme d'Or.[36] SVOD services have been seen as highly successful, and will continue to grow their audience for it being "a production house, broadcaster, recommendation and hosting service, and pseudo-DVD rental store."[37]
Near video on demand (NVOD) is a pay-per-view consumer video technique used by multi-channel broadcasters using high-bandwidth distribution mechanisms such as satellite and cable television. Multiple copies of a program are broadcast at short time intervals (typically 10–20 minutes) on linear channels providing convenience for viewers, who can watch the program without needing to tune in at the only scheduled point in time. A viewer may only have to wait a few minutes before the next time a movie will be programmed. This form is very bandwidth-intensive and is generally provided only by large operators with a great deal of redundant capacity and has been reduced in popularity as video on demand is implemented.
Only the satellite services Dish Network and DirecTV continue to provide NVOD experiences. These satellite services continue to provide NVOD due to a lack of broadband Internet access for their rural customer bases. Before the rise of video on demand, the cable pay-per-view provider In Demand provided up to 40 channels in 2002, with several films receiving up to four channels on a staggered schedule to provide the NVOD experience for viewers.[38] As of 2018, most cable pay-per-view channels now number mainly 3-5 and are used solely for live ring sports events (boxing and professional wrestling) and concerts. In Australia, pay-TV broadcaster Foxtel offers NVOD for new release movies.[39]
Push video on demand is so-named because the provider "pushes" the content out to the viewer's set-top box without the viewer having requested the content. This technique is used by several broadcasters on systems that lack the connectivity and bandwidth to provide true "streaming" video on demand. Push VOD is also used by broadcasters who want to optimize their video streaming infrastructure by pre-loading the most popular contents (e.g., that week's top ten films or shows) to the consumers' set-top device. That way, if the consumer requests one of these films, it is already loaded on their DVR. A push VOD system uses a personal video recorder (PVR) to store a selection of content, often transmitted in spare capacity overnight or all day long at low bandwidth. Users can watch the downloaded content at the time they desire, immediately and without any buffering issues. Push VOD depends on the viewer recording content, so choices can be limited.[40]
As content occupies space on the PVR hard drive, downloaded content is usually deleted after a week to make way for newer programs or movies. The limited space on a PVR hard drive means that the selection of programs is usually restricted to the most popular content. A new generation of Push VOD solution recently appeared on the market which, by using efficient error correction mechanisms, can free a significant amount of bandwidth and that can deliver more than video e.g. digital versions of magazines and interactive applications.
Advertising video on demand
Advertising video on demand is a VOD model that uses an advertising-based revenue model. This allows companies that advertise on broadcast and cable channels to reach people who watch shows using VOD. As well, this model allows people to watch content without paying subscription fees. Hulu has been one of the major AVOD companies, though the company ended free service in August 2016, which was transferred to Yahoo! View using the existing Hulu infrastructure. Ads still run on the subscription service if the consumer chooses a lesser plan including commercial breaks (though even with Hulu's commercial-free plan, some programs still carry advertising due to programming licensing issues). Advertisers may find that people watching on VOD services do not want the same ads to appear multiple times. Crackle has introduced the concept of a series of ads for the same company that ties into what is being watched.[41][42]
Ad-Supported Video on Demand
Walmart is adding ASVOD original programming to Vudu, and YouTube Originals will be ASVOD by 2020.[45]
Comparison of video hosting services

Electronic sell-through

Music on demand