Secret Intelligence Service
582 VIEWS
Everipedia is now
IQ.wiki
- Join the
IQ Brainlist
and our
Discord
for early access to editing on the new platform and to participate in the beta testing.
Secret Intelligence Service
Secret Intelligence Service
Secret Intelligence Service

Agency overview

Formed

July 1909

 (

1909-07

)

Preceding

Type

Foreign intelligence service

Jurisdiction

Her Majesty's Government

Headquarters

SIS Building


London, England
United Kingdom
51°29′14″N 0°07′27″W [100]

Motto

Semper Occultus (Always Secret)

Employees

2,594 (31 March 2016)[2]

Annual budget

Single Intelligence Account (£2.6 billion in 2014–2015 financial year)[3][1]

Minister responsible

Dominic Raab, Foreign Secretary

Agency executive

Website

SIS.gov.uk [101]

Footnotes
Secret Intelligence Service

Agency overview

Formed

July 1909

 (

1909-07

)

Preceding

Type

Foreign intelligence service

Jurisdiction

Her Majesty's Government

Headquarters

SIS Building


London, England
United Kingdom
51°29′14″N 0°07′27″W [100]

Motto

Semper Occultus (Always Secret)

Employees

2,594 (31 March 2016)[2]

Annual budget

Single Intelligence Account (£2.6 billion in 2014–2015 financial year)[3][1]

Minister responsible

Dominic Raab, Foreign Secretary

Agency executive

Website

SIS.gov.uk [101]

Footnotes
The service derived from the Secret Service Bureau, which was founded on 1 October 1909.[6] The Bureau was a joint initiative of the Admiralty and the War Office to control secret intelligence operations in the UK and overseas, particularly concentrating on the activities of the Imperial German government. The bureau was split into naval and army sections which, over time, specialised in foreign espionage and internal counter-espionage activities, respectively. This specialisation was because the Admiralty wanted to know the maritime strength of the Imperial German Navy. This specialisation was formalised before 1914. During the First World War in 1916, the two sections underwent administrative changes so that the foreign section became the section MI1(c) of the Directorate of Military Intelligence.[14]
Its first director was Captain Sir Mansfield George Smith-Cumming, who often dropped the Smith in routine communication. He typically signed correspondence with his initial C in green ink. This usage evolved as a code name, and has been adhered to by all subsequent directors of SIS when signing documents to retain anonymity.[6][15][16]
The service's performance during the First World War was mixed, because it was unable to establish a network in Germany itself. Most of its results came from military and commercial intelligence collected through networks in neutral countries, occupied territories, and Russia.[17]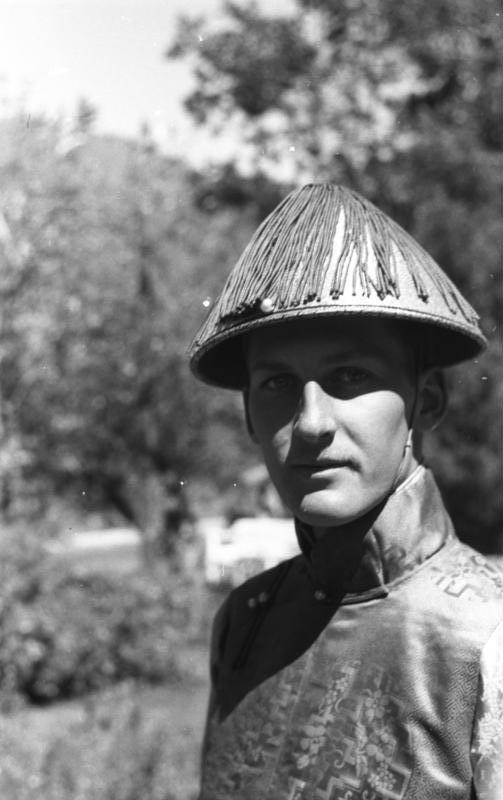 A young Englishman, member of the Secret Intelligence Service, in Yatung, Tibet, photographed by Ernst Schäfer in 1939
After the war, resources were significantly reduced but during the 1920s, SIS established a close operational relationship with the diplomatic service. In August 1919, Cumming created the new passport control department, providing diplomatic cover for agents abroad. The post of Passport Control Officer provided operatives with diplomatic immunity.[18]
The debate over the future structure of British Intelligence continued at length after the end of hostilities but Cumming managed to engineer the return of the Service to Foreign Office control. At this time, the organisation was known in Whitehall by a variety of titles including the Foreign Intelligence Service, the Secret Service, MI1(c), the Special Intelligence Service and even C's organisation. Around 1920, it began increasingly to be referred to as the Secret Intelligence Service (SIS), a title that it has continued to use to the present day and which was enshrined in statute in the Intelligence Services Act 1994. During the Second World War, the name MI6 was used as a flag of convenience, the name by which it is frequently known in popular culture since.[6]
In the immediate post-war years under Sir Mansfield George Smith-Cumming and throughout most of the 1920s, SIS was focused on Communism, in particular, Russian Bolshevism. Examples include a thwarted operation to overthrow the Bolshevik government[20] in 1918 by SIS agents Sidney George Reilly[21] and Sir Robert Bruce Lockhart,[22] as well as more orthodox espionage efforts within early Soviet Russia headed by Captain George Hill.[23]
Smith-Cumming died suddenly at his home on 14 June 1923, shortly before he was due to retire, and was replaced as C by Admiral Sir Hugh "Quex" Sinclair. Sinclair created the following sections:
A central foreign counter-espionage Circulating Section, Section V, to liaise with the Security Service to collate counter-espionage reports from overseas stations.

An economic intelligence section, Section VII, to deal with trade, industry and contraband.

A clandestine radio communications organisation, Section VIII, to communicate with operatives and agents overseas.

Section N to exploit the contents of foreign diplomatic bags
MI6 assisted the Gestapo, the Nazi secret police, with "the exchange of information about communism" as late as October 1937, well into the Nazi era; the head of the British agency's Berlin station, Frank Foley, was still able to describe his relationship with the Gestapo's so-called communism expert as "cordial".[25]
Sinclair died in 1939, after an illness, and was replaced as C by Lt Col. Stewart Menzies (Horse Guards), who had been with the service since the end of World War I.[26]
On 26 and 27 July 1939,[27] in Pyry near Warsaw, British military intelligence representatives including Dilly Knox, Alastair Denniston and Humphrey Sandwith were introduced by their allied Polish counterparts into their Enigma-decryption techniques and equipment, including Zygalski sheets and the cryptologic "Bomba", and were promised future delivery of a reverse-engineered, Polish-built duplicate Enigma machine. The demonstration represented a vital basis for the later British continuation and effort.[28] During the war, British cryptologists decrypted a vast number of messages enciphered on Enigma. The intelligence gleaned from this source, codenamed "Ultra" by the British, was a substantial aid to the Allied war effort.[29]
During the Second World War the human intelligence work of the service was complemented by several other initiatives:
The cryptanalytic effort undertaken by the Government Code and Cypher School (GC&CS), the bureau responsible for interception and decryption of foreign communications at Bletchley Park. (See above.)

The extensive "double-cross" system run by MI5 to feed misleading intelligence to the Germans.

Imagery intelligence activities conducted by the RAF Photographic Reconnaissance Unit (now JARIC, The National Imagery Exploitation Centre).
The chief of SIS, Stewart Menzies, insisted on wartime control of codebreaking, and this gave him immense power and influence, which he used judiciously. By distributing the Ultra material collected by the Government Code & Cypher School, for the first time, MI6 became an important branch of the government. Extensive breaches of Nazi Enigma signals gave Menzies and his team enormous insight into Adolf Hitler's strategy, and this was kept a closely held secret.[31]
The British intelligence services signed a special agreement with their allied Polish counterparts 1940. In July 2005, the British and Polish governments jointly produced a two-tome study of bilateral intelligence cooperation in the War, which revealed information that had until then been officially secret. The Report of the Anglo-Polish Historical Committee was written by leading historians and experts who had been granted unprecedented access to British intelligence archives, and concluded that 48 percent of all reports received by British secret services from continental Europe in 1939–45 had come from Polish sources.[32] This was facilitated by the fact that occupied Poland had a tradition of insurgency organizations passed down through generations, with networks in emigre Polish communities in Germany and France; a major part of Polish resistance activity was clandestine and involved cellular intelligence networks; while Nazi Germany used Poles as forced labourers across the continent, putting them in a unique position to spy on the enemy. Liaison was undertaken by SIS officer Wilfred Dunderdale, and reports included advanced warning of the Afrikakorps' departure for Libya, awareness of the readiness of Vichy French units to fight against the Allies or switch sides in Operation Torch, and advance warning both of Operation Barbarossa and Operation Edelweiss, the German Caucasus campaign. Polish-sourced reporting on German secret weapons began in 1941, and Operation Wildhorn enabled a British special operations flight to airlift a V-2 Rocket that had been captured by the Polish resistance. Polish secret agent Jan Karski delivered the British the first Allied intelligence on the Holocaust. Via a female Polish agent, the British also had a channel to the anti-Nazi chief of the Abwehr, Admiral Wilhelm Canaris.[32]
The most significant failure of the service during the war was known as the Venlo incident, named for the Dutch town where much of the operation took place. Agents of the German army secret service, the Abwehr, and the counter-espionage section of the Sicherheitsdienst (SD), posed as high-ranking officers involved in a plot to depose Hitler. In a series of meetings between SIS agents and the 'conspirators', SS plans to abduct the SIS team were shelved due to the presence of Dutch police. On the night of 8–9 November 1939, a meeting took place without police presence. There, the two SIS agents were duly abducted by the SS.[33]
In 1940, journalist and Soviet agent Kim Philby applied for a vacancy in Section D of SIS, and was vetted by his friend and fellow Soviet agent Guy Burgess. When Section D was absorbed by Special Operations Executive (SOE) in summer of 1940, Philby was appointed as an instructor in the arts of "black propaganda" at the SOE's training establishment in Beaulieu, Hampshire.[34]
In May 1940, MI6 set up British Security Co-ordination (BSC), on the authorisation of Prime Minister Winston Churchill over the objections of Stewart Menzies.[35][36] This was a covert organisation based in New York City, headed by William Stephenson intended to investigate enemy activities, prevent sabotage against British interests in the Americas, and mobilise pro-British opinion in the Americas.[37][38] BSC also founded Camp X in Canada to train clandestine operators and to establish (in 1942) a telecommunications relay station, code name Hydra, operated by engineer Benjamin deForest Bayly.[39]
In early 1944 MI6 re-established Section IX, its prewar anti-Soviet section, and Philby took a position there. He was able to alert the NKVD about all British intelligence on the Soviets—including what the American OSS had shared with the British about the Soviets.[40]
Despite these difficulties the service nevertheless conducted substantial and successful operations in both occupied Europe and in the Middle East and Far East where it operated under the cover name Interservice Liaison Department (ISLD).[41]
Most other buildings are held or nominally occupied by the Foreign & Commonwealth Office. They include:
Hanslope Park: on the outskirts of Milton Keynes housing Her Majesty's Government Communications Centre, which supports the Foreign & Commonwealth Office and the British intelligence community.[93]

Fort Monckton: a former fort dating from the 1780s, rebuilt in the 1880s, is now the field operations training centre for SIS.[94]
MI6 is nicknamed The Circus. Some say this was coined by John le Carré (former SIS officer David Cornwell) in his espionage novels and named after a fictional building on Cambridge Circus. Leo Marks explains in his World War II memoir Between Silk and Cyanide that the name arose because a section of the Special Operations Executive was housed in a building at 1 Dorset Square, London, which had formerly belonged to the directors of Bertram Mills circus. "This inspired continuity was one of SOE's favourite in-jokes."[95]
1909–1923: Sir Mansfield Smith-Cumming, KCMG CB

1923–1939: Admiral Sir Hugh Sinclair, KCB

1939–1952: Major General Sir Stewart Menzies, KCB KCMG DSO MC

1956–1968: Sir Richard White, KCMG KBE

1968–1973: Sir John Rennie, KCMG

1973–1978: Sir Maurice Oldfield, GCMG CBE

1979–1982: Sir Dick Franks, KCMG

1982–1985: Sir Colin Figures, KCMG OBE

1985–1989: Sir Christopher Curwen, KCMG

1989–1994: Sir Colin McColl, KCMG

1994–1999: Sir David Spedding, KCMG CVO OBE

1999–2004: Sir Richard Dearlove, KCMG OBE

2004–2009: Sir John Scarlett, KCMG OBE

2009–2014: Sir John Sawers, KCMG

2014–present: Sir Alex Younger, KCMG
List of intelligence agencies

History of espionage British Security Co-ordination, the WWII operation headed by William Stephenson in the Americas, set up by MI6

Cambridge Five, a Cold War Soviet spy ring Anthony Blunt (cryptonym: Johnson), MI5 officer and Soviet agent Guy Burgess (cryptonym: Hicks), SIS officer and Soviet agent John Cairncross (cryptonym: Liszt), SIS officer and Soviet agent Donald Maclean (cryptonym: Homer), SIS officer and Soviet agent Kim Philby (cryptonym: Stanley), SIS officer and Soviet agent

James Bond, 007, a fictional character from the popular book, movie and video game franchise, who is an agent working for MI6

David Cornwell (known as John le Carré), author, former SIS officer

Andrew Fulton, chairman of the Scottish Conservative Party

Camp X, training facility in Canada for clandestine operators during WWII

Charles Cumming, author

Paul Dukes, SIS officer and author

Frederick Forsyth, author and alleged MI6 agent

Ian Fleming, author of James Bond novels, former NID officer

Graham Greene, author, former SIS officer

Bill Hudson, SIS Agent; supposedly one of the figures on which James Bond was based.

Ralph Izzard, journalist, author, former NID officer

Horst Kopkow, SS officer who worked for SIS after the Second World War

Alec Leamas, fictional SIS (or "the Circus" in the novels) operative in John Le Carré's Spy Who Came in from the Cold (1963) and portrayed by Richard Burton in the 1965 film

Sidney Reilly, Ace of Spies, worked for SIS and others

Alex Rider, fictional agent, unwillingly working for MI6, character in British author Anthony Horowitz's Alex Rider series Alan Blunt, fictional head of Special Operations Division, MI6, character in British author Anthony Horowitz's Alex Rider series Mrs. Jones, fictional deputy head of Special Operations Division, MI6, immediate superior is Alan Blunt Ian Rider, fictional agent, uncle of Alex Rider and brother of John Rider John Rider, fictional agent, father of Alex Rider and brother of Ian Rider

Krystyna Skarbek, agent

Aggie MacKenzie, TV presenter and journalist who spent two years working for MI6

George Smiley, a fictional character from the popular books of John Le Carré and movie franchise, who works for MI6

William Stephenson, head of the British Security Co-ordination during WWII

Richard B. Tinsley, SIS officer, station chief during WWI.

Richard Tomlinson, author, former SIS officer

Valentine Vivian, Vice-Chief of SIS and head of counter-espionage, Section V

Gareth Williams, seconded to SIS from GCHQ, died under suspicious circumstances.