Everipedia is now
IQ.wiki
- Join the
IQ Brainlist
and our
Discord
for early access to editing on the new platform and to participate in the beta testing.
Robert Reich
Robert Reich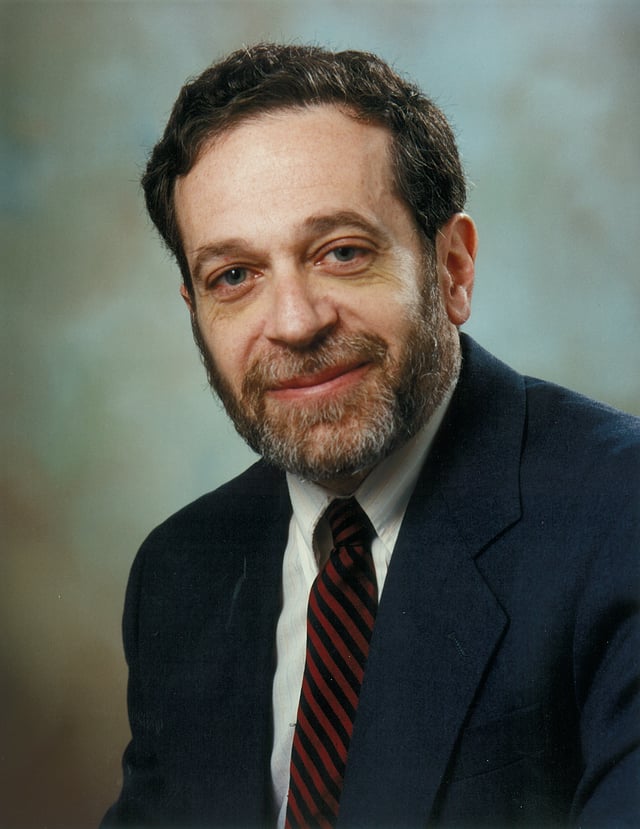 Robert Reich, from United States Department of Labor, 1993
Reich was born in Scranton, Pennsylvania, the son of Mildred Dorf (née Freshman) and Edwin Saul Reich (1914–2016), who owned a women's clothing store. His family is Jewish.[16][17] As a child, he was diagnosed with multiple epiphyseal dysplasia, also known as Fairbank's disease, a bone disorder that results in short stature among other symptoms. This condition made him a target for bullies and he sought out the protection of older boys; one of them was Michael Schwerner, who was later a victim in the murders of Chaney, Goodman, and Schwerner by the Ku Klux Klan in 1964 for the registration of African-American voters. Reich cites this event as an inspiration to "fight the bullies, to protect the powerless, to make sure that the people without a voice have a voice".[18]
He attended John Jay High School in Cross River, New York, and Dartmouth College, graduating with an A.B. summa cum laude in 1968 and winning a Rhodes Scholarship to study Philosophy, Politics, and Economics at University College, Oxford.[19] While at Dartmouth, Reich went on a date with Hillary Rodham, the future Hillary Clinton, then an undergraduate at Wellesley College.[20] While a Rhodes Scholar at Oxford, Reich first met Bill Clinton, also a Rhodes Scholar. Although he was drafted to serve in the Vietnam War, he did not pass the physical as he was under the required minimum height of five feet.[21] Reich subsequently earned a J.D. from Yale Law School, where he was an editor of the Yale Law Journal. At Yale, he was classmates with Bill and Hillary Clinton, Clarence Thomas, Michael Medved, and Richard Blumenthal.[22]
From 1973 to 1974, he served as law clerk to Judge Frank M. Coffin, Chief Judge of the U.S. Court of Appeals for the First Circuit; and from 1974 to 1976 was Assistant to the U.S. Solicitor General, Robert Bork. In 1977, President Jimmy Carter appointed him Director of the Policy Planning Staff at the Federal Trade Commission.
From 1980 until 1992, Reich taught at the John F. Kennedy School of Government at Harvard University, where he wrote a series of influential books and articles, including The Next American Frontier and The Work of Nations. In The Next American Frontier he blamed the nation's lagging economic growth on "paper entrepreneurialism", which is the financial and legal gamesmanship that drained the economy of resources needed for better products and services.
In The Work of Nations, he argues that a nation's competitiveness depends on the education and skills of its people and the infrastructure that connects them, rather than on the profitability of companies headquartered within it. Private capital, he says, is increasingly global and footloose—while a nation's people—its human capital—constitutes the one resource on which a nation's future standard of living uniquely depends. He urges policy makers to make such public investments the cornerstone of economic policy.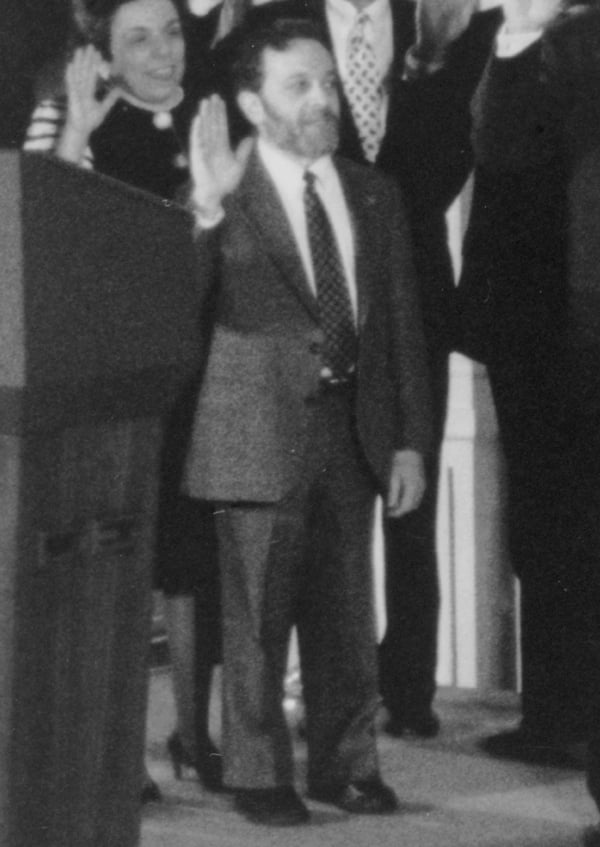 Reich in the East Room during the 1993 swearing-in ceremony for Clinton's cabinet
Bill Clinton incorporated Reich's thinking into his 1992 campaign platform, "Putting People First", and after being elected invited Reich to head his economic transition team.
Reich later joined the administration as Secretary of Labor. During his tenure, he implemented the Family and Medical Leave Act (FMLA), successfully lobbied to increase the minimum wage, lobbied to pass the School-to-Work Jobs Act, and to integrate all job-training and job-displacement programs so workers who lost their jobs could get access to all the help they needed to get new ones that paid at least as much as the old.
In addition, Reich used the office as a platform for focusing national attention on the need to help American workers to adapt to the new economy.
He popularized the term "corporate welfare"—arguing that the nation could get the money it needed to retrain people and move them from welfare to work by cutting "aid for dependent corporations".
He advocated that the country provide more opportunities for workers to learn technological skills.
What's the Fed? Reich explaining the Federal Reserve
In 2013, with Jacob Kornbluth, Reich founded Inequality Media, which produces videos, live interviews on Facebook, portions of his undergraduate class at Berkeley, and long-form videos.
The purpose is to educate the public about the implications of the widening inequalities of income, wealth, and political power.
Reich and Kornbluth have produced more than 90 videos of two minutes each about the economy and current events, that have been watched by more than 50 million people.
Since shortly after the 2017 inauguration Reich began producing a "Resistance Report" program, offering contextual analysis of latest White House and Cabinet activities, typically a 15- to 30-minute presentation, available on social media sites like Facebook and YouTube.[49]
Reich married Clare Dalton in 1973, and they have two sons, Sam, an American producer, director, writer, actor, and performer, and Adam, a sociology professor at Columbia University. They divorced in 2012.[11]
Chancellor's Professor, Goldman School of Public Policy, University of California, Berkeley

Maurice B. Hexter Professor of Social and Economic Policy, Florence Heller Graduate School of Public Policy and Management, Brandeis University

Professor, John F. Kennedy School of Government, Harvard University
Galbraith-Schlesinger Award for Lifetime Achievement, Americans for Democratic Action, June 2009.

Outstanding Mentorship of Graduate Student Instructors, University of California at Berkeley, 2009.

Bruno-Kreisky Award, best political book of year (Supercapitalism), 2009.

Vaclav Havel Prize, Prague, October 2003.

Distinguished Citizen Scholar Award, University of Massachusetts at Amherst, 2003.

Nelson Rockefeller Distinguished Public Service Award, Dartmouth College, 2002.

Teacher of the Year, Brandeis University, 2001.

Louis Brownlow Award (best book on public administration), National Academy of Public Administration, 1984.[6]
Milton and Augusto (reading, University of California Berkeley, Center for Latin American Studies, September 2013)

Public Exposure (East Coast premier, Wellfleet Harbor Actor's Theater, June 2005; West Coast premier, Santa Rosa Theater, June 2008)[6]
These documentaries, and additional social media movies, have been made in collaboration with Jacob Kornbluth.
2013: Inequality for All

2017: Saving Capitalism
2008–09 Keynesian resurgence

Journal of Women, Politics & Policy – Reich sits on the editorial board[57]

The Trap (TV series), BBC documentary featuring Reich