Everipedia is now
IQ.wiki
- Join the
IQ Brainlist
and our
Discord
for early access to editing on the new platform and to participate in the beta testing.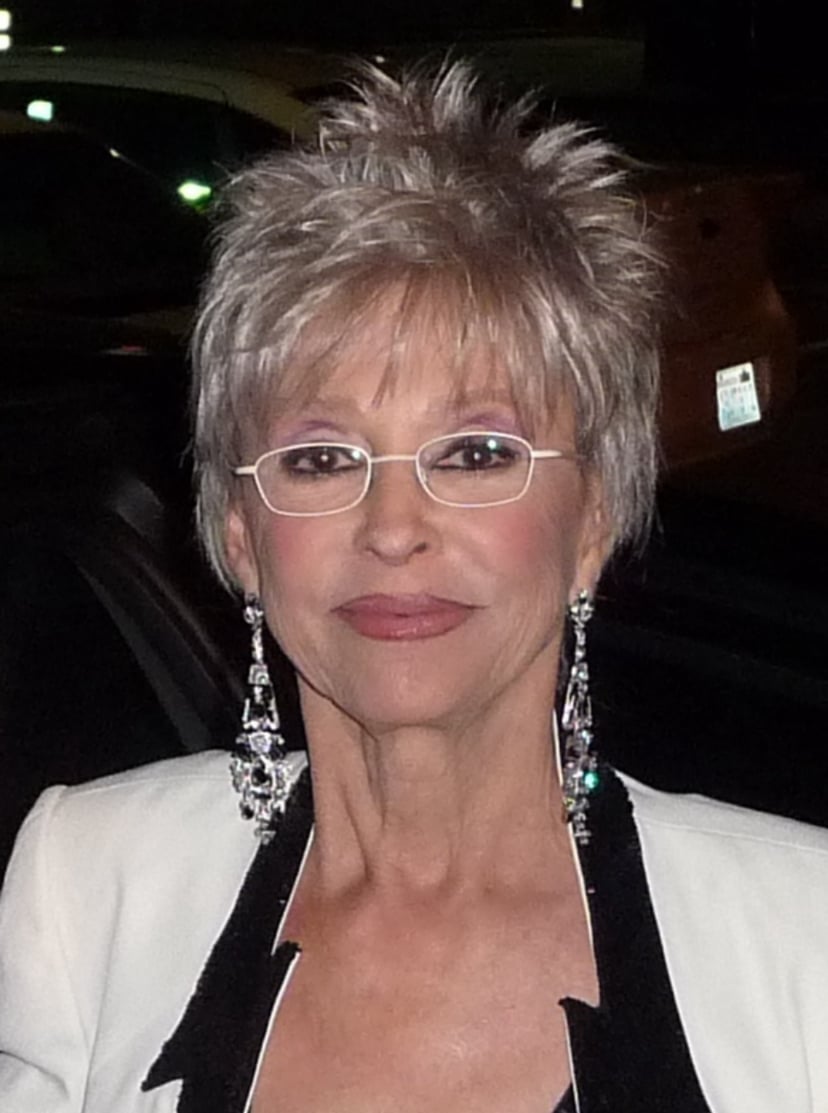 Rita Moreno
Rita Moreno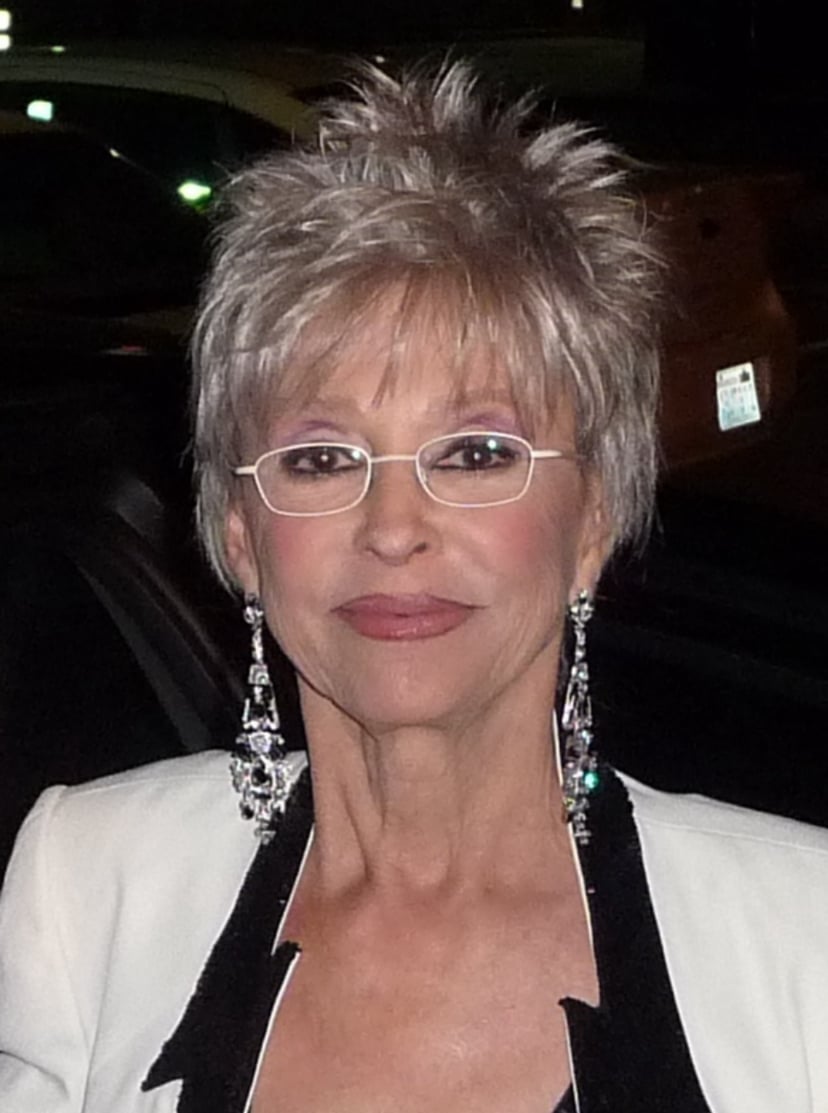 Born




(

1931-12-11

)

December 11, 1931




Occupation

Actress, singer, dancer

Years active

1943–present

Spouse(s)

Leonard Gordon

(

m.

 1965; died 2010)

Children

1
Rita Moreno (born December 11, 1931) is a Puerto Rican actress, dancer and singer. Her career has spanned over 70 years; among her notable acting work are supporting roles in the musical films The King and I and West Side Story, as well as a 1971–77 stint on the children's television series The Electric Company, and a supporting role on the 1997–2003 TV drama Oz.
Moreno is one of the few artists[2] to have won all four major annual American entertainment awards: an Oscar, an Emmy, a Grammy and a Tony.[3] She is also one of 23 people who have achieved what is called the Triple Crown of Acting, with individual competitive Academy, Emmy and Tony awards for acting; she and Helen Hayes are the only two who have achieved both distinctions. She has won numerous other awards, including various lifetime achievement awards and the Presidential Medal of Freedom, America's highest civilian honor.
Born




(

1931-12-11

)

December 11, 1931




Occupation

Actress, singer, dancer

Years active

1943–present

Spouse(s)

Leonard Gordon

(

m.

 1965; died 2010)

Children

1
Moreno (birth name: Rosa Dolores Alverío Marcano [1])[4] was born in Humacao, Puerto Rico, to Rosa María (née Marcano), a seamstress, and Francisco José "Paco" Alverío, a farmer. She was nicknamed "Rosita". Moreno, whose mother was 17 at the time of her birth, was raised in nearby Juncos.[5][6] Moreno's mother moved to New York City in 1936, taking her daughter, but not her son, Moreno's younger brother, Francisco. Moreno adopted the surname of her first stepfather, Edward Moreno, Rosa Maria's second husband. She spent her teenage years living in the villages of Valley Stream, New York on Long Island.[7]
Rita began her first dancing lessons soon after arriving in New York with a Spanish dancer known as "Paco Cansino", who was a paternal uncle of film star Rita Hayworth.[8] When she was 11 years old, she lent her voice to Spanish language versions of American films. She had her first Broadway role—as "Angelina" in Skydrift—by the time she was 13, which caught the attention of Hollywood talent scouts.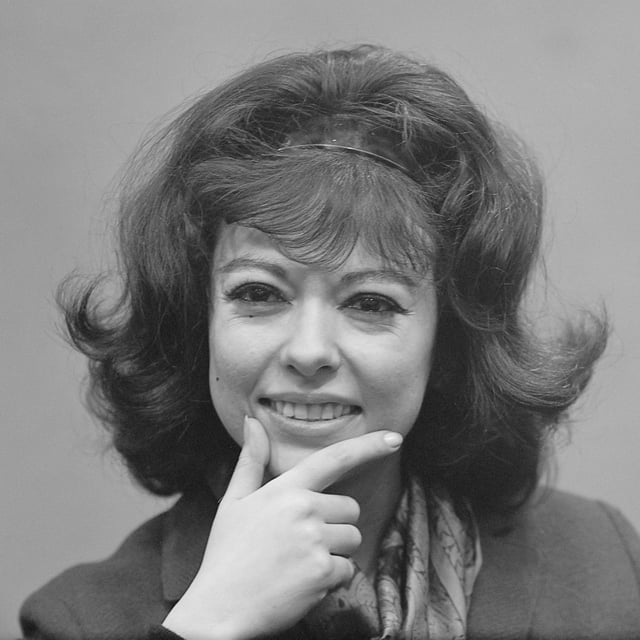 Rita Moreno, 1963
Moreno acted steadily in films throughout the 1950s, usually in small roles, including in The Toast of New Orleans (1950)[9] and Singin' in the Rain (1952), in which she played the starlet "Zelda Zanders". In March 1954, Moreno was featured on the cover of Life Magazine with the caption "Rita Moreno: An Actress's Catalog of Sex and Innocence".[10][11]
Moreno disliked most of her film work during this period, as she felt the roles she was given were very stereotypical. One exception was her supporting role in the film version of The King and I as Tuptim.[12]
In 1961, Moreno landed the role of Anita in Robert Wise and Jerome Robbins' film adaptation of Leonard Bernstein's and Stephen Sondheim's groundbreaking Broadway musical West Side Story, which had been played by Chita Rivera on Broadway. Moreno won the Academy Award for Best Supporting Actress for that role.[13]
After winning the Oscar, Moreno thought she would be able to continue to perform less stereotypical film roles, but was disappointed:
Ha, ha. I showed them. I didn't make another movie for seven years after winning the Oscar.... Before West Side Story, I was always offered the stereotypical Latina roles. The Conchitas and Lolitas in westerns. I was always barefoot. It was humiliating, embarrassing stuff. But I did it because there was nothing else. After West Side Story, it was pretty much the same thing. A lot of gang stories.[14]
Moreno had a major role in Summer and Smoke (1961), released soon after West Side Story. She did appear in one film during her self-imposed exile from Hollywood – Cry of Battle (1963) – although it had been filmed directly before and after she won the Academy Award.
She made her return to film in The Night of the Following Day (1968) with Marlon Brando, and followed that with Popi (1969), Marlowe (1969) with James Garner, Carnal Knowledge (1971) and The Ritz (1976). Another notable role was in the hit film The Four Seasons (1981). She has continued to work in film since then, including a small voice role in the 2014 film Rio 2, perhaps her most commercially successful film.
Moreno will star and executive produce along with Steven Spielberg the remake of West Side Story.[15]
From 1971 to 1977, Moreno was a main cast member on the PBS children's series The Electric Company. She screamed the show's opening line, "Hey, you guys!" Her roles on the show included Millie the Helper, the naughty little girl Pandora, and Otto, a very short-tempered director.
Rita Moreno has made numerous guest appearances on television series since the 1970s, including The Love Boat, The Cosby Show, George Lopez, The Golden Girls, and Miami Vice.
Moreno's appearance on The Muppet Show earned her a Primetime Emmy Award for Outstanding Individual Performance in a Variety or Music Program in 1977.[16] As a result, she became the third person (after Richard Rodgers and Helen Hayes) to have won an Oscar (1962), a Grammy (1972), a Tony (1975), and an Emmy (1977), frequently referred to as an "EGOT".
She won another Emmy award the following year, 1978, this time a Primetime Emmy Award for Outstanding Guest Actress - Drama Series, for her portrayal of former call girl Rita Kapcovic on a three-episode arc on The Rockford Files.
She was a regular on the three season network run of 9 to 5, a sitcom based on the film hit, during the early 1980s.[17]
In the late 1990s, she gained exposure to a new generation of viewers when she played Sister Pete, a nun trained as a psychologist in the popular HBO series Oz, for which she won several ALMA Awards. She made a guest appearance on The Nanny as Coach Stone, Maggie's tyrannical gym teacher, whom Fran Fine also remembered from her school as Ms. Wickavich.[19]
She had a recurring role on Law & Order: Criminal Intent as the dying mother of Detective Robert Goren. She played the family matriarch on the short-lived 2007 TV series Cane, which starred Jimmy Smits and Hector Elizondo. She played the mother of Fran Drescher's character in the 2011–13 TV sitcom Happily Divorced.[20]
In 2014, Moreno appeared in the NBC television film Old Soul, alongside Natasha Lyonne, Fred Willard and Ellen Burstyn.[21] The film was intended as a pilot for a television series, but it was not picked up.
Moreno plays the matriarch of a Cuban-American family in the Netflix sitcom One Day at a Time, a remake produced by Norman Lear of Lear's 1975–84 sitcom. The first season premiered in January 2017. Critics overall praised the show, and especially the performances of Moreno and the series' star, Justina Machado.[22]
Moreno's Broadway credits include Last of the Red Hot Lovers (1969), the very short-lived musical Gantry (1970) and The Ritz, for which she won the 1975 Tony Award for Best Featured Actress. She appeared in the female version of The Odd Couple[12] that ran in Chicago, for which she won the Sarah Siddons Award in 1985.[13]
In 2006, she portrayed Amanda Wingfield in Berkeley Repertory Theatre's revival of The Glass Menagerie.
In September 2011, Moreno began performing a solo autobiographical show at the Berkeley Rep (theater) in Berkeley, California, Rita Moreno: Life Without Makeup written by Berkeley Rep artistic director Tony Taccone after hours of interviews with Moreno.[10]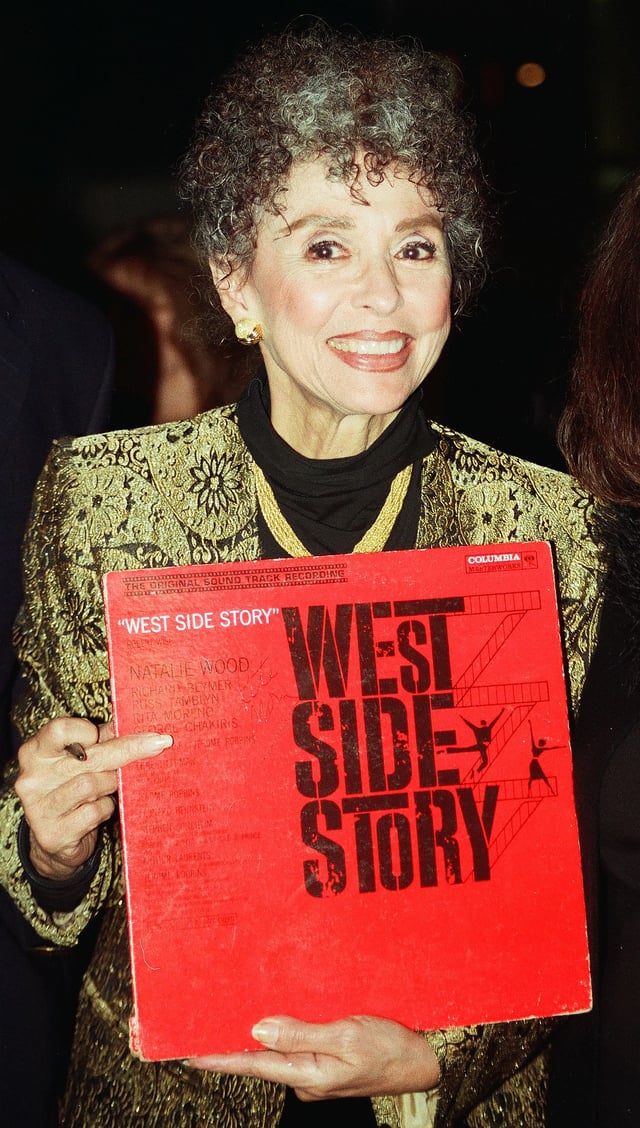 Moreno in 2000
Moreno with President Bush in 2004, prior to receiving the Medal of Freedom
Among Moreno's awards and recognition are the following:
Academy Award for Best Supporting Actress (West Side Story), 1961

Golden Globe Award for Best Supporting Actress (West Side Story), 1961

Joseph Jefferson Award: Best Chicago Theatre Actress, 1968

Grammy Award for Best Album for Children (The Electric Company Album), 1972

Tony Award for Best Featured Actress in a Play (The Ritz), 1975

Emmy Award for Individual Performance in a Variety or Music Program, 1977

Emmy Award for Outstanding Guest Actress – Drama Series (for The Rockford Files), 1978

Sarah Siddons Award for her portrayal of Olive Madison in the female version of The Odd Couple, 1985

Library of Congress Living Legends Award, April 2000

The Hispanic Organization of Latin actresses (HOLA) renamed their Award for Excellence in her honor (known as the HOLA Rita Moreno Award for Excellence since 2000)

Special Recognition Award from the International Latin Music Hall of Fame, 2001

Presidential Medal of Freedom from President George W. Bush, June 2004

A star on the Hollywood Walk of Fame

Inducted into the California Hall of Fame, 2007[33]

National Medal of Arts from President Barack Obama, 2009[34]

Hispanic Organization of Latin actresses (HOLA) Lifetime Achievement Award, 2010

Latin Grammy Lifetime Achievement Award, 2012[35]

Screen Actors Guild Life Achievement Award, 2013 (presented on Saturday, January 18, 2014)[36]

Kennedy Center Honors Lifetime Artistic Achievement Award, 2015[37]

Honorary doctorate of music, awarded by the Berklee College of Music, May 7, 2016.[38]

Ellis Island Medal of Honor, May 11, 2018.[39]
Year

Title

Role

Notes

1950

So Young, So Bad

Dolores Guererro

Credited as Rosita Moreno

1950

The Toast of New Orleans

Tina

1950

Pagan Love Song

Terru

1952

The Ring

Lucy Gomez

1952

Singin' in the Rain

Zelda Zanders

1952

The Fabulous Senorita

Manuela Rodríguez

1952

Cattle Town

Queli

1953

Fort Vengeance

Bridget Fitzgibbon

1953

Ma and Pa Kettle on Vacation

Soubrette

Uncredited

1953

Latin Lovers

Christina

1953

El Alamein

Jara

1954

Jivaro

Maria

1954

The Yellow Tomahawk

Honey Bear

1954

Garden of Evil

Cantina Singer

1955

Untamed

Julia

1955

Seven Cities of Gold

Ula

1956

The Lieutenant Wore Skirts

Sandra Roberts

1956

The King and I

Tuptim

1956

The Vagabond King

Huguette

1957

The Deerslayer

Hetty Hutter

1960

This Rebel Breed

Lola Montalvo

1961

West Side Story

Anita

Academy Award for Best Supporting Actress

Laurel Award for Best Supporting Performance

1961

Summer and Smoke

Rosa Zacharias

1963

Cry of Battle

Sisa

1968

The Night of the Following Day

Vi

1969

Popi

Lupe

1969

Marlowe

Dolores Gonzáles

1971

Carnal Knowledge

Louise

1976

The Ritz

Googie Gomez

Nominated—BAFTA Award for Best Actress in a Leading Role

Nominated—Golden Globe Award for Best Actress – Motion Picture Musical or Comedy

1977

Voodoo Passion

1978

The Boss' Son

Esther Rose

1980

Happy Birthday, Gemini

Lucille

1981

The Four Seasons

Claudia Zimmer

1991

Age Isn't Everything

Rita

1993

Italian Movie

Isabella

1994

I Like It Like That

Rosaria Linares

1995

Carmen Miranda: Bananas is My Business

Herself

Documentary

1995

Angus

Madame Rulenska

1998

Slums of Beverly Hills

Belle Abromowitz

Nominated—ALMA Award for Outstanding Actress in a Feature Film in a Crossover Role

1999

Carlo's Wake

Angela Torello

1999

The Puerto Ricans: Our American Story

Herself

Documentary

2000

Blue Moon

Maggie

2001

Piñero

Miguel's Mother

2003

Casa de los Babys

Señora Muñoz

2003

Scooby-Doo! and the Monster of Mexico

Dona Dolores and Woman No. 3 (voice)

2003

Beyond Borders: John Sayles in Mexico

Herself

Documentary

2004

King of the Corner

Inez

2006

Play It By Ear

Ruth

2014

Rio 2

Mimi (voice)

2014

Six Dance Lessons in Six Weeks

Ida Barks

2020

West Side Story

Valentina

Filming; also executive producer
Year

Title

Role

Notes

1958

Father Knows Best

Chanthini

Episode: "Fair Exchange" (November 24, 1958)

1960

Bourbon Street Beat

Manuela Ruiz

Episode: "Suitable for Framing" (May 16, 1960)

1963

Burke's Law

Margaret Cowls

Episode: "Who Killed Julian Buck?" (October 18, 1963)

1971–1977

The Electric Company

Carmela




Otto The Director




Pandora the Little Girl, Millie the Helper

Cast member

1974

Dominic's Dream

Anita Bente

1974

Out to Lunch

Various

Nominated—Emmy Award for Outstanding Continuing or Single Performance by a Supporting Actress in Variety or Music

1975

Mister Rogers' Neighborhood

Herself

Episode #1399

1976

The Muppet Show

Herself

Episode #1.5

Emmy Award for Outstanding Continuing or Single Performance by a Supporting Actress in Variety or Music

1978

The Rockford Files

Rita Capkovic

3 episodes

Primetime Emmy Award for Outstanding Guest Actress in a Drama Series

Nominated—Primetime Emmy Award for Outstanding Lead Actress in a Drama Series

1979

Anatomy of a Seduction

Nina

TV movie

1979

The Muppets Go Hollywood

Herself/Host

Special

1981

Evita Perón

Renata Riguel

TV movie

1982–1983

9 to 5

Violet Newstead

Nominated—Primetime Emmy Award for Outstanding Lead Actress in a Comedy Series

Nominated—Golden Globe Award for Best Actress – Television Series Musical or Comedy

1982

Working

Waitress

1982

Portrait of a Showgirl

Rosella DeLeon

Nominated—Primetime Emmy Award for Outstanding Supporting Actress in a Miniseries or a Movie

1986

The Golden Girls

Renee

Episode: "Empty Nests"

1987

The Cosby Show

Mrs. Granger

Episode: "You Only Hurt the One You Love"

1989

Miami Vice

Congresswoman Madelyn Woods

Episode: "Miami Squeeze"

1989–1990

B.L. Stryker

Kimberly Baskin

2 episodes

1994

The Nanny

Miss Wickervich/Mrs. Stone

Episode: "The Gym Teacher"

1994–1998

Where on Earth Is Carmen Sandiego?

Carmen Sandiego (voice)

Nominated—Daytime Emmy Award for Outstanding Performer in an Animated Program (1995, 1996, 1997)

1994–1995

The Cosby Mysteries

Angie Corea

16 episodes

1995

The Wharf Rat

Mom

1995

The Magic School Bus

Dr. Camrina Skeledon (voice)

Episode: "The Busasaurus"

1997–2003

Oz

Sister Peter Marie Reimondo

55 episodes

ALMA Award for Best Actress in a Drama Series (1998–1999, 2002)

Nominated—ALMA Award for Best Actress in a Drama Series (2000–2001)

1998

The Spree

Irma Kelly

1999

Resurrection

Mimi

2003

The Guardian

Caroline Novak

Guest stars as Louisa Olsen's (Wendy Moniz) mother

2004

Copshop

Mary Alice

2005

Law & Order: Special Victims Unit

Mildred Quintana

Episode: "Night"

2005

Law & Order: Trial by Jury

Mildred Quintana

Episode: "Day"

2006–2007

Law & Order: Criminal Intent

Frances Goren

3 episodes: "Endgame"; "The War at Home" and "Brother's Keeper"

2007

George Lopez

Luisa Diaz

Episode: "George Testi-Lies for Benny"

2007

Ugly Betty

Aunt Mirta

Episode: "A Tree Grows in Guadalajara"

2007

Cane

Amalia Duque

13 episodes

2010

In Plain Sight

Rita Ramirez

Episode: "Coma Chameleon"

2011

Special Agent Oso

Abuela (voice)

Episode: "For Tamales with Love/Pinata Royale"

2011–2013

Happily Divorced

Dori Newman

2013

Welcome to the Family

Lita

Episode: "Date Night"

2013

Nicky Deuce

Tutti

TV movie

2014

Old Soul

Rita

TV movie

2015

Getting On

Sister Lily Claire

Episode: "Reduced to Eating Boiled Magazines and Book Paste"

2015–2019

Jane the Virgin

Liliana De La Vega

5 episodes: "Chapter Eighteen", "Chapter Thirty-Three", "Chapter Thirty-Two", "Chapter Thirty-One", "Chapter One-Hundred"


Online Film & Television Association Award for Best Guest Actress in a Comedy Series[40]

2015–present

Nina's World

Abuelita (voice)

2015

A Gift of Miracles

Beverly

TV movie

2016

Grey's Anatomy

Gayle

Episode: "Odd Man Out"

2016

Grace and Frankie

Lucy

Episode: "The Vitamix"

2017–present

One Day at a Time

Lydia

Main cast

2018

Elena of Avalor

Queen Camila (voice)

2 episodes

2019

Carmen Sandiego

Cookie Booker

Voice role
List of Puerto Ricans

List of Puerto Ricans in the Academy Awards

List of people who have won an Emmy, a Grammy, an Oscar and a Tony Award

List of Puerto Rican Presidential Medal of Freedom recipients

History of women in Puerto Rico