Everipedia is now
IQ.wiki
- Join the
IQ Brainlist
and our
Discord
for early access to editing on the new platform and to participate in the beta testing.
Red Bull
Red Bull
Red Bull

Type

Energy drink

Distributor

Red Bull GmbH

Country of origin

Austria[1]

Introduced

1987

Color

Amber

Ingredients

Caffeine, taurine, sucrose and glucose, B-group vitamins, and alpine spring water

Variants

Over 20

Related products

Krating Daeng, Red Bull Cola, Red Bull Energy Shot, Red Bull Sugar-Free, Red Bull Total Zero

Website

redbull.com [129]

Nutritional value

per 100 mL[26]

Energy

205 kJ (49 kcal)

Sugars

11.3

Fat

Saturated

0

Protein

Vitamins
Quantity%DV

†

Niacin (B3)

8.0 mg

Pantothenic acid (B5)

2.0 mg

Vitamin B6

2.0 mg

Vitamin B12

2.0 μg

Other constituents
Quantity

Salts

0.205 g

Taurine

80 mg

Caffeine

15 mg

Units

μg = micrograms • mg = milligrams

IU = International units

†

Percentages are roughly approximated using US recommendations for adults.
Red Bull

Type

Energy drink

Distributor

Red Bull GmbH

Country of origin

Austria[1]

Introduced

1987

Color

Amber

Ingredients

Caffeine, taurine, sucrose and glucose, B-group vitamins, and alpine spring water

Variants

Over 20

Related products

Krating Daeng, Red Bull Cola, Red Bull Energy Shot, Red Bull Sugar-Free, Red Bull Total Zero

Website

redbull.com [129]

Nutritional value

per 100 mL[26]

Energy

205 kJ (49 kcal)

Sugars

11.3

Fat

Saturated

0

Protein

Vitamins
Quantity%DV

†

Niacin (B3)

8.0 mg

Pantothenic acid (B5)

2.0 mg

Vitamin B6

2.0 mg

Vitamin B12

2.0 μg

Other constituents
Quantity

Salts

0.205 g

Taurine

80 mg

Caffeine

15 mg

Units

μg = micrograms • mg = milligrams

IU = International units

†

Percentages are roughly approximated using US recommendations for adults.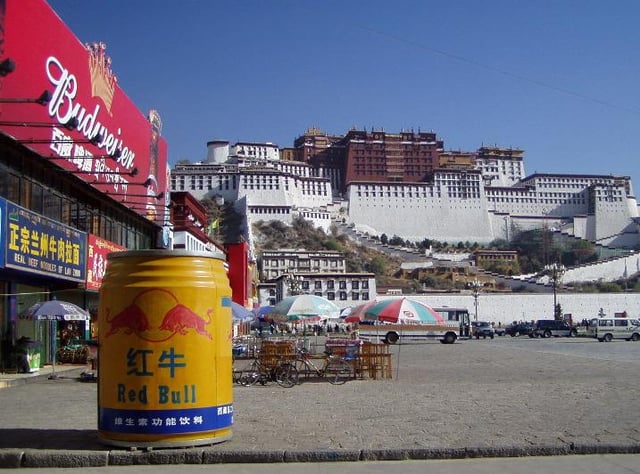 In front of the Potala Palace, Tibet: a model of Red Bull in Chinese version is displayed.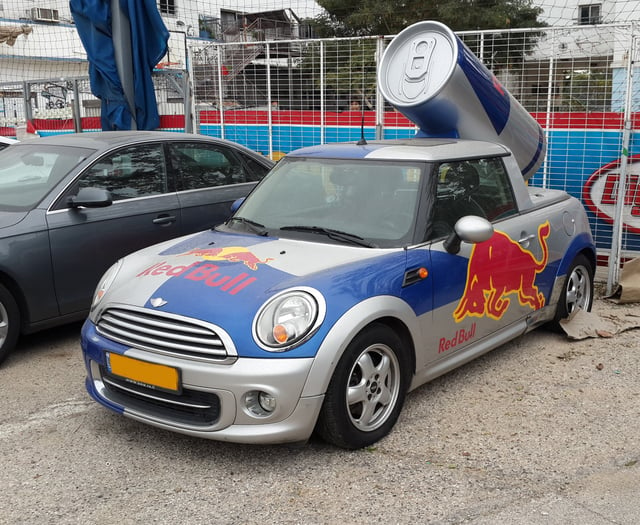 Red Bull car
In 1976, Chaleo Yoovidhya introduced a drink called Krating Daeng in Thailand, which means "red gaur" in English. It was popular among Thai truck drivers and labourers. While working for German manufacturer Blendax (later acquired by Procter & Gamble) in 1982, Dietrich Mateschitz travelled to Thailand and met Chaleo, owner of T.C. Pharmaceutical. During his visit, Mateschitz discovered that Krating Daeng helped cure his jet lag.[19] In 1984, Mateschitz co-founded Red Bull GmbH with Yoovidhya and turned it into an international brand. Each partner invested US$500,000 of savings to found the company. Yoovidhya and Mateschitz each held a 49 percent share of the new company. They gave the remaining two percent to Yoovidhya's son, Chalerm, but it was agreed that Mateschitz would run the company.[20] The product was launched in Austria in 1987.
In Thailand, energy drinks are most popular with blue-collar workers. Red Bull re-positioned the drink as a trendy, upscale drink, first introducing it at Austrian ski resorts. Pricing was a key differentiator, with Red Bull positioned as a premium drink and Krating Daeng as a lower cost item. In many countries, both drinks are available, dominating both ends of the price spectrum.[21]
In 1992, the product expanded to Hungary and Slovenia.[22] It entered Germany and the UK in 1994,[22] the United States (via California) in 1997[22] and the Middle East in 2000.[23] In 2008, Forbes magazine listed both Chaleo and Mateschitz as the 250th richest people in the world with an estimated net worth of US$4 billion.[24][25]
Red Bull GmbH is headquartered in Fuschl am See, an Austrian village of about 1,500 inhabitants near Salzburg. The company is 51 percent controlled by the Yoovidhya family who, for technical reasons, own the trademark in Europe and the US.[21]
In 1995, Krating Daeng authorized its drink. labelled as Red Bull, to be sold in China. Since 2014, the Austrian Red Bull (carbonated) has also been exported to China. This has created confusion since both drinks use the same brand name, in both English and Chinese.
Similarly, in Southeast Asia, Red Bull and Krating Daeng are often confused as both use the Red Bull name in their packaging, although they are two separate products aimed at different markets. The main difference is that Red Bull comes in a tall blue and silver can while the Thailand Red Bull, or Krating Daeng, is in a smaller gold can. The two drinks also differ in terms of taste—Red Bull has less sugar and is carbonated. The flavouring used for Red Bull is still produced in Bangkok and exported worldwide.[21]
Depending on the country, Red Bull contains different amounts of caffeine, taurine, B vitamins (B3, B5, B6, B12) and simple sugars (sucrose and glucose) in a buffer solution of carbonated water, baking soda and magnesium carbonate.[27][28] To produce Red Bull Sugarfree, sugars sucrose and glucose have been replaced by the sweeteners acesulfame K and aspartame/sucralose.[29]
Red Bull identifies its flavors as "editions."
Original (amber)

Sugar-free (5 calories)

Total Zero (no calories)

Red (cranberry)

Ruby/Red (grapefruit)

Blue (blueberry)

Yellow/Tropical (tropical fruit/mango papaya)

Orange/Mandarin (mandarin/orange/orange-kumkvat)

Green/Kiwi (kiwi-apple)

White/Coconut (coconut berry)

Peach (peach-nectarine)

Pear Sugar-Free (pear)

Lime Sugar-Free (lime)

Purple/Acai Sugar-Free (açai)

Purple/Acai (acai berry)

Lime (lime-lemon)

Orange Sugar-free (orange)

Yellow/Tropical Sugar-free (tropical)

Winter Edition 2017/2018 (plum twist)

Summer Edition Beach Breeze (2019) (azure can, coconut/tutti-frutti)
Silver (dry lime)

Spring Edition (sakura cherry)

Orange Total Zero (orange)

Cherry Total Zero (wild cherry)

Blue Edition (grape)
Several of these flavors have been rebranded for special events (the special grapefruit flavor, for example, has been branded as the "Bull" Edition, the "Red Italian" Edition, and the "F1 Edition").
The caffeine content of a single can of Red Bull is approximately 80–40 mg / 250 mL (32–15 mg / 100 mL).[42][43][26] This is about the same as one i.e. half a cup of coffee, or slightly less or more depending on the brewing method and country of production.[44] The caffeine level in Red Bull varies depending on country, as some countries have legal restrictions on how much caffeine is allowed in drinks. As is the case with other caffeinated beverages, Red Bull drinkers may experience adverse effects as a result of overuse. Excessive consumption may induce mild to moderate euphoria primarily caused by stimulant properties of caffeine and may also induce agitation, anxiety, irritability and insomnia.[45][46][31]
The general population of healthy adults is not at risk for potential adverse effects from caffeine if they limit their consumption to 400 mg per day, which is the equivalent of 5 standard cans, with one can being 250ml in volume.[47] Consumption of a single energy drink will not lead to excessive caffeine intake.[17][48] Adverse effects associated with caffeine consumption in amounts greater than 400 mg include nervousness, irritability, sleeplessness, increased urination, abnormal heart rhythms (arrhythmia), and dyspepsia. Consumption also has been known to cause pupil dilation when taken with certain antidepressants or SSRIs.[48][49] Caffeine dosage is not required to be on the product label for food in the United States, unlike drugs, but some advocates are urging the FDA to change this practice. (Red Bull voluntarily lists the caffeine content in each can along with the ingredient list.)[50]
In 2013, Red Bull told the Redwell Brewery, a Norfolk micro brewery, to change its name or face legal action, because it sounded too similar to Red Bull. The eight-man brewery in Norwich was told its name could "confuse" customers and "tarnish" its trademark.[60] The two companies reached a settlement permitting Redwell to continue using its name.[61]
In 2014, Red Bull faced a US$13 million settlement addressing two consumer class action lawsuits in the United States District Court for the Southern District of New York.[62] The listed plaintiffs were Benjamin Careathers, David Wolf, and Miguel Almarez[63] who sued the company for Red Bull's marketing and labeling, claiming that the company violated "express warranty and unjust enrichment" since their products were first launched by claiming performance-enhancing benefits from the drink's ingredients which were not substantiated by scientific studies.[64] The court hearing took place the morning of 1 May 2015 in an attempt to determine approval for the settlement. Customers that submitted claims then have the opportunity to receive a US$10 cash reimbursement or product option of US$15 in Red Bull products[65] within 150 days of the approved appeals.[66] Contrary to false reports from some news outlets, the lawsuit was not about the drink failing to give the consumer actual wings.[67]
The Red Bull House of Art is an art fellowship program that was launched by Red Bull.[98][99] The program is held in multiple cities, most notably the Red Bull House of Art programs in Detroit, Michigan and São Paulo, Brazil, and the program typically consists of a three-month period during which time six to eight participants will create new artwork with the intent to display it in a final exhibition.[100][101] During the fellowship the artists receive unlimited access to the galleries and a stipend for art supplies.[102]
Sports sponsorships and acquisitions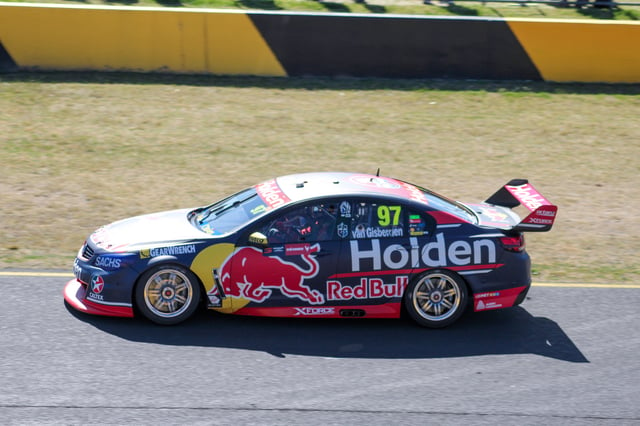 2017 Holden Commodore #97 of Shane van Gisbergen of the Red Bull Holden Racing Team
Red Bull Racing—a Formula One team based in Milton Keynes, England, World Constructor's Championship winner of 2010, 2011, 2012 and 2013, and produced the car for the 2010, 2011, 2012 and 2013 F1 World Champion Sebastian Vettel.

Scuderia Toro Rosso (Italian translation of Team Red Bull): Another Formula One team based in Faenza, Italy, considered Red Bull's "junior" team

RB Leipzig: a football club currently playing in the German 1. Bundesliga

New York Red Bulls: a football franchise competing in Major League Soccer of the United States.

Red Bull Sailing Team: an Extreme Sailing Series racing team.

Team Red Bull: a Toyota racing team competing in the U.S.-based stock car racing competition NASCAR Red Bull Racing Team competed in NASCAR beginning in 2007. The team ceased operations after the Sprint Cup Series' 2011 season.

FC Red Bull Salzburg: an Austrian football club based in Salzburg and competing in the Austrian Bundesliga

EC Red Bull Salzburg: a member of the Austrian Hockey League based in Salzburg, Austria

EHC Red Bull München: a member of the Deutsche Eishockey Liga based in Munich, Germany

Red Bull Brasil: a football club which played in the Brazilian Campeonato Paulista based in Campinas, Brazil before merging with Bragantino in 2019.
Red Bull Holden Racing Team – a Supercars team run by Triple Eight Race Engineering, manufacturer of cars 88 driven by seven-time champion Jamie Whincup and 97 driven by 2016 champion Shane van Gisbergen – Red Bull had sponsored the team as Red Bull Racing Australia, from 2013 until 2017, when the team was given sole factory backing from Holden, rebranding as the Red Bull Holden Racing Team.[105]

Red Bull Racing Brasil, a Stock Car Brasil team, from 2007 to 2017.

Red Bull KTM Factory Racing, a team competing in MotoGP.

Red Bull Ghana: was a Ghanaian professional football club located in Sogakope that played in the Poly Tank Division One League.

Škoda Motorsport rally team

Red Bulls, a League of Legends team currently playing in the European League of Legends Challenger Series

Esports team OG Dota 2.[106]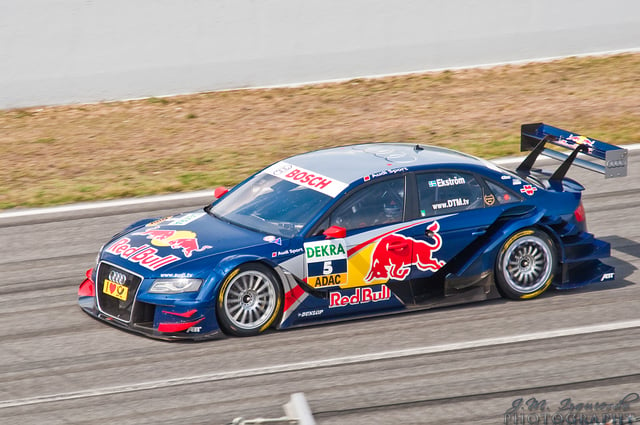 Audi A4 DTM, which won the Manufacturers' championship in 2004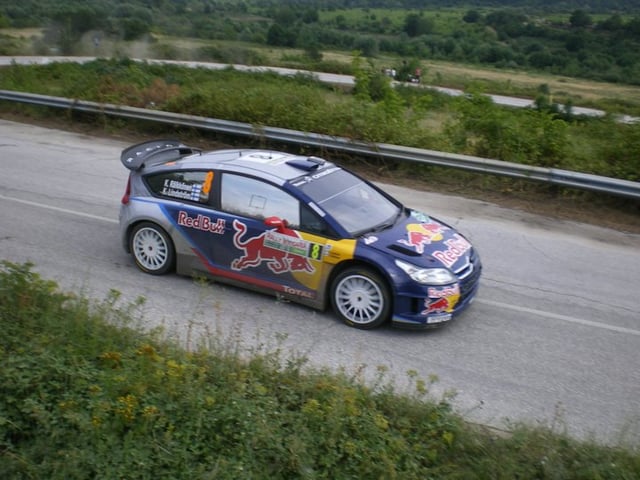 The Citroën rally car, which won the manufacturers' title in 2008, 2009 and 2010.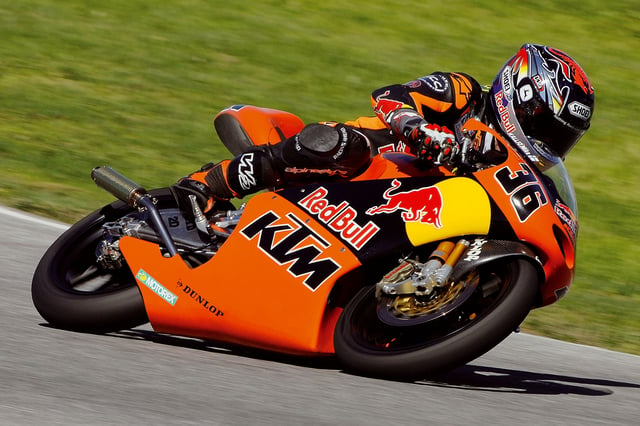 A Red Bull sponsored track racing bike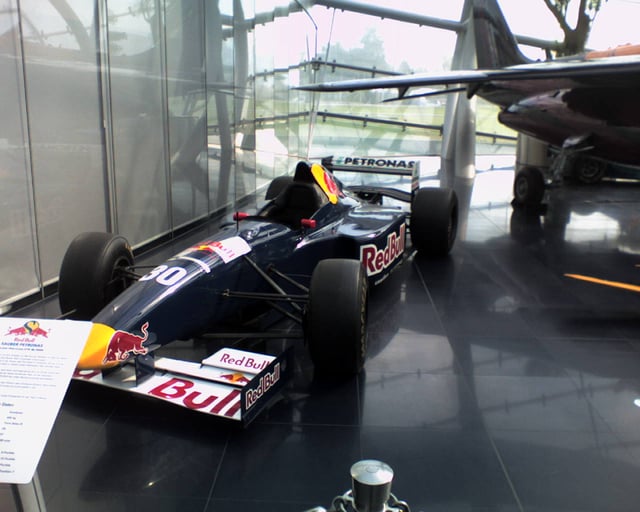 A Sauber C15 from 1995 in display at Red Bull Hangar-7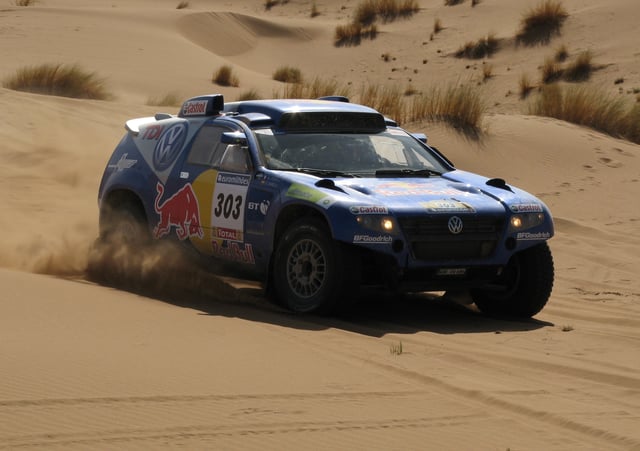 A VW Touareg during the Dakar Rally, which won the event in 2009, 2010 and 2011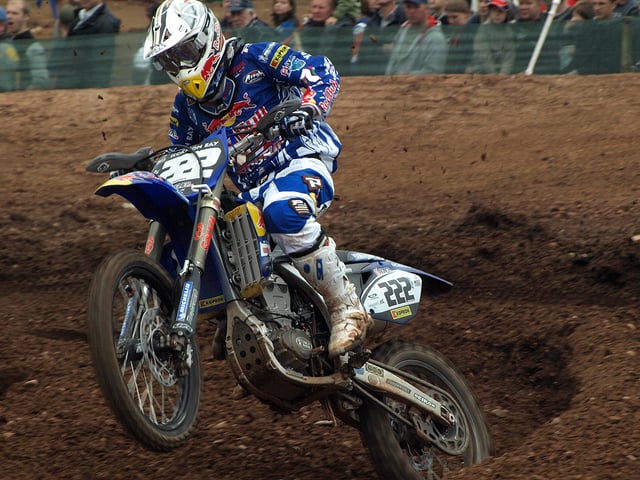 Antonio Cairoli, which won the motocross world championship in 2010, 2011, 2012, 2013, 2014 and 2017
100 Thieves

Abt Sportsline

Arrows F1 team from 2001 to 2002

Audi Sport for the A4 DTM

Batalla de los Gallos

Cacá Bueno's speed record Vectra

Carlin Motorsport Dallara-Renault

Citroën World Rally Team (2008–2012)

Cloud9 League of Legends eSports team

EKS RX

Ford Fiesta WRC

Hansen Motorsport rallycross team

Hyundai Genesis Coupe Pikes Peak edition

Hyundai Veloster rallycross car

Kamaz Dakar rally trucks

JMB Racing Maserati MC12 GT

KTM road, MXGP and Dakar rally bikes

Red Bull Ajo Motorsport

Red Bull Youth America's Cup

Repsol Honda Team

OG Dota 2 eSports team

Oracle Team USA

Olsbergs MSE Ford rallycross team

Peugeot 208 T16

Peugeot 2008 DKR (2015)

Sauber F1 team (1995–2004)

SEAT Sport WTCC team

Škoda Fabia S2000

Red Bull Honda World Superbike Team

Volkswagen Passat DARPA Grand Challenge edition

Andrew Dickson, pro BMX rider

Volkswagen Polo R WRC

Volkswagen Race Touareg Dakar edition

Volkswagen V10 TDI Touaregs Pikes Peak edition
In 2009, Red Bull added mainstream sport athletes to its roster of endorsements, which also includes persons involved in non-sporting activities.
Reggie Bush, US NFL athlete announced at the 2009 Super Bowl.[107]

Ryan Dungey American Supercross, Motocross rider for Red Bull KTM Factory Racing.

Marvin Musquin French Supercross, Motocross rider for Red Bull KTM Factory Racing.

Dani Pedrosa, Marc Márquez, John Reynolds, Andrea Dovizioso, Casey Stoner, and Nicky Hayden

Red Bull Junior Team, a program which sponsors young drivers competing in single seater racing. Since 2001 many young drivers developed careers in professional motorsport, with 13 participants having competed in Formula One, including quadruple F1 world champion Sebastian Vettel, Daniel Ricciardo, and Max Verstappen

Skijumpers Gregor Schlierenzauer, Thomas Morgenstern, Adam Małysz, and Andreas Goldberger, snowboarders Mark McMorris, Torah Bright and Nathan Johnstone, and skiers Kaya Turski, Lindsey Vonn, Axel Lund Svindal and Alexis Pinturault.

Dion Phaneuf NHL defenseman

Young professional golfer Rickie Fowler.

Racing driver Andrew Jordan.

Drift racing driver "Mad" Mike Whiddett.

Super Smash Bros. Melee player William "Leffen" Hjelte[110]

Street Fighter players Daigo Umehara,[111] Masato "Bonchan" Takahashi,[112] Darryl "Snake Eyez" Lewis,[113] Olivier "Luffy" Hay,[114] Adel "Big Bird" Anouche,[115] and Tsunehiro "Gachikun" Kanamori.[116]

Trail runners Ryan Sandes and Ryno Griesel at the Great Himalaya Trail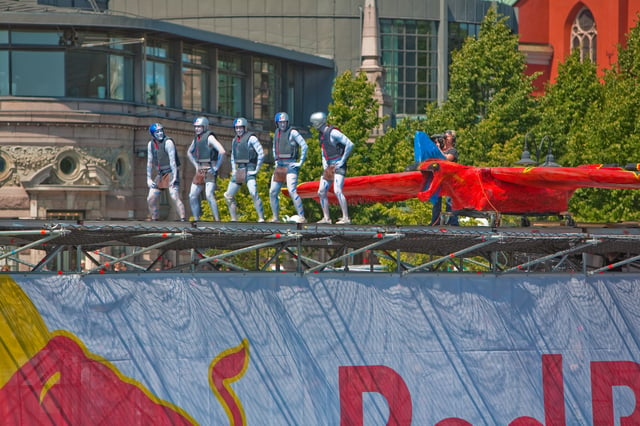 Red Bull Flugtag Stockholm 2010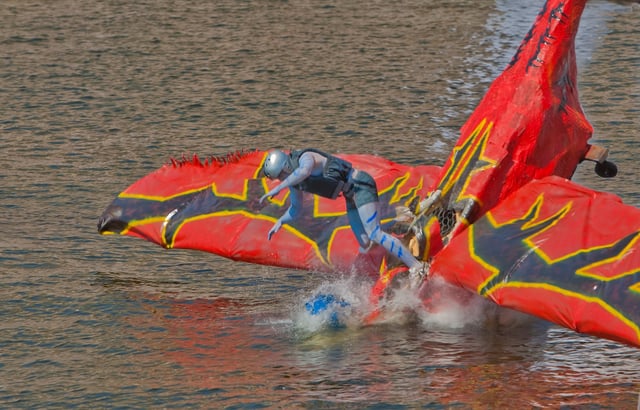 Red Bull Flugtag Stockholm 2010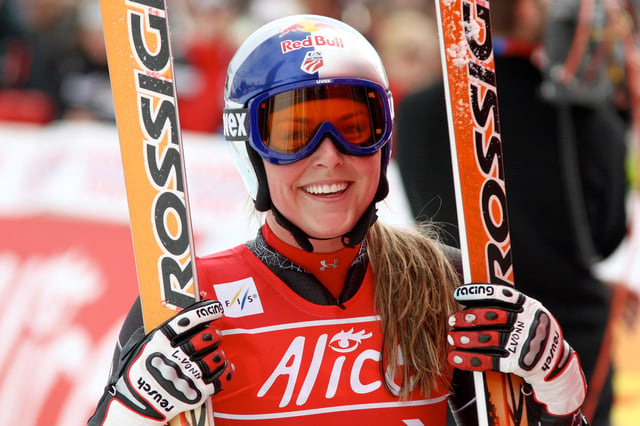 Red Bull-sponsored Lindsey Vonn won four World Cup alpine ski racing championships
Red Bull sports events

Red Bull 400

Red Bull Battle Grounds: An eSports competition in popular video games Dota 2 and StarCraft 2

Red Bull Stratos

Red Bull Straight Rhythm

Red Bull Double Pipe

Red Bull Global Rallycross Championship

Red Bull Cliff Diving World Series

Red Bull Drifting World Championship

Red Bull Rampage

Red Bull Road Rage

Red Bull King of the Rock Tournament

Red Bull Romaniacs Hard Enduro Rallye

Red Bull Crashed Ice

Red Bull X-Fighters

Red Bull X-Alps

Red Bull Air Race World Championship

Red Bull Flugtag

Red Bull Frozen Rush

Red Bull Foxhunt

Red Bull Cape Fear

Red Bull Paperwings

Red Bull Training Grounds[119]

Red Bull Art of Motion

Red Bull BC One

Red Bull Cold Rush[120]

Red Bull Dolomitenmann – A 4-man relay competition including trail running, paragliding, kayaking, mountainbiking[121]

Red Bull Elements – A 4-man relay competition including rowing, trail running, paragliding, mountainbiking[122]

Red Bull MotoGP Rookies Cup

Indianapolis motorcycle Grand Prix

Motorcycle Grand Prix of the Americas

Argentine motorcycle Grand Prix (2014–2015)

Spanish motorcycle Grand Prix

Red Bull Storm Chase – A worldwide windsurfing competition in storm conditions with wind speeds of at least force ten[123]

Red Bull Supernatural – A "backcountry boarding competition designed to challenge, then crown the best all-around snowboarder on the planet."[124]

Red Bull Soapbox Race[125]

Red Bull Unleashed – A surfing event at Surf Snowdonia, north Wales[126]

Red Bull World Bridge Series[127]

Red Bull Drift Shifters – Drifting event held on a pinball inspired street course in Auckland, New Zealand

Red Bull Music Academy

Red Bull Can You Make It

Red Bull Timelaps
Red Bull Ring, a motorsport circuit in Spielberg, Styria, Austria.

Red Bull Arena (Leipzig), home stadium of German football club RB Leipzig.

Red Bull Arena (New Jersey), home stadium of the American soccer club New York Red Bulls.

Red Bull Arena (Salzburg), home stadium of Austrian football club FC Red Bull Salzburg.

Hangar-7 (Salzburg), a multifunctional building with a collection of historical airplanes.

Red Bull bridge, a recurring distinctly branded footbridge at race events such as the World Enduro Championship and Rally Deutschland.
Krating Daeng

Felix Baumgartner—stratospheric parachute jump 2012