Everipedia is now
IQ.wiki
- Join the
IQ Brainlist
and our
Discord
for early access to editing on the new platform and to participate in the beta testing.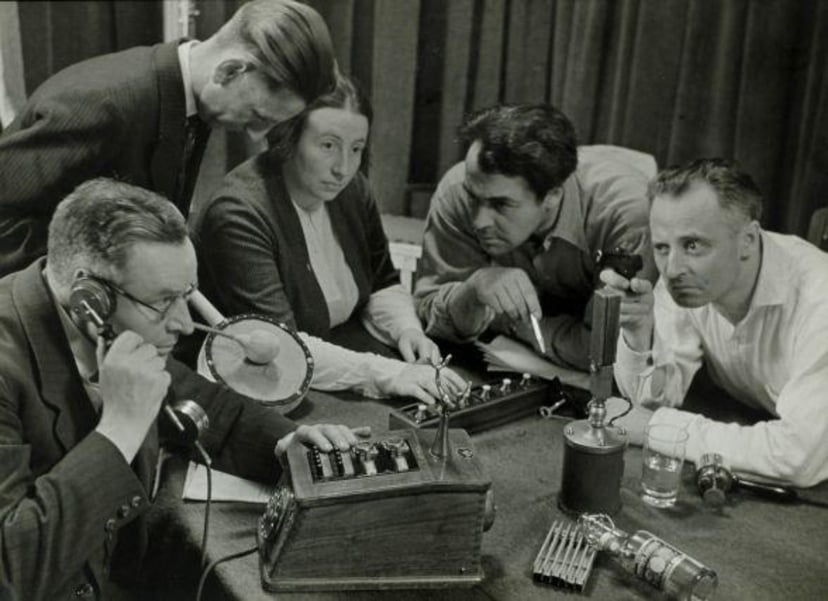 Radio drama
Radio drama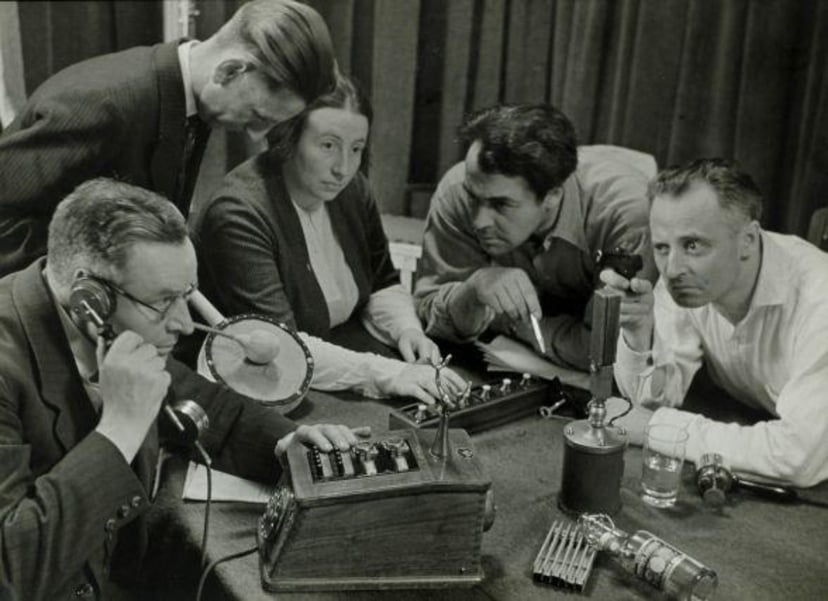 Radio drama (or audio drama, audio play, radio play,[1] radio theatre, or audio theatre) is a dramatised, purely acoustic performance. With no visual component, radio drama depends on dialogue, music and sound effects to help the listener imagine the characters and story: "It is auditory in the physical dimension but equally powerful as a visual force in the psychological dimension."[2] Radio drama includes plays specifically written for radio, docudrama, dramatized works of fiction, as well as plays originally written for the theatre, including musical theatre and opera.
Radio drama achieved widespread popularity within a decade of its initial development in the 1920s. By the 1940s, it was a leading international popular entertainment. With the advent of television in the 1950s, however, radio drama began losing its audience, however, in most countries it remains popular.
Recordings of OTR (old-time radio) survive today in the audio archives of collectors, libraries and museums, as well as several online sites such as Internet Archive.
By the 21st century, radio drama had a minimal presence on terrestrial radio in the United States, with much American radio drama being restricted to rebroadcasts of programmes from previous decades. However, other nations still have thriving traditions of radio drama. In the United Kingdom, for example, the BBC produces and broadcasts hundreds of new radio plays each year on Radio 3, Radio 4, and Radio 4 Extra. Like the USA, Australia ABC has abandoned broadcasting drama but in New Zealand RNZ continues to promote and broadcast a variety of drama over its airwaves.
Thanks to advances in digital recording and Internet distribution, radio drama experienced a revival around 2010.[3] Podcasting offered the means of inexpensively creating new radio dramas, in addition to the distribution of vintage programs.
The terms "audio drama"[4] or "audio theatre" are sometimes used synonymously with "radio drama"; however, audio drama or audio theatre may not necessarily be intended specifically for broadcast on radio. Audio drama can also be found on CDs, cassette tapes, podcasts, webcasts as well as broadcast radio.
The Roman playwright "Seneca has been claimed as a forerunner of radio drama because his plays were performed by readers as sound plays, not by actors as stage plays; but in this respect Seneca had no significant successors until 20th-century technology made possible the widespread dissemination of sound plays."[5]
Radio drama traces its roots back to the 1880s: "In 1881 French engineer Clement Ader had filed a patent for 'improvements of Telephone Equipment in Theatres'" (Théâtrophone).[6] English-language radio drama seems to have started in the United States.[7] A Rural Line on Education, a brief sketch specifically written for radio, aired on Pittsburgh's KDKA in 1921, according to historian Bill Jaker.[8] Newspaper accounts of the era report on a number of other drama experiments by America's commercial radio stations: KYW broadcast a season of complete operas from Chicago starting in November 1921.[9] In February 1922, entire Broadway musical comedies with the original casts aired from WJZ's Newark studios.[10] Actors Grace George and Herbert Hayes performed an entire play from a San Francisco station in the summer of 1922.[11]
An important turning point in radio drama came when Schenectady, New York's WGY, after a successful tryout on August 3, 1922, began weekly studio broadcasts of full-length stage plays in September 1922,[12] using music, sound effects and a regular troupe of actors, The WGY Players. Aware of this series, the director of Cincinnati's WLW began regularly broadcasting one-acts (as well as excerpts from longer works) in November.[13] The success of these projects led to imitators at other stations. By the spring of 1923, original dramatic pieces written specially for radio were airing on stations in Cincinnati (When Love Wakens by WLW's Fred Smith),[13][14] Philadelphia (The Secret Wave by Clyde A. Criswell)[15] and Los Angeles (At Home over KHJ).[16] That same year, WLW (in May) and WGY (in September) sponsored scripting contests, inviting listeners to create original plays to be performed by those stations' dramatic troupes.[13][17]
Listings in The New York Times[18] and other sources for May 1923 reveal at least 20 dramatic offerings were scheduled (including one-acts, excerpts from longer dramas, complete three- and four-act plays, operettas and a Molière adaptation), either as in-studio productions or by remote broadcast from local theaters and opera houses. An early British drama broadcast was of Shakespeare's A Midsummer Night's Dream on 2LO on 25 July 1923[19]
Serious study of American radio drama of the 1920s and early 1930s is, at best, very limited. Unsung pioneers of the art include: WLW's Fred Smith; Freeman Gosden and Charles Correll (who popularized the dramatic serial); The Eveready Hour creative team (which began with one-act plays but was soon experimenting with hour-long combinations of drama and music on its weekly variety program); the various acting troupes at stations like WLW, WGY, KGO and a number of others, frequently run by women like Helen Schuster Martin and Wilda Wilson Church; early network continuity writers like Henry Fisk Carlton, William Ford Manley and Don Clark; producers and directors like Clarence Menser and Gerald Stopp; and a long list of others who were credited at the time with any number of innovations but who are largely forgotten or undiscussed today. Elizabeth McLeod's 2005 book on Gosden and Correll's early work[20] is a major exception, as is Richard J. Hand's 2006 study of horror radio, which examines some programs from the late 1920s and early 1930s.[21]
Another notable early radio drama, one of the first specially written for the medium in the UK, was A Comedy of Danger by Richard Hughes, broadcast by the BBC on January 15, 1924, about a group of people trapped in a Welsh coal mine.[22] One of the earliest and most influential French radio plays was the prize-winning "Marémoto" ("Seaquake"), by Gabriel Germinet and Pierre Cusy, which presents a realistic account of a sinking ship before revealing that the characters are actually actors rehearsing for a broadcast. Translated and broadcast in Germany and England by 1925, the play was originally scheduled by Radio-Paris to air on October 23, 1924, but was instead banned from French radio until 1937 because the government feared that the dramatic SOS messages would be mistaken for genuine distress signals.[23]
In 1951, American writer and producer Arch Oboler suggested that Wyllis Cooper's Lights Out (1934–47) was the first true radio drama to make use of the unique qualities of radio:
Radio drama (as distinguished from theatre plays boiled down to kilocycle size) began at midnight, in the middle thirties, on one of the upper floors of Chicago's Merchandise Mart. The pappy was a rotund writer by the name of Wyllis Cooper.[24]
Though the series is often remembered solely for its gruesome stories and sound effects, Cooper's scripts for Lights Out were well written and offered innovations seldom heard in early radio dramas, including multiple first-person narrators, stream of consciousness monologues and scripts that contrasted a duplicitious character's internal monologue and his spoken words.
The question of who was the first to write stream-of-consciousness drama for radio is a difficult one to answer. By 1930, Tyrone Guthrie had written plays for the BBC like Matrimonial News (which consists entirely of the thoughts of a shopgirl awaiting a blind date) and The Flowers Are Not for You to Pick (which takes place inside the mind of a drowning man). After they were published in 1931, Guthrie's plays aired on the American networks. Around the same time, Guthrie himself also worked for the Canadian National Railway radio network, producing plays written by Merrill Denison that used similar techniques. A 1940 article in Variety credited a 1932 NBC play, Drink Deep by Don Johnson, as the first stream-of-consciousness play written for American radio. The climax of Lawrence Holcomb's 1931 NBC play Skyscraper also uses a variation of the technique (so that the listener can hear the final thoughts and relived memories of a man falling to his death from the title building).
There were probably earlier examples of stream-of-consciousness drama on the radio. For example, in December 1924, actor Paul Robeson, then appearing in a revival of Eugene O'Neill's The Emperor Jones, performed a scene from the play over New York's WGBS to critical acclaim. Some of the many storytellers and monologists on early 1920s American radio might be able to claim even earlier dates.
Radio drama around the world
Since around the early sixties the Cyprus Broadcasting Corporation (RIK) features radio plays in the Cypriot Greek dialect. They are called Cypriot (radio drama) sketches and they are mainly about Cyprus's rural life, traditions and customs, its history and its culture. The works are written by established writers, but also from new writers through the Writing Contest of Cypriot Sketches issued annually by CyBC (RIK) [63]
The first German radio drama was produced in 1923. Because of the external circumstances in postwar Germany in which most of the theaters were destroyed, radio drama boomed. Between 1945 and 1960 there were more than 500 radio plays every year. The German word for radio drama or audio play is 'Hörspiel'. Today Germany is a major market for radio plays worldwide.[64] In particular, audio plays on CD are very popular. A popular audio play serial of Germany and of the world is "Die drei ???" (Three Investigators).
Berlin's Prix Europa includes a Radio Fiction category.
Vividh Bharati, a service of All India Radio, has a long running Hindi radio-drama program: Hawa Mahal.
Audio dramas are popular in Japan. They began as radio dramas with the first radio broadcasts in 1925, and continue to be relevant as a medium in which storylines from TV series, comics, novels or video games are continued or expanded.
Before the advent of videocassette recorders, drama recordings were the only way to revisit an animated television series. Recordings often featured recapitulations of plotlines along with theme songs from anime series. Audio dramas are often used to expand or detail the plotlines of videogames. Before the advent of disc-based and mass-media games and the internet, the "universes" in certain video games were fully developed and explained within such CD audio dramas, especially during the era of arcade games. One notable example is TwinBee Paradise, a radio drama spinoff of Detana!! TwinBee that lasted for three seasons and established the names of the game's protagonists.
Amateur voice acting

BBC Radio 4 Extra

Books on the radio

Full cast audiobook

List of films based on radio series

List of radio soap operas

Old-time radio

Pingshu

Radio comedy

Radio programming

Saturday Night Theatre

Television play