National Football League Cheerleading
4.74K VIEWS
Everipedia is now
IQ.wiki
- Join the
IQ Brainlist
and our
Discord
for early access to editing on the new platform and to participate in the beta testing.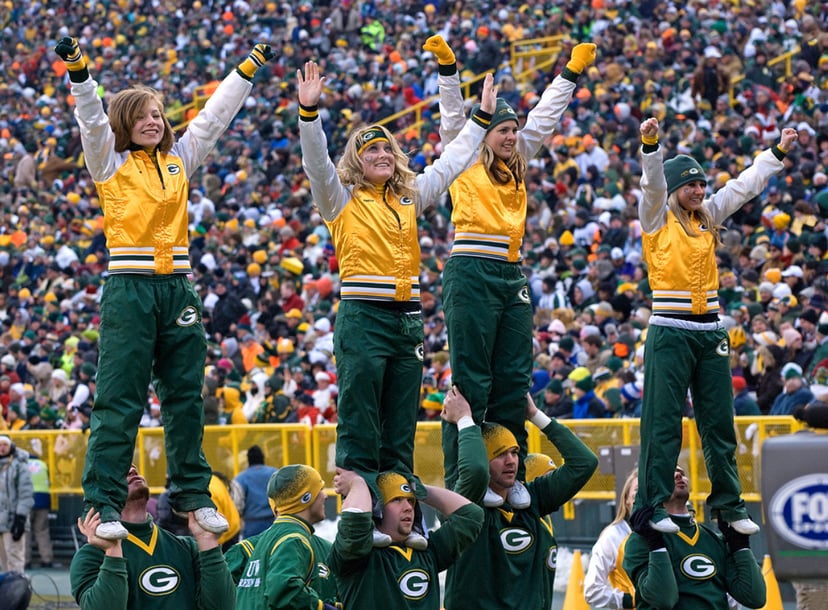 National Football League Cheerleading
National Football League Cheerleading, or simply NFL Cheerleading, is a professional cheerleading organization in the United States. 26 of the 32 NFL teams include a cheerleading squad in their franchise. Cheerleaders are a popular attraction that can give a team more coverage/airtime, popular local support, and increased media image. In 1954, the Baltimore Colts became the first NFL team to have cheerleaders. They were part of the Baltimore Colts Marching Band.
Most NFL cheerleading squads are a part-time job. Often, cheerleaders have completed or are attending a university, and continue on to other careers after cheering for one to four seasons. The members participate in practice, training camp, games, appearances, photo shoots, and charity events. Apart from their main duties of cheering during the football games, the cheerleaders have many other responsibilities, the main one is marketing the team they cheer for. Nearly every team member is available for appearances at schools, events, conferences, etc., for a set fee.
An anticipated annual event is the release of each squad's calendar, featuring members for each month in swimsuits or uniforms.
As well as being a mainstay of American football culture, the cheerleaders are one of the biggest entertainment groups to regularly perform for the United States Armed Forces overseas with performances and tours being enlisted by the USO. Teams send their variety show, an elite group of their best members, to perform combination shows of dance, music, baton twirling, acrobatics, gymnastics, and more. In February 2007, the Buffalo Bills even sent a squad of eight along with their choreographer into the war zone of Iraq. In 1996, the San Francisco 49ers Cheerleaders and their director helicoptered into the war inflicted country of Bosnia with the USO and the U.S. Army. The U.S. troops in Korea have been entertained during the holiday season with the USO's Bob Hope Tour. Over the years, the tour has featured NFL cheerleaders from the Dallas Cowboys and the San Francisco 49ers.
The first "Battle of the NFL Cheerleaders" was held in 1979 in Hollywood, Florida. Two cheerleaders from each cheerleading team compete against other mini-teams in various athletic events. The events include kayaking, 100 yard dash, obstacle courses, and other events. The Minnesota Vikings Cheerleaders took home the title in 1979. In 1980, it was held in Atlantic City, New Jersey and the Washington Redskinettes were the champions. The winners were Shiona Baum and Jeannie Fritz, and each received a car as the grand prize. The competition was resurrected in 2006 by the NFL Network, and was called NFL Cheerleader Playoffs. The playoffs were taped between July 17 and July 21, 2006 at Six Flags New England in Agawam, Massachusetts. Two-person teams of cheerleaders from 25 of the NFL's 32 teams participated in a four-event series of competitions. The first two events tested the cheerleaders' athletic abilities in events like the 100-yard dash, kayaking, tandem cycling, and the obstacle course. The third event was a trivia challenge called "Know Your NFL." The final competition was a one-minute dance routine, similar to what they normally perform on NFL sidelines. The San Diego Chargers team (Casie and Shantel) defeated the Atlanta Falcons and St. Louis Rams squads to win the overall championship. The 3 teams finished in a three-way tie, with 210 points. The Chargers were declared the winners based on winning the dance competition.
Listed by name, with corresponding NFL football team.
Current or Last Name

Year Established and Former Names

NFL Team

Arizona Cardinals Cheerleaders

1964–1987 St. Louis Cardinals Cheerleaders




1988–1993 Phoenix Cardinals Cheerleaders




1994–present Arizona Cardinals Cheerleaders

Arizona Cardinals

Atlanta Falcons Cheerleaders

1969–1976 The Falconettes




1976–present Atlanta Falcons Cheerleaders

Atlanta Falcons

Baltimore Ravens Cheerleaders

1998–present

Baltimore Ravens

Buffalo Jills

1960–1965 Buffalo Bills Cheerleaders




1966–2013 Buffalo Jills

Buffalo Bills

Carolina Topcats

1995–present

Carolina Panthers

Chicago Honey Bears

1976–1985[3]

Chicago Bears

Cincinnati Ben–Gals

1976–present[4]

Cincinnati Bengals

Dallas Cowboys Cheerleaders

1962–1971 CowBelles & Beaux


1972–present Dallas Cowboys Cheerleaders[5]
Dallas Cowboys

Denver Broncos Cheerleaders

1971–1976 Bronco Belles




1977–1980 Pony Express




1993–present Denver Broncos Cheerleaders

Denver Broncos

Detroit Lions Cheerleaders

1963-1974[6]
2016–present Detroit Lions Cheerleaders[7]

Detroit Lions

Green Bay Packers Cheerleaders

1957–1961 Packerettes




1961–1972 Golden Girls


1973–1977 Packerettes[8][9]
1977–1986 Sideliners[10]


1987–2006 University of Wisconsin–Green Bay cheerleaders




2007–present UWGB and St. Norbert College cheerleaders

Green Bay Packers

Houston Texans Cheerleaders

2002–present

Houston Texans

Indianapolis Colts Cheerleaders

1954–1983 Baltimore Colts Cheerleaders




1984–present Indianapolis Colts Cheerleaders

Indianapolis Colts

Jacksonville ROAR

1995–present

Jacksonville Jaguars

Kansas City Chiefs Cheerleaders

1964 Chiefs Cheerleaders




1971-85 Chiefettes


1986–present Chiefs Cheerleaders[11]

Kansas City Chiefs

Los Angeles Charger Girls

1960s–70s Chargettes




1990–2016 San Diego Charger Girls


2017–present Los Angeles Charger Girls[12]

Los Angeles Chargers

Los Angeles Rams Cheerleaders

1974–1994 Embraceable Ewes




1995–2015 St. Louis Rams Cheerleaders




2016–present Los Angeles Rams Cheerleaders

Los Angeles Rams

Miami Dolphins Cheerleaders[13]

1966–1977 Dolphin Dolls




1978–1983 Dolphins Starbrites




1984–present Miami Dolphins Cheerleaders

Miami Dolphins

Minnesota Vikings Cheerleaders

1961–1963 Vi-Queens




1964-1965, 1967–1983 The Parkettes (St. Louis Park High School)




1966 Edina High School and Mpls Roosevelt High School




1984–present Minnesota Vikings Cheerleaders

Minnesota Vikings

New England Patriots Cheerleaders

1977–present

New England Patriots

New Orleans Saintsations

1967 Louisiannes/Saints Dancers




1968 Mademoiselles




1971 Mam'selles




1975–78 Bonnies Amies




1978 Angels




1987–present Saintsations

New Orleans Saints

New York Jets Flight Crew

2006 Jets Flag Crew




2007–present Jets Flight Crew

New York Jets
Oakland Raiderettes
1961–present[14]
Oakland Raiders

Philadelphia Eagles Cheerleaders

1948–1970s Eaglettes




1970s Liberty Belles




1986–present The Eagles Cheerleaders

Philadelphia Eagles

Pittsburgh Steelerettes

1960–1969[15]

Pittsburgh Steelers

San Francisco Gold Rush

1979–present[16]
San Francisco 49ers

Seahawks Dancers

Sea Gals 1976–2019[17]


Seahawks Dancers 2019-Present

Seattle Seahawks

Tampa Bay Buccaneers Cheerleaders




1976–1998 SwashBucklers


1999–present Tampa Bay Buccaneers Cheerleaders[18]

Tampa Bay Buccaneers

Tennessee Titans Cheerleaders

1975–1997 The Derrick Dolls




1998–present Tennessee Titans Cheerleaders

Tennessee Titans

Washington Redskins Cheerleaders

1962 Redskinettes


1963–present Washington Redskins Cheerleaders[19][20]
Washington Redskins
Teams without cheerleaders
As of 2019, six teams do not have cheerleading squads: Buffalo Bills, Chicago Bears, Cleveland Browns, Green Bay Packers, New York Giants, and the Pittsburgh Steelers. The Packers do, however, use a collegiate squad to cheer at home games.[21] Super Bowl XLV between the Steelers and the Packers in February 2011 was the first time a Super Bowl featured no cheerleaders. The Browns and the Giants are the only NFL teams that have never had cheerleaders, while the other aforementioned teams have had cheer squads in the past. However, there are reports that the Browns did have cheerleaders in 1971, but no records exist.[22]
The Buffalo Bills endorsed the officially independent Buffalo Jills from 1966 to 2013; when several cheerleaders sued both the Bills and the Bills organizations, the Jills suspended operations.[23]
Teams of "unofficial" cheerleaders began emerging in 2010 for NFL teams that don't have their own dance squad. These unofficial cheerleaders aren't sanctioned by the NFL or any franchise in the NFL and therefore are not allowed to perform at games, represent the football team at any outside functions, or use any of the team's branding or trademarked colors on their uniforms. The teams are sponsored by local businesses, and the cheerleaders perform prior to the game, at tailgate parties, and other local events. Some also attend the local NFL games in uniform, and sit together in their block of season ticket seats. Their audition process, costuming, and choreography are very similar to official NFL cheer teams. Some also produce an annual swimsuit calendar, just like the legitimate cheerleaders. All of the independent teams hope at some point to be embraced by the NFL as "official" cheerleaders of their local teams.
The Detroit Pride Cheerleaders were the first independent professional team, put together in August 2010 to support the Lions.[24] However, as the squad was not officially recognized by the Lions, it could not use the Lions' logos nor colors.[25] In 2016, the Lions started an official cheerleading squad.

The Gotham City Cheerleaders were organized in August 2011 to support all New York sports, but are most closely associated with the Giants. The team has also been known as the New York Unofficials, the Unofficial Dancers of the New York Giants, and the Gotham's Team Blue Army Dancers.[26]
Male NFL cheerleaders as dancers for the past few decades have been rare due to social norms and marketability. However, in 1998 the Baltimore Ravens Cheerleaders began and started using male stuntmen in the squad.
Following trends in dance with popular summer dance series such as the Strictly Come Dancing franchise, So You Think You Can Dance, and World of Dance, where competitions are co-ed, in 2018, the first male dancers were added to National Football League Cheerleading to both the Los Angeles Rams and New Orleans Saints.[28][29]
In 2019, the Seattle Seahawks, New England Patriots, Tennessee Titans, Indianapolis Colts, and Philadelphia Eagles added males to their squads, and the Seahawks cheerleaders became the second permanent co-ed squad after the Ravens. Most of the squads' male cheerleaders are involved in stunts. [30]
In most situations, male cheerleaders are typically former college cheerleaders themselves, with a heavy emphasis on stunts and strength training.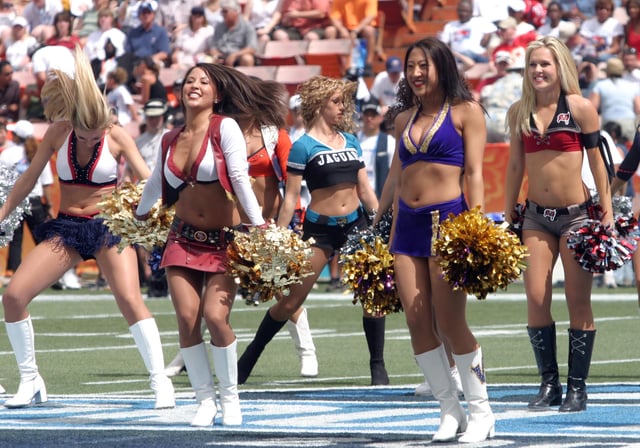 Cheerleaders at the 2006 Pro Bowl
A top honor for an NFL Cheerleader is to be selected as a Pro Bowl Cheerleader. The group is composed of an all-star cheerleader (one from each NFL cheer team) that represents her NFL team at the Pro Bowl in Hawaii. The Pro Bowl Cheerleaders were founded in 1992 and directed by Jay Howarth and Angela King-Twitero. Each year, one squad member from every NFL team is chosen to participate in the collective Pro Bowl cheerleading squad.[45] They are picked by either their own squads or by the fans via Internet polling.
List of cheerleaders

National Basketball Association Cheerleading