Everipedia is now
IQ.wiki
- Join the
IQ Brainlist
and our
Discord
for early access to editing on the new platform and to participate in the beta testing.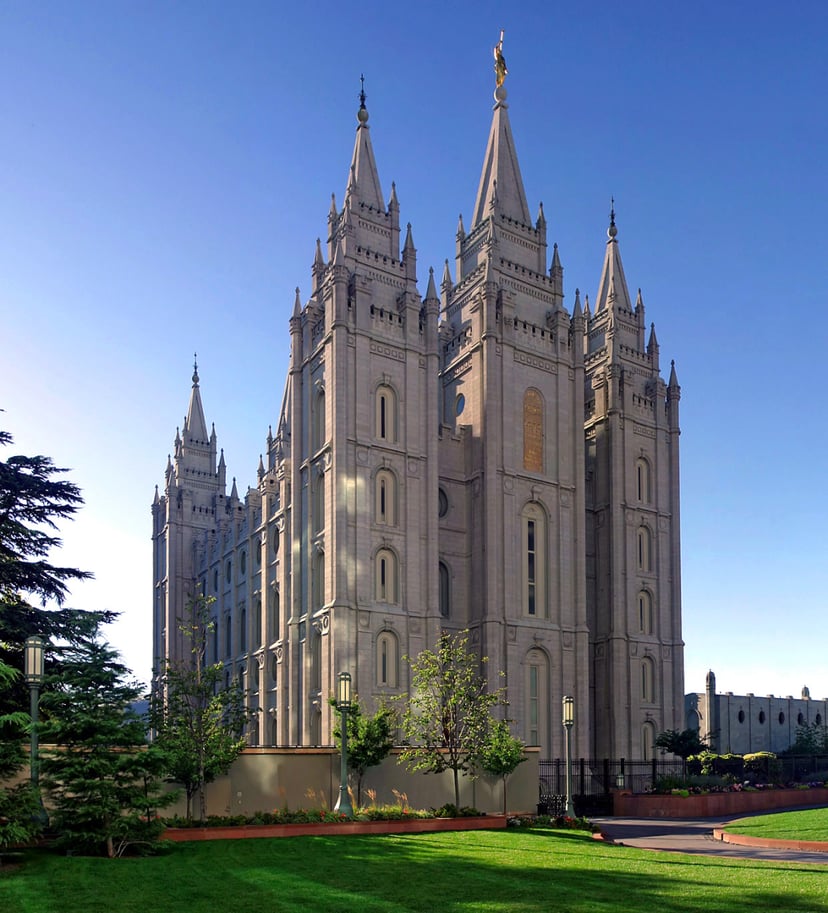 Mormons
Mormons are a religious and cultural group related to Mormonism, the principal branch of the Latter Day Saint movement of Restorationist Christianity, initiated by Joseph Smith in upstate New York during the 1820s. After Smith's death in 1844, the Mormons followed Brigham Young to what would become the Utah Territory. Today, most Mormons are understood to be members of The Church of Jesus Christ of Latter-day Saints (LDS Church). Other Mormons may be independently religious, secular and non-practicing, or belong to another denomination. The center of Mormon cultural influence is in Utah, and North America has more Mormons than any other continent, though the majority of Mormons live outside the United States.
Mormons have developed a strong sense of commonality that stems from their doctrine and history. During the 19th century, Mormon converts tended to gather to a central geographic location, and between 1852 and 1890 a minority of Mormons openly practiced plural marriage, a form of religious polygamy. Mormons dedicate large amounts of time and resources to serving in their church, and many young Mormons choose to serve a full-time proselytizing mission. Mormons have a health code which eschews alcoholic beverages, tobacco, "hot drinks", and addictive substances. They tend to be very family-oriented and have strong connections across generations and with extended family, reflective of their belief that families can be sealed together beyond death. Mormons also have a strict law of chastity, requiring abstention from sexual relations outside heterosexual marriage and fidelity within marriage.
Mormons self-identify as Christian,[9] although some non-Mormons consider Mormons non-Christian[10] and some of their beliefs differ from those of mainstream Christianity. Mormons believe in the Bible, as well as other books of scripture, such as the Book of Mormon. They have a unique view of cosmology and believe that all people are spirit-children of God. Mormons believe that returning to God requires following the example of Jesus Christ, and accepting his atonement through ordinances such as baptism. They believe that Christ's church was restored through Joseph Smith and is guided by living prophets and apostles. Central to Mormon faith is the belief that God speaks to his children and answers their prayers.
The word "Mormons" most often refers to members of The Church of Jesus Christ of Latter-day Saints (LDS Church) because of their belief in the Book of Mormon, though members often refer to themselves as Latter-day Saints or sometimes just Saints.[14] The term "Mormons" has been embraced by others, most notably Mormon fundamentalists,[15] while other Latter Day Saint denominations, such as the Community of Christ, have rejected it. Both LDS Church members and members of fundamentalist groups commonly use the word "Mormon" in reference to themselves.[16] LDS Church leaders have encouraged members to use the church's full name to emphasize its focus on Jesus Christ,[17][18] and have discouraged the use of the shortened form "Church of the Latter Day Saints", as well as the acronym "LDS", and the nickname "Mormons".[19][20][18]
The word "Mormon" is often associated with polygamy (or plural marriage),[21] which was a distinguishing practice of many early Mormons; however, it was renounced by the LDS Church in 1890[22] and discontinued over the next 15 years.[23] Today, polygamy is practiced within Mormonism only by people that have broken with the LDS Church.[24]
The history of the Mormons has shaped them into a people with a strong sense of unity and commonality.[25] From the start, Mormons have tried to establish what they call "Zion", a utopian society of the righteous.[26] Mormon history can be divided into three broad time periods: (1) the early history during the lifetime of Joseph Smith, (2) a "pioneer era" under the leadership of Brigham Young and his successors, and (3) a modern era beginning around the turn of the 20th century. In the first period, Smith had tried literally to build a city called Zion, in which converts could gather. During the pioneer era, Zion became a "landscape of villages" in Utah. In modern times, Zion is still an ideal, though Mormons gather together in their individual congregations rather than a central geographic location.[27]
Note that the categories below are not necessarily mutually exclusive.
Latter-day Saints (the "LDS")
Members of the LDS Church, also known as Latter-day Saints, constitute over 95 percent of Mormons.[126] The beliefs and practices of LDS Mormons are generally guided by the teachings of LDS Church leaders. However, several smaller groups substantially differ from "mainstream" Mormonism in various ways.
LDS Church members who do not actively participate in worship services or church callings are often called "less-active" or "inactive" (akin to the qualifying expressions non-observant or non-practicing used in relation to members of other religious groups).[127] The LDS Church does not release statistics on church activity, but it is likely that about 40 percent of Mormons in the United States and 30 percent worldwide regularly attend worship services.[128] Reasons for inactivity can include lifestyle issues and problems with social integration.[129] Activity rates tend to vary with age, and disengagement occurs most frequently between age 16 and 25. A majority of less active members return to church activity later in life.[130] Former Latter-day Saints who seek to disassociate themselves from the religion are often referred to as ex-Mormons.
Members of sects that broke with the LDS Church over the issue of polygamy have become known as fundamentalist Mormons; these groups differ from mainstream Mormonism primarily in their belief in and practice of plural marriage. There are thought to be between 20,000 and 60,000 members of fundamentalist sects, (0.1–0.4 percent of Mormons), with roughly half of them practicing polygamy.[131] There are a number of fundamentalist sects, the largest two being the Fundamentalist Church of Jesus Christ of Latter-Day Saints (FLDS Church) and the Apostolic United Brethren (AUB). In addition to plural marriage, some of these groups also practice a form of Christian communalism known as the law of consecration or the United Order. The LDS Church seeks to distance itself from all such polygamous groups, excommunicating their members if discovered practicing or teaching it,[132] and today a majority of Mormon fundamentalists have never been members of the LDS Church.[133]
Liberal Mormons, also known as Progressive Mormons, take an interpretive approach to LDS teachings and scripture.[127] They look to the scriptures for spiritual guidance, but may not necessarily believe the teachings to be literally or uniquely true. For liberal Mormons, revelation is a process through which God gradually brings fallible human beings to greater understanding.[134] A person in this group is sometimes mistakenly regarded by others within the mainstream church as a Jack Mormon. Although this term is more commonly used to describe a different group with distinct motives to live the gospel in a non traditional manner[135]. Liberal Mormons place doing good and loving fellow human beings above the importance of believing correctly.[136] In a separate context, members of small progressive breakaway groups have also adopted the label.
Cultural Mormons are individuals who may not believe in certain doctrines or practices of the institutional LDS Church yet identify as member of the Mormon ethnic identity.[137][127][138] Usually this is a result of having been raised in the LDS faith, or as having converted and spent a large portion of one's life as an active member of the LDS Church.[139] Cultural Mormons may or may not be actively involved with the LDS church. In some cases they may not be members of the LDS Church.
List of Latter Day Saints

List of denominations in the Latter Day Saint movement: Followers of Brigham Young

List of former or dissident LDS