Everipedia is now
IQ.wiki
- Join the
IQ Brainlist
and our
Discord
for early access to editing on the new platform and to participate in the beta testing.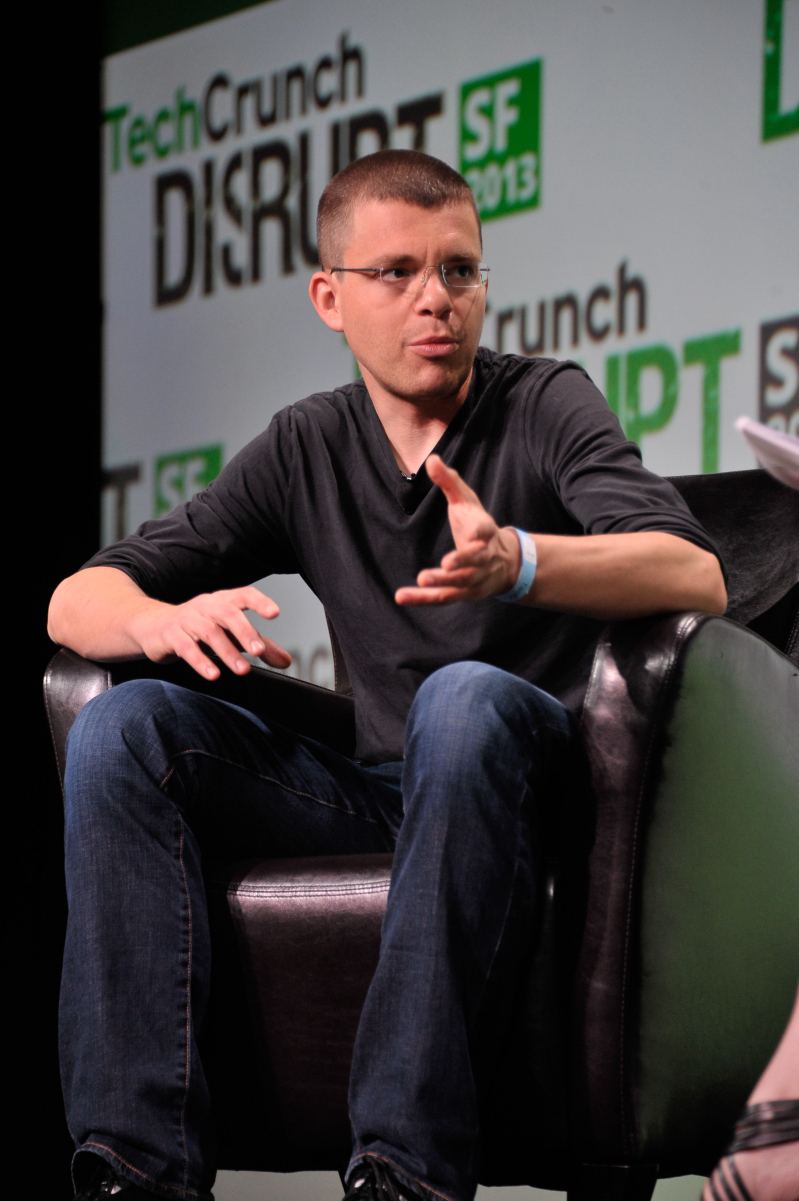 Max Levchin
Maksymilian Rafailovych "Max"** Levchin** (Ukrainian: Максиміліан Рафаїлович Левчин; born July 11, 1975) is a Ukrainian-born American computer scientist. In 1998, soon after graduating from college, he co-founded (with Peter Thiel) the company that eventually became PayPal. Levchin notably made contributions to PayPal's anti-fraud efforts[3] and is also the co-creator of the Gausebeck-Levchin test, one of the first commercial implementations of a CAPTCHA challenge response human test.
He has also founded or co-founded the companies Slide.com, HVF and Affirm. He was an early investor in Yelp and was their largest shareholder as of 2012.[4]
Born in Kiev, Ukrainian SSR to a Ukrainian Jewish family, Levchin moved to the United States and settled in Chicago in 1991.[5][6][7] In an interview with Emily Chang of Bloomberg, Levchin discussed his overcoming adversity as a child. He had respiratory problems and doctors doubted his chance of living. With guidance from his grandmother and his parents he took up the clarinet to expand his lung capacity.[8] He attended Mather High School, then the University of Illinois at Urbana-Champaign, where he earned a bachelor's degree in computer science in 1997.
In the summer of 1995, Levchin and fellow University of Illinois students Luke Nosek and Scott Banister founded SponsorNet New Media.[9]
In 1998, Levchin and Peter Thiel founded Fieldlink, a security company that allowed users to store encrypted data on their PalmPilots and other PDA devices in order for handheld devices to serve as "digital wallets."[10] After changing the company name to Confinity, they developed a popular payment product known as PayPal and focused on digital transfers of funds by PDA.[9] The company merged with X.com in 2000, and in 2001, the company adopted the name PayPal after its main product.[10] PayPal, Inc. went public in February 2002, and in July 2002 was acquired by eBay. Levchin's 2.3% stake in PayPal was worth approximately $34 million at the time of the acquisition.
Levchin is primarily known for his contributions to PayPal's anti-fraud efforts[3] and is also the co-creator of the Gausebeck-Levchin test, one of the first commercial implementations of a CAPTCHA.
Levchin is one of a group of roughly twenty founders and former employees of PayPal who have become referred to as the "PayPal Mafia", due to their success in founding and investing in tech companies after leaving PayPal.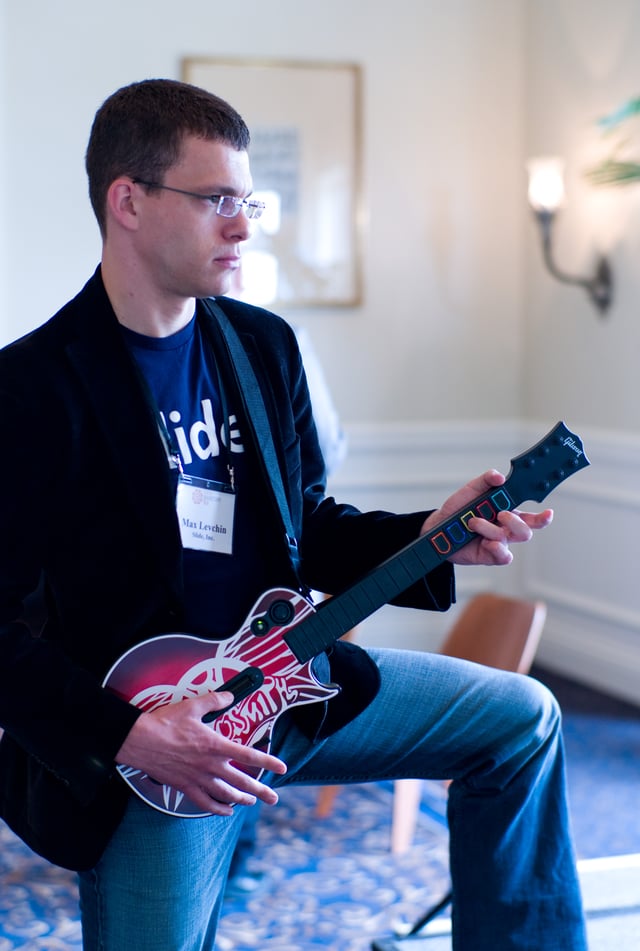 Max Levchin seen playing Guitar Hero
In 2004, Levchin founded Slide,[12] a personal media-sharing service for social networking sites such as MySpace and Facebook. Slide was sold to Google in August 2010 for $182 million[13] and, on August 25, Levchin joined the company as vice president of engineering.[14] On August 26, 2011, Google announced it was shutting down Slide, and that Levchin was leaving the company.[15]
In 2015, Levchin established the Levchin Prize, which annually awards two awards of $10,000 to people or teams who have provided "significant contributions to real-world cryptography" and is announced at the Real World Crypto conference.[27] Recipients of the prize include:[28]
2016 - Phillip Rogaway and the MiTLS Team

2017 - Joan Daemen and Signal Protocol developers, Moxie Marlinspike & Trevor Perrin

2018 - Hugo Krawczyk and the OpenSSL Team

2019 - Eric Rescorla (Firefox CTO) and Mihir Bellare
Levchin was an executive producer for the movie Thank You for Smoking
In 2011, Levchin collaborated with Garry Kasparov and Peter Thiel on a planned book titled The Blueprint, which called for a revival of world innovation. Thiel and Levchin expounded on their thesis in an interview during TechCrunch Disrupt.[29] The book was originally scheduled for a January 2012 release, but was later postponed indefinitely.
Levchin was listed as one of the contributors to FWD.us, a Silicon Valley-based lobbying group spearheaded by Mark Zuckerberg and Joe Green. The group is intended to concentrate on immigration liberalization for high-skilled immigrants to the United States, improvements to education, and facilitating technological breakthroughs with broad public benefits.[32] Levchin also narrated his personal experience as an immigrant in a video released by the group.[33]
List of computer scientists