Everipedia is now
IQ.wiki
- Join the
IQ Brainlist
and our
Discord
for early access to editing on the new platform and to participate in the beta testing.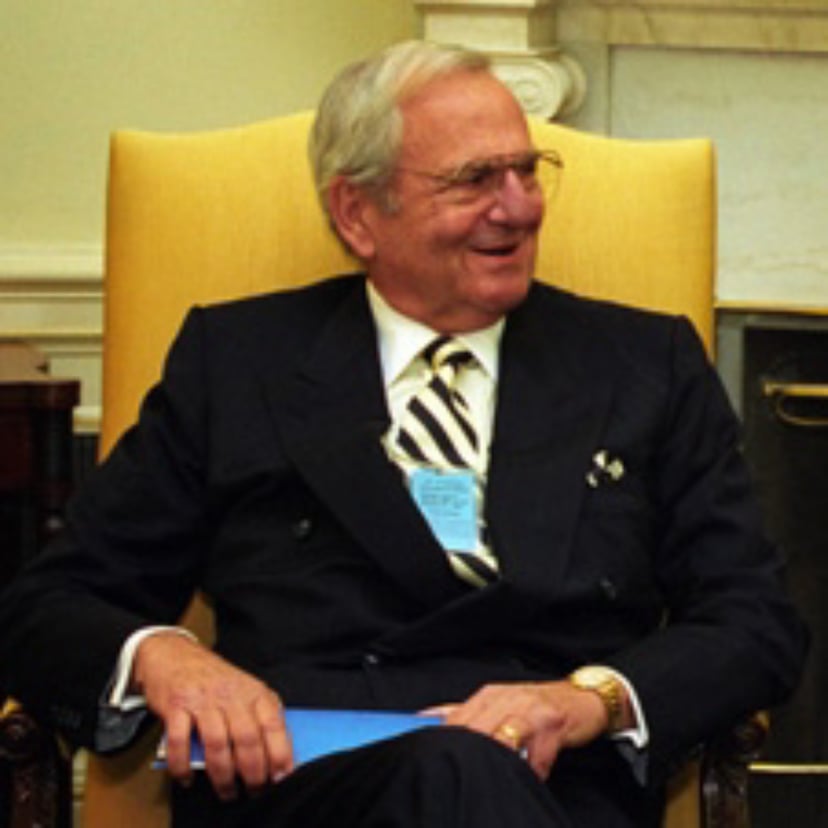 Lee Iacocca
Lee Iacocca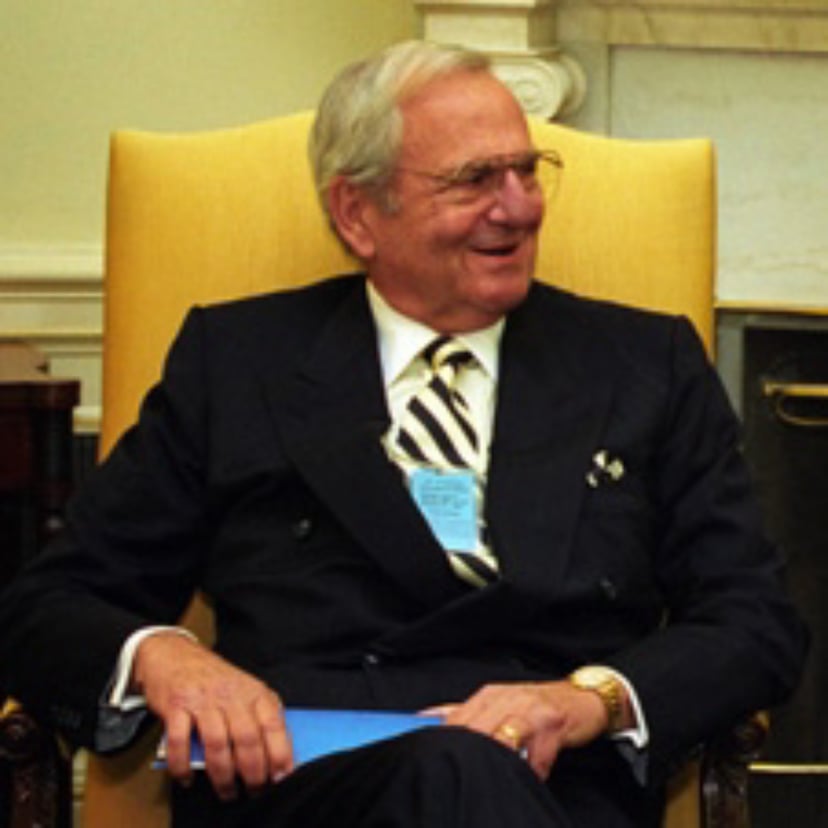 External video

Born




(

1924-10-15

)

October 15, 1924




Allentown, Pennsylvania, U.S.

Died

July 2, 2019

(2019-07-02)

(aged 94)




Alma mater

Lehigh University


Princeton University

Occupation

Businessman


Former Chrysler Chairman


Former Ford President

Years active

1946–1992

Spouse(s)

Mary McCleary

(

m.

 1956; died 1983)




Peggy Johnson

(

m.

 1986; annulled 1987)




Darrien Earle

(

m.

 1991;

div.

 1994)

Children

2

Website

leeiacocca.com [44]
iacoccafoundation.org [45]
iacocca-lehigh.org [46]
Presentation by Iacocca on Where Have All the Leaders Gone?, April 23, 2007 [47] , C-SPAN
Lido Anthony "Lee" Iacocca (/ˌaɪ.əˈkoʊkə/ EYE-ə-KOH-kə; October 15, 1924 – July 2, 2019) was an American automobile executive best known for the development of Ford Mustang and Pinto cars, while at the Ford Motor Company in the 1960s, and then later for reviving the Chrysler Corporation as its CEO during the 1980s.[1] He served as President and CEO of Chrysler from 1978 and additionally as chairman from 1979, until his retirement at the end of 1992. He was one of the only executives ever to preside over the operations of two of the Big Three automakers which he did during different tenures.[2]
Iacocca authored or co-authored several books, including Iacocca: An Autobiography (with William Novak), and Where Have All the Leaders Gone? Portfolio Magazine named Iacocca the 18th-greatest American CEO of all time.[3]
External video

Born




(

1924-10-15

)

October 15, 1924




Allentown, Pennsylvania, U.S.

Died

July 2, 2019

(2019-07-02)

(aged 94)




Alma mater

Lehigh University


Princeton University

Occupation

Businessman


Former Chrysler Chairman


Former Ford President

Years active

1946–1992

Spouse(s)

Mary McCleary

(

m.

 1956; died 1983)




Peggy Johnson

(

m.

 1986; annulled 1987)




Darrien Earle

(

m.

 1991;

div.

 1994)

Children

2

Website

leeiacocca.com [44]
iacoccafoundation.org [45]
iacocca-lehigh.org [46]
Presentation by Iacocca on Where Have All the Leaders Gone?, April 23, 2007 [47] , C-SPAN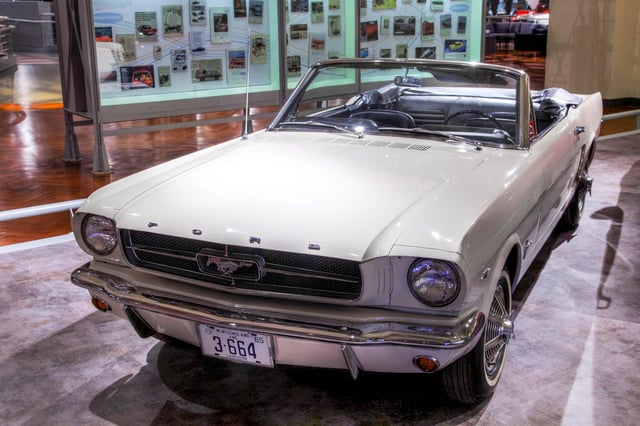 Iacocca was instrumental in the introduction of the Ford Mustang. Pictured here is a 1965 Mustang convertible.
Iacocca joined Ford Motor Company in August 1946. After a brief stint in engineering, he asked to be moved to sales and marketing, where his career flourished. While working in the Philadelphia district as assistant sales manager, Iacocca gained national recognition with his "56 for '56" campaign, offering loans on 1956 model year cars with a 20% down payment and $56 in monthly payments for three years.[5] His campaign went national, and Iacocca was called to the Dearborn headquarters, where he quickly moved up through the ranks. On November 10, 1960 Iacocca was named vice-president and general manager of the Ford Division; in January 1965 Ford's vice-president, car and truck group; in 1967, executive vice-president; and president on December 10, 1970.
Iacocca participated in the design of several successful Ford automobiles, most notably the Ford Mustang, the Continental Mark III, the Ford Escort and the revival of the Mercury brand in the late 1960s, including the introduction of the Mercury Cougar and Mercury Marquis. He promoted other ideas which did not reach the marketplace as Ford products. These included cars ultimately introduced by Chrysler – the K car and the minivan. Eventually, he became the president of the Ford Motor Company, but he clashed with Henry Ford II. He was fired on July 13, 1978, despite the fact that the company posted a $2 billion profit for the year.
In 1968, Iacocca foresaw the need for domestically produced, small, fuel-efficient vehicles,[6] and proposed a vehicle that weighed less than 2,000 pounds and would be priced at less than $2,000. Although Ford's European subsidiary was already selling such a model (the Ford Escort), a team of Ford designers was assigned to create the exterior and interior of an entirely new car, which would be named Pinto. The Pinto entered production beginning with the 1971 model year. Iacocca was described as the "moving force" behind the Ford Pinto.[7]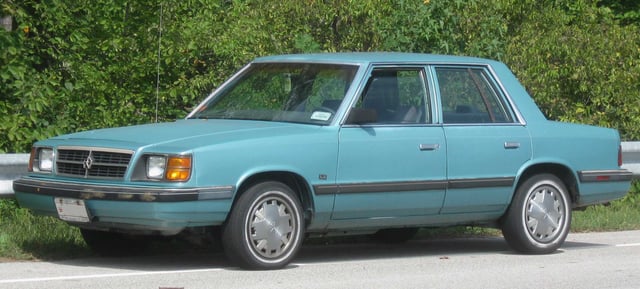 The Dodge Aries, a typical K-Car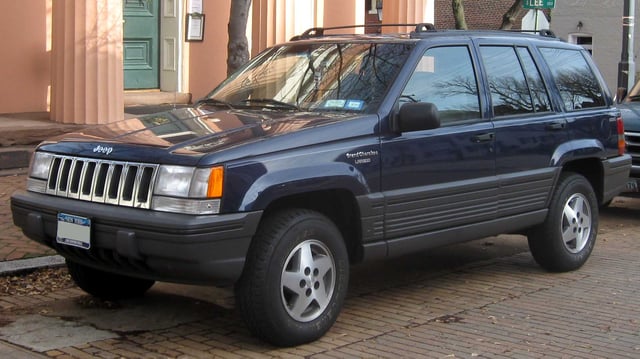 The Jeep Grand Cherokee design was the driving force behind Chrysler's buyout of AMC. Iacocca desperately wanted it.
Realizing that the company would go out of business if it did not receive a large infusion of cash, Iacocca approached the United States Congress in 1979 and successfully requested a loan guarantee. In order to obtain the guarantee, Chrysler was required to reduce costs and abandon some longstanding projects, such as the turbine engine, which had been ready for consumer production in 1979 after nearly 20 years of development.
Chrysler released the first of the K-Car line, the Dodge Aries and Plymouth Reliant, in 1981. Similar to the later minivan, these compact automobiles were based on design proposals that Ford had rejected during Iacocca's (and Sperlich's) tenure. Released in the middle of the major 1980-1982 recession, the small, efficient, and inexpensive front-wheel drive cars sold rapidly. In addition, Iacocca re-introduced the big Imperial as the company's flagship. The new model had all of the newest technologies of the time, including fully electronic fuel injection and all-digital dashboard.
Chrysler introduced the minivan, chiefly Sperlich's "baby", in late 1983. It led the automobile industry in sales for 25 years.[9] Because of the K-cars and minivans, along with the reforms Iacocca implemented, the company turned around quickly and was able to repay the government-backed loans seven years earlier than expected.
Iacocca led Chrysler's acquisition of AMC in 1987, which brought the profitable Jeep division under the corporate umbrella. It created the short-lived Eagle division, formed from the remnants of AMC. By this time, AMC had already finished most of the work on the Jeep Grand Cherokee, which Iacocca wanted. The Grand Cherokee would not be released until 1992 for the 1993 model year, the same year that Iacocca retired.
Throughout the 1980s, Iacocca appeared in a series of commercials for the company's vehicles, employing the ad campaign, "The pride is back," to denote the turnaround of the corporation. He also voiced what was to become his trademark phrase: "If you can find a better car, buy it."
Iacocca retired as president, CEO and chairman of Chrysler at the end of 1992.
1995 "Return" to Chrysler
In 1995, Iacocca assisted in billionaire Kirk Kerkorian's hostile takeover of Chrysler, which was ultimately unsuccessful. The next year, Kerkorian and Chrysler made a five-year agreement which included a gag order preventing Iacocca from speaking publicly about Chrysler.[10]
In July 2005, Iacocca returned to the airwaves as Chrysler's pitchman,[1] along with celebrities such as Jason Alexander and Snoop Dogg, to promote Chrysler's "Employee Pricing Plus" program; the ads reprise the "If you can find a better car, buy it" line, Iacocca's trademark of the 1980s. In return for his services, Iacocca and DaimlerChrysler agreed that his fees, plus a $1 donation per vehicle sold from July 1 through December 31, 2005, would be given to the Iacocca Foundation for type 1 diabetes research.
Chrysler's 2009 bankruptcy
In an April 2009 Newsweek interview, Iacocca reflected on his time spent at Chrysler and the company's current situation. He said:[11]
This is a sad day for me. It pains me to see my old company, which has meant so much to America, on the ropes. But Chrysler has been in trouble before, and we got through it, and I believe they can do it again. If they're smart, they'll bring together a consortium of workers, plant managers and dealers to come up with real solutions. These are the folks on the front lines, and they're the key to survival. Let's face it, if your car breaks down, you're not going to take it to the White House to get fixed. But, if your company breaks down, you've got to go to the experts on the ground, not the bureaucrats. Every day I talk to dealers and managers, who are passionate and full of ideas. No one wants Chrysler to survive more than they do. So I'd say to the Obama administration, don't leave them out. Put their passion and ideas to work.
Because of the Chrysler bankruptcy, Iacocca was set to lose part of his pension from a supplemental executive retirement plan, and a guaranteed company car during his lifetime. The losses were scheduled to take place once the bankruptcy court approved the sale of Chrysler to Chrysler Group LLC, with ownership of the new company by the United Auto Workers, the Italian carmaker Fiat and the governments of the United States and Canada.[12]
Other work and activities
In 1984, Iacocca co-authored (with William Novak) an autobiography, titled Iacocca: An Autobiography. It was the best selling non-fiction hardback book of 1984 and 1985.[2] The book used heavy discounting which would become a trend among publishers in the 1980s.[13] Iacocca donated the proceeds of the book's sales to type 1 diabetes research.
Am I the only guy in this country who's fed up with what's happening? Where the hell is our outrage? We should be screaming bloody murder. We've got a gang of clueless bozos steering our ship of state right over a cliff, we've got corporate gangsters stealing us blind, and we can't even clean up after a hurricane much less build a hybrid car. But instead of getting mad, everyone sits around and nods their heads when the politicians say, "Stay the course." Stay the course? You've got to be kidding. This is America, not the damned Titanic. I'll give you a sound bite: Throw the bums out!
Activism and philanthropy
In May 1982, President Ronald Reagan appointed Iacocca to head the Statue of Liberty-Ellis Island Foundation, which was created to raise funds for the restoration of the Statue of Liberty and the renovation of Ellis Island.[26] Iacocca continued to serve on the board of the foundation until his death.
Following the death of Iacocca's wife Mary from type 1 diabetes, he became an active supporter of research for the disease. He was one of the main patrons of the research of Denise Faustman at Massachusetts General Hospital. In 2000, Iacocca founded Olivio Premium Products, which manufactures the Olivio line of food products made from olive oil. He donated all profits from the company to type 1 diabetes research. In 2004, Iacocca launched Join Lee Now,[27] a national grassroots campaign, to bring Faustman's research to human clinical trials in 2006.
Iacocca led the fundraising campaign to enable Lehigh University to adapt and use vacant buildings formerly owned by Bethlehem Steel, including Iacocca Hall on the Mountaintop Campus of Lehigh University. Today these structures house the College of Education, the biology and chemical engineering departments, and The Iacocca Institute, which is focused on global competitiveness.
Iacocca played Park Commissioner Lido in "Sons and Lovers", the 44th episode of Miami Vice, which premiered on May 9, 1986. The name of the character is his birth name, which was not used in the public sphere due to the trouble of mispronunciation or misspelling.
Iacocca was married to Mary McCleary on September 29, 1956. They had two daughters. Mary Iacocca died from type 1 diabetes on May 15, 1983. Before her death, Iacocca became a strong advocate for better medical treatment of type 1 diabetes patients, who frequently faced debilitating and fatal complications, and he continued this work after her death.
Iacocca's second marriage was to Peggy Johnson. They married on April 17, 1986, but in 1987, after nineteen months, Iacocca had the marriage annulled. He married for the third time in 1991 to Darrien Earle. They were divorced three years later.
Iacocca resided in Bel Air, Los Angeles, California, during his later life.[29] He died on July 2, 2019, at his home in Bel Air, at the age of 94.[30] The cause was complications of Parkinson's disease.[31][32] His funeral was held on July 10, 2019. Burial site will be at St. Hugo of the Hills in Bloomfield Hills, Michigan.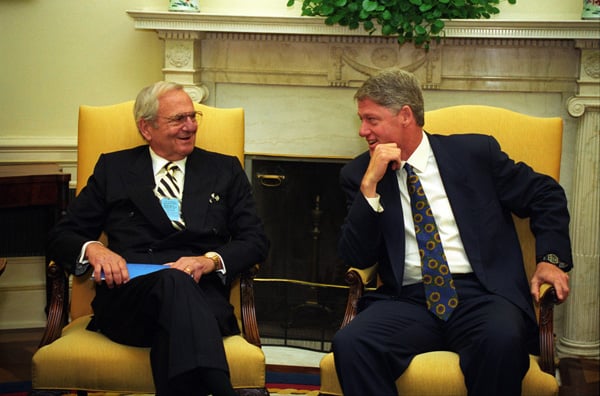 Iacocca meets with President Bill Clinton on September 23, 1993.
In his 2007 book Where Have All the Leaders Gone?, Iacocca described how he considered running for president in 1988 and was in the planning stages of a campaign with the slogan "I Like I", before ultimately being talked out of it by his friend Tip O'Neill. Polls at the time confirmed that he had a realistic chance of winning.[2]
Pennsylvania Governor Bob Casey discussed with Iacocca an appointment to the U.S. Senate in 1991 after the death of Senator John Heinz, but Iacocca declined.
Politically, Iacocca supported the Republican candidate George W. Bush in the 2000 presidential election. In the 2004 presidential election, however, he endorsed Bush's opponent, Democrat John Kerry.[33] In Michigan's 2006 gubernatorial race, Iacocca appeared in televised political ads endorsing Republican candidate Dick DeVos,[34] who lost. Iacocca endorsed New Mexico Governor Bill Richardson for President in the 2008 presidential election. In 2012, he endorsed Mitt Romney for President.[35]
On December 3, 2007, Iacocca launched a website to encourage open dialogue about the challenges of contemporary society. He introduced topics such as health care costs, and the United States' lag in developing alternative energy sources and hybrid vehicles. The site also promotes his book Where Have All the Leaders Gone. It provides an interactive means for users to rate presidential candidates by the qualities Iacocca believes they should possess: curiosity, creativity, communication, character, courage, conviction, charisma, competence and common sense.
In 1985, Iacocca received the S. Roger Horchow Award for Greatest Public Service by a Private Citizen, an award given out annually by Jefferson Awards.[36]
Ford Mustang Iacocca Silver 45th Anniversary Edition

Ford Carousel garageable van project