Everipedia is now
IQ.wiki
- Join the
IQ Brainlist
and our
Discord
for early access to editing on the new platform and to participate in the beta testing.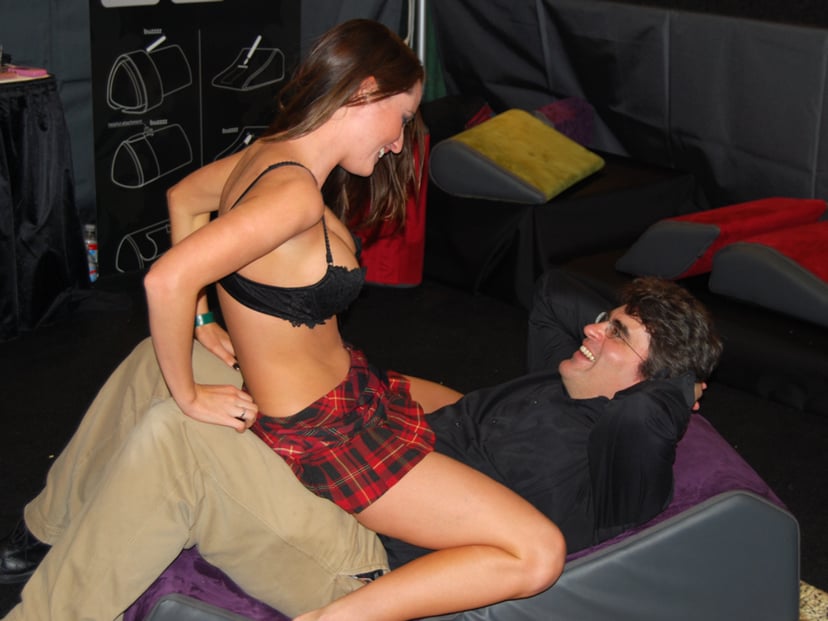 Lap dance
Lap dance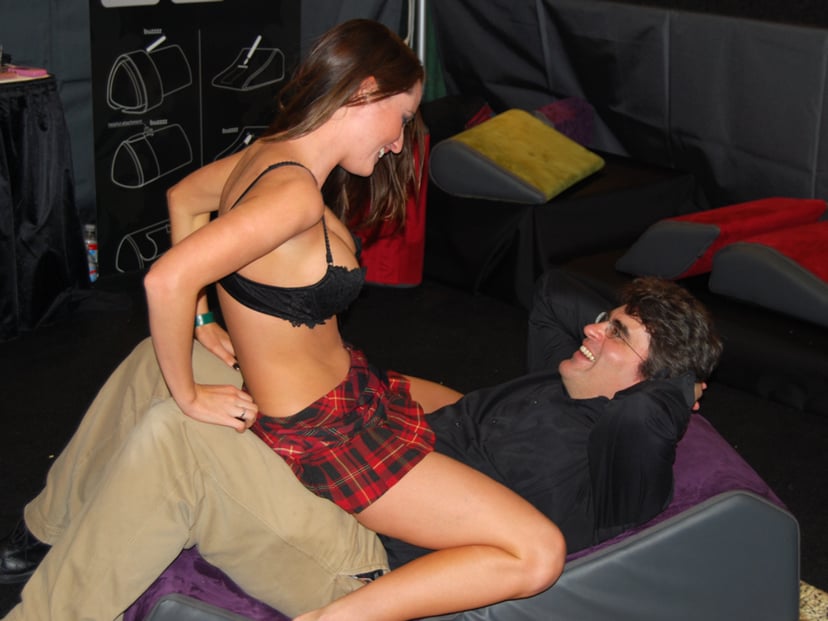 A lap dance (or contact dance) is a type of erotic dance performance offered in some strip clubs in which the dancer typically has body contact with a seated patron. Lap dancing is different from table dancing, in which the dancer is close to a seated patron, but without body contact. With lap dancing, the dancer may be nude, topless or scantily dressed, depending on the laws of the jurisdiction and the club's policies. With full-contact lap dances, the stripper may engage in non-penetrative sexual contact with the patron, such as "grinding" his or her body against the patron. Variant terms include couch dance, which is a lap dance where the customer is seated on a couch. In some places, a "block session" of lap dances (usually a half an hour to an hour) can be booked in a "champagne room", which is a private room usually located in the back of a club. In many clubs, the duration of a lap dance is measured by the length of the song being played by the club's DJ. Charges for lap dances vary significantly.
Depending on the local jurisdiction and community standards, lap dances can involve touching of the dancer by the patron, touching the patron by the dancer, neither, or both. In some clubs, any touching by the patron is forbidden. On the other hand, absent any oversight by the club, various levels of contact may be negotiable between the participants. Clubs vary widely with regard to whether they enforce their rules or turn a blind eye to any violations.
There is some debate as to whether lap dancing is entertainment or a type of sex work.[1] Critics of lap dancing allege that some club owners, by installing dark private booths and charging dancers steep stage fees, are covertly condoning and encouraging the sale of sexual acts between customers and dancers. This can be a concern if, as for instance in the United Kingdom, the club has a public entertainment licence rather than a sex establishment licence, and in jurisdictions where brothels are illegal.[2][3] According to the UK paper The Guardian, "Research shows that the majority of women become lap-dancers through poverty and lack of choice."[4]
In 1973, an upmarket Vancouver bar called "Gary Taylor's Show Lounge" employed showgirls and strippers as waitresses who gave a free dance with every drink. The club was raided by the police under the guise of obscenity legislation, but, in 1974, Judge Jack McGivern ruled that dancer nudity was not obscene, which started a trend of nude dancing in bars. No contact between dancers and patrons was allowed at the club, but Gary Taylor's had a boxing ring where the girls performed revealing acrobatics after stripping off and then earned tips. Americans from Washington State made the trip to the club from the United States, which at the time had stricter laws.[15]
In a landmark ruling regarding the 1994 case of Pat Mara and Allan East (the owner and manager of Cheaters Tavern), Judge E. Gordon Hachborn legally defined lap dancing and ruled that it did not contravene Canadian public decency statutes. A number of conflicting judgements were issued in the years that followed, including decisions to close certain bars in which sex acts took place on the floor of the club and other rulings in which patrons were allowed to touch the dancers, as long as an actual sex act did not take place.[15]
In 1999, the Supreme Court of Canada ruled that a typical lap dance did not constitute an "obscene" act within the meaning of the Criminal Code. The Crown did not argue that lap dances constituted "prostitution", and therefore the court did not address the possible issue that the typical lap dance may contravene one or more anti-prostitution laws.[16] This led to the displacement of strip clubs and table dancing clubs in Canada by lap dancing clubs.
In 2005, two Supreme Court of Canada rulings (R. v. Labaye and R. v. Kouri) decriminalized private sex clubs in Canada.
On 20 December 2013, (in Bedford v. Canada) the Supreme Court of Canada found the laws prohibiting brothels, public communication for the purpose of prostitution, and living on the profits of prostitution to be unconstitutional. The ruling gave the Canadian parliament twelve months to rewrite Canada's prostitution laws; in the meantime, existing anti-prostitution laws continued to be enforced.[17] Current laws on prostitution in Canada, introduced in 2014, make it illegal to purchase sexual services (including lap dancing) but legal to sell them.[18]
In the early 2000s, lap dancing expanded rapidly in the Republic of Ireland, building on an existing strip pub industry. A number of lap-dancing clubs were opened in Dublin, including one by the English nightclub owner Peter Stringfellow. Lap-dancing clubs were also opened across the country. Many of Ireland's lap-dancing clubs have subsequently closed as a result of the worsened economic climate and changes to Ireland's licensing laws in 2008. Reputational issues have also played a part in the decline of Ireland's lap-dancing clubs. Police raids took place on Irish lap-dancing clubs in 2003 in search of criminal activity as part of Operation Quest. Efforts to distance Irish lap dancing from the sex industry were hampered by the UK's decision in 2010 to classify its lap dancing clubs as sex establishments. Ireland's lap-dancing clubs became viewed as more expensive than their rivals overseas and more restricted in terms of the entertainment on offer. By 2012 there were five or six clubs operating in Dublin, one in Galway and one in Cork. Most lap-dancing clubs in Ireland operate a no-touching rule, and typically do not charge dancers a "house fee" to perform, instead taking a proportion of the dancer's earnings.[19]
Northern Ireland's first lap dancing club, Le Chic nightclub, with lap dancers mainly from Russia and the Baltic republics. The owner, Donegal businessman Jerome Brennan, owned a club in Dundalk, in the Republic of Ireland but near the border. He already owned a lap dancing club in Limerick in the Republic.[56] In 2002 Brennan opened the Movie Star Cafe, a lap dancing club in Belfast,[57] with lap dancers from Belfast and England.[58] The Belfast club was officially opened as a restaurant to circumvent Northern Ireland's licensing laws. The opening of the club was opposed by Rev. David McIlveen, a minister in the Free Presbyterian Church of Ulster,[56] and the club was often picketed by protesters from the Church[58] and women's groups.[59] In 2003 councillors from Belfast City Council expressed their intention to refuse the renewal of the club's licence,[58] and the club closed in November 2003 with debts of over £300,000.[57] The Le Chic nightclub in Dundalk remained open.[60]
Establishments that offer lap dancing, and the lap dancers themselves, are sometimes rated regarding "mileage."[69] It refers to the amount of contact between dancer and patron during the performance. Every jurisdiction has its own laws regarding such contact, but enforcement of these laws is sporadic. Ultimately, it comes down to what the club and the dancer will allow.
Nevada, and especially Las Vegas, have established very lenient laws regarding what contact is allowed during a lap dance.[70][71] Patrons may legally touch the dancer anywhere she will permit, excluding the genitals. This has led to a pricing strategy in some all-nude strip clubs, in which a standard lap dance is considered to be just topless with no contact, but can be upgraded to include full nudity and/or touching.
1995: In the film Showgirls, Zack Carey (Kyle MacLachlan) gets a lap dance from Nomi Malone (Elizabeth Berkley).

1999: In the film Go, Marcus (Taye Diggs) and a friend get lap dances in Las Vegas, but violence ensues when a bouncer assaults them after some minor hand-contact with a lap dancer.

2001: Within director Wayne Wang's film, Center of the World starring Peter Sarsgaard and Molly Parker, a wealthy dot-com entrepreneur becomes obsessed with a lap dancer.

2007: In Quentin Tarantino's film Death Proof, Butterfly performs a lap dance on Stuntman Mike to The Coasters' "Down in Mexico". In the double-feature Grindhouse, the scene was abruptly "skipped" in a comical manner.

2010: In the film Welcome to the Rileys starring James Gandolfini and Kristen Stewart, an emotionally damaged man tries to help a wayward lap dancer.

2014: Within the film Lap Dance starring Carmen Electra, an actress makes a pact with her fiancé to take a job as a lap dancer in order to take care of her cancer-stricken father.