Everipedia is now
IQ.wiki
- Join the
IQ Brainlist
and our
Discord
for early access to editing on the new platform and to participate in the beta testing.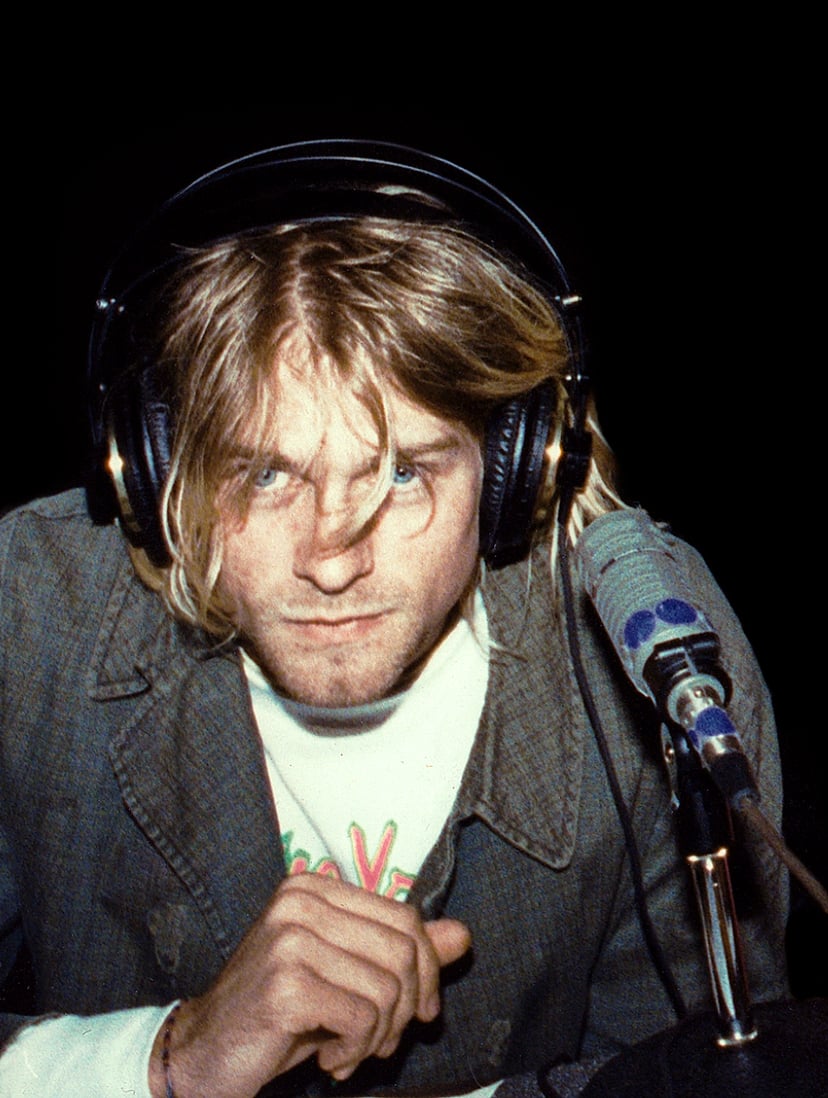 Kurt Cobain
Kurt Cobain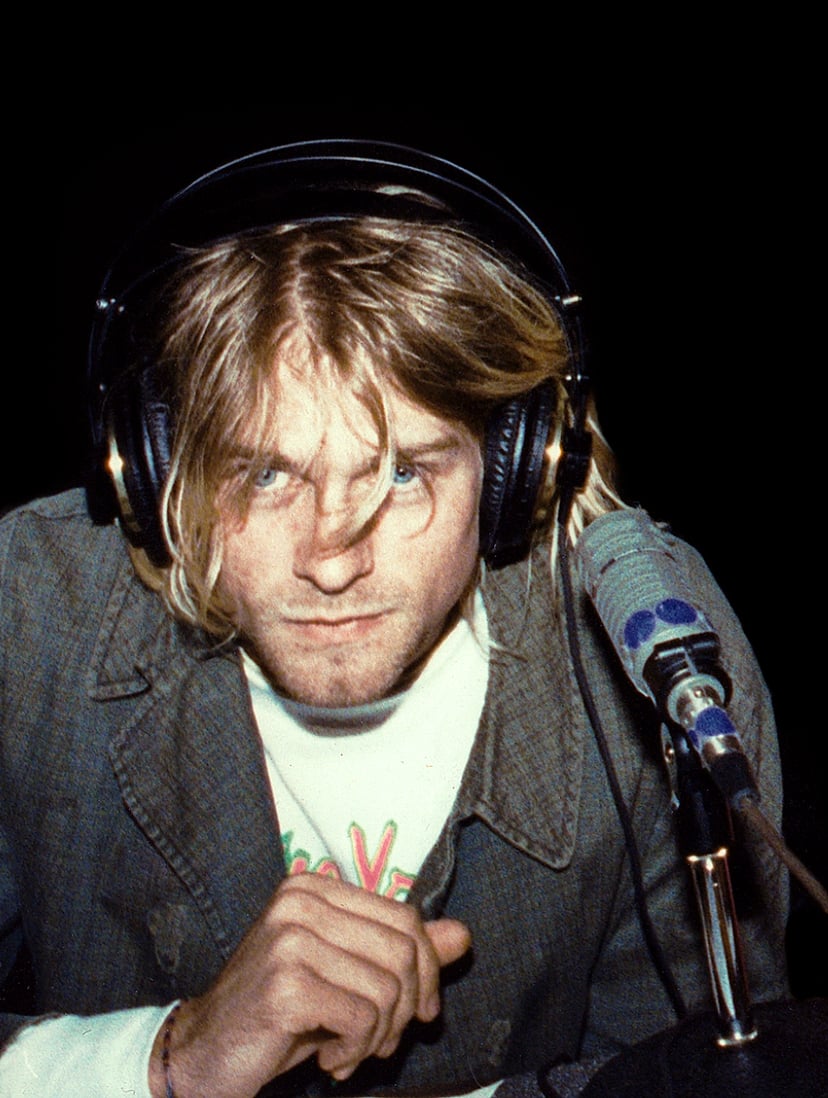 Born




(

1967-02-20

)

February 20, 1967




Aberdeen, Washington, U.S.

Died

April 5, 1994

(1994-04-05)

(aged 27)




Seattle, Washington, U.S.

Cause of death

Suicide by gunshot

Nationality

American

Occupation

Singer

songwriter

musician

visual artist

Spouse(s)

Children

Frances Bean Cobain
Musical career

Genres

Instruments

Years active

1982–1994

Labels

Associated acts

Nirvana

Fecal Matter

Earth

The Jury

Signature
Born




(

1967-02-20

)

February 20, 1967




Aberdeen, Washington, U.S.

Died

April 5, 1994

(1994-04-05)

(aged 27)




Seattle, Washington, U.S.

Cause of death

Suicide by gunshot

Nationality

American

Occupation

Singer

songwriter

musician

visual artist

Spouse(s)

Children

Frances Bean Cobain
Musical career

Genres

Instruments

Years active

1982–1994

Labels

Associated acts

Nirvana

Fecal Matter

Earth

The Jury

Signature
Collaboration with other artists
In 1989, members of Nirvana and fellow American alternative rock band Screaming Trees formed a side project known as the Jury. The band featured Cobain on vocals and guitar, Mark Lanegan on vocals, Krist Novoselic on bass and Mark Pickerel on drums. Over two days of recording sessions, on August 20 and 28, 1989, the band recorded four songs also performed by Lead Belly; "Where Did You Sleep Last Night?", an instrumental version of "Grey Goose", "Ain't It a Shame" and "They Hung Him on a Cross"; the latter of which featured Cobain performing solo.[33] Cobain was inspired to record the songs after receiving a copy of Lead Belly's Last Sessions from friend Slim Moon; after hearing it he "felt a connection to Leadbelly's almost physical expressions of longing and desire."[34]
In 1992, Cobain contacted William S. Burroughs about a possible collaboration. Burroughs responded by sending him a recording of "The Junky's Christmas"[35] (which he recorded in his studio in Lawrence, Kansas).[36] Two months later at a studio in Seattle, Cobain added guitar backing based on "Silent Night" and "To Anacreon in Heaven". The two would meet shortly later in Lawrence, Kansas and produce "The "Priest" They Called Him", a spoken word version of "The Junky's Christmas".[35][36]
In October 1992, when asked, "Well, are you gay?" by Monk Magazine, Cobain replied, "If I wasn't attracted to Courtney, I'd be a bisexual."[57] In another interview, he described identifying with the gay community in The Advocate, stating, "I'm definitely gay in spirit and I probably could be bisexual" and "if I wouldn't have found Courtney, I probably would have carried on with a bisexual life-style".[58][59] He also said that he "[was] definitely gay in spirit", "thought [he] was gay", and "wanted to [...] find a chicken hawk and sell [his] ass". He described himself as being "feminine" in childhood, and often wore dresses and other stereotypically feminine clothing. Some of his song lyrics, as well as phrases he would use to vandalize vehicles and a bank, included "God is gay",[58] "Jesus is gay", "HOMOSEXUAL SEX RULES",[58] and "Everyone is gay". Cobain openly advocated for LGBTQ+ rights, including traveling to Oregon to perform at a benefit opposing the 1992 Oregon Ballot Measure 9,[58] and supported local bands with LGBTQ+ members. He reported having felt "different" from the age of seven, and was a frequent target of homophobic bullying in his school due to him having a "gay friend".[60] Cobain was interviewed by two gay magazines, OUT and The Advocate;[61] the 1993 interview with The Advocate being described as "the only [interview] the band's lead singer says he plans to do for Incesticide",[58] an album whose liner notes included a statement decrying homophobia, racism and misogyny:[58]
If any of you in any way hate homosexuals, people of different color, or women, please do this one favor for us—leave us the fuck alone! Don't come to our shows and don't buy our records.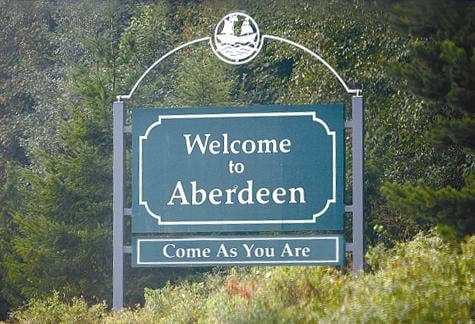 In 2005, a sign was put up in Aberdeen, Washington, that reads "Welcome to Aberdeen – Come As You Are" as a tribute to Cobain
Cobain has been remembered as one of the most iconic rock musicians in the history of alternative music. In 2003, David Fricke of Rolling Stone ranked him the 12th greatest guitarist of all time.[6] He was later ranked the 73rd greatest guitarist and 45th greatest singer of all time by the same magazine,[75][76] and by MTV as seventh in the "22 Greatest Voices in Music".[77] In 2006, he was placed at number twenty by Hit Parader on their list of the "100 Greatest Metal Singers of All Time".[78] Cobain is one of the significant members of the 27 Club, a list of musicians who died when they were 27 years old.
Reflecting on Cobain's death over 10 years later, MSNBC's Eric Olsen wrote:
In the intervening decade, Cobain, a small, frail but handsome man in life, has become an abstract Generation X icon, viewed by many as the "last real rock star" [..] a messiah and martyr whose every utterance has been plundered and parsed.[79]
In 2005, a sign was put up in Aberdeen, Washington, that read "Welcome to Aberdeen – Come As You Are" as a tribute to Cobain. The sign was paid for and created by the Kurt Cobain Memorial Committee, a non-profit organization created in May 2004 to honor Cobain. The Committee planned to create a Kurt Cobain Memorial Park and a youth center in Aberdeen. Because Cobain was cremated and his remains scattered into the Wishkah River in Washington, many Nirvana fans visit Viretta Park, near Cobain's former Lake Washington home to pay tribute. On the anniversary of his death, fans gather in the park to celebrate his life and memory.[80]
In 2006, Cobain took the place of Elvis Presley as the top-earning deceased celebrity, after the sale of the Nirvana song catalogue. Presley reclaimed the spot the following year.[81]
Controversy erupted in July 2009 when a monument to Cobain in Aberdeen along the Wishkah River included the quote "... Drugs are bad for you. They will fuck you up". The city ultimately decided to sandblast the monument to replace the expletive with "f---",[82] but fans immediately drew the letters back in.[83]
In 2017, toy manufacturer Funko revealed their new Pop! Rocks Series 3 collection featuring three vinyl figures of Cobain.[85]
Billy Corgan of The Smashing Pumpkins referred to Cobain as "the Michael Jordan of our generation".[86] He also stated that Cobain opened the door for everyone in the 1990s alternative rock scene.[87]
Lars Ulrich of Metallica reflected on Cobain's influence stating that "with Kurt Cobain you felt you were connecting to the real person, not to a perception of who he was — you were not connecting to an image or a manufactured cut-out. You felt that between you and him there was nothing — it was heart-to-heart. There are very few people who have that ability".[88]
Books and films on Cobain
Prior to Cobain's death, Azerrad published Come as You Are: The Story of Nirvana, a book chronicling Nirvana's career from its beginning, as well as the personal histories of the band members. The book explored Cobain's drug addiction, as well as the countless controversies surrounding the band. After Cobain's death, Azerrad republished the book to include a final chapter discussing the last year of Cobain's life. The book is notable, as it involved the band members themselves, who provided interviews and personal information to Azerrad specifically for the book. In 2006, Azerrad's taped conversations with Cobain were transformed into a documentary about Cobain, titled Kurt Cobain: About a Son. Though this film does not feature any music by Nirvana, it has songs by the artists that inspired Cobain.
In the 1998 documentary Kurt & Courtney, filmmaker Nick Broomfield investigated Tom Grant's claim that Cobain was actually murdered. He took a film crew to visit a number of people associated with Cobain and Love; Love's father, Cobain's aunt, and one of the couple's former nannies. Broomfield also spoke to Mentors bandleader Eldon "El Duce" Hoke, who claimed Love offered him $50,000 to kill Cobain. Although Hoke claimed he knew who killed Cobain, he failed to mention a name, and offered no evidence to support his assertion. Broomfield inadvertently captured Hoke's last interview, as he died days later, reportedly hit by a train. However, Broomfield felt he had not uncovered enough evidence to conclude the existence of a conspiracy. In a 1998 interview, Broomfield summed it up by saying:
I think that he committed suicide. I don't think there's a smoking gun. And I think there's only one way you can explain a lot of things around his death. Not that he was murdered, but that there was just a lack of caring for him. I just think that Courtney had moved on, and he was expendable.[89]
Broomfield's documentary was noted by The New York Times to be a rambling, largely speculative and circumstantial work, relying on flimsy evidence as was his later documentary Biggie & Tupac.[90]
Journalists Ian Halperin and Max Wallace took a similar path and attempted to investigate any possible conspiracy for themselves. Their initial work, the 1999 book, Who Killed Kurt Cobain?, argued that, while there was not enough evidence to prove a conspiracy, there was more than enough to demand that the case be reopened.[91] A notable element of the book included their discussions with Grant, who had taped nearly every conversation that he had undertaken while he was in Love's employ. Over the next several years, Halperin and Wallace collaborated with Grant to write a second book, 2004's Love and Death: The Murder of Kurt Cobain.
In 2001, writer Charles R. Cross published a biography of Cobain, titled Heavier Than Heaven. For the book, Cross conducted over 400 interviews, and was given access by Courtney Love to Cobain's journals, lyrics, and diaries.[92] Cross' biography was met with criticism, including allegations of Cross accepting secondhand (and incorrect) information as fact.[93] Friend Everett True, who derided the book as being inaccurate, omissive, and highly biased; he said Heavier than Heaven was "the Courtney-sanctioned version of history"[94] or, alternatively, Cross's "Oh, I think I need to find the new Bruce Springsteen now" Kurt Cobain book.[95] However, beyond the criticism, the book contained details about Cobain and Nirvana's career that would have otherwise been unnoted. In 2008, Cross published Cobain Unseen: Mosaic of an Artist, a compilation of annotated photographs and creations and writings by Cobain throughout his life and career.[96]
In 2002, a sampling of Cobain's writings was published as Journals. The book fills 280 pages with a simple black cover; the pages are arranged somewhat chronologically (although Cobain generally did not date them). The journal pages are reproduced in color, and there is a section added at the back with explanations and transcripts of some of the less legible pages. The writings begin in the late 1980s and were continued until his death. A paperback version of the book, released in 2003, included a handful of writings that were not offered in the initial release. In the journals, Cobain talked about the ups and downs of life on the road, made lists of what music he was enjoying, and often scribbled down lyric ideas for future reference. Upon its release, reviewers and fans were conflicted about the collection. Many were elated to be able to learn more about Cobain and read his inner thoughts in his own words, but were disturbed by what was viewed as an invasion of his privacy.[97]
Gus Van Sant loosely based his 2005 movie Last Days on the events in the final days of Cobain's life, starring Michael Pitt as Cobain.[98] In January 2007, Love began to shop the biography Heavier Than Heaven to various movie studios in Hollywood to turn the book into an A-list feature film about Cobain and Nirvana.[99]
Also in 2009, ECW Press released a book titled Grunge is Dead: The Oral History of Seattle Rock Music. Written by Greg Prato, the book explored the history of grunge in detail, touching upon Nirvana and Cobain's life and death via interviews with former bandmates, friends, and various grunge-era contemporaries. A picture of Cobain from the Bleach era is used for the book's front cover, and its title comes from a shirt that Cobain was once photographed wearing.[102][103][104][105]
A Brett Morgen film, entitled Kurt Cobain: Montage of Heck, premiered at the Sundance Film Festival in January 2015, followed by small-screen and cinema releases.[108] Morgen said that documentary "will be this generation's The Wall".[109]
Soaked in Bleach is a 2015 American docudrama directed by Benjamin Statler. The film details the events leading up to the death of Kurt Cobain, as seen through the perspective of Tom Grant, the private detective who was hired by Courtney Love to find Cobain, her husband, shortly before his death in 1994. It also explores the premise that Cobain's death was not a suicide. The film stars Tyler Bryan as Cobain and Daniel Roebuck as Grant, with Sarah Scott portraying Courtney Love and August Emerson as Dylan Carlson.[110] Love's legal team issued a cease-and-desist letter against theaters showing the documentary.[111]
Regarding the depiction of Nirvana, and in particular Kurt Cobain, the indie rock author Andrew Earles wrote:
Never has a rock band's past been so retroactively distorted into an irreversible fiction by incessant mythologizing, conjecture, wild speculation, and romanticizing rhetoric. The Cobain biographical narrative - specifically in regard to the culturally irresponsible mishandling of subjects such as drug abuse, depression, and suicide - is now impenetrable with inaccurate and overcooked connectivity between that which is completely unrelated, too chronologically disparate, or just plain untrue.— Andrew Earles[112]
Scratch It Out / Bikini Twilight (single, July 1989) (With The Go Team).

The Winding Sheet (album, 1990) (Cobain does background vocals on "Down in the Dark" and guitar on "Where Did You Sleep Last Night") (With Mark Lanegan).

Earth's demo (October 1990), lead vocals for song Divine Bright Extraction[113][114] and backing vocals for A Bureaucratic Desire For Revenge.[115] Cobain also sang lead vocals for a cover song Private Affair (original by The Saints), but that was never released.[116]

The "Priest" They Called Him, (EP, 1993) (Cobain does background guitar noise) (With William S. Burroughs).

Houdini (album, 1993) (Cobain plays guitar on "Sky Pup" and percussion on the song "Spread Eagle Beagle") (With the Melvins).
Albums Montage of Heck: The Home Recordings (solo album) (2015)

Singles "And I Love Her"/"Sappy" (7-inch vinyl) (2015)

Videos Kurt Cobain: Montage of Heck (DVD and Blu-ray) (2015)