Everipedia is now
IQ.wiki
- Join the
IQ Brainlist
and our
Discord
for early access to editing on the new platform and to participate in the beta testing.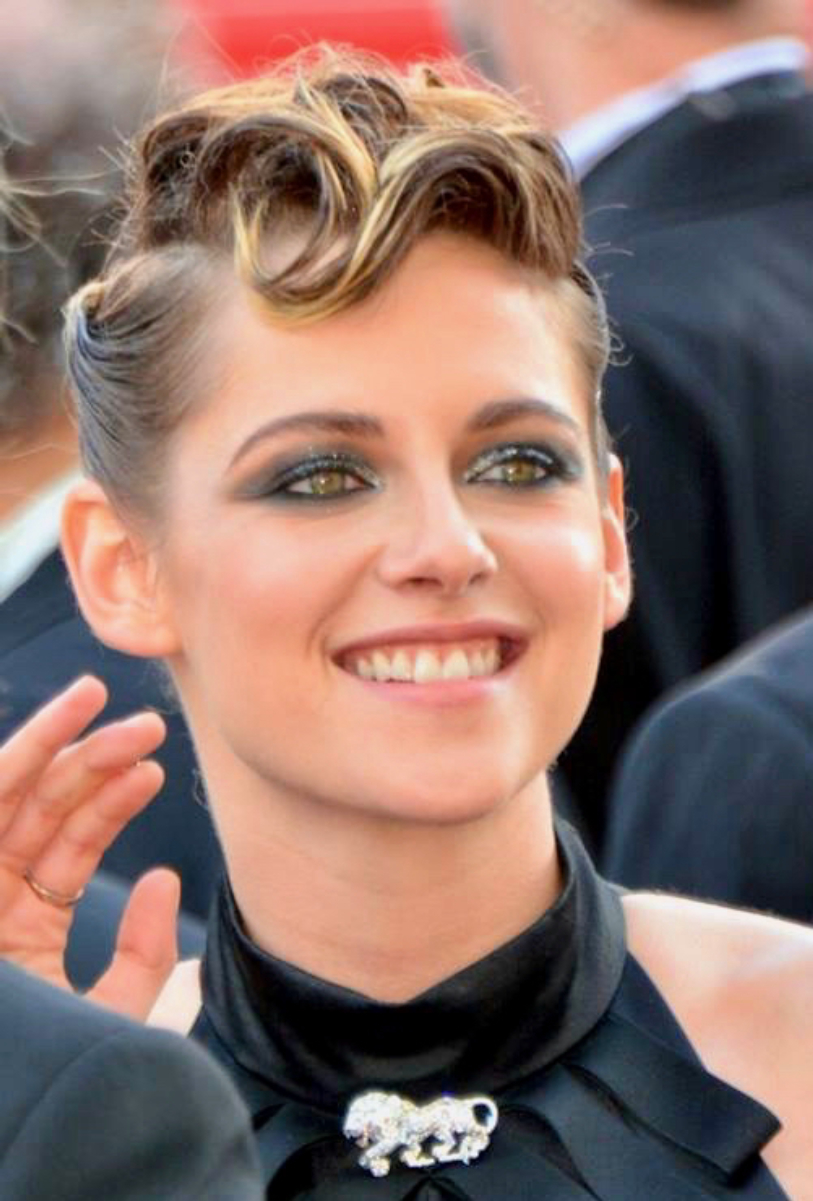 Kristen Stewart
Kristen Jaymes Stewart (born April 9, 1990) is an American actress and director. She is the recipient of several accolades, including a César Award, which she was the first American actress to win. Her films have grossed over $4.3 billion worldwide, and she was the highest-paid actress in the world in 2010 and 2012.
Born and raised in Los Angeles to an American father and Australian mother, both of whom worked in show business, Stewart began her career as a child actress in 1999. She gained notice in 2002 for playing the daughter of Jodie Foster's character in the thriller Panic Room, which garnered her a Young Artist Award nomination for Best Leading Actress in a Feature Film. She subsequently starred in Speak (2004), Catch That Kid (2004), Zathura: A Space Adventure (2005), and Into the Wild (2007). In 2010, she was awarded the BAFTA Rising Star Award. Stewart went on to gain wide recognition for playing Bella Swan in The Twilight Saga film series (2008–2012), which collectively grossed over $3.3 billion worldwide.[1]
After starring in the fantasy film Snow White and the Huntsman (2012), Stewart eschewed parts in big-budget films in favour of independent productions for the next few years. She took on roles in the dramas Camp X-Ray and Still Alice (both 2014), and the science fiction romance Equals (2016). In 2015, she received critical acclaim for her role opposite Juliette Binoche in Olivier Assayas's French film Clouds of Sils Maria, for which she won the César Award for Best Supporting Actress. Stewart reunited with Assayas the following year in the supernatural thriller Personal Shopper (2016) and made her directorial debut with the 2017 short film Come Swim.
Stewart was born in Los Angeles, California, on April 9, 1990.[2] Both of her parents work in the entertainment industry.[3][4][5] Her American father, John Stewart, is a stage manager and television producer who has worked for Fox[6] and on the Comedy Central show @midnight. Her Australian mother, Jules Mann-Stewart, is originally from Maroochydore, Queensland. She is a script supervisor and also directed the 2012 film K-11.[5][7][8] Stewart has an older brother, Cameron B. Stewart, and two adopted brothers, Dana and Taylor.[9][10] Stewart attended local schools until the seventh grade. As she became more involved in acting, she continued her education by distance until completing high school.[5][11]
2008–2012: International success and The Twilight Saga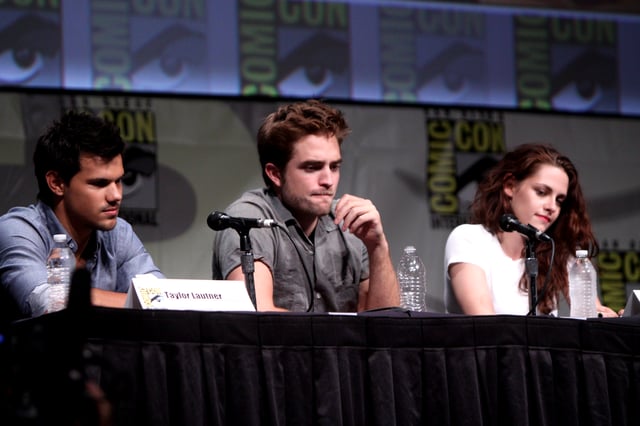 Taylor Lautner, Robert Pattinson and Stewart at a media appearance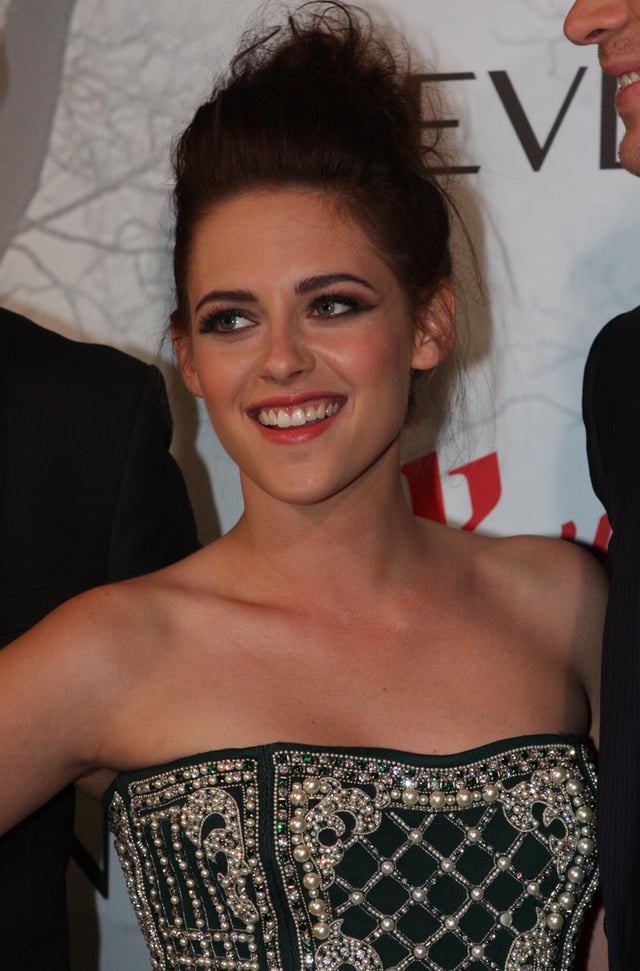 Stewart at the Australian premiere of Snow White and the Huntsman in June 2012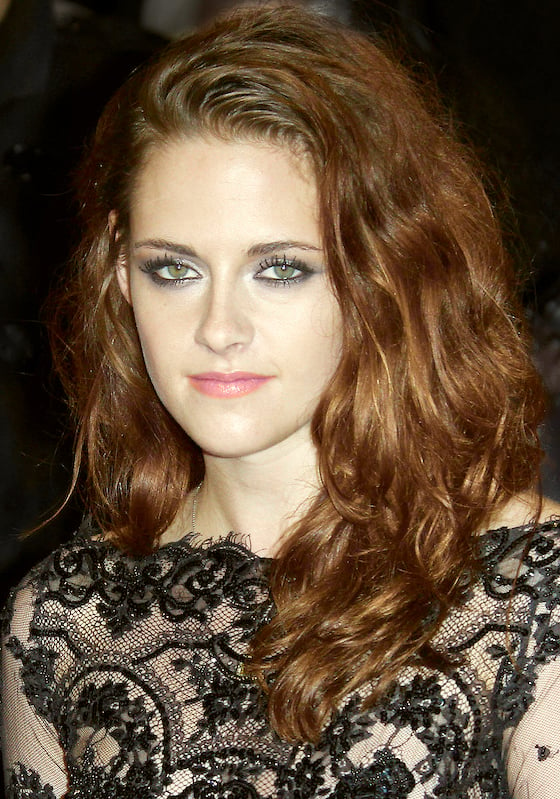 Stewart at the UK premiere of The Twilight Saga: Breaking Dawn - Part 2 in November 2012.
On November 16, 2007, Summit Entertainment announced that Stewart would play main character Isabella "Bella" Swan in the film Twilight, based on Stephenie Meyer's bestselling vampire romance novel of the same name.[23] Stewart was on the set of Adventureland when director Catherine Hardwicke visited her for an informal screen test, which "captivated" the director.[24] She starred alongside Robert Pattinson, who plays Edward Cullen, her vampire boyfriend. The film began production in February 2008 and finished filming in May 2008.
Twilight was released domestically on November 21, 2008.[25] Stewart's performance garnered mixed reviews with some critics describing her as "the ideal casting choice" and praising her for conveying "Bella's detachment, as well as her need to bust through it;" others criticized her acting for being "wooden" and lacking variety in her facial expressions, which they described as "blank".[26][27]
She has been nominated four times, three consecutive years (2003–2005) and in 2008 for the Young Artist Award.
She received praise for her role in Adventureland (2009), a comedy-drama film written and directed by Greg Mottola, and co-starring Jesse Eisenberg. Critic James Berardinelli of Reelviews said, "Stewart is more than merely appealing in this role – she makes Em a fully realized woman, and some of the most intricate development results from what the camera observes in Stewart's eyes."[28] Kenneth Turan of the Los Angeles Times said Stewart was "beautiful, enigmatic and very experienced".[29] and MSN Movies' James Rocchi stated, "Stewart's vulnerable, spooky power is used to nice effect." [30] Stewart reappeared as Bella in the sequel, The Twilight Saga: New Moon, once again receiving mixed reviews for her performance. Jordan Mintzer from Variety called Stewart "the heart and soul of the film" and praised her for giving "both weight and depth to dialogue...she makes Bella's psychological wounds seem like the real deal."[31]
On the other hand, Manohla Dargis from The New York Times said Stewart's "lonely-girl blues soon grow wearisome,"[32] and Billy Goodykoontz from The Arizona Republic stated "Stewart is a huge disappointment... She sucks the energy right out of the film".[33] She reprised this role in The Twilight Saga: Eclipse.
At the 2010 82nd Annual Academy Awards, Stewart and Twilight co-star Taylor Lautner presented a tribute in honor of the horror movie genre.[34]
In 2009, Stewart starred in The Yellow Handkerchief, which debuted at the Sundance Film Festival and was released into theaters in 2010 by Samuel Goldwyn Films. She also starred alongside James Gandolfini in Welcome to the Rileys, which premiered at the Sundance Film Festival in January 2010.
In 2010, Stewart portrayed rock star Joan Jett in The Runaways, a biographical film of the titular band from writer-director Floria Sigismondi.[35] Stewart met with Jett over the 2008–2009 New Year to prepare for the role; she prerecorded songs in a studio for the film.[36] She received praise for her performance: the Metro Times wrote, "It turns out that Stewart is actually really good at capturing Jett's icy, tough-but-cool girl swagger, adding the needed touches of vulnerability that transform it into a pretty terrific performance... Stewart is a genuine rock star here."[37] Also, A. O. Scott of The New York Times noted "Ms. Stewart, watchful and unassuming, gives the movie its spine and soul."[38] The same year, Stewart was listed as the highest-earning actress in *Vanity Fair'*s "2010's Top Hollywood Top Earners List", with an estimated earning of $28.5 million for her movie roles in 2010.[39] She won the BAFTA Rising Star Award in 2010 and was awarded the Milan International Film Festival Award for Best Actress in 2011 for Welcome to the Rileys (2010).
She was named "Stonette of the Year" by High Times in 2010.
The fourth Twilight film, The Twilight Saga: Breaking Dawn – Part 1, was released on November 18, 2011. Though it received mixed to negative reviews, Stewart's performance was praised. Gabriel Chong called Stewart's work "mesmerising" and said that she "makes [Bella's] every emotion keenly felt that runs the gamut from joy, trepidation, anxiety, distress and above all quiet and resolute determination."[40] *The Village Voice'*s Dan Konis said Stewart "beautifully underplays" the role.[41] Some critics found Pattinson and Stewart's chemistry lacking and said that the relationship between their characters came off like a "charade" onscreen, or that none of the three leads was convincing in his or her role.[42][43]
She concluded the role of Bella Swan in the final film in the series, The Twilight Saga: Breaking Dawn – Part 2, in November 2012. The film, despite mixed critical reception, was a box office success, grossing nearly $830 million worldwide, becoming the 40th highest-grossing film,[44] and the highest-grossing film of the Twilight series. At Rotten Tomatoes, the film currently holds a 48% rotten rating, based on 174 reviews with the consensus stating: "It is the most enjoyable chapter in The Twilight Saga, but that's not enough to make Breaking Dawn Part 2 worth watching for filmgoers who don't already count themselves among the franchise converts."[45]
Stewart starred as Snow White in the film Snow White and the Huntsman (2012).[48] Stewart appears as Mary Lou in On the Road, the film adaptation of Jack Kerouac's novel of the same name.[49]
According to Forbes, Stewart was the highest-paid actress in 2012, with total earnings of $34.5 million.[50] She earned $12.5 million each for the last two installments in the Twilight series, including royalties.
Stewart was listed as the highest-earning female actress in the Vanity Fair "Hollywood Top Earners List of 2010", with estimated earnings of $28.5 million.[39] In 2011, she was named number one on Forbes' list of "Hollywood's Best Actors for the Buck".[46] Forbes also named her as the highest-paid actress in 2012, with total earnings of $34.5 million.[50]
In 2008 she ranked #17 on Entertainment Weekly's "30 Under 30" the actress list, and she was also named the Movie Fanatic's Hottest Young Actress, and she also was ranked #9 on Moviefone's "The 25 Hottest Actors Under 25".
She was ranked #3 in FHM Online's "Sexiest Women in the World", and ranked #13 in the magazine's list of "Sexiest Women in the World".
Key

| | |
| --- | --- |
| | Denotes films that have not yet been released |
Year

Title

Role

Notes

2000

The Flintstones in Viva Rock Vegas

Ring Toss Girl

Uncredited

2001

The Safety of Objects

Sam Jennings

2002

Panic Room

Sarah Altman

2003

Cold Creek Manor

Kristen Tilson

2004

Catch That Kid

Maddy Phillips

Speak

Melinda Sordino

Undertow

Lila

2005

Fierce People

Maya

Zathura: A Space Adventure

Lisa Budwing

2007

The Messengers

Jessica "Jess" Solomon

In the Land of Women

Lucy Hardwicke

The Cake Eaters

Georgia Kaminski

Into the Wild

Tracy Tatro

Cutlass

Young Robin

Short film

2008

Jumper

Sophie

What Just Happened

Zoe

The Yellow Handkerchief

Martine

Twilight

Bella Swan

2009

Adventureland

Emily "Em" Lewin

The Twilight Saga: New Moon

Bella Swan

2010

The Runaways

Joan Jett

The Twilight Saga: Eclipse

Bella Swan

Welcome to the Rileys

Allison/Mallory (alias)

2011

The Twilight Saga: Breaking Dawn – Part 1

Bella Swan Cullen

2012

Snow White and the Huntsman
Snow White
On the Road

Marylou

The Twilight Saga: Breaking Dawn – Part 2

Bella Cullen

K-11

Ray's Secretary

Voice role

2014

Camp X-Ray

Cole

Clouds of Sils Maria

Valentine

Still Alice

Lydia Howland

2015

American Ultra

Phoebe Larson

Anesthesia

Sophie

Equals

Nia

2016

Certain Women

Elizabeth Travis

Café Society

Vonnie

Personal Shopper

Maureen

Billy Lynn's Long Halftime Walk

Kathryn

2018

Lizzie

Bridget Sullivan

JT LeRoy

Savannah Knoop

2019

Seberg

Jean Seberg

Charlie's Angels

Sabina Wilson

Post-production

2020

Underwater

Norah Price

Post-production
Year

Title

Notes

2014

"Take Me To The South"

Music video by Sage + the Saints

2017

Come Swim

Short film

"Down Side of Me"

Music video by Chvrches

TBA

The Chronology of Water

Feature film
| Year | Title | Role | Notes |
| --- | --- | --- | --- |
| 1999 | The Thirteenth Year | Girl in Fountain Line | TV movie, uncredited |
| 2008 | The Sarah Silverman Program | Announcer | Episode: "I Thought My Dad Was Dead, But It Turns Out He's Not", uncredited |
| 2017 | Saturday Night Live | Host | Episode: "Kristen Stewart/Alessia Cara" |
| Year | Title | Artist |
| --- | --- | --- |
| 2011 | "I Was Broken" | Marcus Foster |
| 2014 | "Just One of the Guys" | Jenny Lewis |
| 2016 | "Ride 'Em On Down" | The Rolling Stones |
| 2018 | "If You Really Love Nothing" | Interpol |
Stewart has received a César Award, a Milano Film Festival award, a Young Artist Award and the BAFTA Rising Star Award. She won the National Society of Film Critics, New York Film Critics Circle, and Boston Society of Film Critics Award for Best Supporting Actress for her performance in Clouds of Sils Maria.