Everipedia is now
IQ.wiki
- Join the
IQ Brainlist
and our
Discord
for early access to editing on the new platform and to participate in the beta testing.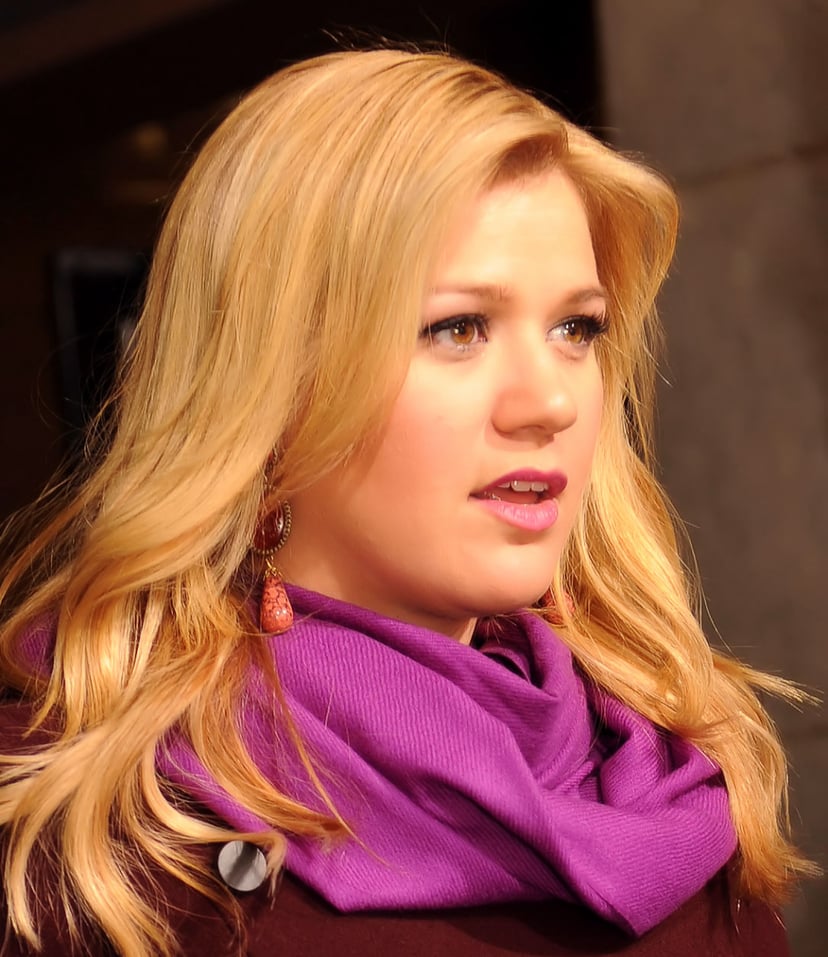 Kelly Clarkson
Kelly Clarkson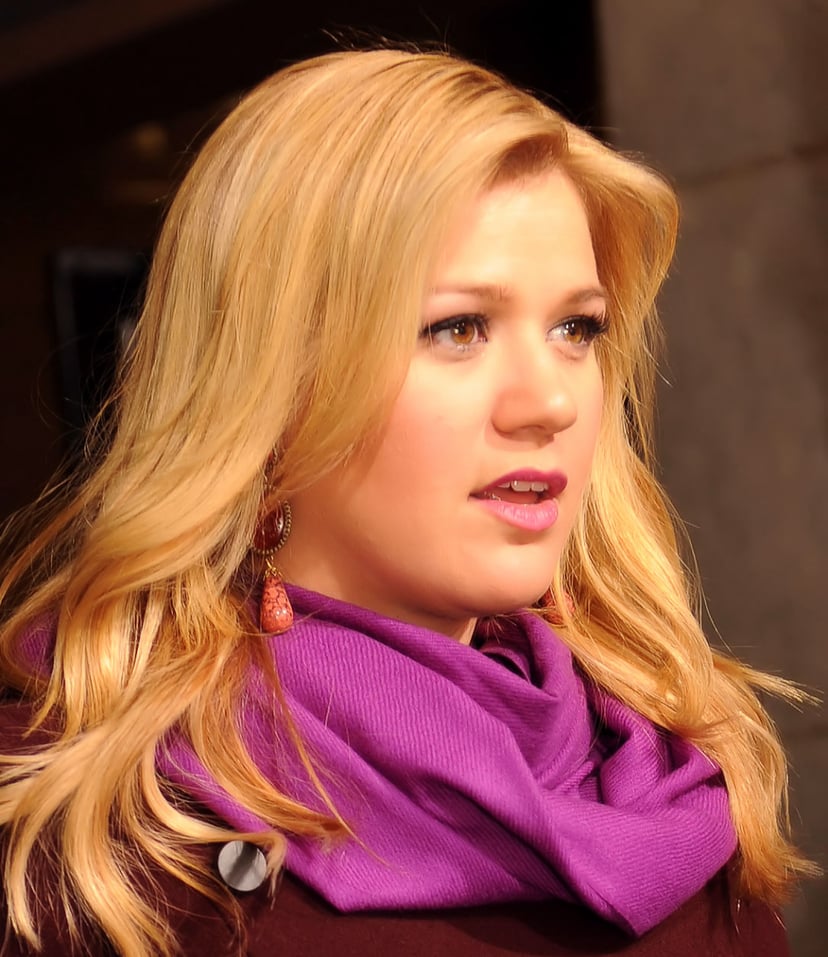 Born

Residence

Encino, Los Angeles, California

Hendersonville, Tennessee

Occupation

Years active

2002–present

Children

2

Awards

Full list

Musical career

Origin

Burleson, Texas

, U.S.

Genres

Instruments

Vocals

Labels

Website
Kelly Brianne Clarkson (born April 24, 1982) is an American singer, songwriter actress, author, and television personality. She rose to fame in 2002, after winning the first season of American Idol, which earned her a record deal with RCA Records. Clarkson's debut single, "A Moment Like This", topped the US Billboard Hot 100Billboard 200*200]]*r her second album, 2004). After numerous top 40 radio number-one singles, such as "Since U Been Gone" and "Because of You", the album sold over 12 million copies worldwide and earned Clarkson two Grammy Awards.
She took further creative control for her third album, My December (2007), by becoming the executive producer and co-writing the entire album. However, her label was dissatisfied with her darker rock music and reluctantly promoted the album. Clarkson returned to the top of the charts with her more mainstream-oriented fourth album, All I Ever Wanted (2009). Its lead single, "My Life Would Suck Without You", holds the record for the biggest jump to number one on the Hot 100 chart. Her fifth studio album, Stronger (2011), made Clarkson the first Artist to win the Grammy Award for Best Pop Vocal Album twice. It spawned her third Hot 100 number-one single "Stronger (What Doesn't Kill You)". She became the first American female artist to achieve the best-selling holiday album of the year with Wrapped in Red (2013). Following the release of her third number-one album Piece by Piece (2015), Clarkson concluded her contract with RCA Records and signed with Atlantic Records in 2016. Her soul-influenced eighth album, Meaning of Life (2017), hit number two on the Billboard 200 and garnered her a record fifth Grammy Award nomination for Best Pop Vocal Album.
Clarkson has sold over 25 million albums and 45 million singles worldwide.
She has had 27 songs on the Billboard Hot 100 chart, with three number one songs and eleven in the Top 10.[2] Her accolades include three Grammy Awards, three MTV Video Music Awards, four American Music Awards, and two Academy of Country Music Awards. Billboard has hailed Clarkson as "one of pop music's greatest singers"[3] and honored her with the Powerhouse Award for her vocals. Clarkson became the first artist in history to top each of Billboard's pop, adult contemporary, adult pop, country, and dance charts. She was ranked nineteenth on VH1's list of 100 Greatest Women in Music. Clarkson also ventured into film, television, and writing children's books. She currently serves as a Coach on the competition series The Voice and hosts the variety talk show The Kelly Clarkson Show
Born

Residence

Encino, Los Angeles, California

Hendersonville, Tennessee

Occupation

Years active

2002–present

Children

2

Awards

Full list

Musical career

Origin

Burleson, Texas

, U.S.

Genres

Instruments

Vocals

Labels

Website
2019: Voice roles and The Kelly Clarkson Show
On February 25, 2019, Clarkson returned as a coach for the sixteenth season of The Voice.[123] Three days later, it was announced that she would return to host the 2019 Billboard Music Awards, which aired on May 1, 2019.[124] Clarkson voiced Moxy, as well as provided original songs, in the animated musical comedy film UglyDolls, which was released on May 3, 2019.[125] On March 27, 2019, she released "Broken & Beautiful", the lead single from the UglyDolls: Original Motion Picture Soundtrack.[126] Clarkson also hosts the daytime variety talk show, The Kelly Clarkson Show, which premiered on September 9, 2019.[127] It was announced that she had joined the cast of Trolls World Tour, voicing Delta Dawn. It is scheduled to be released on April 17, 2020.[128]
Clarkson is a soprano, with a range spanning from E♭3 to G6.[129][130][131][132][133] Clarkson can ascend to the whistle register as well as possessing the ability to sing complex melisma.[134] Describing Clarkson's voice, Arion Berger of Rolling Stone wrote that "her high notes are sweet and pillowy, her growl is bone-shaking and sexy, and her mid-range is amazingly confident."[135] In reviewing a live performance of Clarkson's, Jon Caramanica of The New York Times said she "showed off a voice that moved in all sorts of ways, without ever appearing to strain" continuing "Ms. Clarkson, who has a malleable voice and a boatload of vocal confidence, might be a soul siren in the making". However, in a separate review of Stronger Caramanica said Clarkson's voice is "too huge, too violent" for warmer and sweeter vocal stylings, stating "she's on a par with Taylor Swift when it comes to vengeance, and she'll do it louder and with more brutality in comparison to her contemporary."[136][137] In a live review as part of her Stronger Tour, Sophie Sinclair of Hit The Floor claimed "Kelly's strong and powerful voice was flawless throughout the night and some may even say she sounds better live than she does on her albums".[138] Mark Deming from Phoenix New Times stated that "in an era when pop music means over-singing a song into a bloody pulp, Clarkson has consistently displayed both charisma and a welcome sense of restraint, knowing how to sound passionate and heartfelt without forgetting where the melody and the root note is supposed to go."[139]
Dr. Luke, who produced some of Clarkson's hits, said "She has powerful lungs. She's like the Lance Armstrong of vocal cords."[140] In an interview with Good Morning America, Simon Cowell was asked of the then six American Idol winners, who he thought had the best voice. Cowell immediately answered that Clarkson did "by a mile", noting that she was "up there" with other great singers such as Celine Dion.[141] Esquire wrote that Clarkson has "the best voice in the history of pop music".[142] Reviewing Stronger, Jody Rosen of Rolling Stone states, Clarkson has, "One of music's most remarkable voices."[143] Jason Lipshutz from Billboard considered Clarkson as one of the greatest singers in pop music.[3] Regarding the controversial practice of lip-syncing, Clarkson claims she never has, and never will lip-sync, elaborating in an interview with Cory Myers; "I've actually never done that because I'm terrified, if I ever did that, something horrible would happen, the track would skip. I have a really unhealthy fear about it. So no, I've never done that".[144] Clarkson has earned the title "Queen of Covers" for her ability to perform songs from artists of various genres.[145]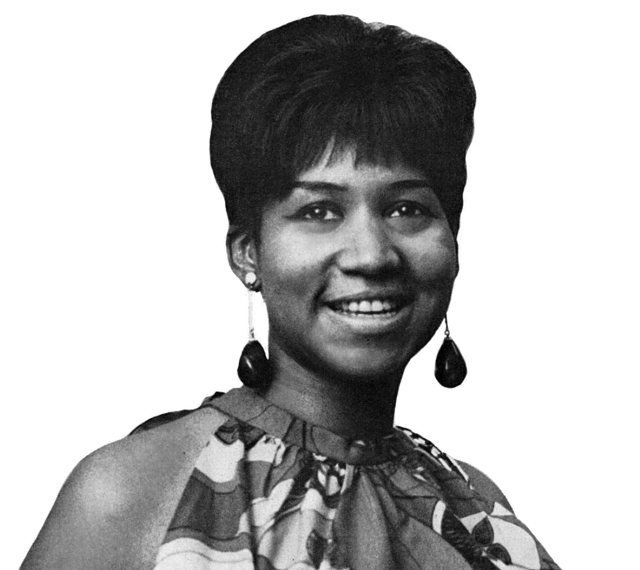 Soul singer Aretha Franklin was a major influence on Clarkson
At age eight, Clarkson was first inspired to venture into music during a visit to an African-American church in Fort Worth. She recalled: "I was like, 'Wow, whatever they're feeling, I want to feel it too'."[146] Clarkson has been influenced by musicians across various genres. She cited soul singer Aretha Franklin as her major influence. Many of her chosen Idol numbers were Aretha Franklin covers, including "(You Make Me Feel Like) A Natural Woman" which is considered her breakout moment during the competition.[147] Other soul acts who influenced Clarkson were Mariah Carey, Etta James, Stevie Wonder, and Whitney Houston.[148] Clarkson was also influenced by rock acts such as Radiohead, Garbage, Aerosmith, and Jimi Hendrix,[148][149] as well as Reba McEntire, Bette Midler, and Rosemary Clooney.[12] Regarding her musical influence, Clarkson explained:
I grew up with three totally different parents that were into different music.

My stepfather is into Willie Nelson and Elvis and all that kind of stuff. And my real father is into Mariah and Whitney and Aretha all those soulful singers. My mom is into more, like, adult contemporary—Celine Dion, [Barbra Streisand], Bette [Midler], all those types of things. And then my brother is a big influence on me. He's like ten years older than me, so you always wanna be around your cool brother and hang out, so I grew up loving Guns N' Roses. I was all about Metallica. I was all about all those bands, and I still am. I love Aerosmith and No Doubt. I have so many influences on me that are so different. And even country. I love Reba McEntire. I could listen to her all the time.[150]
In 2012, she began dating talent manager Brandon Blackstock, son of her former manager Narvel Blackstock and former stepson of Reba McEntire.[168] Clarkson and Blackstock married on October 20, 2013, at Blackberry Farm in Walland, Tennessee.[169] Since their marriage, Brandon has been her manager.[170] Clarkson is the stepmother to Blackstock's daughter and son from his previous marriage.[171] Together, they have a daughter, River Rose, born June 12, 2014,[172] and a son, Remington "Remy" Alexander, born April 12, 2016.[173] They currently reside in Encino, Los Angeles, California, as well as Hendersonville, Tennessee.[174]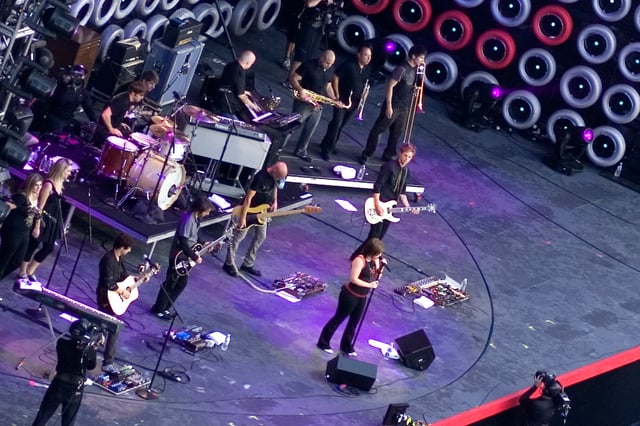 Kelly Clarkson performing at the 2007 Live Earth charity concert
In April 2007, Clarkson took part in "Idol Gives Back", a fundraiser for people in poverty in both Africa and the U.S., performing "Up to the Mountain" along with Jeff Beck.[176] She would also perform a five-song set later that year on the American leg of Live Earth concerts opting for environmental awareness about climate change. She has served as ambassador for the March of Dimes since she was on American Idol, raising money regularly and assisting in volunteer service, having walked for "March for Babies", for the cause of improvement of the health of mothers and babies.[177] Clarkson, additionally, got involved in the organization "Houses of Hope", who take care and build orphanages for children in South Africa who have been affected by HIV/AIDS, abuse and poverty.[178] She has visited those children and also participated in "A Night for Hope" fund-raiser concert (held by Clarkson's background vocal singers, Jill and Kate), where she performed a song she wrote after her trip to South Africa, "You Still Won't Know What It's Like". Clarkson also supports the charities Save the Children, UNICEF, "Do Something" and "STOMP Out Bullying" and music causes like the Save the Music Foundation.[179][180]
Clarkson had a ranch in Texas for unwanted animals, which included amputee goats, blind dogs, and horses that survived colic; there are more than 80 animals at the sanctuary.
She helped provide veterinary care for them and found them an adoptive family.[181] Clarkson performed in a benefit concert on March 1, 2013, supporting the Omaha based Opportunity Education Foundation, an organization that provides access to education for children around the world, stating "Education was a key part of my childhood, and I am better for it. Anything for education I am really into and especially for kids. A lot of people don't have computers, and they can't afford them. Without education, you get far behind. As long as they have a chance, you know, I think that's important. I want every kid to have a chance."[182] In 2013, Clarkson teamed up with State Farm Insurance to support teen safe driving as a part of Celebrate My Drive program.[183] In 2013, Clarkson supported Feeding America, The Ad Council and their Child Hunger PSA Campaign, which provides food for children facing hunger.[184] Also in 2013, Clarkson participated in Green Mountain Coffee's Great Coffee, Good Vibes, Choose Fair Trade campaign by traveling to coffee farms in Peru to draw attention to the importance of being Fair Trade Certified.[185] In December 2013, Citizen Watch Co. announced that Clarkson is their newest Brand Ambassador.[186]
Thankful

Breakaway

My December

All I Ever Wanted

Stronger

Wrapped in Red

Piece by Piece

Meaning of Life
Breakaway World Tour (2005–2006)

Hazel Eyes Tour (2005)

Addicted Tour (2006)

My December Tour (2007–2008)

All I Ever Wanted Tour (2009–2010)

Stronger Tour (2012)

Piece by Piece Tour (2015)

Meaning of Life Tour (2019)
American Idols LIVE! Tour 2002 (2002) (with the American Idol season one finalists)

Independent Tour (2004) (with Clay Aiken)

2 Worlds 2 Voices Tour (2008) (with Reba McEntire)

Kelly Clarkson / The Fray Tour (2012) (with The Fray)

12th Annual Honda Civic Tour (2013) (with Maroon 5)
Kelly Clarkson in Concert (2003)

Kelly Clarkson: Live in Concert (2009)
Issues 101

From Justin to Kelly

| ]]| ]]]] (2011)

The Star

UglyDolls

Trolls World Tour
That 80s Show

Sabrina the Teenage Witch

MADtv

American Dreams

An American Idol Christmas

World Idol

King of the Hill

Kelly, Rueben & Fantasia: Home for the Holidays (2004)

Damage Control

Reba

CMT Crossroads

Phineas and Ferb

The Voice

Duets

Blake Shelton's Not So Family Christmas (2012)

Who Do You Think You Are?

The Crazy Ones

Kelly Clarkson's Cautionary Christmas Music Tale

Nashville

Josh Groban: Stages Live

A Pentatonix Christmas Special (2016)

Home: Adventures with Tip & Oh

Sugar

The Kelly Clarkson Show