Jonathan Lipnicki
501 VIEWS
Everipedia is now
IQ.wiki
- Join the
IQ Brainlist
and our
Discord
for early access to editing on the new platform and to participate in the beta testing.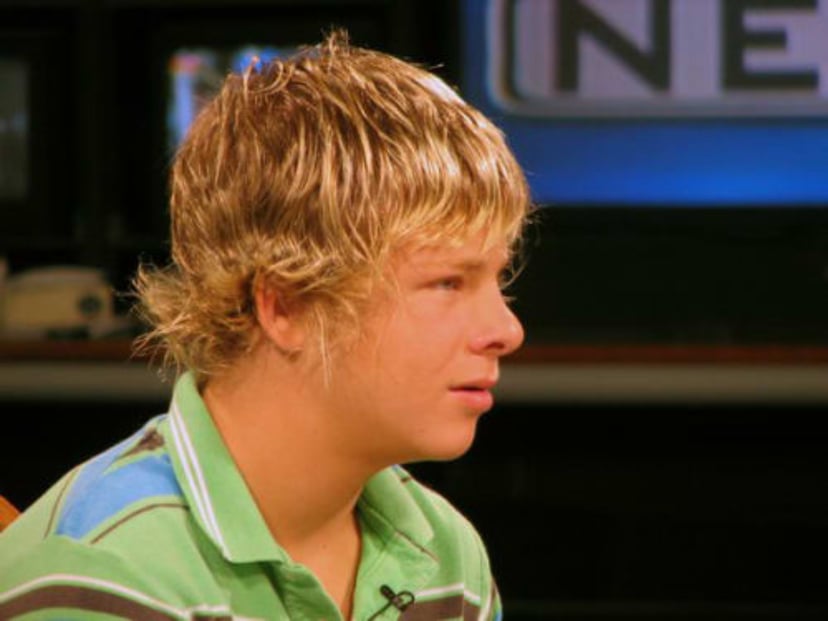 Jonathan Lipnicki
Jonathan William Lipnicki (born October 22, 1990) is an American actor and producer. He is known for his roles as a child actor in the films Jerry Maguire (1996), Stuart Little (1999) and its sequel of 2002, Stuart Little 2, The Little Vampire (2000), and Like Mike (2002).
He was educated at Agoura High School, a public secondary school in the city of Agoura Hills in Los Angeles County, California.[4]
Lipnicki made his film debut in Jerry Maguire as the son of Renée Zellweger's character. He subsequently appeared on The Single Guy, The Jeff Foxworthy Show as well as episodes of Dawson's Creek and the sitcom of 1997, Meego. In 1999, he starred in the film Stuart Little, playing a boy whose family adopts a talking mouse, a role he reprised in the film's sequel of 2002.
He also played the lead, Tony Thompson, in the film of 2000, The Little Vampire and starred opposite Bow Wow in the film of 2002, Like Mike, which was released two weeks before Stuart Little 2. The latter films did relatively well in theatres, and Lipnicki has become known among pre teen audiences, although he has not appeared in a widely released film since, focusing mostly on independent films.
Lipnicki has also appeared in the season preview of Jamie Kennedy's Blowin' Up and When Zachary Beaver Came to Town.
He appeared on the comedy Motherlover on the YOMYOMF Network. Lipnicki currently trains in Mixed martial arts styles, but when asked whether he planned to ever fight professionally, he replied, "I've been pretty busy filming and I would need to put off a certain amount of time to really train for a fight and be in amazing cardio shape and really work on my striking more. I'm not saying no and I'm not saying yes."[5]
Lipnicki has been a speaker for the Breast Cancer Research Foundation and is actively involved with the Juvenile Diabetes Research Foundation, the Starlight Children Foundation and the NBA's Read to Achieve program.[6][7][8] In 2001, the Juvenile Diabetes Research Foundation named Lipnicki one of its "Heroes of 2001" at the age of ten, for his work with the organization.[6][8]
Film roles

| Year | Film | Role | Notes |
| --- | --- | --- | --- |
| 1996 | Jerry Maguire | Ray Boyd | |
| 1998 | Dr. Dolittle | Baby Tiger | Voice role |
| 1999 | Stuart Little | George Little | |
| 2000 | The Little Vampire | Tony Thompson | |
| 2002 | Like Mike | Murph | |
| 2002 | Stuart Little 2 | George Little | |
| 2003 | When Zachary Beaver Came to Town | Toby Wilson | |
| 2005 | The L.A. Riot Spectacular | Tom Saltine Jr. | |
| 2011 | Shark Pool | Brad | Short film |
| 2012 | For the Love of Money | Young Yoni | |
| 2012 | Edge of Salvation | JJ | |
| 2013 | Bering Sea Beast | Joe | Television movie |
| 2014 | Awkward Party | Jonathan Flipmicky | Short film |
| 2014 | Bad Asses | Hammer | Direct-to-video |
| 2014 | You Used To Be Cute | Himself | Short film |
| 2014 | Someone I Know | Tommy Matthews | Short film |
| 2015 | Tag | Rush | |
| 2016 | Arlo: The Burping Pig | Buster | Voice role |
| 2016 | Loserville | Franklin Hope | [9] |
| 2017 | Altitude | Rick | |
| 2017 | Boone: The Bounty Hunter | Ryan Davenport | |
| 2017 | Pitching Tents | Scott | |
| 2017 | The Lake | Mason Clay | |
| 2017 | Limelight | Rocky | |
| 2017 | Circus Kane | Scott | |
| 2017 | Country Thunder | Sam | Short film |
| 2018 | Andover | Steve | |
| 2018 | The Delivery | The Doctor | Short film |
| 2019 | A Second Chance | Cory | |
| TBD | Ace | Russ | Short film |
Television roles

| Year | Title | Role | Notes |
| --- | --- | --- | --- |
| 1996–1997 | The Jeff Foxworthy Show | Justin Foxworthy | Recurring role, 23 episodes |
| 1997 | Meego | Alex Parker | Main role, 13 episodes |
| 1997 | The Single Guy | Rudy | Episode "Big Baby" |
| 2000 | Dawson's Creek | Buzz Thompson | 3 episodes |
| 2002 | HBO First Look | Himself | Episode "On the Set of 'Stuart Little 2" |
| 2003 | Touched By An Angel | Stan | Episode "The Good Earth" |
| 2003 | Saturday Night Live | | Cameo; episode: "Ashton Kutcher/50 Cent" |
| 2005 | Biography | Himself | Episode "Child Stars II: Growing Up Hollywood" |
| 2006 | Kathy Griffin: My Life on the D-List | Himself | Episode "Vegas, Baby!" |
| 2009 | Secret Girlfriend | Himself | Episode: "You Help Sam Have His First Wet Dream" |
| 2009 | Monk | Rudy Smith | Episode: "Mr. Monk Takes the Stand" |
| 2009 | Glenn Martin DDS | Himself | Voice role; episode "Korea Opportunities" |
| 2013 | Family Tools | Ryan | Episode "Role Model" |
| 2018 | Drop the Mic | Himself | Episode: "Danielle Fishel vs. Jonathan Lipnicki / Shania Twain vs. Meghan Trainor" |
| 2018 | Celebs Go Dating | Himself | Series 4 contestant[10] |
| 2019 | Worst Cooks in America | Himself | Celebrity Edition: Contestant |
Year

Award

Category

Result

Notes

1997

Young Artist Award

Best Performance in a Feature Film – Actor Age Ten or Under

Won

Jerry Maguire

Young Star Award

Best Performance by a Young Actor in a Drama Film

Nominated

1998

Best Performance by a Young Actor in a Comedy TV Series

Nominated

Meego

1999

Young Artist Award

Best Performance in a Feature Film – Young Actor Age Nine or Under

Nominated

Stuart Little

Young Star Award

Best Young Actor/Performance in a Motion Picture Comedy

Won

2001

Saturn Award

Best Performance by a Younger Actor

Nominated

The Little Vampire

Young Artist Award

Best Performance in a Feature Film – Young Actor Age Twelve or Under

Won