Everipedia is now
IQ.wiki
- Join the
IQ Brainlist
and our
Discord
for early access to editing on the new platform and to participate in the beta testing.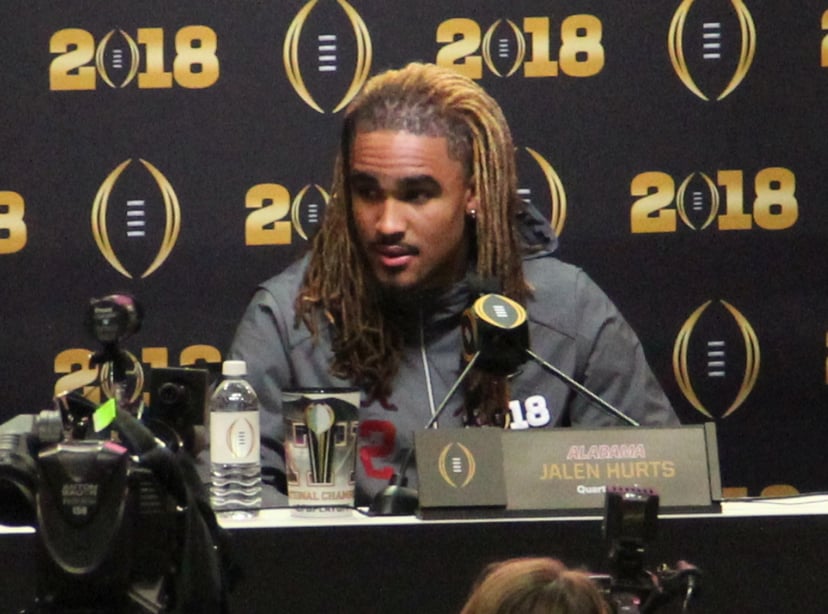 Jalen Hurts
Jalen Hurts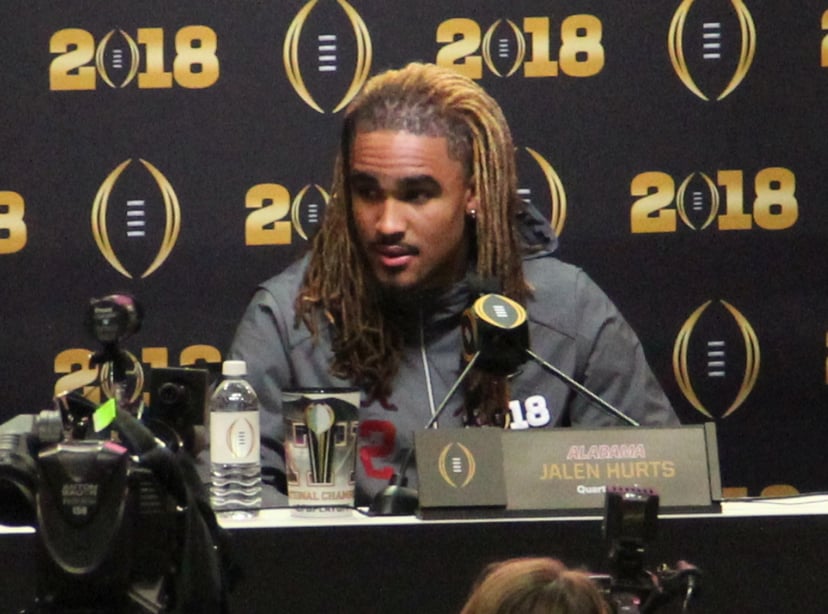 Jalen Hurts

Oklahoma Sooners – No. 1

Position

Quarterback

Class

Senior

Career history

College

Bowl games

High school

Channelview (TX)

Personal information

Born:

August 7, 1998

Houston, Texas

Height

6 ft 2 in (1.88 m)

Weight

225 lb (102 kg)

Career highlights and awards
Jalen Alexander Hurts [1] (born August 7, 1998) is an American football quarterback for the Oklahoma Sooners. He previously played for the Alabama Crimson Tide.
Jalen Hurts

Oklahoma Sooners – No. 1

Position

Quarterback

Class

Senior

Career history

College

Bowl games

High school

Channelview (TX)

Personal information

Born:

August 7, 1998

Houston, Texas

Height

6 ft 2 in (1.88 m)

Weight

225 lb (102 kg)

Career highlights and awards
Hurts attended Channelview High School in Channelview, Texas.[2] Hurts's father, Averion, was the football coach at Channelview High School throughout his sons' high school career. As a senior, he passed for 2,384 yards with 26 touchdown passes and rushed for 1,391 yards and 25 touchdowns. Hurts was a second-team all-district selection as a sophomore and was named the District 21-6A Overall MVP as a junior during his high school playing years. He played against the Texas A&M freshman standout running back Trayveon Williams throughout his high school career. Hurts was rated as a four-star recruit and was ranked among the top dual-threat quarterbacks in the Class of 2016.[3] Although Texas A&M made a strong push to recruit Hurts after the departure of their starting quarterback, Kyler Murray, they ultimately failed in their efforts after Hurts proceeded to commit to the University of Alabama on June 5, 2015. He was recruited by Alabama's Defensive Line Coach Bo Davis and Offensive Coordinator Lane Kiffin.[4] Hurts finished high school academically ranking 39th in his class.
In addition to football, Hurts participated in powerlifting. As a sophomore in high school, Hurts was squatting 500 pounds of weight. He would eventually become Regional Finalist in the Powerlifting 198-pound weight class.[5]
As a true freshman at Alabama in 2016, Hurts competed to open the season as the starting quarterback.[6][7] Blake Barnett started the first game against the USC Trojans, but by the second game, Hurts had taken over the starting role, becoming the first true freshman to start at quarterback for Alabama in 32 years (Vince Sutton in 1984 was the last).[8][9] Hurts produced a historic freshman season under head coach Nick Saban. He threw for 2,780 yards and 23 touchdowns with nine interceptions. His completion percentage was at 62.8 percent, and he finished the season with a quarterback rating of 139.12. He rushed for a total of 954 yards and 13 touchdowns, breaking the school single season record for rushing yards by a quarterback, surpassing Steadman Shealy's previous record of 791 yards. He finished the 2016 season with 36 overall touchdowns breaking Blake Sims's previous record for touchdowns in a single season for the Crimson Tide with a total of 35 which he set in 2014.[10] Hurts became the first quarterback coached by Nick Saban to rush for more than 11 touchdowns in a single season. He was the first player in Alabama history to pass for 300 yards and rush for 100 yards in the same game and the first quarterback to rush for 120 yards or more in multiple games. In the Iron Bowl game against Auburn, Hurts completed 75% of his passes, which set a new Iron Bowl record.[10] Alabama concluded its 2016–2017 regular season with a perfect 12–0 (8–0 SEC) record. On November 30, 2016, Hurts was declared as one out of the ten finalists for the Manning Award which is given to the nation's top college quarterback. On December 3, 2016, he led his team to win the 2016 SEC Championship over the Florida Gators and was subsequently named SEC Offensive Player of the Year, SEC Freshman of the Year, and received Freshman All-American from several publications. Hurts was featured on the cover page of Sports Illustrated College Football Playoff magazine on December 6, 2016.[11] On January 9, 2017, top-seeded Alabama lost the 2017 College Football Playoff National Championship against the Clemson Tigers by a score of 35–31.[12] The bowl game was played at Raymond James Stadium in Tampa.
In 2017, Hurts led the Tide to a 13–1 season, giving them a playoff spot as a #4 seed, where they played Clemson in the 2018 Sugar Bowl. Hurts was the offensive MVP[13] in that game, with Daron Payne being the defensive MVP in a 24–6 win over the Tigers. Hurts was benched at halftime of the 2018 College Football Playoff National Championship for true freshman Tua Tagovailoa.[14] Hurts won his first National Championship as the Crimson Tide defeated the Bulldogs by a score of 26–23 in overtime.[15] Overall, he finished the 2017 season with 2,081 passing yards, 17 passing touchdowns, and one interception to go along with 855 rushing yards and eight rushing touchdowns.[16]
After Tagovailoa helped lead the Crimson Tide to a comeback victory in the National Championship the year before, questions arose if Hurts would remain the starting quarterback for Alabama.[17] In the season opener against Louisville, Tagovailoa was the starter.
Hurts came into the game in a rotation.
He had 70 passing yards in the 51–14 victory; Tagovailoa had 227 passing yards and two passing touchdowns.[18] Tagovailoa was officially named the starter going into the next game against Arkansas State.[19] In a backup role, Hurts earned significant playing time in the 2018 season.[20]
In the 2018 SEC Championship Game, he relieved an injured Tagovailoa and led the team to a comeback victory. Alabama moved to 13-0 and secured a spot in the Playoff.
On January 16, 2019, Hurts announced via social media that he would be transferring to the University of Oklahoma for his final year of eligibility. As a graduate transfer, he is eligible to play for the 2019 season.[21]
In his first game as a Sooner on September 1, 2019, Hurts shattered Oklahoma's single game yardage record in a debut (previously held by Baker Mayfield when he put up 396 yards of total offense against Akron in 2015), putting up 493 yards of total offense against Houston.[22]
Year

Team

Games

Passing

Rushing

G

GS

Cmp

Att

Pct

Yards

TD

Int

Rtg

Att

Yards

Avg

TD

2016

Alabama

15

14

240
382

62.8

2,780
23

9

139.1

191
954

5.0

13

2017

Alabama

14

14

154

254

60.6

2,081

17

1

150.2

154

855

5.6

8

2018

Alabama

13

0

51

68

75.0

765

8

2

196.7

36

186

5.6

2

2019

Oklahoma

4

4

66

85

82.9

1,295

12

1
249.9

47

443

9.4

5

Career

46

32

511

789

64.8

6,921

60

13

154.5

405

2,419

5.4

28
Jalen Hurts's parents are Pamela and Averion Hurts.
Hurts has two siblings: a younger sister, Kynnedy, and an older brother, Averion, named after their father.
Jalen's brother, Averion, was the starting quarterback for Texas Southern University and is now a youth football coach. Hurts's parents still attend his football games every week.[23] Hurts is a Christian.[24][25]