Information technology
1.02K VIEWS
Everipedia is now
IQ.wiki
- Join the
IQ Brainlist
and our
Discord
for early access to editing on the new platform and to participate in the beta testing.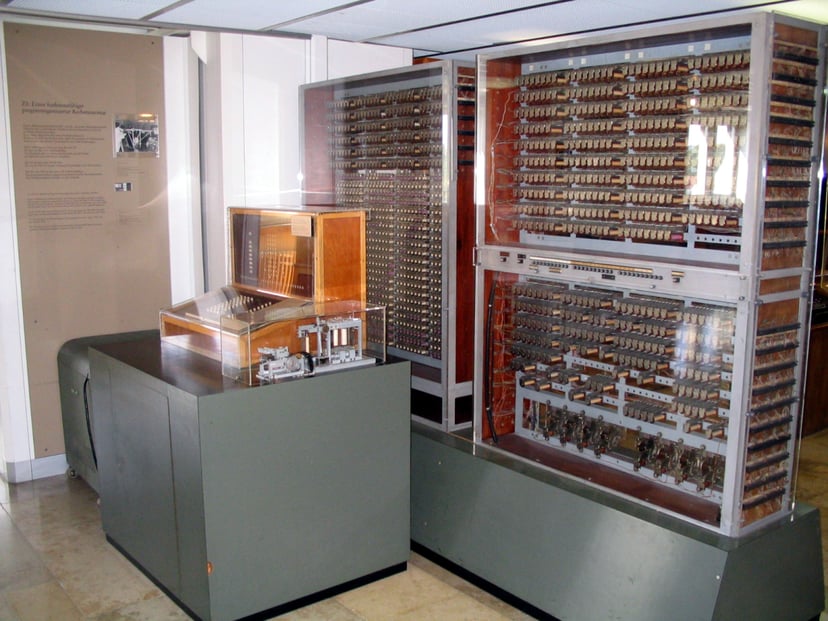 Information technology
Electronic data processing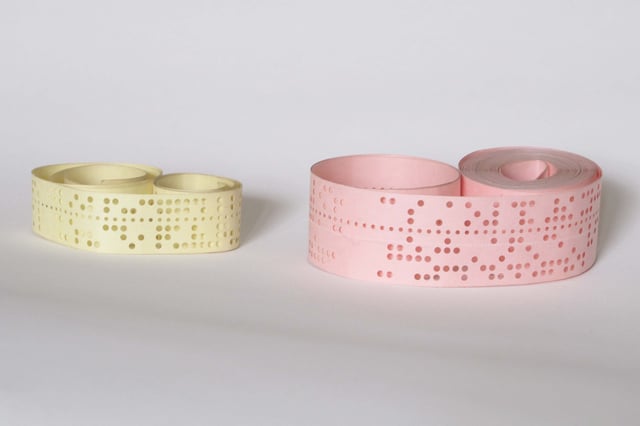 Punched tapes were used in early computers to represent data.
Early electronic computers such as Colossus made use of punched tape, a long strip of paper on which data was represented by a series of holes, a technology now obsolete.[15] Electronic data storage, which is used in modern computers, dates from World War II, when a form of delay line memory was developed to remove the clutter from radar signals, the first practical application of which was the mercury delay line.[16] The first random-access digital storage device was the Williams tube, based on a standard cathode ray tube,[17] but the information stored in it and delay line memory was volatile in that it had to be continuously refreshed, and thus was lost once power was removed. The earliest form of non-volatile computer storage was the magnetic drum, invented in 1932[18] and used in the Ferranti Mark 1, the world's first commercially available general-purpose electronic computer.[19]
IBM introduced the first hard disk drive in 1956, as a component of their 305 RAMAC computer system.[20] [] Most digital data today is still stored magnetically on hard disks, or optically on media such as CD-ROMs.[21] [] Until 2002 most information was stored on analog devices, but that year digital storage capacity exceeded analog for the first time. As of 2007 almost 94% of the data stored worldwide was held digitally:[22] 52% on hard disks, 28% on optical devices and 11% on digital magnetic tape. It has been estimated that the worldwide capacity to store information on electronic devices grew from less than 3 exabytes in 1986 to 295 exabytes in 2007,[23] doubling roughly every 3 years.[24]
The relational database model introduced a programming-language independent Structured Query Language (SQL), based on relational algebra.
The terms "data" and "information" are not synonymous. Anything stored is data, but it only becomes information when it is organized and presented meaningfully.[31] [] Most of the world's digital data is unstructured, and stored in a variety of different physical formats[32][2] even within a single organization. Data warehouses began to be developed in the 1980s to integrate these disparate stores. They typically contain data extracted from various sources, including external sources such as the Internet, organized in such a way as to facilitate decision support systems (DSS).[33] []
Data transmission has three aspects: transmission, propagation, and reception.[34] It can be broadly categorized as broadcasting, in which information is transmitted unidirectionally downstream, or telecommunications, with bidirectional upstream and downstream channels.[23]
Hilbert and Lopez identify the exponential pace of technological change (a kind of Moore's law): machines' application-specific capacity to compute information per capita roughly doubled every 14 months between 1986 and 2007; the per capita capacity of the world's general-purpose computers doubled every 18 months during the same two decades; the global telecommunication capacity per capita doubled every 34 months; the world's storage capacity per capita required roughly 40 months to double (every 3 years); and per capita broadcast information has doubled every 12.3 years.[23]
Massive amounts of data are stored worldwide every day, but unless it can be analysed and presented effectively it essentially resides in what have been called data tombs: "data archives that are seldom visited".[36] To address that issue, the field of data mining – "the process of discovering interesting patterns and knowledge from large amounts of data"[37] – emerged in the late 1980s.[38]
In an academic context, the Association for Computing Machinery defines IT as "undergraduate degree programs that prepare students to meet the computer technology needs of business, government, healthcare, schools, and other kinds of organizations .... IT specialists assume responsibility for selecting hardware and software products appropriate for an organization, integrating those products with organizational needs and infrastructure, and installing, customizing, and maintaining those applications for the organization's computer users."[39]
Commercial and employment perspective
Many companies now have IT departments for managing the computers, networks, and other technical areas of their businesses.
In a business context, the Information Technology Association of America has defined information technology as "the study, design, development, application, implementation, support or management of computer-based information systems".[44] The responsibilities of those working in the field include network administration, software development and installation, and the planning and management of an organization's technology life cycle, by which hardware and software are maintained, upgraded and replaced.
Breaches of copyright by those downloading files stored without the permission of the copyright holders

Employers monitoring their employees' emails and other Internet usage

Hackers accessing online databases

Web sites installing cookies or spyware to monitor a user's online activities
Data processing

Health information technology

Information management

Journal of Cases on Information Technology

Knowledge society

List of the largest information technology companies

Outline of information technology

World Information Technology and Services Alliance