Everipedia is now
IQ.wiki
- Join the
IQ Brainlist
and our
Discord
for early access to editing on the new platform and to participate in the beta testing.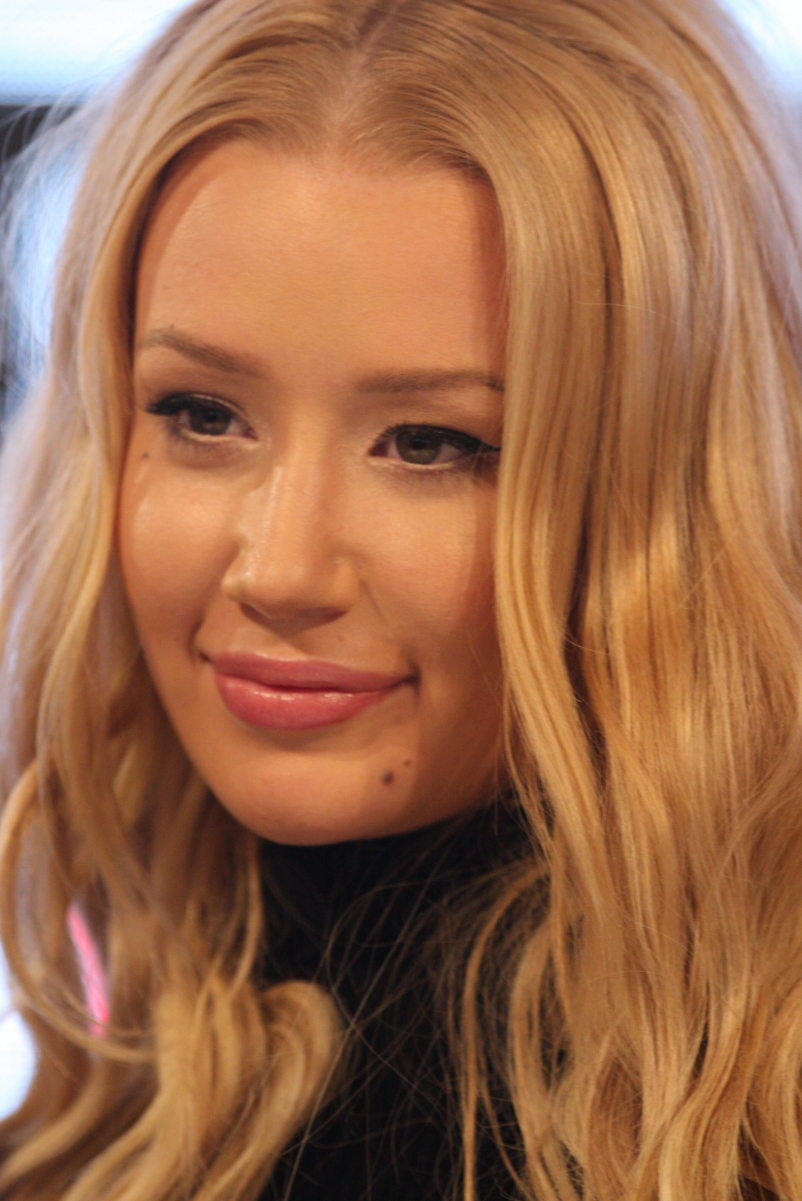 Iggy Azalea
Iggy Azalea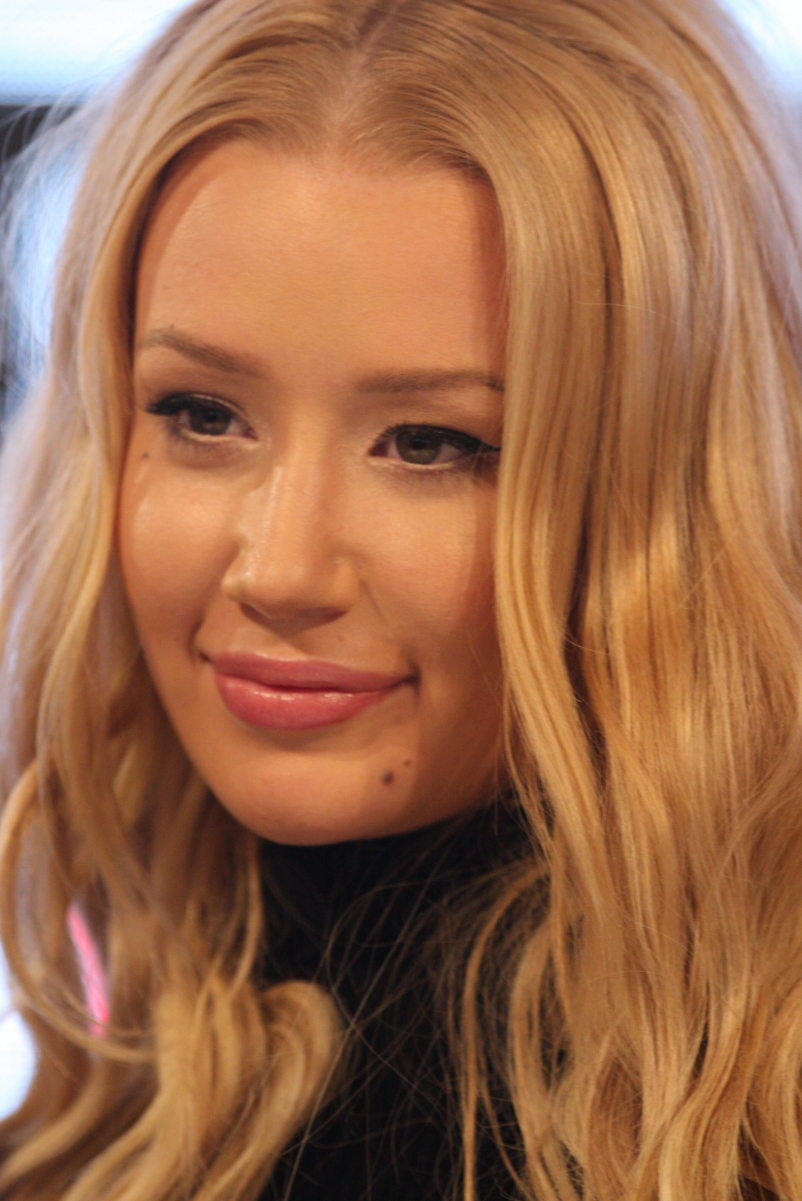 Born




(

1990-06-07

)

7 June 1990




Nationality

Australian

Occupation

Rapper

singer

songwriter

model

Years active

2011–present

Awards

Full list

Musical career

Genres

Hip hop

Instruments

Vocals

Labels

Current

Former

Grand Hustle

Mercury

Virgin EMI

Island

Associated acts

Diplo

Anitta

the Invisible Men

Charli XCX

Verse Simmonds

Website

iggyazalea.com [180]

Signature
Amethyst Amelia Kelly (born 7 June 1990), known professionally as Iggy Azalea (/əˈzeɪliə/), is an Australian rapper, singer, songwriter, model, and music video director.[1] At the age of 16, Azalea moved to the United States to pursue a career in music. Azalea earned public recognition after releasing the viral music videos for her songs "Pussy" and "Two Times" on YouTube. Azalea signed a recording contract with American rapper T.I.'s label Grand Hustle shortly afterwards and released her debut mixtape, Ignorant Art (2011).
Azalea's debut studio album, The New Classic (2014), peaked among the top five of several charts worldwide and received generally mixed reviews. It topped the Billboard Top R&B/Hip-Hop Albums making Azalea the first non-American female rapper to reach the top of the chart.[2] The album was preceded by her debut single "Work", and generated the US Billboard Hot 100 chart-topping single "Fancy". Azalea was featured on Ariana Grande's single "Problem", which peaked at No. 2 while "Fancy" was No. 1. Azalea joined The Beatles as the only acts to rank at numbers one and two simultaneously with their first two Hot 100 entries.[3][4][5] She achieved three top-ten hits simultaneously on the Hot 100 with the aforementioned songs along with the album's fifth single, "Black Widow", later that year.[6]
After her debut album, Azalea released a slew of moderately successful singles to build anticipation for her intended second album, Digital Distortion, though a series of label conflicts and personal conflicts saw the project being scrapped. After switching labels again, Azalea released the EP Survive the Summer (2018) under Island Records. Continued disagreements lead to Azalea becoming an independent artist signed to her label, Bad Dreams, through a distribution deal with Empire. Her second album, In My Defense, was released on 19 July 2019.
Since her debut, Azalea has sold 48 million records worldwide, with 22 million singles in the United States alone. Azalea's accolades include two American Music Awards, three Billboard Music Awards, an MTV Video Music Award, a People's Choice Award, four Teen Choice Awards, and four Grammy Award nominations. Azalea's official YouTube channel has accumulated 2.6 billion views, while she has had 13 music videos receive over 100 million views on Vevo.
Born




(

1990-06-07

)

7 June 1990




Nationality

Australian

Occupation

Rapper

singer

songwriter

model

Years active

2011–present

Awards

Full list

Musical career

Genres

Hip hop

Instruments

Vocals

Labels

Current

Former

Grand Hustle

Mercury

Virgin EMI

Island

Associated acts

Diplo

Anitta

the Invisible Men

Charli XCX

Verse Simmonds

Website

iggyazalea.com [180]

Signature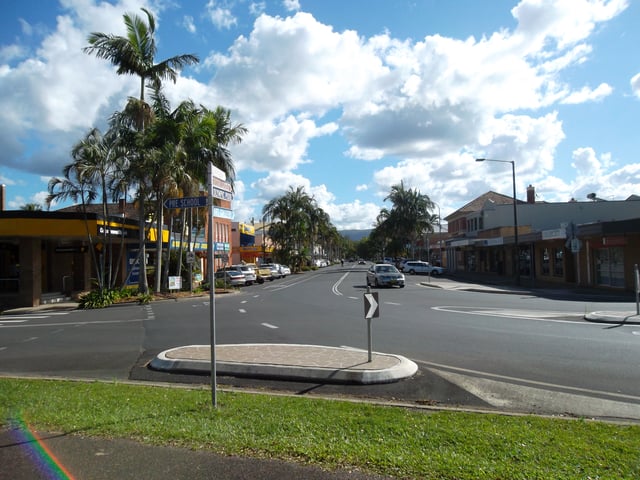 Azalea grew up in Mullumbimby, New South Wales

An aerial perspective of Mullumbimby, NSW, where Azalea grew up
Amethyst Amelia Kelly was born in Sydney and brought up in Mullumbimby, New South Wales. Her father, Brendan Kelly, was a European-Australian painter and comic artist,[7] while her mother, Tanya,[8] cleaned holiday houses and hotels.[9] Azalea lived in a house that her father built by hand from mud-bricks, surrounded by 5 hectares (12 acres) of land.[9][10][11] According to Azalea, she has some Aboriginal (Indigenous Australian) ancestry: "My family came to Australia on the First Fleet. My family's been in that country for a long time, over 100 years.[12] If your family's lived in Australia for a long time, everyone has a little bit of [Aborigine blood]. I know my family does because we have an eye condition that only Aboriginal people have." Azalea has also said that her father "made her look at [art] as a teenager", which has always influenced her life and work.[9] She began rapping at age 14.[11] Before embarking on a solo career, Azalea formed a group with two other girls from her neighbourhood: "I was like, I could be the rapper. This could be like TLC. I'll be Left Eye."[13] Azalea eventually decided to disband the group because the other girls weren't taking it seriously: "I take everything I do serious [sic]. I'm too competitive."[13]
In pursuit of her desire to move to America, Azalea dropped out of high school. She worked and saved the money she earned by cleaning hotel rooms and holiday houses with her mother. She claims to have hated school, which, apart from art class, only made her miserable. She also said she had no friends and was teased for her homemade outfits.[14] Azalea travelled to the United States in 2006, shortly before she turned 16. She told her parents she was going "on a holiday" with a friend, but eventually decided to stay and shortly afterward told them she was not coming back home: "I was drawn to America because I felt like an outsider in my own country, I was in love with hip hop, and America is the birthplace of that, so I figured the closer I was to the music, the happier I'd be. I was right."[15] She recalled, "My mum was crying, saying, 'Just be safe.' I was thinking, 'I'm going by myself. I'm fucking crazy!'."[16] After her arrival in the US, she received her General Educational Development (GED), and resided in the country on a visa waiver for six years, returning to Australia every three months to renew it. Azalea worked in the US illegally until February 2013 when she was granted a five-year O visa.[17]
After at first resisting suggestions to try modeling,[106] in 2012 Azalea signed with Wilhelmina Models International Inc., a model and celebrity agency in the fashion industry.[107] She featured in promotional ads for Los Angeles-based lifestyle brand Dim Mak's 2012 fall/winter collection.[108] Also in 2012, Azalea was the face of Levi's "Go Forth" campaign.[109] Azalea also appeared in House of Holland's first eyewear collection campaign.[110] In July 2014, MTV announced that Azalea would be the host of the revived House of Style.[111] Azalea appeared in the seventh installment of The Fast and the Furious film series, Furious 7, released in 2015.[112] In August 2014, the New York Post's Page Six reported that Azalea had formed a footwear collaboration with Steve Madden.[113] Their shoe collection was unveiled in February 2015.[114] In October 2014, Azalea and her boyfriend Nick Young were announced as the new faces of Forever 21's 2014 holiday campaign.[115] In April 2015, she signed on to be the 100th birthday ambassador of Australian underwear and clothing company Bonds.[116] In 2018, Azalea was announced as Monster Products's new spokesperson and starred in their Super Bowl LII commercial.[117]
Musical style and influences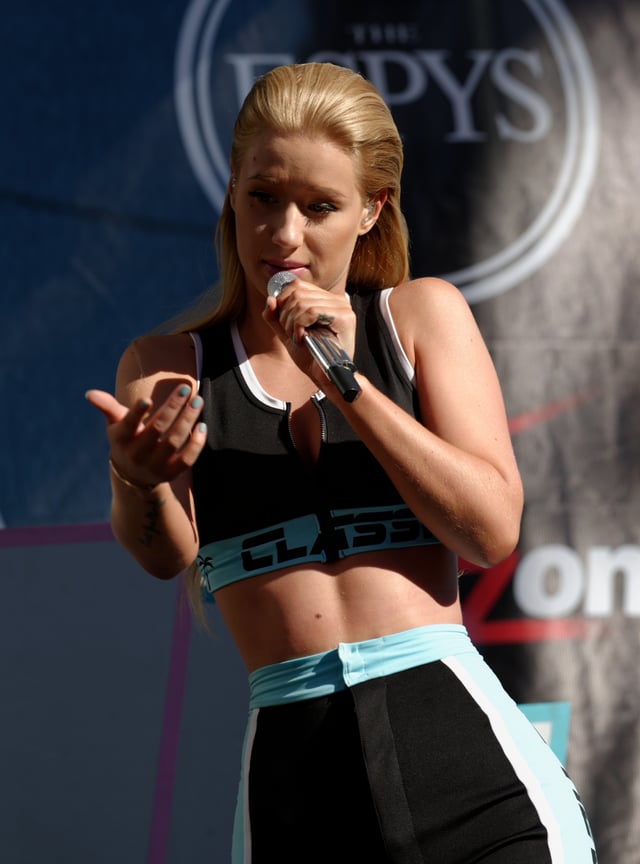 Azalea at the ESPYs in 2014
Although Azalea is Australian, she raps with a Southern U.S. accent.[118] When she first moved to America, she was involved in the Southern hip hop scene of Miami and later Atlanta, which made it easy for her to cultivate the Southern influence in her music: "I lived in the South for five years; you pick up things from your surroundings and teachers. The people who taught me to rap are all from the South and so was the music I had listened to as a teen."[119] While Azalea's debut extended play Glory was intended to focus on hardcore-rap, the EP also touched up on other genres including electronic dance music.[120][121] Music critics have defined her singles "Fancy" and "Team" as electro-hop.[83][122]
At the age of 11, Azalea was infatuated with hip hop when she heard Tupac Shakur's "Baby Don't Cry (Keep Ya Head Up II)": "It was the song that made me fall in love with music and also what sparked my Tupac fascination. That would later make me pick up my own pen and write songs".[119] In her early interviews, Azalea regularly mentioned Shakur's influence: "I was sickly obsessed. I had every picture of Tupac ever printed on my wall".[11] She has credited Beyoncé as an influence[123] and Missy Elliott as the female rapper who she is influenced by and admires the most.[119] Outside of music, her fashion sense is influenced by Grace Kelly, Lil' Kim, Gwen Stefani, the Spice Girls, Fran Drescher, Eve, Trina, Fergie, and Christina Aguilera.[119][124][125][126]
Azalea is often noted for her cinema-quality music videos which are often comedic and contain satire. Azalea has paid homage to a number of cult films in her music videos, among the most notable examples being Priscilla, Queen of the Desert (1997) in "Work" (2013), Clueless (1995) in "Fancy" (2014), Kill Bill (2003) in "Black Widow" (2014), Earth Girls Are Easy (1988) in "Pretty Girls" (2015), and Romy and Michele's High School Reunion (1994) in "Fuck It Up" (2019) among others.
In 2012, Azalea caused controversy for her song "D.R.U.G.S", a remix of Kendrick Lamar's "Look Out for Detox", having adapted one of its lyrics to "When the relay starts, I'm a runaway slave / Master," leading her to release a letter online apologizing, stating that it was a "tacky and careless thing to say."[130] According to the UK newspaper The Guardian, there have been "accusations of racism against Azalea" focused on her "...insensitivity to the complexities of race relations and cultural appropriation."[131] Salon writer Brittney Cooper critiqued Azalea's "co-optation and appropriation of sonic Southern Blackness, particularly the sonic Blackness of Southern Black women."[132] Her use of an African American English accent[133] has been compared to blackface[134][135] and part of a "broad, vague area of white people pretending to be black: those who do it culturally, rather than cosmetically,"[136] but also conversely as "wilful ignorance."[137] Both supporters and critics of Azalea's rise to fame within the hip-hop industry noted that it was important to be inclusive while acknowledging and respecting the role of African-Americans in pioneering hip-hop.[138] After being asked to analyze and compare her speaking and rapping voice, linguistics professor David Crystal said Azalea might be doing it unconsciously to accommodate to the American rapping style, adding: "There are hardly any echoes of [Azalea's] original Australian accent in her speaking voice—just the odd word (e.g. "own", "believe") and inflection. She has developed a mixed accent (like so many people have these days) as a result of her traveling around."[139] When asked about the validity to the criticisms leveled against her, Azalea stated: "Do you not like me because I rap with an American accent and I'm not American? Well, that's valid on some level because that's your opinion and I can't change that," continuing "But I'm not trying to sound black—I just grew up in a country where on TV and in music and film, everyone was American or any Australian person in them put on an American accent. So I never saw it as strange at all."[22]
In 2018, Azalea claimed that U.S. history of racism causes its audiences to dismiss her and claims that she "grew up in a situation that didn't involve any privilege and I worked really hard," later reiterating on US race relations "I make 'black' music. I don't want people to think it's not something I care about. I want to make music for girls in the gym."[140] She stated "it's important for music to reflect what is going on socially and for there to be those kinds of voices within the industry. But I want to be that person you can listen to for four minutes and not think about that stuff at all, and it's important to have that too [...] I'm not here to offer that commentary, but that doesn't mean I don't care."[22] In 2016, she lamented that, "many people think I still live in that bubble and that I don't understand that the United States is set up in a way that doesn't benefit minorities. I've lived here for 10 years now, and I don't want it to be that way either. I'm marrying a black man and my children will be half black – of course I care about these things."[141] She further dismisses the legitimacy of the racial controversy, believing sexism to be the true cause of criticism.[142] In a feature covering Azalea's career, Clove Hope wrote, "Rather than seeing race as an issue, Iggy focused on the trend of women in rap being over-policed and accused of not writing their own rhymes, while in the process overlooking how artists like herself and Macklemore hold a broader industry advantage, even as they feel like outcasts in their field."[143] In 2014, journalist Natalie Morin tracked down a history of homophobic and racist statements and sentiments from Azalea's social media accounts, which Azalea deleted, acknowledged and claimed were before her rise to fame.[144] In 2016, Azalea was planning to release her second album titled Digital Distortion, explaining its concept addressing the criticisms against her, "some of them were fair and some of them, I think, were unfair. I just think it's interesting that we live in this age of digital distortion where we're all distorting each other and distorting ourselves and our perception of who we all are, and none of it is really accurate anymore."[22] She later credited the support she received from fellow rappers as giving her motivation facing the controversial claims in the media, "I grew up loving Missy Elliot, loving Lil' Kim or Trina and so I'm lucky I have those women I really idolized support me. So, I get a little bit confident in that, knowing the people I look up to appreciate what I'm doing."[145]
Iggy Azalea has been nominated for numerous major music awards. Azalea was the first female, and first non-American rapper to be featured on XXL's "Top 10 Freshman List".[31] In 2014, she received two American Music Awards in the Rap/Hip-Hop categories, along with four more nominations, and one MTV Video Music Award for her collaboration with Ariana Grande, along with seven more nominations, making her the most nominated artist at these respective award show editions.[156][157] She has also won three Teen Choice Awards and one MTV Europe Music Award.[158][159] Azalea won the 2014 ARIA Award for Breakthrough Artist and the 2015 People's Choice Award for Favorite Hip-Hop Artist.[160][161]
In November 2014, she was placed at number-one on the Maxim Hot 100 list in Australia because "few Aussies, female or otherwise, have had a bigger 2014 than Iggy."[162] Azalea also ranked at number 46 on the 2014 edition of the AMID (Australasian Music Industry Directory) Power 50, a list that compiles the most influential figures in the Australasian music world.[163][164] Azalea received four nominations at the 57th Annual Grammy Awards, including Best New Artist, Record of the Year and Best Pop Duo/Group Performance for "Fancy" and Best Rap Album for The New Classic.[165] Azalea joined the list of the 9th Annual Billboard Women in Music honorees as a chart-topper.[166] In late 2014, it was announced she was placed at number-one on Billboard Year-End's Top New Artists chart.[167][168] In 2015, Azalea also led the 2015 iHeartRadio Music Awards nominations with five.[169] She received twelve nominations at the 2015 Billboard Music Awards.[170] In 2016, Azalea was presented with the Woman of the Year award by GQ Australia.[171]
The New Classic (2014)

In My Defense (2019)
TrapGold European Tour (2012)

The New Classic Tour (2014)

The Great Escape Tour (2015; cancelled)

Bad Girls Tour (2018; cancelled)
List of artists who reached number one in the United States