Everipedia is now
IQ.wiki
- Join the
IQ Brainlist
and our
Discord
for early access to editing on the new platform and to participate in the beta testing.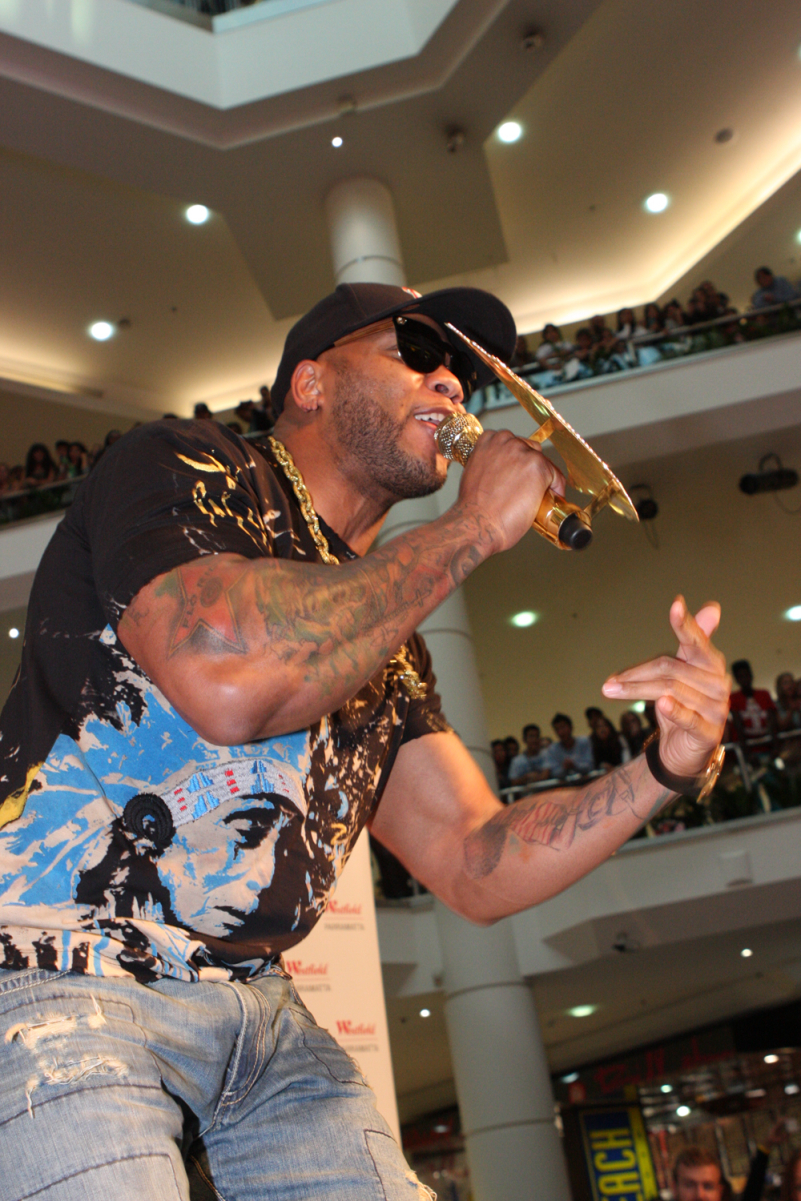 Flo Rida
Flo Rida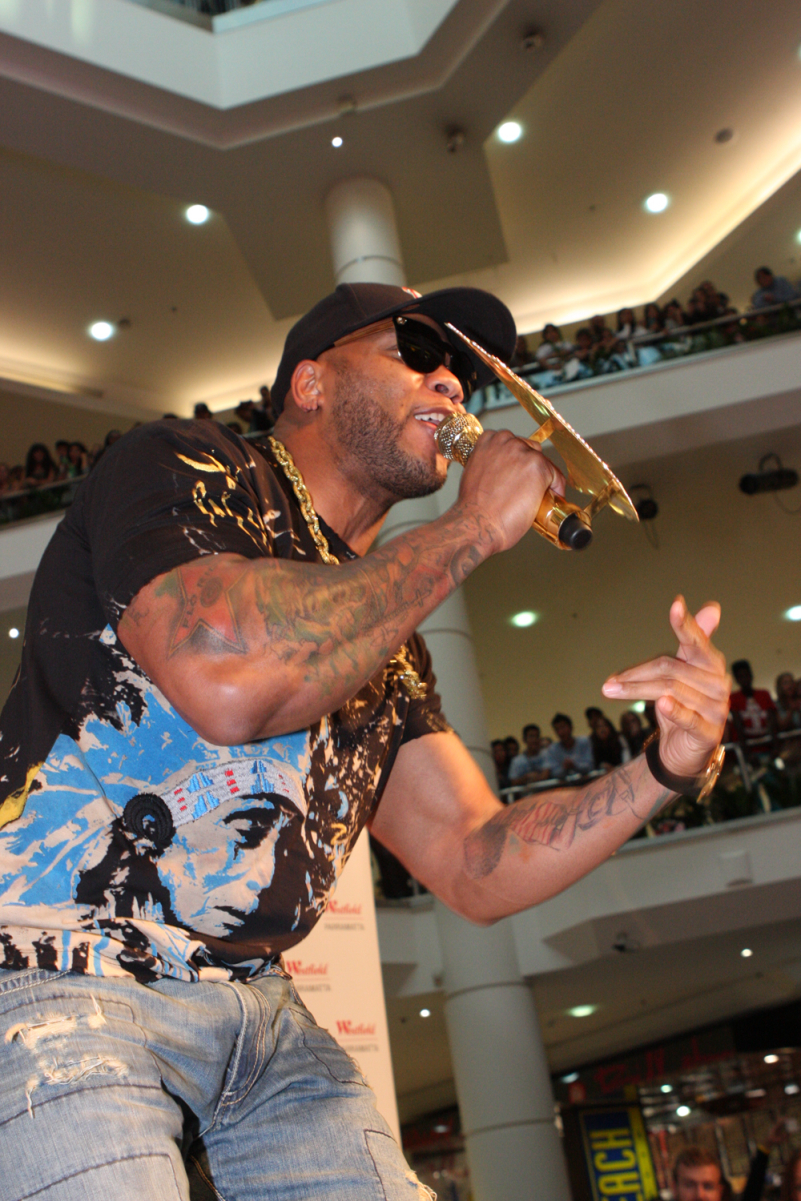 Flo Rida

Background information

Tramar Lacel Dillard

Born

September 16, 1979

Carol City, Florida

, U.S.

Genres

Instruments

Vocals

2000-present

Labels

Website
Tramar Lacel Dillard (born September 16, 1979),[1][2][3] known professionally as Flo Rida (/floʊ ˈraɪdə/ floh RY-də), is an American rapper, singer and songwriter from Carol City, Florida.[4] His 2007 breakout single "Low" was number one for 10 weeks in the United States and broke the record for digital download sales at the time of its release.
Flo Rida's debut studio album, 2008's Mail on Sunday, reached number four in the US. The album was succeeded by R.O.O.T.S., the next year. His subsequent albums, 2010's Only One Flo (Part 1) and 2012's Wild Ones, also charted on the US Billboard 200 chart. Flo Rida has sold over 100 million records worldwide, making him one of the best-selling music artists.[5][6] His catalog includes the international hit singles "Right Round", "Club Can't Handle Me", "Good Feeling", "Wild Ones", "Whistle", "I Cry", "G.D.F.R." and "My House".
Flo Rida

Background information

Tramar Lacel Dillard

Born

September 16, 1979

Carol City, Florida

, U.S.

Genres

Instruments

Vocals

2000-present

Labels

Website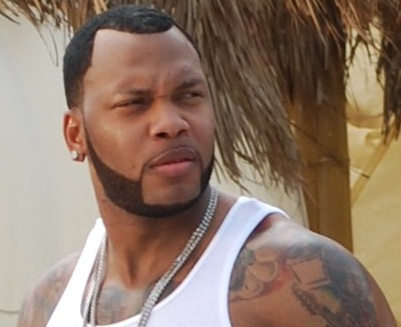 Flo Rida on the set of the music video for "Sugar"
Flo Rida began recording his second album, R.O.O.T.S., 9 months after Mail On Sunday. The album was released on March 31, 2009.[21] The first single, "Right Round" featuring Kesha, was released for airplay in January 2009. "Right Round" jumped from number 58 to the top spot in one week in late February. The song broke a record for the most digital one week sales in the US, with 636,000, beating the previous record he had set himself with "Low".[22] "Right Round" sampled "You Spin Me Round (Like a Record)", a 1985 hit by Dead or Alive.[23] The second official single was "Sugar", which featured R&B singer Wynter Gordon. The song reached No. 5 on the Billboard Hot 100. "Jump", featuring singer Nelly Furtado, was the third official single and was released on July 27, 2009 in the UK, and July 28, 2009 worldwide.[24] "Be on You", featuring singer Ne-Yo, was the album's fourth official single, released on October 6, 2009. Both songs charted in the top 100 in various countries. "Available", featuring Akon, was going to be released on iTunes but was cancelled. A music video was, however, shot in mid-2009.[25] R.O.O.T.S. debuted at number eight on the Billboard 200 chart, selling 55,000 copies in its first week.[26] As of August, 2009, the album has sold 223,000 copies in the United States, and 536,000 worldwide. By the end of 2009, the album sold 247,000 copies in the US, becoming the eighth best selling rap album of 2009.[27]
Flo Rida made guest performances on "Feel It" by DJ Felli Fel, "Starstruck" by Lady Gaga, and "Feel It" by Three 6 Mafia. "Bad Boys", the first single by winner of British reality show The X Factor Alexandra Burke that featured Flo Rida, debuted at No. 1 on the UK Singles Chart in October.[28]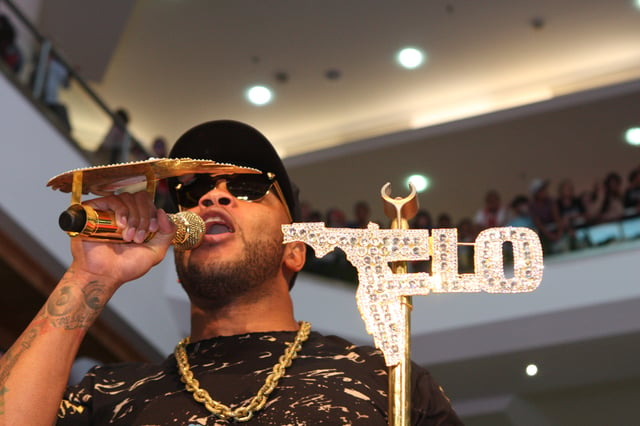 Flo Rida performing live in 2012
Flo Rida's fourth album, Wild Ones (originally titled Only One Rida (Part 2)) was released in July 2012. Its debut single was "Good Feeling", released on August 29, 2011.[39] The song samples Etta James' 1962 song, "Something's Got a Hold on Me". Following the death of Etta James on January 20, 2012, Flo Rida dedicated the song in her memory.[40] The song peaked at No. 3 in the United States,[41] and topped the charts in Austria,[42] Germany,[43] Scotland,[44] and the UK. It reached the top five in nine other countries.
In December 2012 Flo Rida met Emma Hamilton who worked for Emirates Airline as Cabin Crew.
They dated on and off for 4 months but things fizzled out when distance became an issue.
The next two singles from the album were the title track, "Wild Ones", released in December 2011, and "Whistle", released April 2012. "Wild Ones" reached #1 in various countries, and hit #5 in the US, while "Whistle" reached #1 in 20 countries, including the United States.
On April 1, 2012, Flo Rida appeared at WWE's WrestleMania XXVIII in a segment with Heath Slater, Curt Hawkins, and Tyler Reks, in which Slater called Flo Rida "Florida" and the rapper shoved him into a wall. Later that night, he performed "Wild Ones" and "Good Feeling" before Dwayne "The Rock" Johnson came out for his match against John Cena.[45] An exclusive Australian EP entitled Good Feeling was released in Australia on April 6, which contains six of his biggest hits and two remixes.[46] It debuted at No. 21 on the Australian ARIA Albums Chart[47] On May 22, 2012, Flo Rida performed and closed the show at the first Q102 Springle Ball Concert, and the following day he performed "Goin' In" with Jennifer Lopez on the America Idol
On September 13, Flo Rida performed his new single "I Cry" on America's Got Talent.[48] In an interview with New York Music News, Flo Rida said he is currently recording his next album and that he has finished shooting the music video for "Let It Roll".[49] On December 9, he performed "Let it Roll" and "Wild Ones" at the 2012 edition of WWE's Tribute to the Troops. In November 2012, he collaborated with Olly Murs for his song "Troublemaker".
In June 2013, Flo Rida collaborated with Marc Mysterio on the song "Booty on the Floor" to benefit the families and victims of the Boston Marathon bombing via One Fund Boston.[50]
2014–present: My House and new singles
On September 29, 2014 (October 21 in the U.S) Flo Rida released the lead single from his EP My House (2015) titled "G.D.F.R." featuring Sage the Gemini. The song became his tenth top 10 hit in the United States, peaking at number 8 in the Billboard Hot 100 chart and at number 3 in the US Top 100 chart on iTunes.[51][52]
On June 19, 2015 Flo Rida released the second single from his EP: "I Don't Like It, I Love It" featuring Robin Thicke and Verdine White. The single reached the No. 43 spot on the Billboard Hot 100 chart.[55] On October 15, 2015 the title track My House was released as a single and became an international success, peaking at number 4 on the Billboard Hot 100 in early 2016.[55]
Ended the EP's promotion, on December, 2015 Flo Rida released the single "Dirty Mind", featuring Sam Martin.[56] On February 26, 2016, Flo Rida released a standalone single "Hello Friday" featuring Jason Derulo,[57] that peaked at number 79 in the Billboard Hot 100 chart.[55] On March 24, 2016, he released the promotional single "Who's With Me". On May 20, 2016, Flo Rida released two singles: "Who Did You Love" featuring Arianna and "At Night" featuring Liz Elias and Akon. On July 29, 2016, Flo Rida released "Zillionaire", that was featured in the trailer for Masterminds.[58]
On August 22, 2016 Flo Rida was featured on the Pitbull's single "Greenlight", included in Pitbull's tenth album Climate Change
On December 16, 2016, Flo Rida's track "Cake" featuring Bay Area rap duo 99 Percent was included in Atlantic's "This Is a Challenge" dance compilation and later sent to top 40 radio February 28, 2017 as his new single. In July, 2017, he declared in an interview that his fifth album is still in the works and that it's 70 percent finished. On November 17, 2017, Flo Rida released another single "Hola" featuring Colombian singer/songwriter Maluma. On March 2, 2018, Flo Rida released a new single titled "Dancer" followed shortly afterwards by the Just Dance 2019 featuring "Sweet Sensation".
Mail on Sunday

R.O.O.T.S.

Only One Flo (Part 1)

Wild Ones
Year

Type

Award

Result

2008

American Music Awards

Breakthrough Performer

[59]

Nominated

Favorite Male Hip-Hop Artist

Nominated

BET Awards

Best New Artist

[60]

Nominated

Best Collaboration ("

Low

" with

T-Pain

)

[61]

Nominated

BET Hip Hop Awards

Ringtone of the Year ("

Low

" with

T-Pain

)

[62]

Nominated

Rookie of the Year

[63]

Nominated

Best Hip-Hop Collabo ("

Low

" with

T-Pain

)

[64]

Nominated

MuchMusic Video Awards

Best International Video ("

Low

" with

T-Pain

)

[65]

Nominated

People's Choice Favorite International Video ("

Low

" with

T-Pain

)

Nominated

MTV Video Music Awards

Best Hip-Hop Video ("

Low

" with

T-Pain

)

Nominated

Best Male Video ("

Low

" with

T-Pain

)

[66]

Nominated

Ozone Awards

Breakthrough Artist

[67]

Nominated

Club Banger of the Year ("

Low

" with

T-Pain

)

Nominated

Teen Choice Awards

Choice Breakout Artist

[59]

Nominated

Choice Rap Artist

Nominated

Choice Hook-Up ("

Low

" with

T-Pain

)

Won

2009

ARIA Music Awards

Breakthrough Artist Single ("

Running Back

" with

Jessica Mauboy

)

[69]

Nominated

Highest Selling Single ("

Running Back

" with

Jessica Mauboy

)

Won

APRA Awards

Urban Work of the Year ("

Running Back

" with

Jessica Mauboy

)

[70]

Won

Grammy Awards

Best Rap/Sung Collaboration ("

Low

" with

T-Pain

)

Nominated

MTV Australia Awards

Best Video ("

Low

" with

T-Pain

)

Nominated

Best Collaboration ("

Running Back

" with

Jessica Mauboy

)

[71]

Nominated

MTV Video Music Awards

Best Hip-Hop Video ("

Right Round

")

[72]

Nominated

NT Indigenous Music Awards

Single Release of the Year ("

Running Back

" with

Jessica Mauboy

)

[73]

Won

People's Choice Awards

Favorite Hip-Hop Song ("

Low

" with

T-Pain

)

[74]

Won

Teen Choice Awards

Best Hip-Hop Rap Track ("

Right Round

")

Nominated

2010

APRA Awards

Urban Work of the Year ("

Running Back

" with

Jessica Mauboy

)

Nominated

Grammy Awards

Best Rap Album (

R.O.O.T.S.

)

[75]

Nominated

Album of the Year (

The Fame

Nominated

Latin Billboard Music Awards

Crossover Artist Of The Year

Nominated

Crossover Artist of the Year, Solo

Nominated

People's Choice Awards

Hip-Hop Artist of the Year

Nominated

2012

Premios 40 Principales

Mejor Artista Internacional en Lengua No Española

[76]

Nominated

Mejor Álbum Internacional en Lengua No Española

[76]

Nominated

Teen Choice Awards

Single by Male Artist ("

Good Feeling

")

Nominated

R&B/Hip-Hop Artist

[77]

Nominated

R&B/Hip-Hop Song ("

Wild Ones

" with

Sia

)

Nominated

Music Star Male

Nominated

Billboard Music Award

Top Rap Song ("

Good Feeling

")

[78]

Nominated

International Dance Music Award

Best R & B/Urban Dance Track ("

Good Feeling

")

[79]

Nominated

Best Rap/Hip Hop Dance Track ("

Good Feeling

")

[79]

Nominated

MTV Europe Music Awards

Best Male

[80]

Nominated

Best World Stage Performance

[80]

Nominated

American Music Awards

Favorite Pop/Rock Male Artist

[81]

Nominated

2013

Peoples Choice Awards

Favorite Hip-Hop Artist

Nominated

Grammy Awards

Best Rap/Sung Collaboration

("

Wild Ones

with

Sia

")

Nominated

NRJ Music Awards

International Male Artist of the Year

Nominated

International Dance Music Awards

Best Rap/Hip-Hop Dance Track ("Wild Ones")

Won

Billboard Latin Music Awards

Crossover Artist of the Year

Nominated

2013 Billboard Music Awards

Top 100 Artist

Nominated

Top Male Artist

Nominated

Top Digital Songs Artist

Nominated

Top Rap Artist

Nominated

Top Rap Song ("Wild Ones")

Nominated

Top Rap Song ("

Whistle

")

Nominated