Everipedia is now
IQ.wiki
- Join the
IQ Brainlist
and our
Discord
for early access to editing on the new platform and to participate in the beta testing.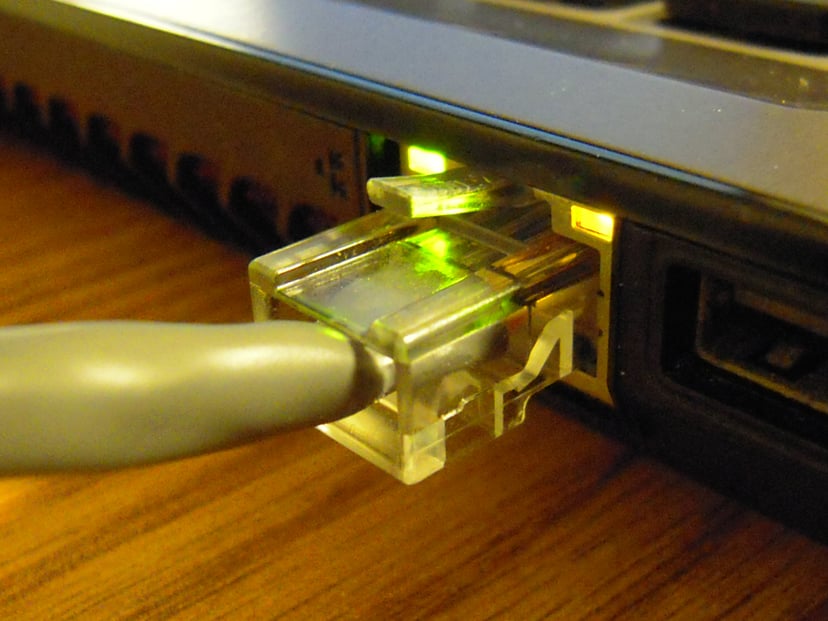 Ethernet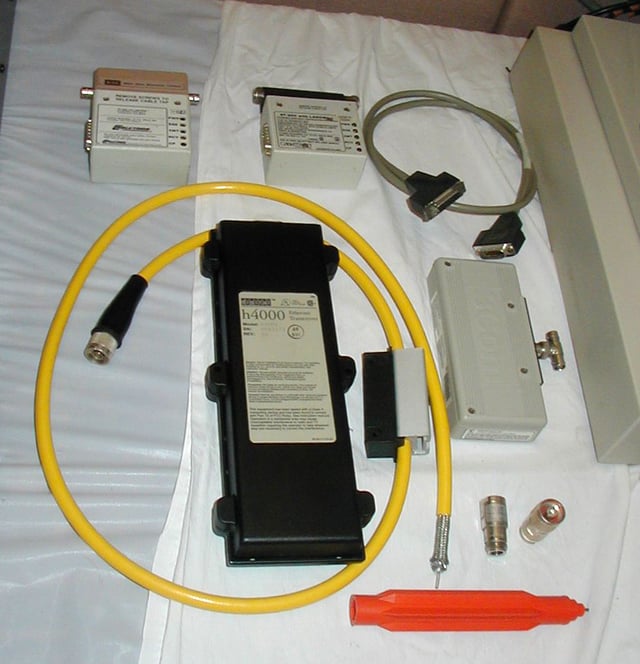 Older Ethernet equipment.
Ethernet was originally based on the idea of computers communicating over a shared coaxial cable acting as a broadcast transmission medium.
The method used was similar to those used in radio systems,[4] with the common cable providing the communication channel likened to the Luminiferous aether in 19th century physics, and it was from this reference that the name "Ethernet" was derived.[44]
Original Ethernet's shared coaxial cable (the shared medium) traversed a building or campus to every attached machine.
A scheme known as carrier sense multiple access with collision detection (CSMA/CD) governed the way the computers shared the channel. This scheme was simpler than competing Token Ring or Token Bus technologies.[5] Computers are connected to an Attachment Unit Interface (AUI) transceiver, which is in turn connected to the cable (with thin Ethernet the transceiver is integrated into the network adapter). While a simple passive wire is highly reliable for small networks, it is not reliable for large extended networks, where damage to the wire in a single place, or a single bad connector, can make the whole Ethernet segment unusable.[6]
Through the first half of the 1980s, Ethernet's 10BASE5 implementation used a coaxial cable 0.375 inches (9.5 mm) in diameter, later called "thick Ethernet" or "thicknet". Its successor, 10BASE2, called "thin Ethernet" or "thinnet", used the RG-58 coaxial cable. The emphasis was on making installation of the cable easier and less costly.[45] [666666]
Since all communication happens on the same wire, any information sent by one computer is received by all, even if that information is intended for just one destination.[7] The network interface card interrupts the CPU only when applicable packets are received: the card ignores information not addressed to it.[2] Use of a single cable also means that the data bandwidth is shared, such that, for example, available data bandwidth to each device is halved when two stations are simultaneously active.[46]
A collision happens when two stations attempt to transmit at the same time.
They corrupt transmitted data and require stations to re-transmit.
The lost data and re-transmission reduces throughput.
In the worst case, where multiple active hosts connected with maximum allowed cable length attempt to transmit many short frames, excessive collisions can reduce throughput dramatically.
However, a Xerox report in 1980 studied performance of an existing Ethernet installation under both normal and artificially generated heavy load. The report claimed that 98% throughput on the LAN was observed.[47] This is in contrast with token passing LANs (Token Ring, Token Bus), all of which suffer throughput degradation as each new node comes into the LAN, due to token waits. This report was controversial, as modeling showed that collision-based networks theoretically became unstable under loads as low as 37% of nominal capacity. Many early researchers failed to understand these results. Performance on real networks is significantly better.[48]
In a modern Ethernet, the stations do not all share one channel through a shared cable or a simple repeater hub; instead, each station communicates with a switch, which in turn forwards that traffic to the destination station. In this topology, collisions are only possible if station and switch attempt to communicate with each other at the same time, and collisions are limited to this link. Furthermore, the 10BASE-T standard introduced a full duplex mode of operation which became common with Fast Ethernet and the de facto standard with Gigabit Ethernet. In full duplex, switch and station can send and receive simultaneously, and therefore modern Ethernets are completely collision-free.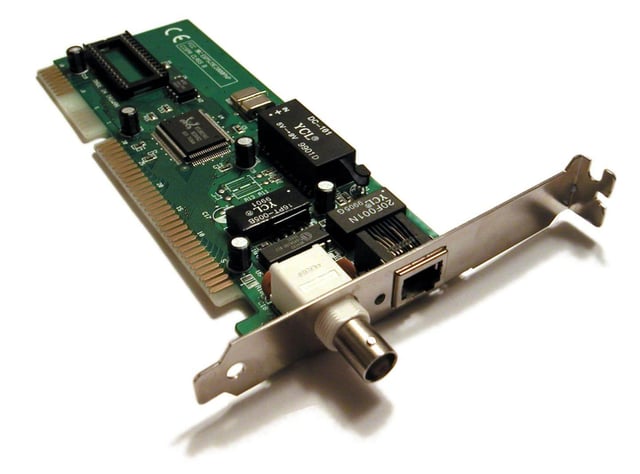 A 1990s ISA network interface card supporting both coaxial-cable-based 10BASE2 (BNC connector, left) and twisted pair-based 10BASE-T (8P8C connector, right)
For signal degradation and timing reasons, coaxial Ethernet segments have a restricted size.[49] Somewhat larger networks can be built by using an Ethernet repeater. Early repeaters had only two ports, allowing, at most, a doubling of network size. Once repeaters with more than two ports became available, it was possible to wire the network in a star topology. Early experiments with star topologies (called "Fibernet") using optical fiber were published by 1978.[50]
Shared cable Ethernet is always hard to install in offices because its bus topology is in conflict with the star topology cable plans designed into buildings for telephony.
Modifying Ethernet to conform to twisted pair telephone wiring already installed in commercial buildings provided another opportunity to lower costs, expand the installed base, and leverage building design, and, thus, twisted-pair Ethernet was the next logical development in the mid-1980s.
Ethernet on unshielded twisted-pair cables (UTP) began with StarLAN at 1 Mbit/s in the mid-1980s. In 1987 SynOptics introduced the first twisted-pair Ethernet at 10 Mbit/s in a star-wired cabling topology with a central hub, later called LattisNet.[26][51][52] These evolved into 10BASE-T, which was designed for point-to-point links only, and all termination was built into the device. This changed repeaters from a specialist device used at the center of large networks to a device that every twisted pair-based network with more than two machines had to use. The tree structure that resulted from this made Ethernet networks easier to maintain by preventing most faults with one peer or its associated cable from affecting other devices on the network.
Despite the physical star topology and the presence of separate transmit and receive channels in the twisted pair and fiber media, repeater-based Ethernet networks still use half-duplex and CSMA/CD, with only minimal activity by the repeater, primarily generation of the jam signal in dealing with packet collisions. Every packet is sent to every other port on the repeater, so bandwidth and security problems are not addressed. The total throughput of the repeater is limited to that of a single link, and all links must operate at the same speed.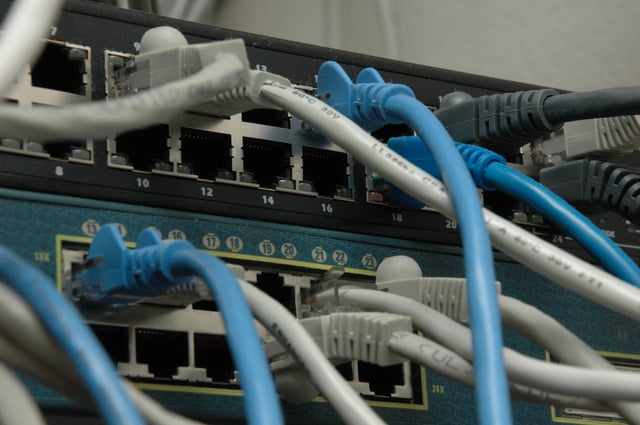 Patch cables with patch fields of two Ethernet switches
While repeaters can isolate some aspects of Ethernet segments, such as cable breakages, they still forward all traffic to all Ethernet devices. The entire network is one collision domain, and all hosts have to be able to detect collisions anywhere on the network. This limits the number of repeaters between the farthest nodes and creates practical limits on how many machines can communicate on an Ethernet network. Segments joined by repeaters have to all operate at the same speed, making phased-in upgrades impossible.
To alleviate these problems, bridging was created to communicate at the data link layer while isolating the physical layer.
With bridging, only well-formed Ethernet packets are forwarded from one Ethernet segment to another; collisions and packet errors are isolated.
At initial startup, Ethernet bridges work somewhat like Ethernet repeaters, passing all traffic between segments.
By observing the source addresses of incoming frames, the bridge then builds an address table associating addresses to segments.
Once an address is learned, the bridge forwards network traffic destined for that address only to the associated segment, improving overall performance.
Broadcast traffic is still forwarded to all network segments. Bridges also overcome the limits on total segments between two hosts and allow the mixing of speeds, both of which are critical to incremental deployment of faster Ethernet variants.
In 1989, the networking company Kalpana[9] introduced their EtherSwitch, the first Ethernet switch.[10] Early switches such as this used cut-through switching where only the header of the incoming packet is examined before it is either dropped or forwarded to another segment.[53] This reduces the forwarding latency. One drawback of this method is that it does not readily allow a mixture of different link speeds. Another is that packets that have been corrupted are still propagated through the network. The eventual remedy for this was a return to the original store and forward approach of bridging, where the packet is read into a buffer on the switch in its entirety, its frame check sequence verified and only then packet is forwarded. This process is typically done using application-specific integrated circuits allowing packets to be forwarded at wire speed.
When a twisted pair or fiber link segment is used and neither end is connected to a repeater, full-duplex Ethernet becomes possible over that segment. In full-duplex mode, both devices can transmit and receive to and from each other at the same time, and there is no collision domain. This doubles the aggregate bandwidth of the link and is sometimes advertised as double the link speed (for example, 200 Mbit/s for Fast Ethernet).[11] The elimination of the collision domain for these connections also means that all the link's bandwidth can be used by the two devices on that segment and that segment length is not limited by the need for correct collision detection.
Since packets are typically delivered only to the port they are intended for, traffic on a switched Ethernet is less public than on shared-medium Ethernet.
Despite this, switched Ethernet should still be regarded as an insecure network technology, because it is easy to subvert switched Ethernet systems by means such as ARP spoofing and MAC flooding.
The bandwidth advantages, the improved isolation of devices from each other, the ability to easily mix different speeds of devices and the elimination of the chaining limits inherent in non-switched Ethernet have made switched Ethernet the dominant network technology.[54]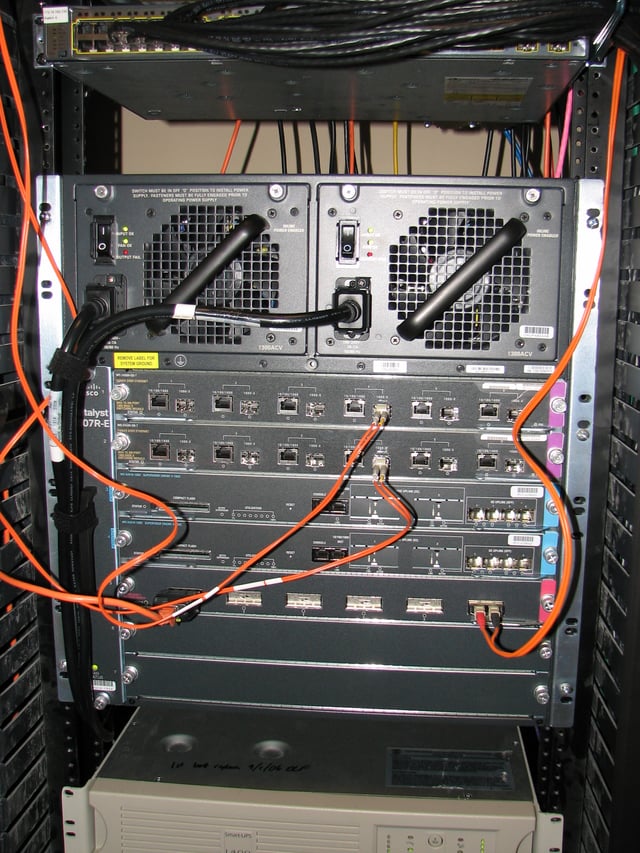 A core Ethernet switch
Simple switched Ethernet networks, while a great improvement over repeater-based Ethernet, suffer from single points of failure, attacks that trick switches or hosts into sending data to a machine even if it is not intended for it, scalability and security issues with regard to switching loops, broadcast radiation and multicast traffic, and bandwidth choke points where a lot of traffic is forced down a single link.
Advanced networking features in switches use shortest path bridging (SPB) or the spanning-tree protocol (STP) to maintain a loop-free, meshed network, allowing physical loops for redundancy (STP) or load-balancing (SPB). Advanced networking features also ensure port security, provide protection features such as MAC lockdown and broadcast radiation filtering, use virtual LANs to keep different classes of users separate while using the same physical infrastructure, employ multilayer switching to route between different classes, and use link aggregation to add bandwidth to overloaded links and to provide some redundancy.
Shortest path bridging includes the use of the link-state routing protocol IS-IS to allow larger networks with shortest path routes between devices. In 2012, it was stated by David Allan and Nigel Bragg, in 802.1aq Shortest Path Bridging Design and Evolution: The Architect's Perspective that shortest path bridging is one of the most significant enhancements in Ethernet's history.[55]
Ethernet has replaced InfiniBand as the most popular system interconnect of TOP500 supercomputers.[56]
The Ethernet physical layer evolved over a considerable time span and encompasses coaxial, twisted pair and fiber-optic physical media interfaces, with speeds from 10 Mbit/s to 100 Gbit/s, with 400 Gbit/s expected by 2018.[57] The first introduction of twisted-pair CSMA/CD was StarLAN, standardized as 802.3 1BASE5.[58] While 1BASE5 had little market penetration, it defined the physical apparatus (wire, plug/jack, pin-out, and wiring plan) that would be carried over to 10BASE-T.
The most common forms used are 10BASE-T, 100BASE-TX, and 1000BASE-T. All three use twisted pair cables and 8P8C modular connectors. They run at 10 Mbit/s, 100 Mbit/s, and 1 Gbit/s, respectively.
Fiber optic variants of Ethernet are also very common in larger networks, offering high performance, better electrical isolation and longer distance (tens of kilometers with some versions). In general, network protocol stack software will work similarly on all varieties.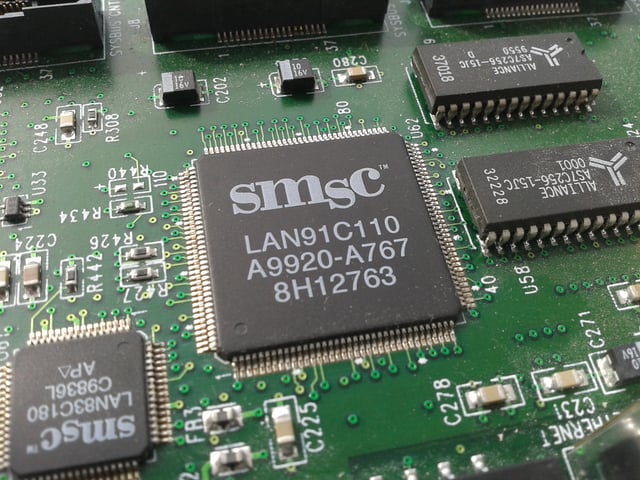 A close-up of the SMSC LAN91C110 (SMSC 91x) chip, an embedded Ethernet chip.
In IEEE 802.3, a datagram is called a packet or frame. Packet is used to describe the overall transmission unit and includes the preamble, start frame delimiter (SFD) and carrier extension (if present).[12] The frame begins after the start frame delimiter with a frame header featuring source and destination MAC addresses and the EtherType field giving either the protocol type for the payload protocol or the length of the payload. The middle section of the frame consists of payload data including any headers for other protocols (for example, Internet Protocol) carried in the frame. The frame ends with a 32-bit cyclic redundancy check, which is used to detect corruption of data in transit.[59] [666666] Notably, Ethernet packets have no time-to-live field, leading to possible problems in the presence of a switching loop.
Autonegotiation is the procedure by which two connected devices choose common transmission parameters, e.g. speed and duplex mode.
Autonegotiation is an optional feature, first introduced with 100BASE-TX, while it is also backward compatible with 10BASE-T.
Autonegotiation is mandatory for 1000BASE-T and faster.
A switching loop or bridge loop occurs in computer networks when there is more than one Layer 2 (OSI model) path between two endpoints (e.g. multiple connections between two network switches or two ports on the same switch connected to each other). The loop creates broadcast storms as broadcasts and multicasts are forwarded by switches out every port, the switch or switches will repeatedly rebroadcast the broadcast messages flooding the network. Since the Layer 2 header does not support a time to live
A physical topology that contains switching or bridge loops is attractive for redundancy reasons, yet a switched network must not have loops.
The solution is to allow physical loops, but create a loop-free logical topology using the shortest path bridging (SPB) protocol or the older spanning tree protocols (STP) on the network switches.
A node that is sending longer than the maximum transmission window for an Ethernet packet is considered to be jabbering. Depending on the physical topology, jabber detection and remedy differ somewhat.
An MAU is required to detect and stop abnormally long transmission from the DTE (longer than 20–150 ms) in order to prevent permanent network disruption.[60]

On an electrically shared medium (10BASE5, 10BASE2, 1BASE5), jabber can only be detected by each end node, stopping reception.

No further remedy is possible.[61]

A repeater/repeater hub uses a jabber timer that ends retransmission to the other ports when it expires.

The timer runs for 25,000 to 50,000 bit times for 1 Mbit/s,[62] 40,000 to 75,000 bit times for 10 and 100 Mbit/s,[63][64] and 80,000 to 150,000 bit times for 1 Gbit/s.[65] Jabbering ports are partitioned off the network until a carrier is no longer detected.[66]

End nodes utilizing a MAC layer will usually detect an oversized Ethernet frame and cease receiving.

A bridge/switch will not forward the frame.[67]

A non-uniform frame size configuration in the network using jumbo frames may be detected as jabber by end nodes.

A packet detected as jabber by an upstream repeater and subsequently cut off has an invalid frame check sequence and is dropped.
5-4-3 rule

Chaosnet

Ethernet crossover cable

Fiber media converter

List of device bit rates

LocalTalk

Metro Ethernet

PHY (chip)

Point-to-point protocol over Ethernet (PPPoE)

Power over Ethernet (PoE)

Sneakernet

Wake-on-LAN (WoL)