Creative Commons
648 VIEWS
Everipedia is now
IQ.wiki
- Join the
IQ Brainlist
and our
Discord
for early access to editing on the new platform and to participate in the beta testing.
Creative Commons
Creative Commons
Golden Nica Award (2004)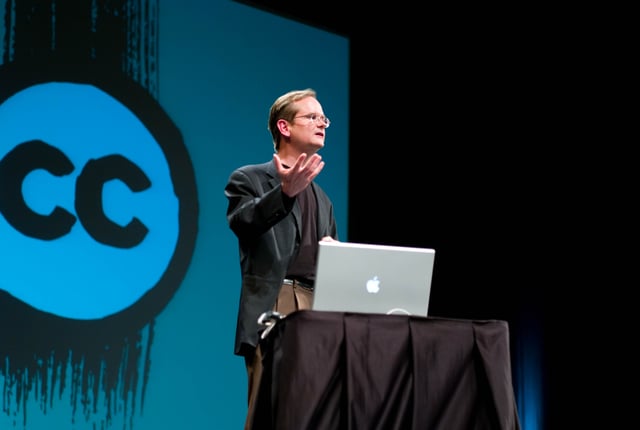 Lawrence Lessig (January 2008)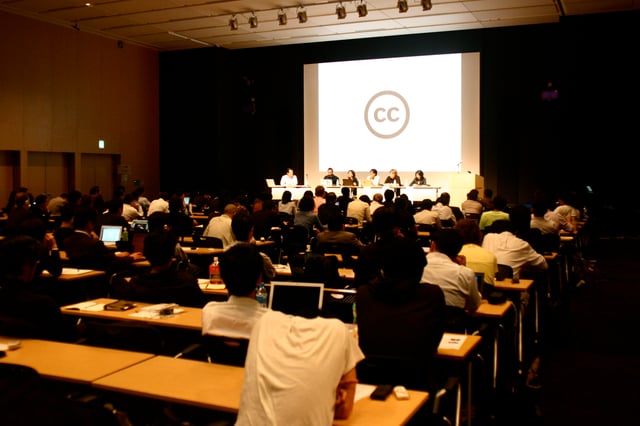 Creative Commons Japan Seminar, Tokyo (2007)
CC some rights reserved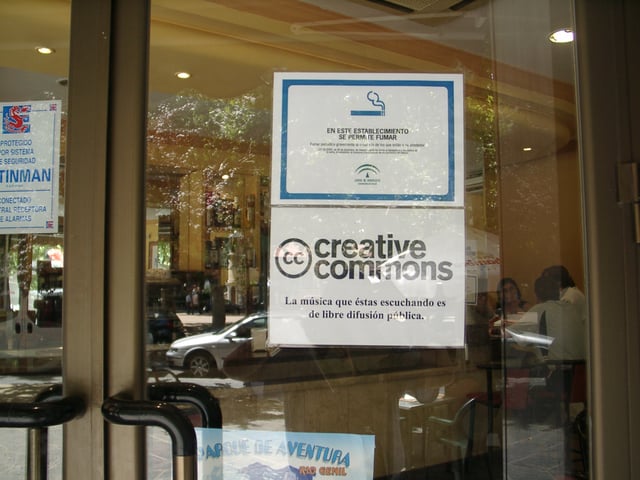 A sign in a pub in Granada notifies customers that the music they are listening to is freely distributable under a Creative Commons license.
Made with Creative Commons, a 2017 book describing the value of CC licenses.
Creative Commons has been described as being at the forefront of the copyleft movement, which seeks to support the building of a richer public domain by providing an alternative to the automatic "all rights reserved" copyright, and has been dubbed "some rights reserved".[15] David Berry and Giles Moss have credited Creative Commons with generating interest in the issue of intellectual property and contributing to the re-thinking of the role of the "commons" in the "information age". Beyond that, Creative Commons has provided "institutional, practical and legal support for individuals and groups wishing to experiment and communicate with culture more freely."[16]
Creative Commons attempts to counter what Lawrence Lessig, founder of Creative Commons, considers to be a dominant and increasingly restrictive permission culture. Lessig describes this as "a culture in which creators get to create only with the permission of the powerful, or of creators from the past."[17] Lessig maintains that modern culture is dominated by traditional content distributors in order to maintain and strengthen their monopolies on cultural products such as popular music and popular cinema, and that Creative Commons can provide alternatives to these restrictions.[18][19]
Until April 2018 Creative Commons had over 100 affiliates working in over 75 jurisdictions to support and promote CC activities around the world.[20] In 2018 this affiliate network has been restructured into a network organisation.[21] The network no longer relies on affiliate organisation but on individual membership organised in Chapter.
Creative Commons Japan (CC Japan/CCJP) is the affiliated network of Creative Commons in Japan.
In 2003, the International University GLOCOM hold a meeting for the CC Japan preparation.
In March 2004, CC Japan was initiated by that University, that which is the second CC created among the world ( the first one is America).
In March 2006, the CC Japan become the NPO and be in motion. In the same month, the CC founder Lawrence Lessig came to Japan to be one of the main holders of the open ceremony. Within the same year, between May and June, different international events hold in Japan which include iSummit 06 and the first to third round of CCJP was held.
In February 2007, the ICC x ClipLife 15 second CM competition was held. In June, iSummit 07 was held. In July, the fourth CCJP was held. On July 25, Tokyo approved Nobuhiro Nakayama (in Japanese: 中山信弘) to become the NGO chairman of CCJP.
In 2008, Taipie ACIA joined CCJP. The main theme music which was chosen by CCJP was announced.
In 2009, INTO INFINITY shown in Tokyo and Sapporo. iPhone held the shows with Audio Visual Mixer for INTO INFINITY. (Apple joint research and development with CCJP)
In 2012, the 10th anniversary ceremony was held in Japan.
Creative Commons Korea (CC Korea) is the affiliated network of Creative Commons in South Korea. In March 2005, CC Korea was initiated by Jongsoo Yoon (in Korean: 윤종수), a Presiding Judge of Incheon District Court, as a project of Korea Association for Infomedia Law (KAFIL). The major Korean portal sites, including Daum and Naver, have been participating in the use of Creative Commons licences. In January 2009, the Creative Commons Korea Association was consequently founded as a non-profit incorporated association. Since then, CC Korea has been actively promoting the liberal and open culture of creation as well as leading the diffusion of Creative Common in the country.
Bassel Khartabil was a Palestinian Syrian open source software developer and has served as project lead and public affiliate for Creative Commons Syria.[25] From March 15, 2012 he was detained by the Syrian government in Damascus at Adra Prison. On October 17, 2015 Creative Commons Board of Directors approved a resolution calling for Bassel Khartabil's release.[26] In 2017 Bassel's wife received confirmation that Bassel had been executed shortly after she lost contact with him in 2015.[27]
Criticism of the non-commercial license
"Defining 'Noncommercial'", a 2009 report from Creative Commons on the concept of noncommercial media
Various commentators have reported confusion in understanding what "noncommercial" use means. Creative Commons issued a report in 2009, "Defining noncommercial", which presented research and various perspectives. The report claimed that noncommercial to many people means "no exchange of money or any commerce". Beyond that simple statement, many people disagree on whether noncommercial use permits publishing on websites supported with advertising, sharing noncommercial media through nonprofit publishing for a fee, and many other practices in contemporary media distribution. Creative Commons has not sought to resolve the confusion, in part because of high consumer demand for the noncommercial license as is with its ambiguity.
Free culture movement

Open access

Open content

Open-source license

Public domain equivalent license