Everipedia is now
IQ.wiki
- Join the
IQ Brainlist
and our
Discord
for early access to editing on the new platform and to participate in the beta testing.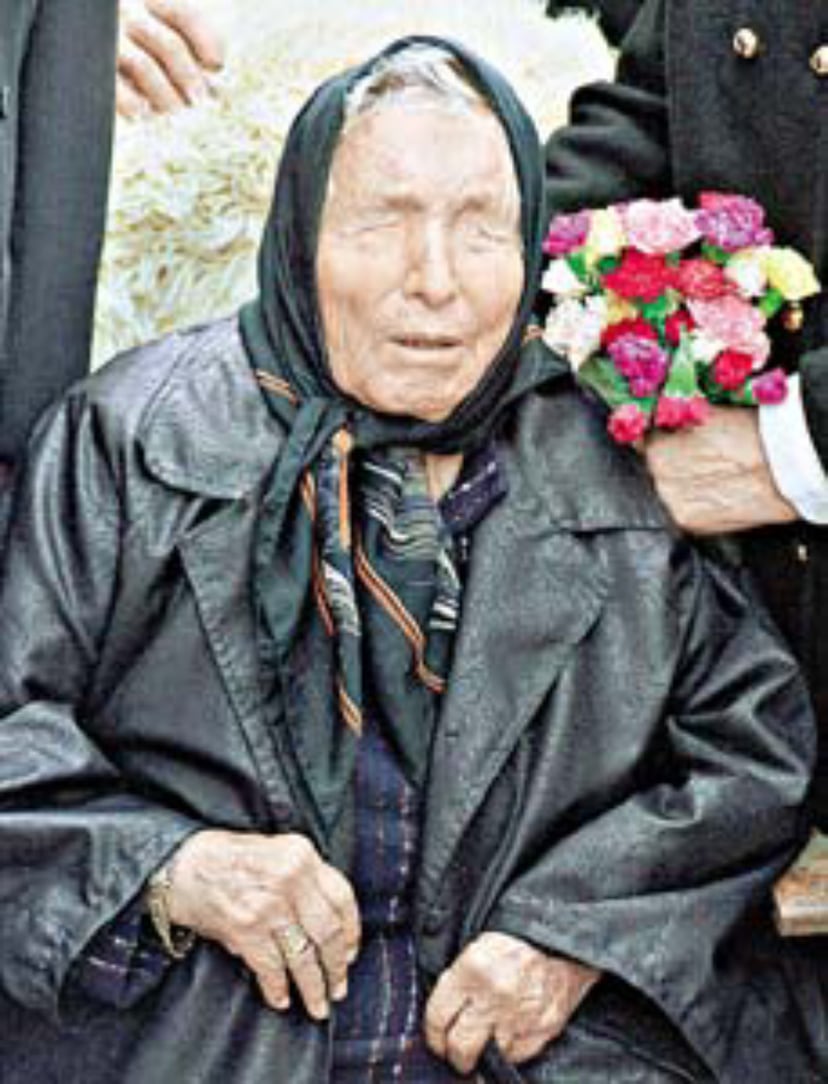 Baba Vanga
Baba Vanga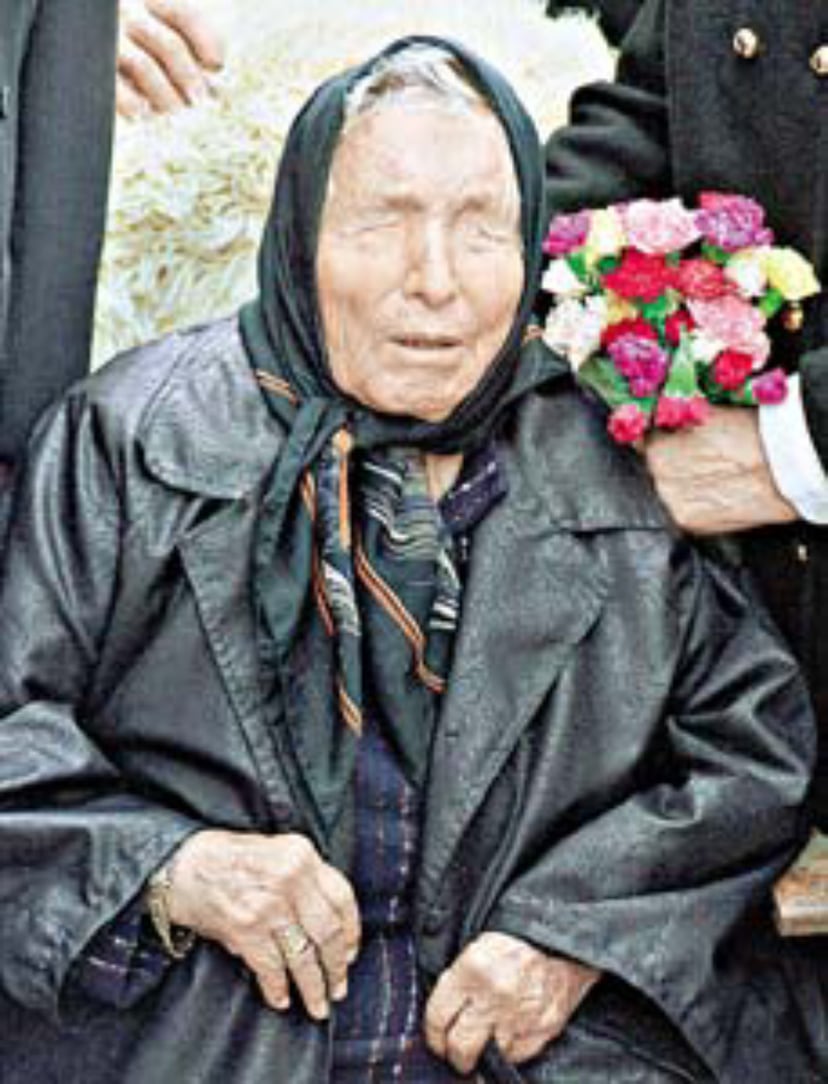 Born

Vangeliya Pandeva Gushterova




(

1911-10-03

)

October 3, 1911




Died

August 11, 1996

(1996-08-11)

(aged 84)




Nationality

Bulgarian

Other names

Grandmother Vanga

Occupation

Clairvoyant and healer

Spouse(s)

Dimitar Gushterov




(m. 1942–1962; his death)
Grandmother Vanga (Bulgarian: Баба Ванга; 3 October 1911 – 11 August 1996), born Vangeliya Pandeva Dimitrova (Вангелия Пандева Димитрова), known after her marriage as Vangelia Gushterova (Вангелия Гущерова), was a blind Bulgarian mystic, clairvoyant, and herbalist, who spent most of her life in the Rupite area in the Kozhuh mountains in Bulgaria.[2][3][4] Zheni Kostadinova claimed in 1997 that millions of people believed she possessed paranormal abilities.[5]
Born

Vangeliya Pandeva Gushterova




(

1911-10-03

)

October 3, 1911




Died

August 11, 1996

(1996-08-11)

(aged 84)




Nationality

Bulgarian

Other names

Grandmother Vanga

Occupation

Clairvoyant and healer

Spouse(s)

Dimitar Gushterov




(m. 1942–1962; his death)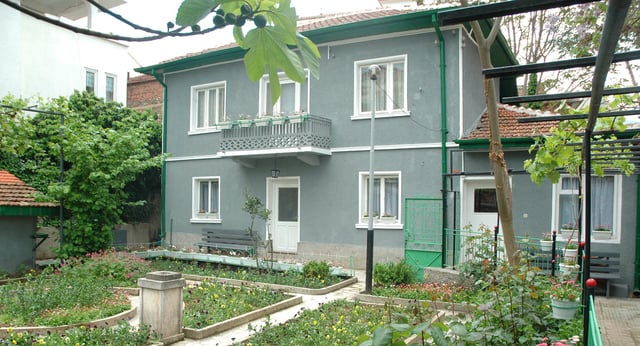 The house of Vanga in Petrich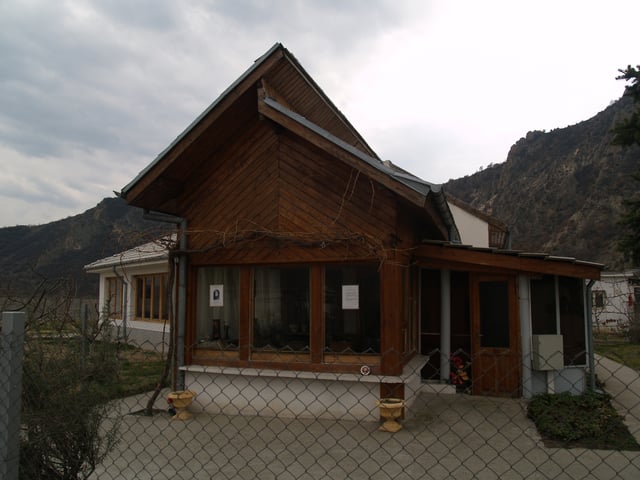 Vanga's last house (built in 1970) in Rupite, Petrich
Vanga was born in 1911 to Pando and Paraskeva (Surcheva) Surchev in Strumica, then in the Ottoman Empire, but in 1912 the city was ceded to Bulgaria. She was a premature baby who suffered from health complications. In accordance with local tradition, the baby was not given a name until it was deemed likely to survive. When the baby first cried out, a midwife went into the street and asked a stranger for a name. The stranger proposed Andromaha (Andromache), but this was rejected for being "too Greek" during a period of anti-Hellenic sentiment within Bulgarian society. Another stranger's proposal was a Greek name, but popular with Bulgarians in the region: Vangelia (from Evangelos).[49][6]
In her childhood, Vangelia was an ordinary child with brown eyes and blonde hair. Her father was an Internal Macedonian Revolutionary Organization activist, conscripted into the Bulgarian Army during World War I, and her mother died soon after. This left Vanga dependent on the care and charity of neighbours and close family friends for much of her youth. After the war, Strumica was annexed by Serbia. The Serbian authorities arrested the father, because of his pro-Bulgarian activity. They confiscated all his property and the family fell into poverty for many years.[7] Vanga was considered intelligent for her age. Her inclinations started to show up when she herself thought out games and loved playing "healing" – she prescribed some herbs to her friends, who pretended to be ill. Her father, being a widower, eventually remarried, thus providing a stepmother to his daughter.
According to her own testimony, a turning point in her life occurred when a 'tornado' allegedly lifted her into the air and threw her in a nearby field. She was found after a long search. Witnesses described her as very frightened, and her eyes were covered with sand and dust, she was unable to open them because of the pain. There was money only for a partial operation to heal the injuries she had sustained.[8] This resulted in a gradual loss of sight.
In 1925 Vanga was brought to a school for the blind in the city of Zemun, in the Kingdom of Serbs, Croats and Slovenes, where she spent three years, and was taught to read Braille, play the piano, as well as do knitting, cooking, and cleaning.[9] After the death of her stepmother she had to go back home to take care of her younger siblings. Her family was very poor, and she had to work all day.
In 1939 Vanga contracted pleurisy, although it remained largely inactive for some years. The doctor's opinion was that she would die soon, but she quickly recovered.
During World War II, Strumica was ceded to Bulgaria. At that time Vanga attracted believers in her ability to heal and soothsay – a number of people visited her, hoping to get a hint about whether their relatives were alive, or seeking for the place where they died. On 8 April 1942 the Bulgarian tzar Boris III visited her.[10]
On 10 May 1942, Vanga married Dimitar Gushterov, a Bulgarian soldier from the village of Krandzhilitsa near Petrich, who had come asking for the killers of his brother, but had to promise her not to seek revenge. Shortly before marriage, Dimitar and Vanga moved to Petrich, where she soon became well-known. Dimitar was then conscripted in the Bulgarian Army and had to spend some time in Northern Greece, which was annexed by Bulgaria at the time. He got another illness in 1947, fell into alcoholism, and eventually died on 1 April 1962.[11]
She continued to be visited by dignitaries and commoners. After the Second World War, Bulgarian politicians and leaders from different Soviet Republics, including Soviet Premier Leonid Brezhnev, sought her counsel;[12] in the 1990s, a church was built in Rupite by Bogdan Tomalevski with money left by her visitors.[12] Vanga died on 11 August 1996 from breast cancer.[13][14][15] Her funeral attracted large crowds, including many dignitaries.[16]
Fulfilling Vanga's last will and testament, her Petrich house was turned into a museum, which opened its doors for visitors on 5 May 2008.[17]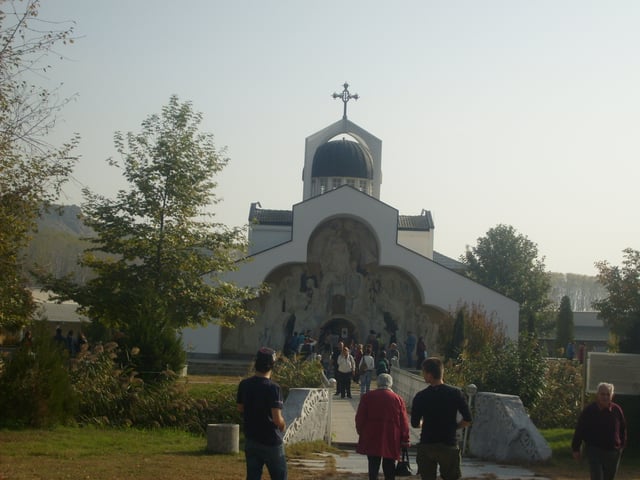 St Petka of Bulgaria, Baba Vanga's church and grave.
Vanga was semi-literate in Bulgarian, she could read some Braille in Serbian, as she learned in Zemun. She did not write any books herself. What she said or allegedly said had been captured by staff members. Later numerous esoteric books on Vanga's life and predictions were written.
Sources such as The Weiser Field Guide to the Paranormal, claim that she foretold the break-up of the Soviet Union, the Chernobyl disaster, the date of Stalin's death, the sinking of the Russian submarine Kursk, the September 11 attacks, Topalov's victory in the world chess tournament, the tensions with North Korea.[18][19] On the other hand, Bulgarian sources say that the people who were close to her claim that she never prophesied about Kursk or other subjects circulating the Internet, and that many of the myths about Vanga are simply not true, which ultimately hurts and crudely misrepresents her and her work.[20][21]
In early August 1976, Yugoslav actress and singer Silvana Armenulić was on tour in Bulgaria and decided to meet with Baba Vanga. The meeting was unpleasant. Vanga only sat and stared out a window with her back to Silvana. She did not speak. After a long time, Vanga finally spoke: "Nothing. You do not have to pay. I do not want to speak with you. Not now. Go and come back in three months." As Silvana turned around and walked towards the door, Vanga said: "Wait. In fact, you will not be able to come. Go, go. If you can come back in three months, do so."[22] Silvana took this as confirmation that she would die and left Vanga's home in tears.[23] Armenulić died two months later, 10 October 1976, in a car crash with her sister Mirjana.
Vanga incorrectly predicted that the 1994 FIFA World Cup Final would be played between "two teams beginning with B". One finalist was Brazil, but Bulgaria was eliminated by Italy in the semifinals.[24] According to The National, Vanga predicted that a World War III would start in November 2010 and last until October 2014.[25] Witnesses and close friends also claim that she never made such prophecies, and in fact when asked claimed that there will be no World War III.[21]
Vanga purportedly predicted another 'realm of being,' claiming that entire cultures would begin to spread through a 'false world.' She claimed that in 2003, any person would be able to think in synchronicity with others, allowing for a form of secondary existence.
Followers of Vanga believe that she predicted the precise date of her own death,[21] dreaming that she would die on 11 August, and be buried on 13 August. Shortly before that she had said that a ten-year-old blind girl living in France was to inherit her gift, and that people would soon hear about her.[26]
In 1989, she predicted an attack on the United States:
Another prediction attributed to her is that the 44th President of the United States would be the country's last Commander-in-chief.[26][31][32] While Donald Trump's inauguration in 2017 has seemingly debunked this prediction, Trump is technically the 44th person to occupy the office - due to the fact that both the 22nd and 24th presidency were occupied by Grover Cleveland.[33] Vanga's supporters also claimed that she predicted the 45th president will be with a "messianic personality", who will be faced with a crisis that eventually "brings the country down".[34][35][36]
Baba Vanga also predicted shadow people to E.T's or in more accurate terms Dijnns. Some evidence has also been presented that Baba Vanga did not make many of the predictions now attributed to her, but rather people frequently attribute new fake "prophecies" to her since her death, and the lack of a written record of her prophecies, makes any prediction attributed to her difficult to disprove.[37]
An attempt was made in 2011 to systematically summarize the existing knowledge about Vanga in the documentary Vanga: The Visible and Invisible World.[20][38] The movie includes interviews with some of the people who met Vanga in person, including Sergey Medvedev (press secretary to the then President of Russia Boris Yeltsin in 1995–96; who visited as Yeltsin's envoy), Neshka Robeva (Bulgarian rhythmic gymnast and coach), Sergey Mikhalkov (Soviet and Russian writer, author of the Soviet Union anthem), Nevena Tosheva (director of the first documentary about Vanga), Kirsan Ilyumzhinov (Kalmyk multi-millionaire businessman and politician). According to the documentary, Baba Vanga predicted Yeltsin's second electoral victory in 1995, and warned him about his heart condition.
Several researchers have studied the phenomenon of Vanga in the attempt to establish whether she has any extraordinary capabilities. One of the first studies was initiated by the Bulgarian government and is described in the 1977 movie Fenomen[39] directed by Nevena Tosheva. Bulgarian psychiatrists Nicola Shipkovensky and Georgi Lozanov also studied the capabilities of Vanga. According to Jeffrey Mishlove, some of the studies concluded that about 80% of predictions of Vanga turned out to be accurate.[40]
Vangelia, a 24-episode biographical TV series with elements of mysticism, was commissioned in 2013 by Channel One Russia.[41]
English gothic metal band Paradise Lost used a photo of her for the cover art of their sixth album One Second.
Djuna

Edgar Cayce

Doomsday

Nostradamus