Everipedia is now
IQ.wiki
- Join the
IQ Brainlist
and our
Discord
for early access to editing on the new platform and to participate in the beta testing.
Armani
Armani
Giorgio Armani S.p.A. (pronounced [ˈdʒordʒo arˈmaːni]) is an Italian luxury fashion house founded by Giorgio Armani which designs, manufactures, distributes and retails haute couture, ready-to-wear, leather goods, shoes, watches, jewelry, accessories, eyewear, cosmetics and home interiors.The brand markets these products under several labels:[2] Giorgio Armani Privé, Giorgio Armani, Armani Collezioni, Emporio Armani (including EA7), Armani Jeans, Armani Junior, and Armani Exchange. The brand utilizes the association of the Armani name with high-fashion, benefiting from its prestige in the fashion industry. In 2016, estimated sales of the company were around $2.65 billion.[3] In 2017, Giorgio Armani announced that his company will close two of its fashion labels, Armani Collezioni and Armani Jeans, as part of the restructuring process for his company. While Armani Collezioni will merge back into the "Giorgio Armani" line, Armani Jeans will be mixed with the Emporio Armani line due to their similarities in styles and the use of the same brand logo.
Giorgio Armani is in collaboration with Emaar Properties, a chain of luxury hotels and resorts in several big cities including Milan, Paris, New York, London, Hong Kong, Los Angeles, Tokyo, Shanghai, Seoul, Dubai.[4][5] The company already operates a range of cafés worldwide, in addition to a bar and nightclub.
Giorgio Armani is a high-end label specializing in men's and women's ready-to-wear, accessories, glasses, cosmetics, and perfumes. It is available only in Giorgio Armani boutiques, specialty clothiers and select high-end department stores. The logo is a curved "G" completing a curved "A", forming a circle.
In 2016, the fashion house stopped using animal fur in all of its collections, citing the availability of "valid alternatives at our disposition that render the use of cruel practices unnecessary as regards animals."[6]
According to The Wall Street Journal and other influential sources, in addition to couture line Armani Privé, Giorgio Armani and Emporio Armani are company's ready-to-wear lines that show at Milan fashion week. In addition, selling at lower prices are Armani Collezioni, Armani Exchange and Armani Jeans.[7]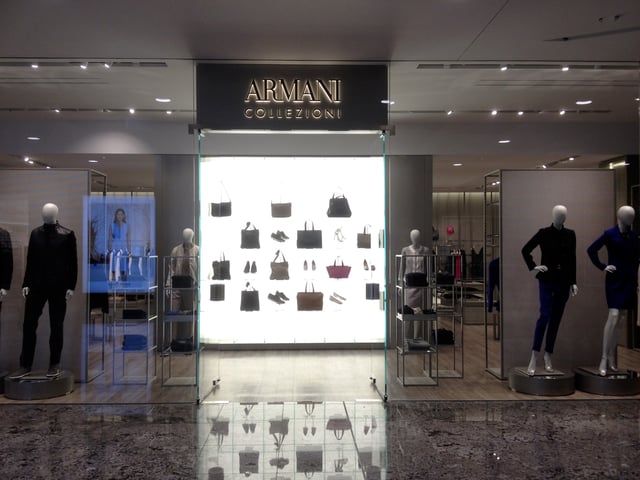 Armani Collezioni at Indooroopilly Shopping Centre
Armani Collezioni (formerly Giorgio Armani Le Collezioni) is the diffusion line of Giorgio Armani that retails at a lower price than Giorgio Armani and the haute couture line, Armani Privé. The logo is usually displayed black written on a white label, but often varies. "Armani" being larger and "Collezioni" underneath it. It provides made-to-measure tailored suits and shirts where every element can be chosen. In addition to being sold in the two freestanding boutiques (which feature the Collezioni line exclusively) in Milan and Paris, Armani Collezioni usually sold in department stores and outlets while Giorgio Armani and Emporio Armani only sold in freestanding boutiques.
Last year, a sporty line of this label has appeared named "Armani Collezioni Active" in the same way as the EA7 line from Emporio Armani line.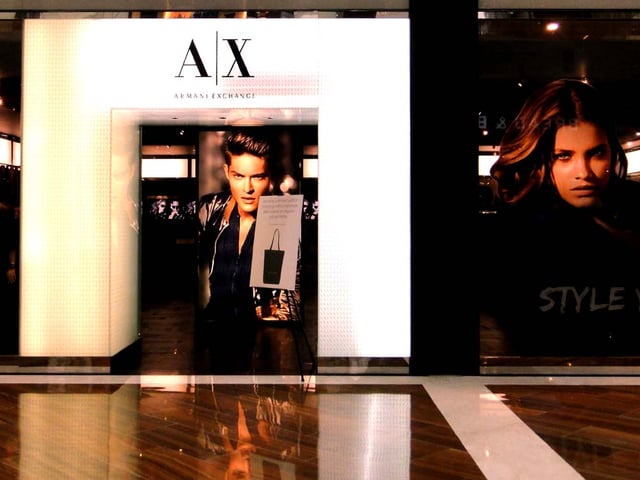 Armani Exchange store at Marina Bay Sands, Singapore
A|X Armani Exchange was launched in 1991 in the U.S. It retails fashion and lifestyle products and is known for its occasionally provocative ad campaigns. Inspired by street-chic culture and dance music, it is targeted as the more accessible Armani brand.
To accelerate development of the nascent line, Giorgio Armani co-established the joint venture company Presidio Holdings Ltd in 2005 alongside Como Holdings, the company owned by the Singaporean tycoon Ong Beng Seng that, since 1994, has held the production and distribution license for A/X Armani Exchange in the United States, Canada, Central and South America and Asia-Pacific.
Initially, the Italian company held 25% of Presidio Holdings, the remaining 75% in the hands of Como Holdings. In 2008, Giorgio Armani acquired an additional 25% stake. In 2014, it acquired the remaining 50% "ensuring full ownership of the brand, which has 270 stores and over 3,000 employees", the company said in a statement.
Armani Exchange products are available exclusively in 270 stores in 31 countries and on the brand's website.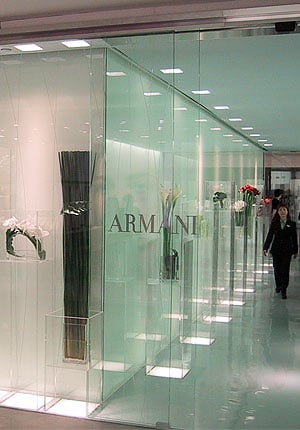 The Armani/Fiori boutique at the Chater House in Hong Kong.
The flowers used for the Armani/Fiori arrangements come mostly from the Netherlands. The label uses a large selection of orchids, as well as exotic and tropical flowers alongside more traditional flowers such as hydrangeas, roses and peonies. Each collection is personally designed by Giorgio Armani himself as he wants to transport an "Asian feel".[46] In addition, Armani/Fiori offers decorative elements like vases, flowerpots, candles and lanterns.[47] For the collections, Armani uses precious materials like alabaster, black marble, lacquered wood in the shape of cylinders, cubes, and rhomboids.[48] Giorgio Armani also designed special floral arrangements for occasions like Valentine's Day[49] and spring collections.[50] The labels floral arrangements are used in the Armani hotels.[51]
Giorgio Armani and Emaar Properties PJSC signed an agreement in 2005 for Emaar Properties PJSC to build and operate at least seven luxury hotels and three vacation resorts under the Armani name. Armani would be responsible for overseeing all aspects of the interior design and style of the hotels. The Armani hotel was opened in Burj Khalifa on April 27, 2010,[52] comprising the bottom 39 floors of the supertall skyscraper in Dubai, United Arab Emirates. It has 160 guest rooms and suites, and 144 residences. Giorgio Armani also designed the interiors of the Armani Residences, also within the skyscraper, and its specially designed line of products from the Armani/Casa home furnishings collection and the Armani/Fiori flower arrangements.[53] The "Burj Khalifa Armani Residences Road Show" toured Milan, London, Jeddah, Moscow and Delhi. The London event was housed in the Armani Casa Showroom in New Bond Street.[54]