4,7cm KPÚV vz. 38
1.11K VIEWS
Everipedia is now
IQ.wiki
- Join the
IQ Brainlist
and our
Discord
for early access to editing on the new platform and to participate in the beta testing.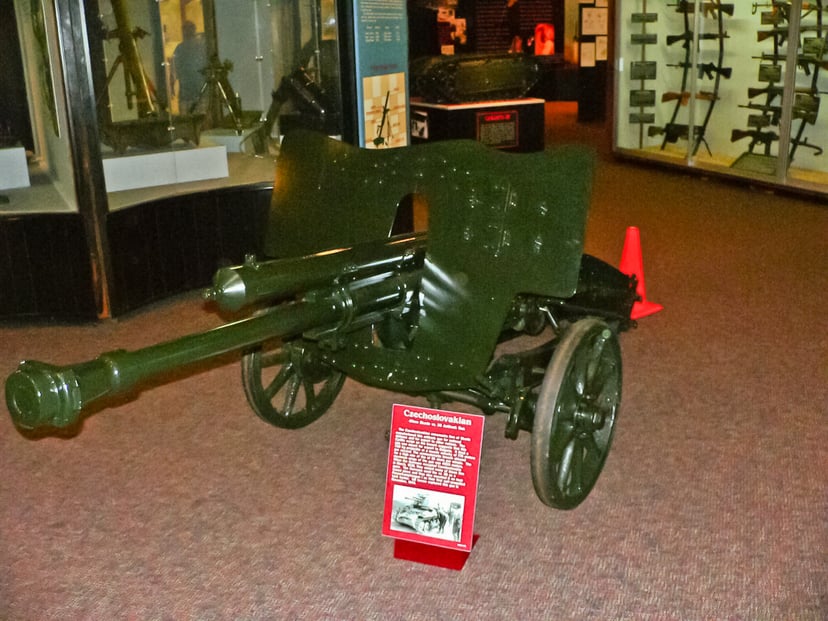 4,7cm KPÚV vz. 38
4,7cm KPÚV vz. 38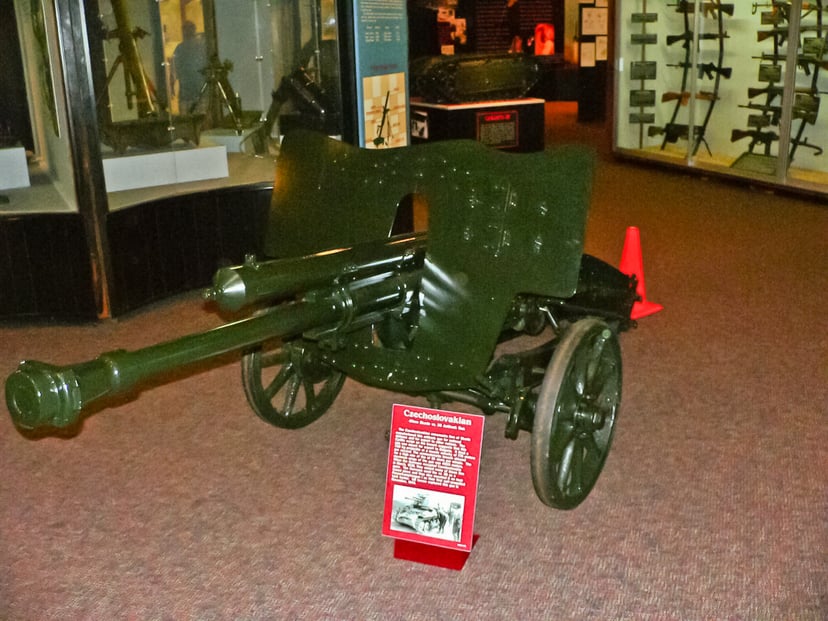 4,7cm KPÚV vz. 38

Type

Anti-tank gun

Place of origin

Czechoslovakia

Service history

Used by

Czechoslovakia


Nazi Germany
Kingdom of Yugoslavia


Romania

Wars

World War II

Production history

Designed

1936

Manufacturer

Škoda Works

Produced

1939–1940

Specifications

Mass

590 kg (1,300 lbs)

Barrel length

2.04 m (6 ft 8 in) L/43

Diameter

4.7 cm

Crew

?

---

Shell

Fixed QF 47×405 mm. R

Shell weight

1.6 kg (3 lb 8 oz)[1]

Caliber

47 mm (1.85 in)

Carriage

Split trail

Elevation

-8° to +26°

Traverse

50°

Muzzle velocity

775 m/s (2,542 ft/s)

Maximum firing range

4,000 m (4,375 yds)
The 4,7 cm KPÚV vz. 38 (Czech: kanón proti útočné vozbě vzor 38) was an anti-tank gun produced by the Škoda Works that saw service in World War II. Originally designed for the Czechoslovak Army, some were also sold to Yugoslavia. A number were appropriated by the Germans after the German occupation of Czechoslovakia in 1939 and used under the designations 4.7 cm PaK (t) or PaK 38(t). The Germans continued production and mounted the PaK 38(t) on the Panzerkampfwagen I chassis as the Panzerjäger I tank destroyer. A similar attempt to mount it on the chassis of captured Renault R-35 tanks was less successful.[2]
The barrel had the unique feature of being able to swing 180° so that the barrel laid flat over the trails for transport and the outer part of the trails could be also folded inward to reduce its size. The gun had a small gun shield and wooden-spoked wheels. Although rather elderly-looking, its performance was superior to most contemporary designs at the time and the gun was armed with both AP rounds and HE rounds for infantry support.
4,7cm KPÚV vz. 38

Type

Anti-tank gun

Place of origin

Czechoslovakia

Service history

Used by

Czechoslovakia


Nazi Germany
Kingdom of Yugoslavia


Romania

Wars

World War II

Production history

Designed

1936

Manufacturer

Škoda Works

Produced

1939–1940

Specifications

Mass

590 kg (1,300 lbs)

Barrel length

2.04 m (6 ft 8 in) L/43

Diameter

4.7 cm

Crew

?

---

Shell

Fixed QF 47×405 mm. R

Shell weight

1.6 kg (3 lb 8 oz)[1]

Caliber

47 mm (1.85 in)

Carriage

Split trail

Elevation

-8° to +26°

Traverse

50°

Muzzle velocity

775 m/s (2,542 ft/s)

Maximum firing range

4,000 m (4,375 yds)
Armor penetration table[3]

Range

Contact angle 30°

100 m (110 yd)

87 mm (3.4 in)

500 m (550 yd)

69 mm (2.7 in)

1,000 m (1,100 yd)

52 mm (2.0 in)

1,500 m (1,600 yd)

39 mm (1.5 in)