2018 Forest High School Shooting (Ocala, Florida)
13.4K VIEWS
Everipedia is now
IQ.wiki
- Join the
IQ Brainlist
and our
Discord
for early access to editing on the new platform and to participate in the beta testing.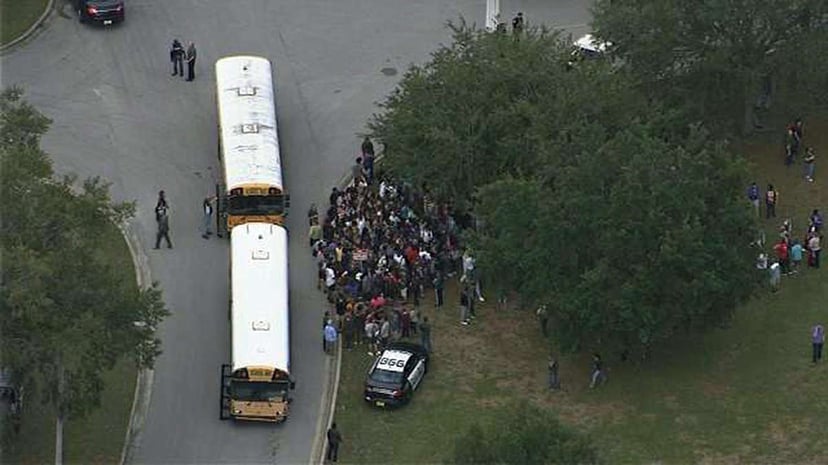 2018 Forest High School Shooting (Ocala, Florida)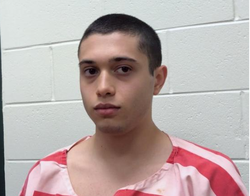 Photo of the suspected shooter, Sky Bouche in police custody.
In April 2018 one student shot another student at Forest High School in Ocala, Florida. The suspected shooter identified as Sky Bouche has been taken into police custody. [1]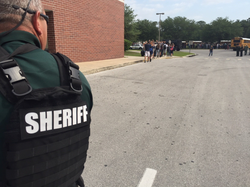 Photo of a Sheriff's Deputy at the scene of the shooting [1]
On Friday, April 20, 2018 at around 8:30 a.m one Forest High School student shot another student in the ankle in Ocala, Florida.
The injured student, a male, was taken to a local hospital for treatment of a non-life threatening injury.
The shooting happened as students around the country walked out of class to protest gun violence on the anniversary of the Columbine High School Massacre on April 20, 1999.
Chris Oliver said that his 16-year-old son, a Forest student, told him the shooting happened near his classroom.
The boy told Oliver the shooter was standing in a hallway and fired at a closed classroom door.
The shooter then dropped an unspecified weapon, ran and tried to hide, the boy told his father.
All students were being taken by bus to the First Baptist Church of Ocala, where parents can pick them up, officials said.
The buses were escorted to the church by law officers on motorcycles.
Florida Governor Rick Scott tweeted that he's been briefed on the shooting, and he offered any state support that Marion County, Florida may need.
Rachael Carter was at the church waiting to be reunited with her daughter, a 10th-grader who turned 16 this week.
Her pastor called her when he saw a post on social media. "I'm shaking like a leaf in a hurricane," Carter said. She that once she is reunited with her daughter, she would "stick to her like Velcro."
Students who saw anything related to the shooting were separated so they could be interviewed by investigators.
School district spokesman Kevin Christian sent a recorded phone message to parents by phone urging them to stay away from the school.
The Ocala Police Department, the Marion County Sheriff's Office, the Florida Highway Patrol and the FBI were investigating the shooting. They divided into teams that cleared all buildings, vehicles and the parking lot area. Once all students were off campus, authorities began conducting a more methodical search of the campus.