2017 Freeman High School Shooting (Spokane County, Washington)
1.87K VIEWS
Everipedia is now
IQ.wiki
- Join the
IQ Brainlist
and our
Discord
for early access to editing on the new platform and to participate in the beta testing.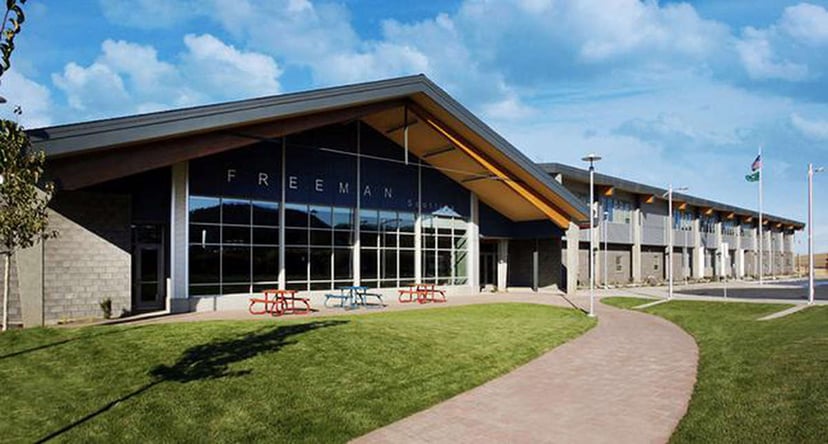 2017 Freeman High School Shooting (Spokane County, Washington)
On September 13, 2017, a student was killed and five were wounded in a school shooting at Freeman High School at 10 a.m. The school is located in Rockford, Washington in Spokane County and is located south of the city of Spokane. The suspect was taken into custody shortly after the shooting [0] [1]
Michael Harper, Caleb Sharpe's classmate, described Sharpe as being "obsessed with other school shootings."
The shooter brought two weapons (a pistol and a rifle) to school in a duffel bag.
He tried to fire with one of the weapons, but the first one he tried to fire jammed.
Sharpe has since been detained.
Sheriff Ozzie Knezovich confirmed, "The shooter is in the back seat of a patrol car right now."
Students, parents and teachers were corralled into school buildings after the shots rang out.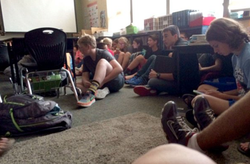 A group of children at the school, hiding in a classroom
Officials say that the injured victims are expected to survive.
Spokane Fire Chief Brian Schaeffer said three of the victims were immediately transported to Providence Sacred Heart Medical Center.
At about noon, hospital officials said they had three pediatric patients from the shooting, all in satisfactory condition.
Spokane County Sheriff told the Spokesman Review that six people were shot, one fatally.
Dr. Jeff Collins, the chief physician at Providence Sacred Heart Medical Center, said the shooting left up to six victims and two were admitted to the hospital.
Their ages and the extent of their injuries weren't immediately known.
Michael Moore, the chief of surgery, said eight surgery sites were open for the victims.
More than 12 ambulances and a LifeFlight helicopter responded to the scene of the shooting.
First responders were urging motorists not to use Highway 27 so that ambulances and other vehicles could get through.