2016 FBI East-Coast Mob Bust
3.8K VIEWS
Everipedia is now
IQ.wiki
- Join the
IQ Brainlist
and our
Discord
for early access to editing on the new platform and to participate in the beta testing.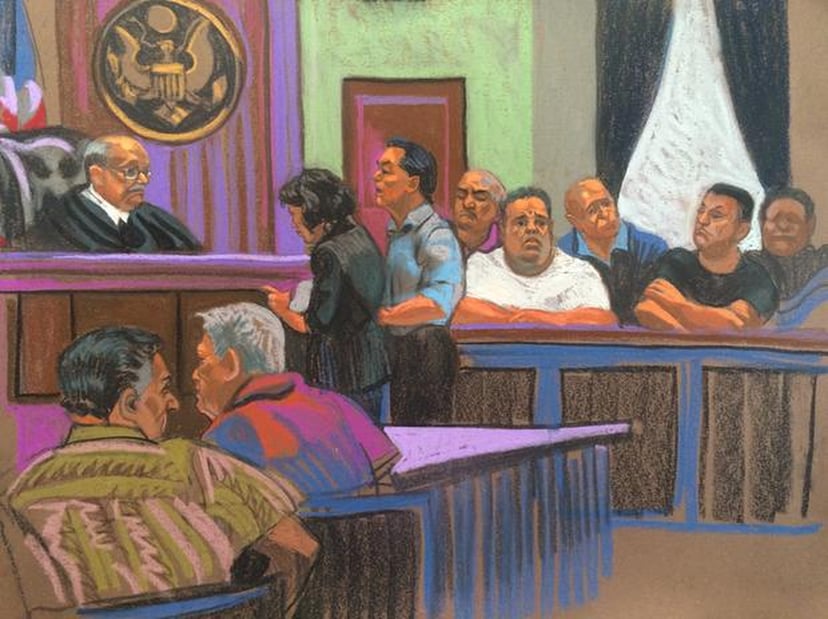 2016 FBI East-Coast Mob Bust
On August 4th, 2016, FBI and local police joined forces in a sting operation that arrested more than 46 suspects involved with organized crime. They arrested members of some New York's biggest Mafia families. According to the feds, they were indicted on charged including extortion, gun-running, and assault.
The state-spanning arrests of suspects are members of some of America's prominent underground crime syndicates, and each member is facing at least one racketeering charge with a maximum 20-year sentence. Alleged members of the arrests were part of the Genoveses, Gambinos, Lucheses and Bonannos - four of NY mob's 'five families' - as well as alleged members of a Philadelphia family.
Those alleged schemes included selling untaxed cigarettes - worth up to $3million - and handguns, as well as healthcare fraud, arson, extortion and assault.
An Assault occurred outside the Pasquale Rigoletto Restaurant in the Bronx, which is owned by Parello - he told his goons to beat up a panhandler. The beat the panhandler with sharp objects and steel-tipped boots. He is accused of ordering a retaliatory attack on a man who stabbed one of his associates.
Authorities say the East Coast Enterprise was also involved in loansharking, casino-style gambling, sports gambling and credit card fraud.
One gambling hub, known as 'the Yonkers Club', allegedly held poker and dice tournaments, and took bets on horse racing.
One of the men associated with the club is, Mark 'Stymie' Maiuzzo, who set fire to a car owned by a member of a rival gambling operation on the orders of Zinzi.
The syndicate members would allegedly hold meetings at highway rest stops and restaurants, using codes to communicate their plans in secret from 2010 to at least June 2016.
The FBI say they uncovered the plans using informants who infiltrated the groups, some wearing video and audio wires.
Parrello spent four years in prison for loansharking and embezzlement and was released in April 2008.
Merlino, meanwhile, lives in Baton Rouge, Florida and claims to have given up crime - but authorities claim he continues to run the Pennsylvania city's mob family.
He is facing a long prison sentence.
Feds say they also plan to use forfeiture laws to seize money and property from the suspects.
Five arrests were made in Massachusetts Thursday morning, with Ralph A Santaniello, Francesco 'Sammy Shark' Depergola, Giovanni 'Johnny Cal' Calabrese, Richard Valentini and Gerald Daniele all being taken in. Only Santaniello and Depergola were named in the New York indictment - but both they, Valentini and Calabrese are accused of extorting $17,000 from a tow truck driver between September and November 2013.
They allegedly threatened to cut off the man's head and bury it in his back yard if he didn't pay up.
The men are also accused of joining up with Daniele to lend $3,700 to a man to cover gambling losses, then 'punishing' him for not paying up.
The men, who are allegedly members of the so-called 'Springfield Crew,' have been charged with various extortion counts.
The grandson of John Gotti - former boss of the Gambino crime family - was arrested on drug-dealing charges after $250,000 in cash and 1,000 oxycodone pills were found on his properties.
The Gotti arrest - part of 'Operation Beach Party' - was unrelated to the East Coast indictments.
List of the men indicted:
Joseph Merlino, aka 'Skinny Joey', 54, of Boca Raton, Florida
Faces maximum 20 years on a racketeering charge
Eugene O'Nofrio, aka 'Rooster', 74, of East Haven, Connecticut
Faces maximum 20 years on a racketeering charge
Pasquale Parrello, aka 'Patsy,' aka 'Pat', 72, of Tuckahoe, NY
Faces maximum 20 years on a racketeering charge and maximum 20 years on a charge of conspiracy to commit assault
Mitchell Fusco, aka 'Mitch', 52, of Yonkers, NY
Faces maximum 20 years on a racketeering charge and maximum five years on a gun-running charge
Mark Maiuzzo, aka 'Stymie', 37, Scarsdale, NY
Faces maximum 20 years on a racketeering charge and maximum ten years on an arson charge
Israel Torres, aka 'Buddy', 66, of Queens, NY
Faces maximum 20 years on a racketeering charge and maximum 20 years on a charge of conspiracy to commit assault
Anthony Zinzi, aka 'Anthony Boy', 73, of Bronx, NY
Faces maximum 20 years on a racketeering charge and maximum ten years on an arson charge
The following all have at least one racketeering charge to their name and each face a maximum of 20 years in prison if convicted
Laurence Keith Allen, aka 'Keith Allen', 46, of Costa Rica
Reynold Alberti, aka 'Randy', 47, of Bronx, NY
Craig Bagon, 56, of Boca Raton, Florida
Ralph Balsamo, 46, of Bronx, NY
Frank Barbone, 44, of Queens, NY
Agostino Camacho, aka 'Augie', 40, of Yonkers, NY
Anthony Camisa, aka 'Anthony the Kid', 24, city of residence unknown
Pasquale Capolongo, aka 'Patsy,' aka 'Pat C.,' aka 'Mustache Pat,' aka 'Fish', 67, of West Palm Beach, Florida
Vincent Casablanca, aka 'Vinny', 49, of Bronx, NY
Paul Cassano, aka 'Paul Cassone', 37, of Nanuet, NY
Anthony Cassetta, 'Tony the Cripple', 48, of Belmar, New Jersey
Anthony Cirillo, 51, of Englewood Cliffs, New Jersey
Alex Conigliaro, 56, of Staten Island, NY
Anthony Depalma, aka 'Harpo,' aka 'Harp', 70, of Stony Point, NY
Francesco Depergola, aka 'Frank', aka 'Sammy Shark', 60, of Springfield, Massachusetts
Nicholas Devito, aka 'Nicky', 64, of Monticello, NY
Joseph Dimarco, 46, of Bronx, NY
Joseph Falco, aka 'Joe Cub', 72, of Bronx, NY
Carmine Gallo, 38, of Delray Beach, Florida
Conrad Ianniello, 72, city of residence not stated
Wayne Kreisberg, 39, of Parkland, Florida
Richard Lacava, aka 'Richie', 67, of Pelham, NY
John Lembo, aka 'Johnny', 50, city of residence not stated
Pasquale Maiorino, aka 'Patty Boy', 56, city of residence not stated
Daniel Marino, Jr., aka 'Danny', 49, Short Hills, New Jersey
Marco Minuto, 80, of Upper Saddle River, New Jersey
Michael Poli, aka 'Mike Polio', 31, of Bronx, NY
Ralph 'Ralphie Sant' Santaniello, 49, of Longmeadow, Massachusetts
Bradley Sirkin, aka 'Brad', 54, of Boca Raton, Florida
John Spirito, aka 'Johnny Joe', 34, of Bronx, NY
Vincent Terracciano, aka 'Big Vinny', 69, of Bronx, NY
Harold Thomas, aka 'Harry', 71, of Bronx, NY
Vincent Thomas, aka 'Vinny', 69, of Bronx, NY
John Tognino, aka 'Tugboat', 74, of Bronx, NY
Joseph Tomanelli, aka 'Joe', of Yonkers, NY
Frank Trapani, aka 'Harpo', 63, of Boca Raton, Florida
Anthony Vazzano, aka 'Tony the Wig,' aka 'Muscles', 51, of Brewster, NY
Nicholas Vuolo, 'Nicky the Wig', 71, of Bronx, NY
Bradford Wedra, 61, of Mt Vernon, NY