1,4,6-Androstatriene-3,17-dione
505 VIEWS
Everipedia is now
IQ.wiki
- Join the
IQ Brainlist
and our
Discord
for early access to editing on the new platform and to participate in the beta testing.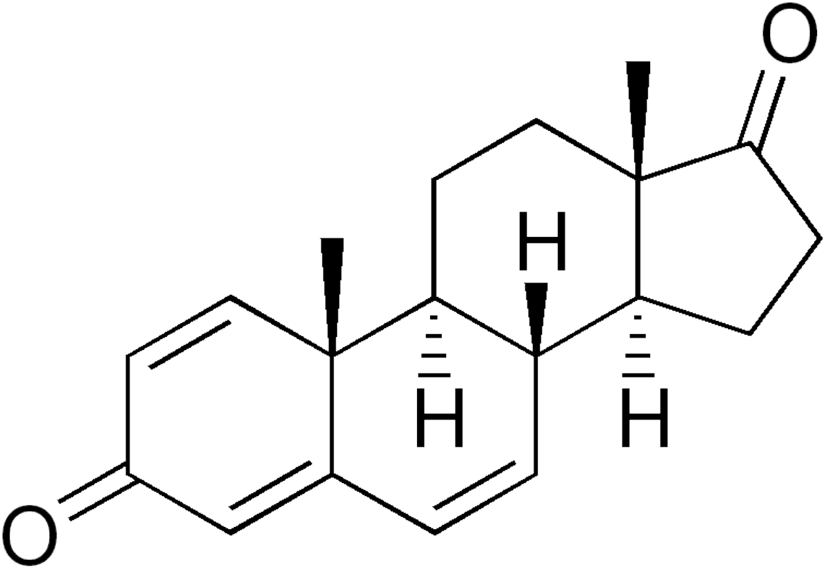 1,4,6-Androstatriene-3,17-dione
1,4,6-Androstatriene-3,17-dione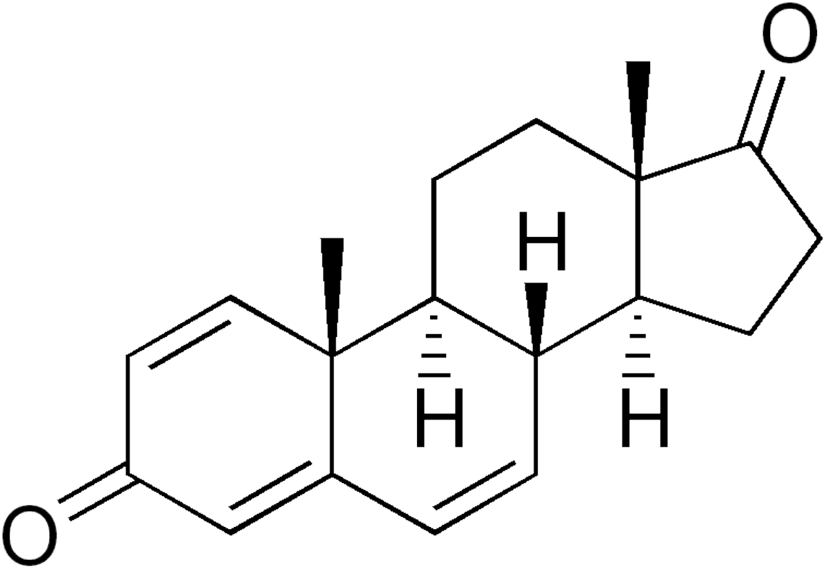 1,4,6-Androstatriene-3,17-dione

Clinical data

Pregnancy category

Routes of administration

Oral

Legal status

Legal status

Pharmacokinetic data

Metabolism

Hepatic

Elimination half-life

48 hours

Identifiers

(8R,9S,10R,13S,14S)-10,13-dimethyl-9,11,12,14,15,16-hexahydro-8H-cyclopenta[a]phenanthrene-3,17-dione

CAS Number

PubChem

CID

ChemSpider

ChEBI

Chemical and physical data

Formula

C

19

H

22

O

2

Molar mass

282 g·mol

−1

3D model (JSmol)

O=C\4\C=C/[C@]3(C(/C=C[C@H]2[C@H]1C@@(CC[C@@H]23)C)=C/4)C

InChI=1S/C19H22O2/c1-18-9-7-13(20)11-12(18)3-4-14-15-5-6-17(21)19(15,2)10-8-16(14)18/h3-4,7,9,11,14-16H,5-6,8,10H2,1-2H3/t14-,15-,16-,18-,19-/m0/s1

Y

Key:DKVSUQWCZQBWCP-QAGGRKNESA-N

Y

(verify) [16]
ATD was present in some over-the-counter bodybuilding supplements until 2009 as well as Topical ATD solutions that work transdermally. The product was developed and commercialized in the dietary supplement market place by industry journeyman, Bruce Kneller who holds a United States Patent for use of the compound and related compounds (#7,939,517) and Gaspari Nutrition. ATD has many names in sports supplements including: 1,4,6 etiollochan-dione, 3, 17-keto-etiochol-triene, androst-1,4,6-triene-3,17-dione and many others. These all refer to CAS# 633-35-2.
ATD may cause a positive test for the anabolic steroid boldenone, of which it is a possible metabolite and production contaminant and is also prohibited in amateur and professional sports which forbids aromatase inhibitors.[3]
A related agent is exemestane (Aromasin).
1,4,6-Androstatriene-3,17-dione

Clinical data

Pregnancy category

Routes of administration

Oral

Legal status

Legal status

Pharmacokinetic data

Metabolism

Hepatic

Elimination half-life

48 hours

Identifiers

(8R,9S,10R,13S,14S)-10,13-dimethyl-9,11,12,14,15,16-hexahydro-8H-cyclopenta[a]phenanthrene-3,17-dione

CAS Number

PubChem

CID

ChemSpider

ChEBI

Chemical and physical data

Formula

C

19

H

22

O

2

Molar mass

282 g·mol

−1

3D model (JSmol)

O=C\4\C=C/[C@]3(C(/C=C[C@H]2[C@H]1C@@(CC[C@@H]23)C)=C/4)C

InChI=1S/C19H22O2/c1-18-9-7-13(20)11-12(18)3-4-14-15-5-6-17(21)19(15,2)10-8-16(14)18/h3-4,7,9,11,14-16H,5-6,8,10H2,1-2H3/t14-,15-,16-,18-,19-/m0/s1

Y

Key:DKVSUQWCZQBWCP-QAGGRKNESA-N

Y

(verify) [16]