Timothy Ceaser, often spelled Caesar, is a missing 22 year old from Croydon, Pennsylvania​ believed to be connected to the Sean Kratz​ and Cosmo DiNardo​ murders. His body has not been found. [1]​
Personal Life
He was born and raised in the state of Pennsylvania​, and grew up in the Bucks County​ area for many years. [2]​[3]​
Disappearance
On June 1st, 2017, he was reported missing after his family and friends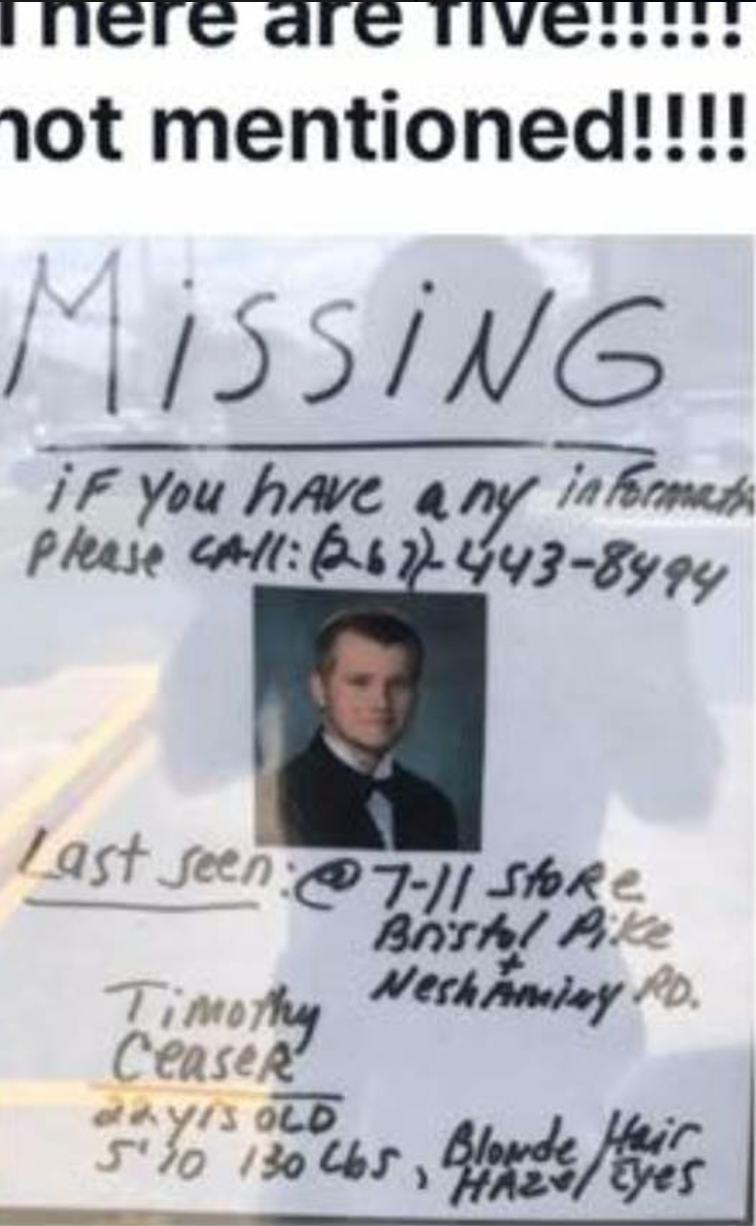 Posted near the streets in the neighborhood where the tragedies have unfolded.
received no signs of his presence anywhere. He was last seen at the 7-Eleven​ that's located at Bristol and Neshaminy Roads. [4]​[5]​
Reports indicate that the last known sighting was around 11:45 a.m. He was walking away from his mother's vehicle, which was parked in the area. [6]​ 
When he was last seen, he wore a black hoodie over a white shirt that had a multi-colored hood. He had blue jeans with tan and black shoes manufactured by Nike. It is believed that he was carrying a black toiletry bag, a black jeff cap, and tan slippers. [29]​
On July 10, 2017, DiNardo was arrested at his residence and charged with a firearms possession offense from February 2017. [7]​[8]​   The FBI and local authorities searched his property in connection to disappearances of Dean Finocchiaro​,  Mark Sturgis​,  Thomas Meo​, and Jimi Tar Patrick​. [9]​ 
Screenshot of the Direct Message sent by Cosmo DiNardo​ to Timothy's Girlfriend.
On July 13, 2017, authorities announced in a press conference that the remains of one of the missing four men, Dean Finocchiaro, were found in a 12-foot hole on the property of Cosmo's parents. [10]​ [19]​
Additional remains were also discovered, that were identified as the remaining missing men. [19]​
DiNardo later confessed to the killings of the men, in exchange of not receiving the death penalty. On July 14, 2017, DiNardo's cousin, Sean Kratz​ was also arrested. [12]​ 
On social media​, members of the community shared their thoughts about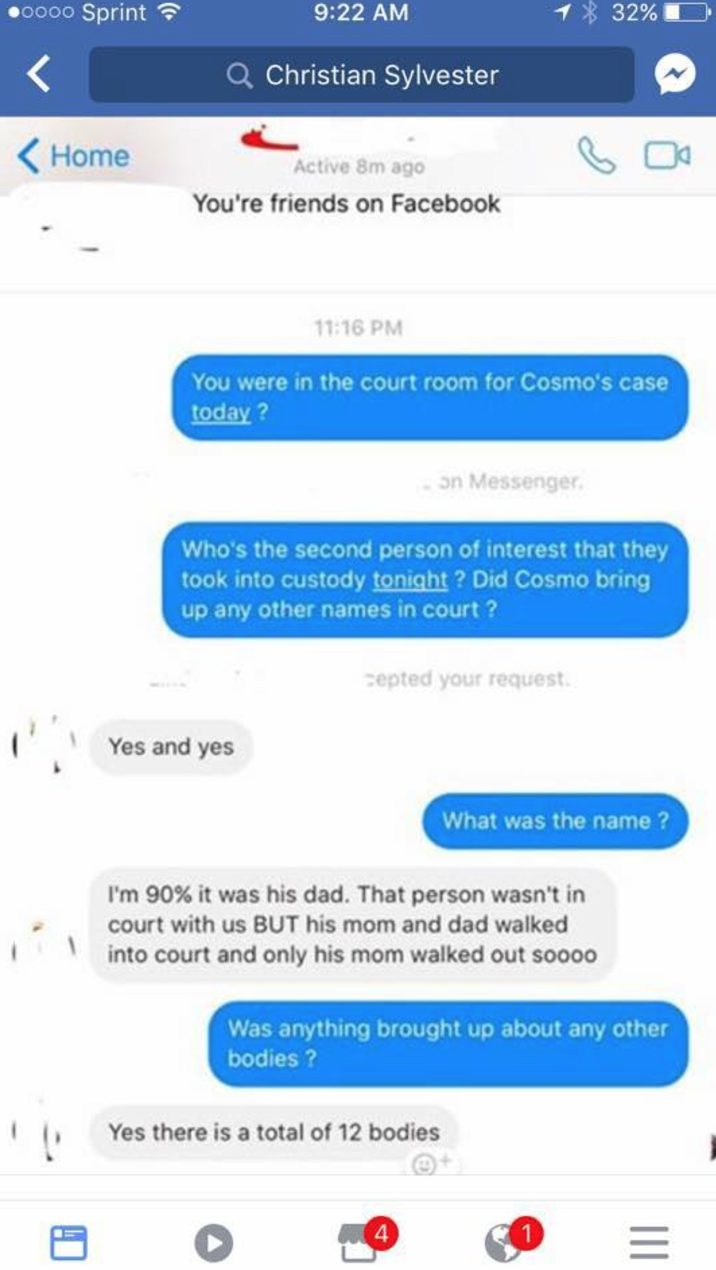 Text message from a close family friend of the DiNardo's who was present in court.
the bodies that have been uncovered at the DiNardo property, and speculated that Timothy could also have been a victim. [13]​[14]​
Users have shared the direct messages that Cosmo apparently sent Timothy's girlfriend sometime before he went missing. Cosmo would sexually harass Timothy's girlfriend by sending sexist messages on her Instagram​ trying to get her in bed with him. [15]​[16]​[17]​ Suspicions from social media users have increased and some have contacted authorities about the possibility that Timothy may be another victim of DiNardo and Kratz. [18]​ The investigation agency Know it All Intelligence Group, currently investigating Timothy as a missing person, has disputed these claims.