Tana Mongeau (June 24, 1998) is an American YouTube​ personality and rapper based in Los Angeles, California.[0]​ She is originally from Las Vegas, Nevada.
Biography
Tana was born and raised in Las Vegas and is an only child.[13]​ Her father owned a pool business while her mother did not work.[13]​ Since second grade she had to deal with a stalker who followed her throughout her life; he was later arrested. She did not watch TV growing up but instead watched YouTube videos of Shane Dawson​ and Jenna Marbles​.[13]​
Tana dropped out of high school and worked as a manager a Pac-Sun.[13]​ She started making videos in January of 2016, quickly gaining over a million views on her content only after a few videos.[13]​ Topics range from daily vlogs, livestreams, and more.[5]​ As of November 2017, Tana had over 2.7 million subscribers on YouTube​ and 1.5 million followers on Instagram​.[3]​[5]​
On November 6th, 2017, Tana released the video for her first song "Hefner." In one week, the video garnered over 2.5 million views.[6]​ Tana stated that music is something that reinvigorated her passion and she wants to pursue it further in the future.[13]​
"N-word" Controversy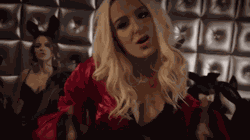 Hefner music video
On December 10, 2016, Mongeau tweeted at the comedy YouTuber Ian Carter (iDubbbz)​ deriding him for his frequent use of the word "nigger​" in his videos.[14]​ The tweet stated "@Idubbbz so 3 million ppl subscribe to u and u openly say the n-word and retard???? kill yourself." Mongeau further went after Carter in her livestreams and other videos.[14]​
In response, Carter purchased a VIP ticket to Mongeau's show in San Francisco​, and, on January 21, 2017, attended said show.[14]​ At the VIP meet-and-greet Carter posed for a picture with Mongeau and while the photo was being taken, Carter said "Say nigger!"[14]​ This caused outrage from onlookers. Mongeau responded by storming out of the area, prompting security to ask Carter to leave, which he complied with almost immediately.[14]​
On February 6, 2017, Carter released a video titled "Content Cop: Tana Mongeau", a part of his Content Cop series. In it, he defends his use of the word "nigger" and accuses Mongeau of hypocrisy by showing past clips of her uttering the word.[14]​ He claimed his use of the word was comedic and not meant to offend, whilst he deemed Mongeau's use of the word "mean-spirited".[14]​ The video also shows footage from the incident at Mongeau's show, criticizing her response to it.[14]​ Carter discusses the use of derogatory terms in a broader context, and the weight society places on specific words in terms of their offensiveness.[14]​
After the episode of Content Cop, Tana lost 100,000 subscribers and fell into a deep depression from the amount of hatemail she received.[13]​ She described the ordeal as a learning experience, stating that iDubbbz was right to call her out on her hypocrisy.[13]​ 
Tanacon Fail
On April 2, 2017, Tana Mongeau posted a video "Why I Won't Be Attending Vidcon 2018: A Rant" about how Vidcon treated her poorly and never made her a featured creator, however, convincing her up until the day of the event that they would so that she would promote their convention.[15]​  At the end of this video, Tana offers the idea of hosting a free Meet and Greet for her fans on the same day and in the same city, Anaheim, CA, as Vidcon.  
The Vidcon video went viral at around 3M views and many other Youtubers spoke out on their negative experiences at the convention as well.  This gained Tana lots of support which was surprising after all the controversies she'd been facing the past year. 
The event 'Tanacon' happened only two months later on June 22, 2017, the same day as Vidcon.  Tanacon was supposed to feature more than 80 creators, including Shane Dawson, Emma Chamberlain, Miranda Sings, James Charles, Bella Thorne, Casey Neistat and many more.  Unfortunately for the fans and all the creators, the convention was poorly executed with only 1,000 people let in due to the capacity size of the Mariott Hotel in Garden Grove, California, and the event was soon cancelled.  Tana repeated over and over again both in person and on livestream that the event was cancelled because more than 15,000 people showed up.  There was also no water or food in the event and the giftbags were filled with cheap tacky merchandise.  There was a second part of the convention promised to happen the next day, on June 23, but Tana went offline and was nowhere to be found that day.  There was no way of getting a refund and there were no answers for angry fans.
Lots of controversy and hate spread from this, with many other Youtubers such as Shane and James Charles speaking out on the event because many of their fans were also disappointed.  There were hundreds of fan videos showing the harsh sunburns from waiting 5+ hours outside the event to get in, talking about how much people spent on flights and sacrificed to get to the event, and just reaching out for answers. 
Shane Dawson was extremely upset over this, and on June 28, he posted the first of a three part series that explained why Tanacon really failed.
Part 1 (6/28):  Shane explains his theory on why 15,000 people showing up didn't make sense and invites two fans that attended the event to his house to give insight on their experience.  He calls Tana at the end and she blames the CEO of Good Times, the company Tana hired to put on the convention, Michael Weist, 21, and the Mariott Hotel for lying to her.[16]​
Part 2 (6/29): An official police statement is released stating that there were only 4,000 people outside the event, meaning it was only people who bought the tickets and not people trying to get into the event for free.  Shane calls Weist and goes through many of the logistics of the event, though he didn't have many answers for the questions people were having. Weist calls out Tana for going to a party the night of the failed event and being in Hawaii just a week before, when many of the planning was done.  He also announces that there's footage of the entire convention and the planning, and that he's going to be releasing a documentary. Michael says he's going to have to file bankruptcy over this.[17]​
Part 3 (7/2): Tana sobs to Shane over how upset she is and how much she wanted everything to work out.  Shane and Tana call Michael Weist back and they go back and fourth with the blame.  Tana goes through many of the things that Weist told her he had under control, such as security, the giftbags, the capacity size, and he defends himself.  Afterwards, Shane looks through Tana's cameraman Hunter's footage and showed that Tana was involved, asking questions, making sure the logistics worked out. The video concluded that they were both at fault and both too young to be hosting an entire convention.[18]​
The facts: Shane concludes the video releasing these facts about the convention
5,108 VIP tickets sold, 200-300 free tickets sold.
At most, 25 security guards at $60,000 (originally thought 91).
Mariott Hotel contract stated capacity size of 1,000 people and Weist signed it.
Ticket sales amounted at $325,000, which is held by the ticket company Veeps.  If any refunds were necessary, Good Times was responsible.
Many fans and creators were given closure and Veeps is now offering full refunds for anyone that had a ticket to the event.  If Tana's Youtube career will survive is up in the air for now.