Nicole Alexandria Limosnero Greene, better known as Nikki Limo, is an actress​ and YouTube​ personality based in Los Angeles, California​.[11]​ Her YouTube channel is a mix of sketches and vlogs.[3]​
Life and Career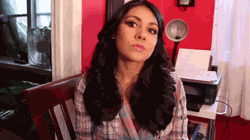 Nikki trying to be sexy in the video "WHAT IS SEXY?" 
Limo was born on November 2nd, 1986 and grew up in Santa Barbara, California​.[0]​ She started her YouTube channel on August 1st, 2007 and uploaded her first video two weeks later.[3]​ She began her professional acting career in 2009 in the TV Movie Johnny B. Homeless. Some of her most notable movie credits include playing the role of Daphne in the film Mischief Night and Stacy in Smiley.[4]​ In addition, Nikki has appeared on a noble of web series including Totally Sketch, Status Updates, BlackboxTV, and Funemployment as well as appeared in an episode of Shane Dawson TV called "Talking Fruit from Hell."[0]​
Limo's YouTube channel is a collection of sketches and vlogs.[3]​ The series on her channel include Tasty Tuesday, Thirsty Thursday, Nikki In Real Life, Tutorials, Hauls, and Reviews, #@AskLimo, AUDITION FAIL Series, and SELF HELP Series.[3]​ As of March 2018, Limo has over 532K subscribers on YouTube​, 126K followers on Instagram​, 35K followers on Twitter​, and 53K likes on Facebook​.[2]​[5]​[7]​[3]​
Personal Life
Limo moved to Los Angeles in order to further her acting career.[0]​ She is married to fellow YouTube Personality Steve Greene​.[11]​ Limo is a cat person.[2]​