Michelle Lewin is a bodybuilder and fitness model based in Miami. She has a large social media following with over 10 million followers on Instagram. She has also appeared on many magazine covers including Playboy. 
Early Life
Michelle doing stomach crunches with weights [17]
Michelle grew up in poverty in Maracay, Venezuela. When her stepfather left her mother Michelle and her mother were left with nothing, they were forced to move into a meager apartment that hosted more cockroaches than food.  Michelle remembers growing up young, working with her mother to survive, even accepting neighborly charity to eat. She was very skinny and at one point only weighed 85 pounds. During this time she would often wear long sleeves and pants to cover up her skinny appearance. She only first started working out when her mother took her to a gym at the age of 17. For the first seven years of working out she only focused on working out her legs leading to a disproportionate body. [4]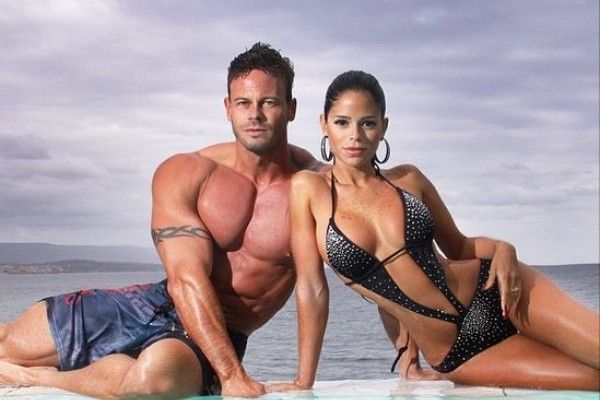 Photo of Michelle and her husband Jimmy Lewin
Personal Life
Michelle met Jimmy Lewin her future husband in 2008.  Jimmy became not only her life partner but also got involved in her training and taught her to work out her upper body. In 2010, the two married.  To this day, Jimmy is her personal trainer, agent, social media manager and best friend. [4] 
Career
Michelle is one of the most popular bodybuilders on social media with over 10 million followers on Instagram, 8 million Facebook likes, 400 thousand Twitter followers, and 200 thousand YouTube subscribers. Michelle has also appeared on many magazine covers including Playboy Magazine, Oxygen, Inside Fitness, and Muscle & Fitness. 
Michelle's husband Jimmy encouraged her to pursue modeling and bodybuilding competitions. The runways of Milan, Rome and Paris were not kind to Michelle with many calling her short since she was 5 foot 4 inches. However Michelle soon found her niche as a bodybuilder and fitness model after moving to Miami and went on to win many competitions including the NPC Fort Lauderdale Cup. [5] 
Michelle competing at a bodybuilding competiton
Bodybuilding Competitions
2014 IFBB Nordic Pro 10th
2014 IFBB Dallas Pro 12th
2014 IFBB PBW Tampa Pro 4th
2014 IFBB Greater Gulf States Pro 6th
2014 IFBB Prestige Crystal Cup 4th
2014 IFBB Europa Dallas 3rd
2014 IFBB Europa Show of Champions Orlando 12th
2014 IFBB Battle on the Beach Pro 9th
2014 IFBB Legends Pro Bikini Classic 3rd
2013 NPC Fort Lauderdale Cup 1st
2013 NPC Fort Lauderdale Cup 1st
2013 NPC Southern States 2nd
2013 NPC Southern States 3rd
2013 NPC Mid Florida Classic  [5] 
Work out Routine
Michelle working out at the gym [17]
Monday: Back/Biceps
Chin Ups (Wide Grip) 4×12
Chin Ups (Normal Grip) 4×10
Row Machine 4×12
T-Bar Rows 4×12
Dumbbell Curls 6×12
EZ Bar Curls 4×12
Straight Bar Cable Curls 4×12 [6] 
Lying Leg Curls 4×12Tuesday: Hamstrings/Calves
Michelle doing stomach crunches with weights [17]

Seated Leg Curls 4×12
Deadlifts 4×10-15
Seated Calf Raises 8×20
Standing Calf Raises (Smith Machine) 6×20 
Wednesday: Triceps/Shoulders
Standing Dumbbell Tricep Extensions 6×12
Skull Crushers EZ Bar 4 X 12
Rope Overhead Cable Extensions 4×12
Military Press 4×10
Dumbbell Shoulder Press 3×10
Upright Rows with EZ Bar 4×12
Side Lateral Raises 4×10
Michelle lifting weights [17]
Thursday: Rest
Friday: Legs
Lunges 4×12
Good Mornings 6×20
Leg Press (Single Leg) 4×15 (Each Leg)
Squats 4×12
Saturday: Abs
Michelle working out in the gym [17]

Hanging Knee Raises 4×12
Crunches 4×20
Crunch Machine 4×12
Crunches On Ball 4×20
Sunday: Rest
Daily Diet