William W. Fick is an American ​ Attorney ​ at the law firm called Fick/Marx
known for representing The Boston Marathon bombers, Dzhokhar Tsarnaev ​ and Tamerlan Tsarnaev ​. [1] ​ [2] ​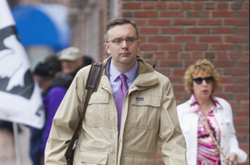 Photo of William W. Fick that was taken as he left the courtroom where he represented, Dzhokhar Tsarnaev ​.
Personal Life
Fick is a practicing attorney in the Boston, Massachusetts ​, a city where he has lived in for many years. [3] ​ [4] ​
Education
Fick is a graduate of Yale University ​ where she earned her degree in Russian ​. He continued attending Yale and was accepted into their law school where he earned his Juris Doctor ​. [5] ​ [6] ​
William W. Fick with his partners at his Law Firm, Fick/Marx. [8] ​
Career
After college, he worked for the International Research and Exchanges Board (IREX) during the 1990s as Co-Director of the Internet Programs. He worked in Moscow, Russia. [7] ​
While in Russia, he was also the co-founder of a company called Samovar Internet consulting LLC, where he worked at for two years. The company provided internet consulting and web publishing services. [8] ​
He was a law clerk for the Chambers of Hon. Nancy Gertner, U.S.D.J. for one year. [9] ​
Photo of William W. Fick outside of a courtroom.
For a few years, he worked as an associate attorney at Foley Hoag LLP where he practiced criminal law. He was also an Assistant Federal Public Defender at the state of Massachusetts for more than 10 years. [10] ​
Fick/MARX
In 2016, he founded a law firm called Fick/Marx with fellow attorney and partner, Daniel Marx. [11] ​
Fick, along with Miriam Conrad, were the public defenders of Dzhokhar Tsarnaev ​ and Tamerlan Tsarnaev ​. [12] ​
In early March, 2018, Michelle Carter, who was convicted of involuntary manslaughter, hired Fick as her defense lawyer. [13] ​