Vinnie Safin is an entrepreneur, social influencer, and basketball player based in California ​. [1] ​ He is the Founder/CEO of Whatever It Takes Mgmt., a digital marketing and management agency. [2] ​
Early Life and Basketball Career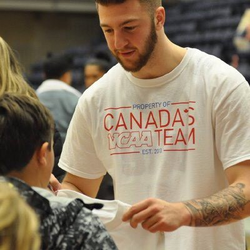 Safin giving a shirt to a young fan
Safin is originally from Rocklin, California ​, a suburb outside of Sacramento, California ​. Some of his inspirations growing up included Will Smith ​, LeBron James ​, Tony Robbins ​, and Ed Mylett. Safin attended Rocklin High School ​ where he was a standout basketball player, playing varsity all 4-years. After he graduated, Safin would be inducted in his high school's hall of fame.
Safin would go on to play basketball at the collegiate level in the United States ​ and Canada ​ at Chico State University ​ and Simon Fraser University ​. [4] ​ He also played at Ohlone College. [4] ​
Entrepreneurship and Network
After playing basketball in Canada for a year, Safin returned to the United States and taught himself graphic design through YouTube ​ tutorials. He leveraged that skill to make connections and grow his network of entrepreneurs and influencers. [3] ​
Safin owns the Instagram thebillion, a luxury and lifestyle account with 137K followers. [7] ​ On his personal Instagram account, Safin has nearly 40K followers as of September 2018. [2] ​
Safin is the founder of the digital marketing agency Whatever It Takes Mgmt. that works in social media growth, branding, and management. [3] ​ He launched the agency in 2018. [3] ​
Personal Life
In his free time, Safin enjoys going to the gym, spending time with his family and girlfriend, and trying new cuisines of food. [3] ​