Tana Mongeau (June 24, 1998) is an American YouTube personality and rapper based in Los Angeles, California. [0] She is originally from Las Vegas.
Biography
Tana was born and raised in Las Vegas and is an only child. [13] Her father owned a pool business while her mother did not work. [13] Since second grade, she had to deal with a stalker who followed her throughout her life; he was later arrested. She did not watch TV growing up but instead watched YouTube videos of Shane Dawson and Jenna Marbles. [13] Tana dropped out of high school and worked as a manager a Pac-Sun. [13] She started making videos in January of 2016 and quickly gained a million views on her content only after a few videos. [13] The topics of Tana's videos range from daily vlogs, livestreams, and more. [5] As of January 2019, Tana has over 1.5 million subscribers on YouTube and 2.9 million followers on Instagram. [3] [5]
On November 6, 2017, Tana released the video for her first song "Hefner". In one week, the video garnered over 2.5 million views. [6] Tana has stated that music is something that reinvigorated her passion for something and wants to pursue it further in the future. [13]
Controversy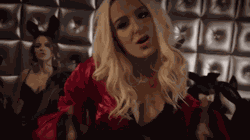 Hefner music video
On December 10, 2016, Mongeau tweeted at the comedy YouTuber Ian Carter (iDubbbz) deriding him for his frequent use of the word " nigger " in his videos. [14] The tweet stated "@Idubbbz so 3 million ppl subscribe to u and u openly say the n-word and retard???? kill yourself". Mongeau further went after Carter in her livestreams and other videos. [14]
In response, Carter purchased a VIP ticket to Mongeau's show in San Francisco, and, on January 21, 2017, attended said show. [14] At the VIP meet-and-greet Carter posed for a picture with Mongeau and while the photo was being taken, Carter said "Say nigger!". [14] This caused outrage from onlookers and Mongeau responded by storming out of the area, prompting security to ask Carter to leave, which he did almost immediately. [14]
On February 6, 2017, Carter released a video titled "Content Cop – Tana Mongeau", a part of his Content Cop series. In it, he defends his use of the word "nigger" and accuses Mongeau of hypocrisy by showing past clips of her uttering the word. [14] He stated that his use of the word is not meant to offend as it is done in a comedic context, whilst he deemed Mongeau's use of the word "mean-spirited". [14] In the video, Carter also shows footage from the incident at Mongeau's show and criticizes her response to it. [14] He also discusses the use of derogatory terms in a broader context, and the weight which society places on specific words in terms of their offensiveness. [14]
After the episode of Content Cop, Tana lost 100,000 subscribers and fell into a deep depression from the amount of hate she received. [13] Tana describes the ordeal as a learning experience and says that iDubbbz was right to call her out on her hypocrisy. [13]
Personal Life
"the truth about my relationships, break ups, and sexuality" (uploaded by Tana Mongeau on January 2, 2019)
Tana Mongeau is in an open relationship with Bella Thorne. They met at a music festival after joking that she wanted to be in a relationship with her. [📁]
In the past, Tana had hooked up with Hunter Moreno. According to Mongeau, Hunter was not seeking a monogamous relationship with her and wanted to see other people. [📁]
In August 2017, Tana met Jay Alvarrez. She considers him a really good friend, although she states they have done wild things together. [📁]
Tana is currently dating Brad Sousa. [📁]