Emily Allers (born January 13, 1991), better known as Someones Daughter , is a DJ ​, Electronic Music Producer ​, and Photographer ​ based in Los Angeles, California ​. [3] ​
Early Life and Education
Allers is originally from Wilton, Connecticut ​ and graduated Wilton High School ​. [6] ​ She would go on to attend Santa Monica College ​. [7] ​
Music and Industry Career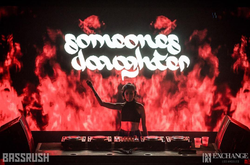 Someones Daughter playing at Bassrush event at Exchange Los Angeles
Allers is a producer and DJ under the name Someones Daughter and is managed by TFM Management. [2] ​
In 2015, Allers interned at Red Light Management where she specialized in social media strategy and worked with clients such as Lionel Richie, Rusko, Giorgio Moroder ​, and more. [7] ​
Allers is currently the Assistant to the Regional Manager of Space Yacht ​, an EDM promotion company based in Los Angeles. [3] ​ In addition, Allers is a photographer. [3] ​