RoelandP Lanparty is a Dutch entrepreneur who has been a long time advocate and developer for social media tech projects. [1] [2] [3] He is known for being an active participant of Steemit as he runs a witness infrastructure of node and block signing called paynode. [4]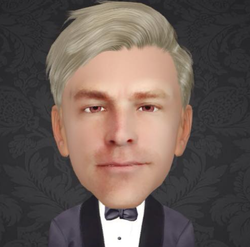 Image of RoelandP Lanparty.
RoelandP also runs a stand alone EOS block Producer server portfolio in Amsterdam. [5] Ever since being in contact with Graphene /Chainbase, he's been active and devoted due to the ease of use of the software and it's (developer) community. [6]
Biography
Early Life
RoelandP was born and raised in the country of Netherlands for most of his life. He grew up in a small peninsula called Schouwen-Duiveland near Zeeland, South West of the Netherlands. [7] His father and grandfather were both involved in the wheat producing industry and lived in Windmills. [8]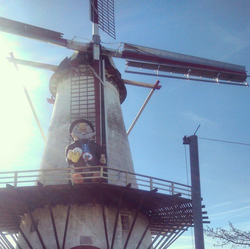 The windmill where RoelandP Lanparty grew up in.
His grandfather traded, while his father decided to start his own wheat grinding company. The windmill in which his father used to produce wheat is where RoelandP claims to have lived the first year of his life. His father would later construct a wheat factory down the street from his house. The company tehn pivoted to a pancake restaurant. [9]
His Brother continues to run the business called De Graanhalm . [10]
During his high school years, RoelandP lived the life of a teenager who rode his bicycle and skateboard to get around. He was also involved in athletic associations at his school. [11] During his junior of high school, he wanted to drop out and decided to take a trip to Amsterdam on his own only to call his parents a few days later and telling them he would return. [12]
After completing his high school education, he decided to take a year off from school and traveled to Vienna where he worked/interned in a museum and afterwards spent a winter season in Saalbach-Hinterglemm Ski resort working as a waiter at a Hotel in Ellmau. [13]
After his time in Austria he worked at a campsite in the South of Belgium at the Virton, in the Ardennes Natural Reserver. He would then returned to work for the rest of the season at his parents' pancake restaurant, as his dad began to have serious backaches and issues. [14]
SteemFest² - Lisbon 1/2/3/4/5 November 2017 - Location Tour.
Education
While living back home he applied to the Hotelschool The Hague and was accepted. He enrolled at the school and would later receive his bachelor degree in hotel administration. [15]
For his graduation project he interned at TodaysArt and worked on the marketing department of the company. He would continue to work for the company after college. [16]
Celenation.com
During this time in the late 1990s, he got his laptop through down payments as all students at the time need a computer to run Microsoft Excel and Microsoft Word to complete assignments. These were the days of ICQ, Napster and Kazaa and parties all night long on the campus. [17]
He would also start his own website called Celenation.com which he used his computer to build. He worked on the beach of Scheveningen in a beach club at the time. [18] The purpose of the site was to write reports about festivals and gain free access to those festivals. He would then get tickets to give away to the festivals that he was covering. [19]
He would later learn about PHP and MySQL which opened his eyes. The site, would then become daily-fresh.net, which continued the tradition of finding parties and festivals. [20]
After the company received funding from the government, he continued to work for the company for the next five years. He worked on several projects throughout his time there. [21] Such as 100 meter high projections on the 'City Counsel Office' and the THX Landing Strip in The Hague's Shopping Street: at night Audio & Light artists had setup along the whole street some 100 Funktion One speakers and flashing lights setup like a landing strip of an International Airport (the theme of that year). By pushing a button they could 'jank' a Boeing 747 imitation flowing through the speakers. [2]
He took care of the marketing, building websites, partnerships, setting up livestreams and later on also the apps for the first iphones. Day to day it was about promoting, getting as much attention for the festival in newspapers and websites. [23]
He also ran a short-lived festival called Berlin Ruft An. [24]
After spending a lot of time on Twitter in which he met dozens of people who were working on exciting projects. He decided to quit his job and began connecting with an array of people throughout Netherlands such as people who worked in the National Television and at the local Facebook of the Netherlands. [25]
Photo of RoelandP Lanparty and his girlfriend taken years ago.
Open & Sociaal
He went on to build small apps to run on top of the APIs of Twitter and for the local Facebook called Hyves. He ran social advertising campaigns and together with a partner in coding he started a small coding agency called Open & Sociaal - 'engagement in communities'. He ran the company by subletting a workspace in the then very young, ' The Next Web', which has since grown into a big company. [26]
Shoudio.com
After Open & Sociaal , he started building a Social Location Based Audio Website called Shoudio.com. Shoudio got him into making apps for third parties such as a tourguide app for the forest of the Dutch Park Service and many more. [27]
While running Shoudio he worked from another office in the Red Light District which he shared with yet another internet audio company, called Twones and Shuffler.fm thereafter. Through those office colleagues at Shuffler.fm he was introduced to MusicHackdays and they visited one in Berlin and Amsterdam. [28]
RoelandP set up a MusicHackDay. He organized the sponsors, venue, catering, and internet presence. [29]
After discovering Steemit through a friend, he began to try it out. After making a few posts, he decided to explore the possibilities of the blockchain for making apps on top of it. [30] Thanks to work of other members such as @xeroc, @pharesim, @fabien and @jesta, he learned to make cool blockchain 'read only' apps. He then focused on building apps for Steemit and (IMHO) thanks to the trending 'SteemStream' post he had unleashed with some developers building great stuff thereafter, which he started to collect on the SteemTools site. [31]
His contributions to Steemit:
Photo shared by RoelandP Lanparty as a lego.
RoelandP has invested in EOS and has been involved in the process since 2017. [33] Here's a few things he has contributed to the EOS project since: [34]
ID on Steemit
Tech Specs
Main Node - Dedicated box:
Backup Node - Dedicated box:
Seed Node - Dedicated box:
Monitoring Node(s) for swapping keys and administrative tasks
RoelandP Lanparty with his Girlfriend and their children.
Scalability
RoelandP plans to have an EOS rack in which it will most probably be way more extensive. He has been investigating custom build 1U's in an unmetered rack with low latency to main internet exchanges. [41] For EOS.io he would initially launch on baremetal dedicated rent boxes and most probably migrate to this serious rack as soon as the network starts demanding more RAM. [42]
Personal Life
During his time at Open & Sociaal he received an interview for the national newspaper De Volkskrant for an article about the OpenSocial widgets. [43] The interview was conducted by his future girlfriend, Heleen. They connected after the interview via emails and social media, and would meet later in the summer at a music festival - they fell in love. The two have son named Viggo. [44]