Psychored is a personality within the Los Angeles EDM scene. [2] ​ He is known for his signature red mask and high energy "purging" at events. [2]
Biography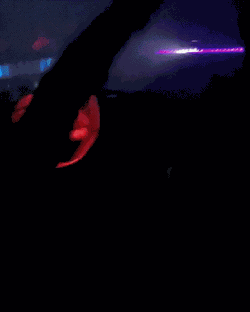 Psychored purging
Psychored was previously an infantryman that served in combat in the War in Afghanistan ​. When he was discharged from the military, he was at a low point in his life and had trouble dealing with his past experiences from his service. [3] ​
One day, Psychored went to a bass music show in hopes of drowning out his stress. After a night of headbanging, he felt relieved and happiness for the first time since before Afghanistan. [3] ​
As Psychored frequented more events, he began to develop his persona and "purging." Purging to Psychored means getting rid of unwanted feelings and memories from his past. He started his Psychored account in hopes of inspiring others who were in a similar position to purge out whatever haunts them from their prior experiences. [3] ​