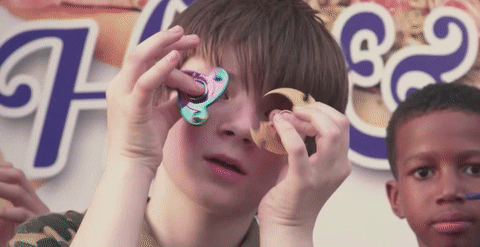 Matt Ox spinning fidget spinners in his viral music video , "Overwhelming"
Matt Ox (born on December 13, 2004) [23] ​ is an American rapper and the CEO of OX Gvng. He is best known for his song "Overwhelming" and its music video which received over 2 million views on YouTube in less than two weeks. [1] [21] ​ [20] ​ [5] ​
Personal Life
Matt Ox is from Philadelphia, Pennsylvania.[6] His father committed suicide​ when Ox was 2 years old. [20] ​
Career
On May 21, 2017, Matt OX released a music video for his song "Overwhelming" which went viral receiving over 2 million views in less than two weeks.[2] Matt Ox has received coverage for his song in multiple outlets including the New York Times,[6] XXL,[8] and Mashable.[9]
In the music video for "Overwhelming" Matt Ox is seen of himself showing off wads of money, jewelry, and dirt bikes while playing with fidget spinners and rapping. In the song, Matt Ox reps his hometown of Philadelphia and boasts about the success of himself along with his crew OX Gang.[2] The song was produced by OogieMane who has worked with superstar rappers including Lil Uzi Vert and Xavier Wulf and F1LTHY worked as a sound engineer. [4] The video was directed by Pipus and Kendra. [6]
Matt Ox is known for his use of auto-tune. He has released five singles as the lead artist, "Overwhelming," [2] "Michael Myers," [12] "Low Key," [13] "Big Enuff," [14] "This N That," [11] and "Pockets Overflowing." [15] He was also featured on Yung Bambi's song "Nobody." [16][7]
In September 2017, Ox signed a record deal with Warner Bros Records​, making him label mates with Florida rapper Lil Pump​. [21] ​