Lisa G. Short is an Australian ​ transformational strategist, blockchain ​ advisor, and mentor.​ [1] She is currently the Global Managing Director of ChangerInc , a group of companies that executes solutions for business, workforce, education and social impact using a hyper-collaborative approach that incorporates design thinking and frontier technology such as blockchain.​ [2] ​
Lisa Short with some of the entrepreneurs who formed part of her incubator.
Biography
Education
After completing her secondary education in Australia, she attended the University of NSW. [5] ​ There, she received her Bachelor of Arts ​ in Education ​​ and Geography ​ and graduated in 1982. [6] ​ [8] ​
She also attended the Australian College of Commerce & Management where she received her diploma of Training & assessment systems. [7] ​
Years later, after Lisa established herself as an entrepreneur and professional, she attended Swinburne University of Technology and received her diploma in Health and Safety ​.​ [9] ​ [10] ​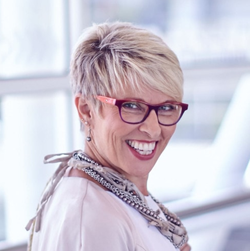 Photo of Lisa Short.
She also attended University of Notre Dame Australia ​ where she received her Bachelor of Medicine ​. [11] ​
She also received her Bachelor of training and development in critical thinking and HR from University of New England ​. [12] ​
Career
After college, in the 1980s and early 1990s, she was the general manager of a Tupperware Brands. [13] ​ She was named top new manager in Australia in 1988. [14] ​
For many years, she was the board member of Taree Community College, in which she was in charge of governance and management. [15] ​​
At the Australian National Training Authority, she was a part of the National research project. [16] ​
Gomo Foundation
Lisa is the Non-Executive Director at Gomo Foundation, an organization that believes every girl has the right to an education. [17] ​
Lisa Short with her dog.
The GenAlpha Project
She is an ambassador to The GenAlpha Project, which provides children in Australia direct access to a network of companies, entrepreneurs, innovators and other thinkers, that work in domains that play a big role in the future. [18] ​
ChangerInc
Lisa is the Managing Director of ChangerInc, a hyper-collaborative project on the blockchain. [19] ​
As a blockchain entrepreneur who's an expert in economic transformational strategy, Lisa has given talks at conferences related to the importance of blockchain technology in the future of the economy. [20] ​ [21] ​