Kayla Speer is an American ​ fitness specialist in the state of Iowa ​ who has been involved in the fitness industry for several years. [1] ​ [2] ​ In late June of 2018, a series of tweets by Speer went viral for thanking Jimmy John's ​ in helping her realize that her boyfriend was cheating on her, and they helped her in catering her "breakup party". [3] ​​
Biography
Speer is a native of Iowa ​, which is where she was born and lived for most of her life. She grew up in the city of Danville . [4] ​ She is an alum of Junior and Senior Danville High School ​. [5] ​
Education
After high school, Speer attended Iowa State University ​ where she received her Bachelor of Science ​ degree in Kinesiology ​ and Health science ​. [6] ​ [7] ​
She is currently a student at Indian Hills Community College ​ where she is working toward a physical therapy assistant certificate. [8] ​
Career
Personal Trainer
Since 2015, she has been working and studying in the health and wellness industry. [9] ​ Through the American Council of Exercise, she was able to work as a fitness trainer. [10] ​
She is the former personal trainer/student assistant Instructor for the ACE certification exam at Iowa State Recreation Services. [11] ​
She is currently working as the fitness specialist for the Great River Health System. [12] ​
Tweet by Kayla Speer about her experience with Jimmy John ​.
In The Media
On June 17th, 2018, Speer posted a thread of tweets regarding her experience with Jimmy John's ​ in helping her discover that her long distance boyfriend was cheating on her. [13] ​ After she had made an order for delivery to her boyfriend's house with specific instructions as she intended to surprise him. [14] ​ The Jimmy John's delivery worker then informed Speer that the guy whom she intended to deliver the food to was in the act of sex with another woman. [15] ​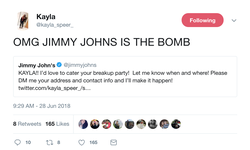 Tweet by Kayla Speer celebrating Jimmy John's for their help.
Speer's boyfriend had told her that he was going to be studying late, so she decided to surprise him with food. In a series of tweets, she reveals how Jimmy John's contacted her and thanks them for the help. Jimmy John's then responded and have offered to cater her "breakup party". [16] ​ [17] ​ [18] ​
Personal Life
Speer lives in the city of Ames where she works as a fitness specialist. She is currently focusing on her career. [19] ​